Well done on everyone who smashed PBs at Brighton half earlier today.  My Twitter feed has been full of photos, race reports and race chat.  I did feel rather envious of you all.  We are thick in half marathon season right now and I am desperate to test my legs out on a road half to see how much I have improved.  My current half marathon PB stands at 2h 09m 16s, set at Bedford half marathon back in 2012.  I've only run three half marathons since that time – Bristol half 2013 (2:30:58 – during the midst of ultra training where I had been told by my coach to run the race at marathon pace AFTER having already run for 90 minutes), St. Neots half 2013 (where I DNFd due to a foot injury) and Royston half 2014 (2:35:51 – a tough trail half).  I've not been able to race a road half since December 2012 and want to see where I'm at.  Nothing seems to fit into my schedule at the moment though – on the 8th March there are half marathons both in Cambridge and Milton Keynes but I am away on a hen weekend.  Other than the Silverstone half (run it once, doesn't appeal to me to run it again.  Plus it's really expensive!) there doesn't seem to be any half marathons that slot in before Milton Keynes marathon day at the start of May.
Maybe I'll just have to wait until the Autumn as long as my legs last that long!  So, onto training for week 7…
My targets for Jantastic this week were five runs with a long run of twelve miles.
I got a few longer runs in this week with it being half term (although without including any really long runs) and clocked up my highest mileage week of 2015 to date with more than 46 miles for the week (Garmin struggled to start on three of the runs so Garmin Connect is showing about half a mile short for each of the three).
Monday: Rest day.
Tuesday: 6.08 easy road miles with a friend (plus about a half mile before the Garmin kicked in)
Wednesday: 10.55 tough trail miles involving lots of mud!
Thursday: 5.68 road miles in Group 5 at running club (plus an extra half mile).  I usually run with Group 4 but for a change this week I ran with a lower group and noticed how much easier I found the group compared to when I had been running with them before Christmas.  Big confidence boost!
Friday: 10.27 tough trail miles with a friend (the same route as Wednesday although Garmin was late starting)
Saturday: Rest day (rushing around viewing potential new houses)
Sunday: 10.72 easy trail run with friends followed by 1.48m of road running on my own to make the total up to the required long run of 12 for the week.

As well as running, Dan and I managed to fit in a bit of eating this week.  We've been trying to cut down on our spending ready for the house move but we had an envelope from a couple of relatives at Christmas with a bit of money in that had been given to us to use for an evening meal out when times got stressful.  Friday night was that time so we headed out to The World's End in Earls Barton.  We had been there once before for my birthday in October and both said we would like to go again.  Booking was easy, as we were able to make reservations online and the service was spot on.  Within minutes of us ordering our drinks, a large rowdy group were shown to their pre-reserved seats.  The waitress offered to move us further into the restaurant, away from the table and we took her up on that offer.
Dan as always was very predictable with his order of a steak with peppercorn sauce (and then passing over his onion rings, tomato and mushroom to me!)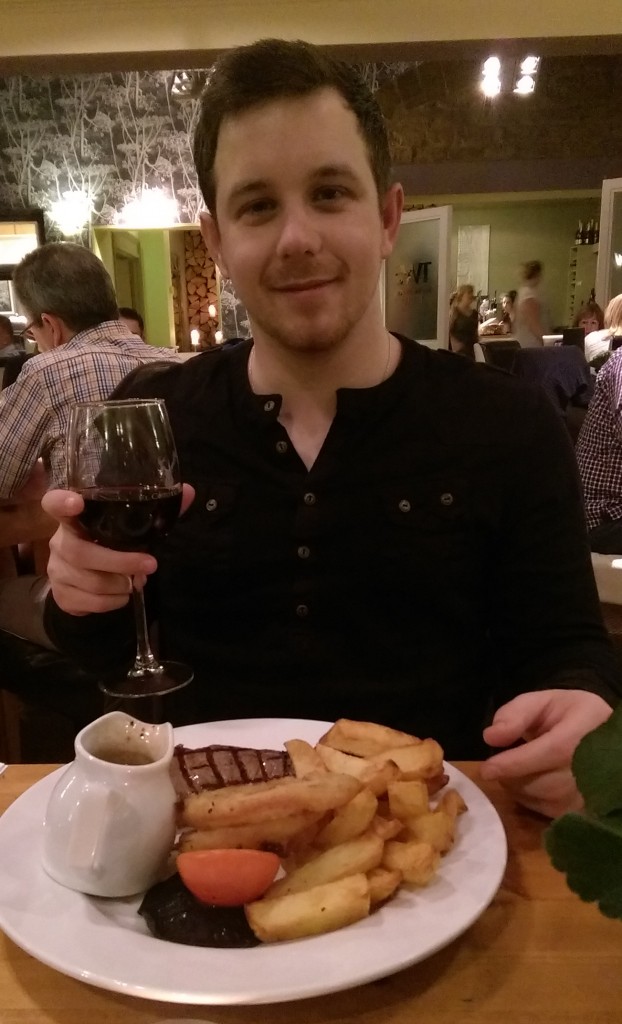 And I guess I was equally as predictable in ordering the vegetable mezze platter.  I love being able to choose from lots of items and this certainly didn't disappoint (although I really struggled towards the end to finish it all!)  The platter contained balsamic vinegar, spicy hummus, coleslaw, two hunks of bread, some grilled aubergine, pepper and mushrooms, green salad and an onion and courgette frittata.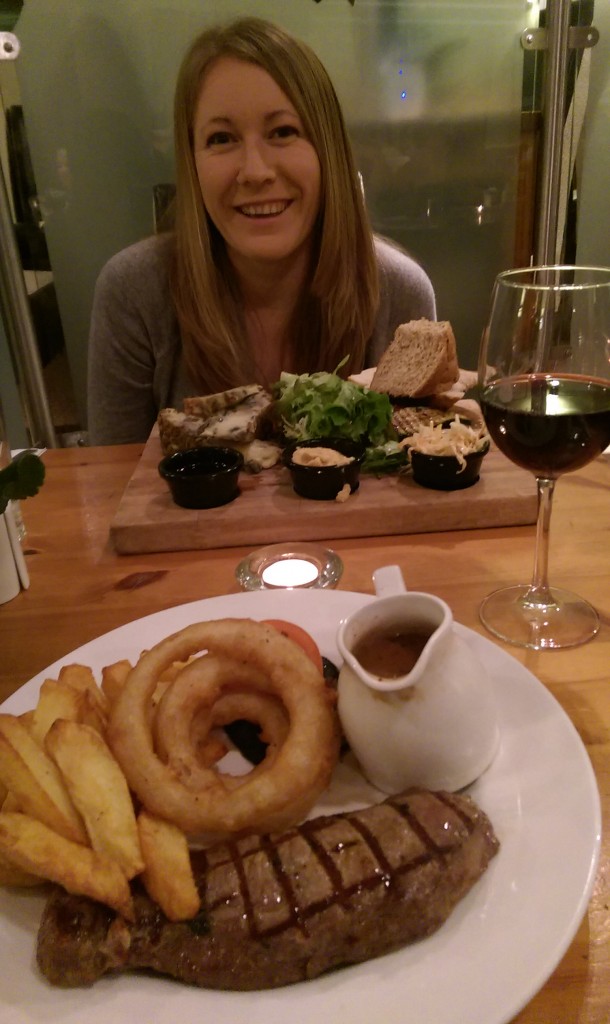 We did manage to split a dessert, although only because we'd seen several pass us that looked amazing.  We decided to share a chocolate mousse with shortbread and this was absolutely delicious.  I'd be happy to go again just for the dessert!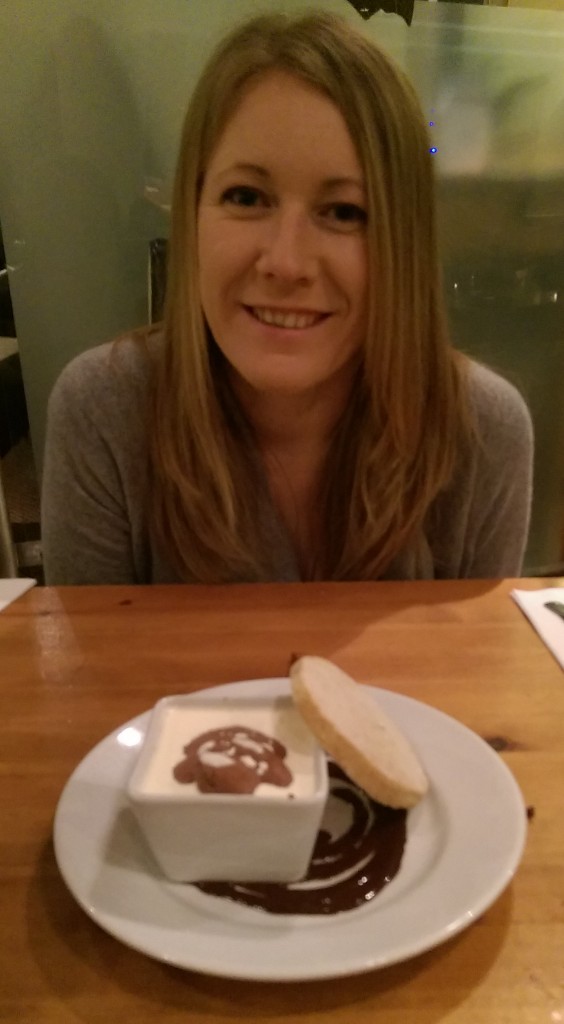 If you are taking part in Jantastic, how did your week 7 go?
Are you predictable when it comes to ordering out? – Dan could have told the waitress my order and I could have told her his!