Firstly, thank you for the lovely comments I received on Wednesday's post.  With a relatively free weekend (other than a 16 mile race) this weekend I'm looking forward to finally ticking off some items on my long-term to-do list and feeling a bit more on top of things once more.  I can feel the stress levels slowly going back down again and five days in I have already managed to fit in three runs this week so things are looking back up again!
I realised yesterday that I had never gotten round to doing a recap of my weeks 8 and 9 for Jantastic, so thought I'd better sum them up quick before I have to add week 10 onto that list as well.
Week 8: (32miles)
Monday – 3.6 mile easy run into the next village and back with Dan.  Average 11mm.
Tuesday – Rest day
Wednesday – I had an appointment after work with the doctor to try and work out what has been causing my sudden weight loss so kept Wednesday as a rest day.
Thursday – 4.01m very similar run location-wise to Monday's run but much faster this time.  It had been a stressful day at work and an afterschool parent's evening that had run on meant that I hadn't returned home until gone 8pm – long after running club had finished.  As soon as I was changed I headed out and just ran.  To destress and because I could.  My splits were 9:34, 9:11, 10:38 (couple of road crossings, otherwise my run would have been a perfect Royal Flush), 8:47 and 6:00 for the tiny nubbin (not sure if it counts as a nubbin for 0.1m!)  I returned absolutely exhilarated and desperate to fit another great run in again soon.
Friday – 6.06m – After a long week at work and with the memory of my great run the night before still fresh in my mind I was desperate to have another feel good run.  I actually ended up calling my best friend on the way home from work and the conversation was still going strong when I was home and changed ready to run.  I ran the 6.06m a little slower than normal but whilst continuing the conversation with my friend.  Two feel good runs in two days.
Saturday – 1m x2 – Saturday was bridesmaid dress fitting time.  I am bridesmaid for my friend Vicki's wedding in the Easter holidays and the plan was to meet the other three bridesmaids at the fitters in Peterborough so that our dresses could be altered.  Turns out the shop didn't have a car park and it was permit only parking in all the surrounding roads.  I had been so chuffed about arriving 15 minutes early but it then took me 15 minutes to find a car parking space…which ended up being over a mile away!  This resulted in a mad run (definitely sub 9mm, potentially sub 8!) in converse and jeans to the bridal shop and after the fitting a mad rush back to make sure I'd moved my car on in time!
Luckily, I was last in line for alterations, so I'd time to cool down a little and become less sweaty to try on my dress.  I'd actually lost so much weight though that I asked my friend to do the zip up twice because I hadn't realise it had been done up!  The seamstress has planned to take over 1 inch off from either side of the dress.  Better hope my body doesn't decide to pile all of that weight back on again now otherwise I think Vicki may kill me!
Sunday – 15.88m – The plan was to try and stick to Zone 2 throughout my run using my heart rate monitor (130-143bpm).  Because I picked a hilly run and because the wind seemed pretty insistent that it was going to blow me over out there and push me all the way back down the hills each time I headed up them the pace was anything between 10:30-12:03.  And then I barely felt like I was moving before my watch was telling me to slow my heart rate back down again.  I have loved training by heart rate and can see so many benefits from doing so (post coming soon!) but on days when you even need to slow your walking down up tough hills it can get rather frustrating!  I had a couple of strops when the wind got too much but then it seemed to stop so I picked up the pace and finished in Sub 10mm.  Below is me mid-strop half-way up the hill with my hair blowing all over the place.  It was pretty sunny out too just to add to things.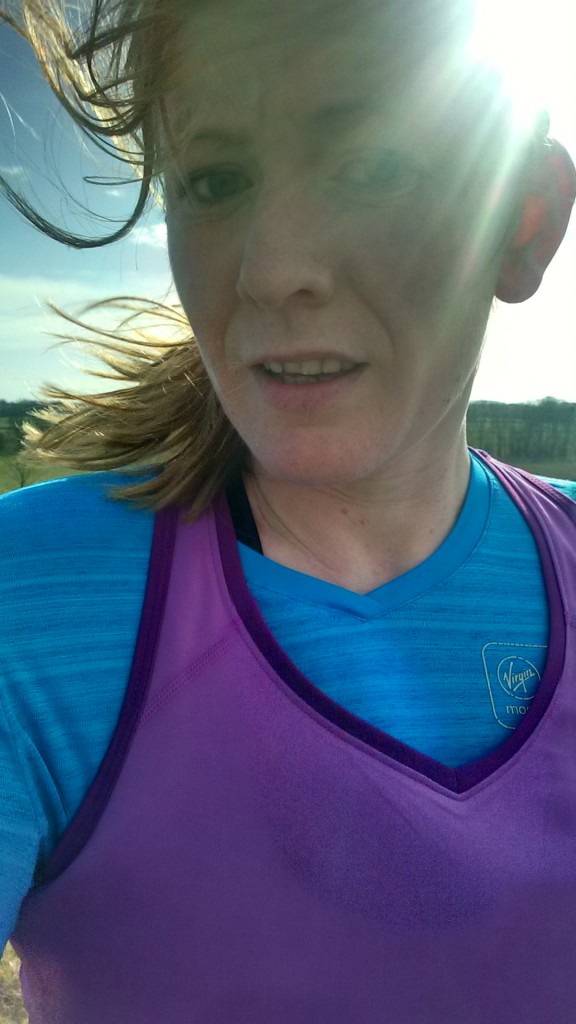 Week 9: (2.67m – my lowest mileage in a very long while!)
Monday – 2.67m round town with Dan.  This week we decided to start out steady and gradually get quicker and quicker.  Mile splits as follows; 10:23, 8:52, 8:37.  Loved this run and was so proud of Dan for picking the pace right up as well.  He's struggled to get out
Tuesday – Very busy day at work – worked late and was knackered with loads still to do on arriving home again, as well as finishing off and rendering a video I had made which I planned on playing at the hen do at the weekend.
Wednesday – I had to have a blood test at the doctors during the afternoon and still felt a little weak in the evening so gave the regular Wednesday trail run a miss.
Thursday – As Tuesday.
Friday – I headed straight from work to Peterborough so that I could check the DVD at Wildwood, the cinema/restaurant where the hen do would be heading to on Sunday.  Then the hen do began.
Saturday – Away all day on the hen do.
Sunday – Away all day on the hen do.
Week 9 was awful running wise, eating wise and sleep wise.  I really missed getting out there for my regular runs.  I also thought some of the weight that had mysteriously dropped off me over the past month would return after having a week of very little running and much more than normal eating whilst away on the hen do.  But, this was not to be and I actually lost a further 2lbs.  I did get some dancing in though, and we took part in a great scavenger hunt around Cambridge so despite not running, I probably burnt off a fair bit of excess energy on the hen do.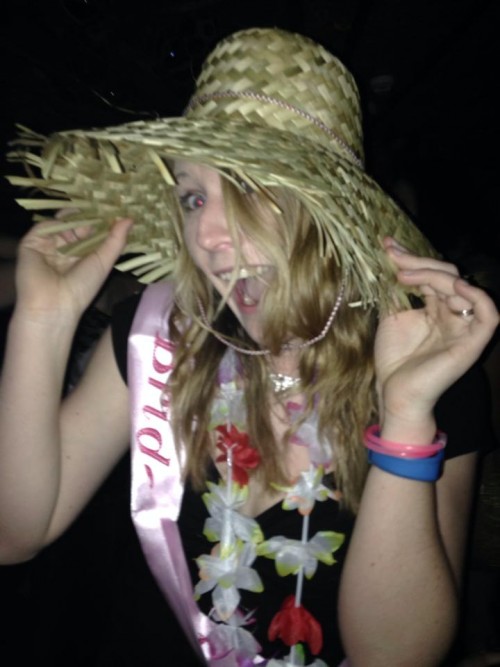 In other news during weeks 8 and 9, life was busy…
I tried ribs for the first time…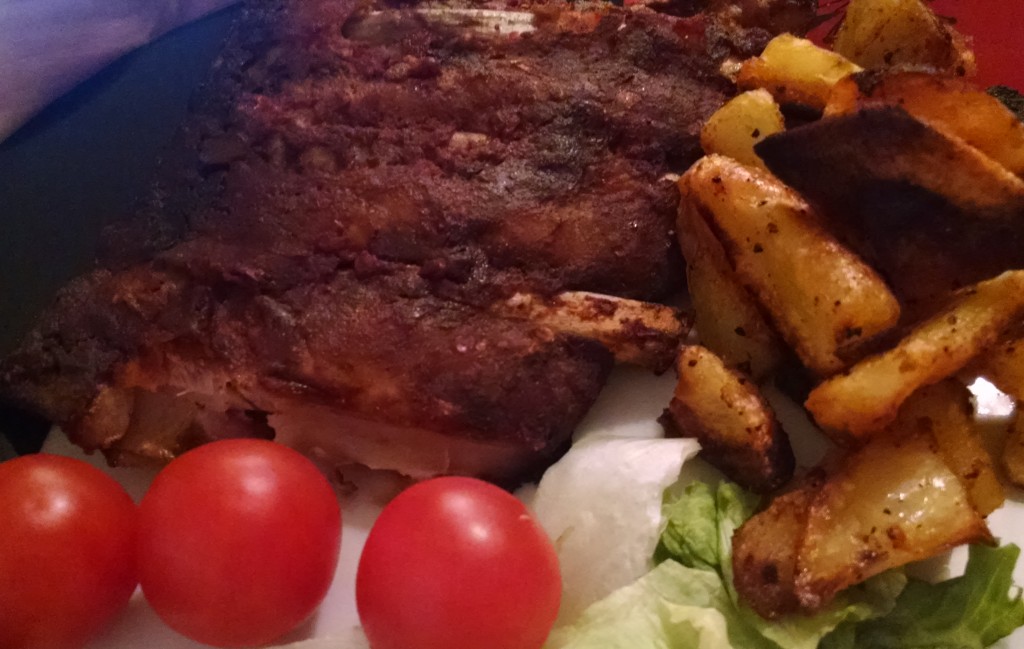 …and really enjoyed them.
Ribs are something I thought I would never try.  They really do not appeal to me…eating with my hands and getting messy just isn't my thing!  Dan and I were recently given a freezer full of meat, including a few racks of ribs.  I'm not a massive fan of meat as I find it too chewy and flavourless. I expected ribs to be the same but these were delicious, – really juicy and full of flavour.  Dan slathered his ribs in BBQ sauce but that is too sweet for me so I picked at them alongside some cajun wedges and a side salad and we will be having them again.  At home though, where I feel as though I can wash immediately upon finishing!
Bella has found some new hiding spots….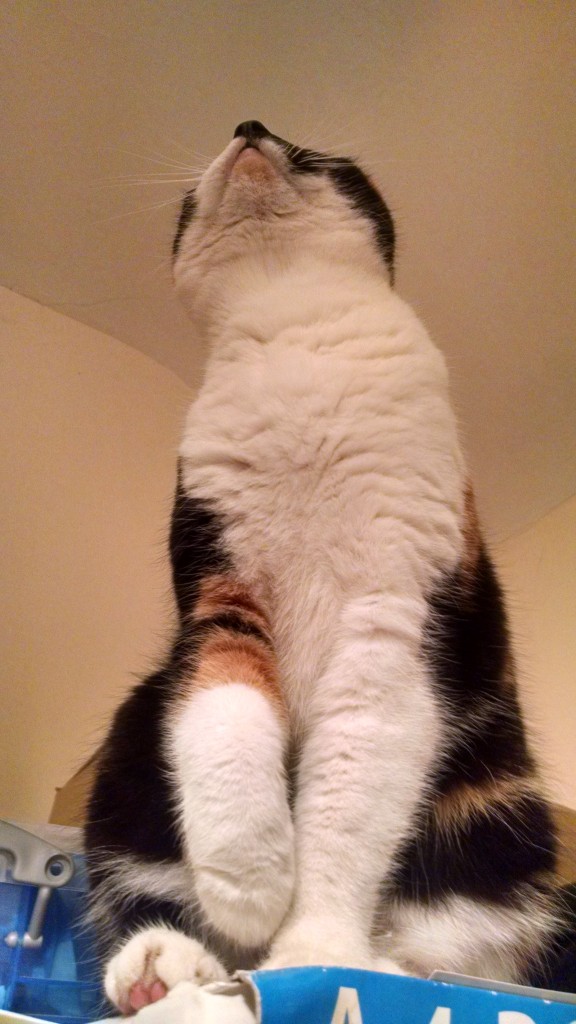 …including this one in the craft boxes on top of the filing cabinet in the spare room.
She was so high up I couldn't even see her face!
Does running help you to destress?
Any odd pet hiding places?!