This race was probably one of the quickest ever.
And by that I don't mean literal time-wise I mean metaphorical time-wise.  Looking back I would never have thought I had been out there for 3 hours, 14 minutes and 44 seconds as it seemed to be over in a flash, with no time to feel tired or bored whilst out on the Ashridge Boundary Run course.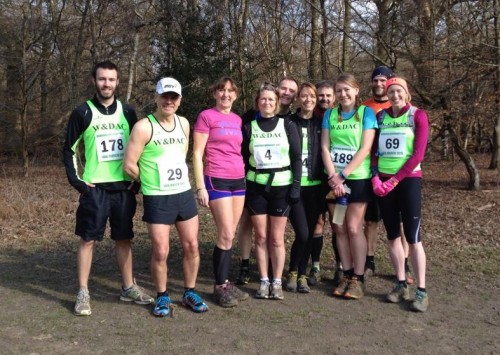 We grabbed as many runners from our club as we could for a group photo before hitting the start line just before 10am.  I was too busy talking to realise the race had actually begun and all of a sudden we were off and I hadn't even stopped to think out any real game plan for the morning.
I had a rough idea in my head that I wanted to trial the race out running on heart rate.  Running to heart rate during training this time round has really worked for me but there is still a lot of things about it that I don't know or understand and what heart rate to run a race at was one of those things.  As a rough guide I aimed to run at around the 160bpm mark – but was open to adapting this as the race went on.
The first two miles of the race were pretty swift.  Katie had warned me about the final three miles of steep hills, so I wasn't too concerned about speeding slightly at the beginning when I saw an easy, slightly downhill track through the woods.  There was a good chance I would end up slowed to a walk later on in the race and I would need some of that gained time then.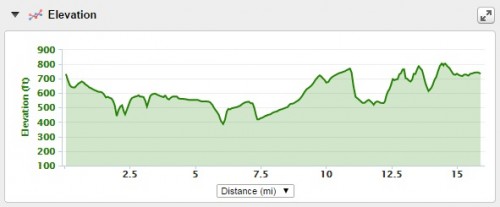 I kept checking my Garmin – really surprised that the 160bpm target I'd set myself felt so easy.  (As a rough guide for comparison, my long run training has been completed in Zone 2 – 130-143bpm so this race rightfully involved much more effort)
I was still on target at 4.5 miles when Mandy, another runner from my club caught me up.  I explained to her my rough plan and we decided to run together.
The next nine miles flew.  I vaguely remember covering a couple of long stretches of grassland – running through it despite my head getting fed up of the lack of change and seeing no end in sight.  Had I not had Mandy with me here I have no doubt that I would have walked this section.  My head can be pretty stupid at times!
As well as having a few long sections of flat grass to run over, there was also lots and lots of woodland which made for interesting twists and turns and ensuring we were picking our feet up nice and high!  About half way into the race we passed a fallen runner that had tripped over a root.  She was OK so we continued on.
There were three water tables on the course and I stopped only to give me enough time to grab a few jelly babies from each.  I was carrying my trusty water bottle and a bag full of sour cream and chive pretzels to get me round.  (YUM!)
Three miles from the finish and we came out into the open along a stony track before heading up a steep incline to the top of a hill which overlooked all the villages around.  It wasn't even that clear on Saturday morning as by this point mist had descended upon us, but still we could see a long way out.
The course was very well marked out with tape and large arrows.  I was rather concerned during the drive up when one of the other runners had spoken of the printed course map they had brought with them.  It had been weeks since I had seen that map…I hadn't thought it was a self-navigation course!  Luckily, there was no need for a map and to my knowledge, no runners were lost during the race.
Towards the end I felt as though I could have picked the pace up in places but by this point was enjoying the casual run/chat as I was going along.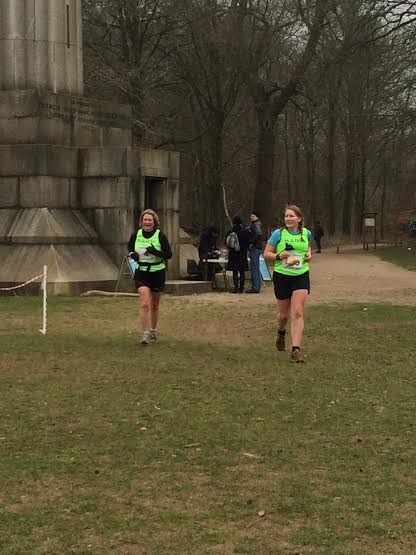 I think I actually look like some kind of giant next to Mandy in this next photo…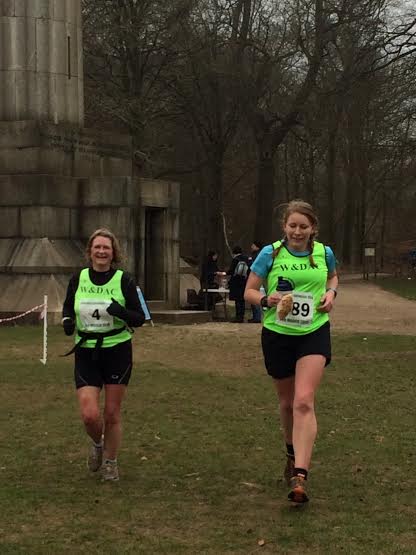 And it looks like my water bottle is balancing in mid-air here…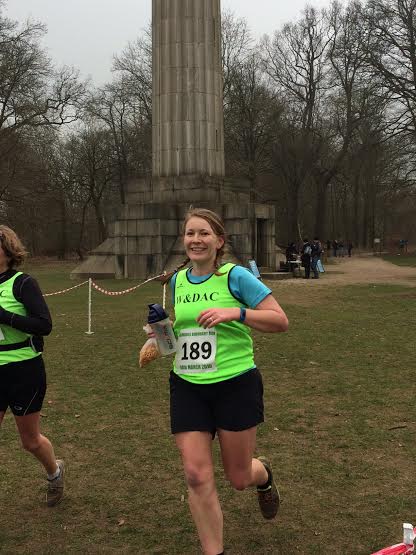 But I look super happy and you can tell no sprint finish took place!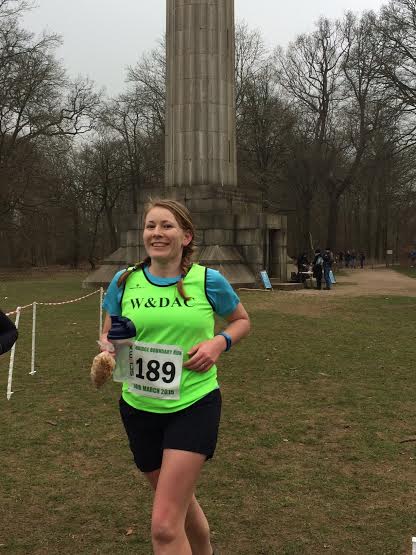 Total distance: 16.42 miles
Position: 195/211
Category position: 14/17 (Female Senior)
Once over the line we were handed a bottle of water and a beanie hat (I love it when races give out something other than a race shirt.  My beanie has already been put to work!) and directed to a row of cakes and juice.  I grabbed some orange juice and a cookie to get some energy back post race.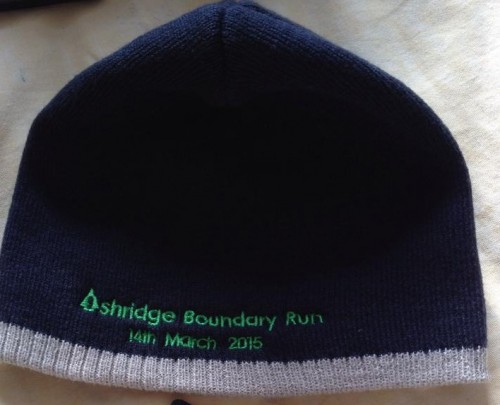 Mandy and I were the last ones over the line for our club so it wasn't long before the six of us that had arrived together were Wellingborough-bound once more and comparing races.
Twenty minutes into the journey though and I wasn't feeling so great.  I felt rather sick and I'd started to get a headache.  Another twenty minutes and I was asking to pull the car over in a petrol station.  A quick five minute stop and a bottle of water and I was ready to get home.  All I wanted was bed now.
I managed to make it back to get dropped off where I'd parked my car up in Wellingborough…only to throw up twice on the side of the road.  Not nice.  Pretty embarrassing actually and it spoilt what had otherwise been a lovely day.  I had eaten and drunk properly during the race and hadn't pushed myself too hard.  I guess I must have just picked up a bug.
I felt much better after being sick and then getting a quick nap in back at home though.  Ready for a lazy day on Sunday and catch up at work/life stuff that Sundays were made for.
What are your favourite race souvenirs?