On Wednesday night this happened…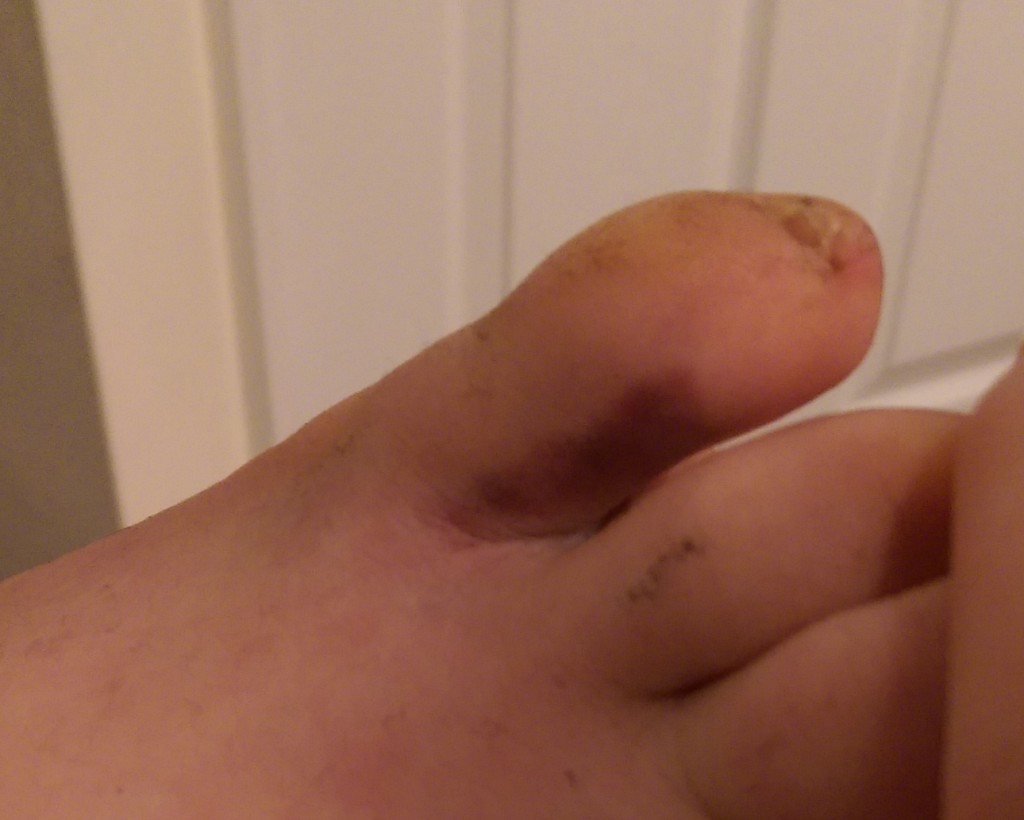 I had my doctor appointment at 6:30pm and a trail run due to start at 7. I was desperate to make the trail run and planned on arriving at the doctors early in case they could slip me in a bit sooner than my appointment time. I raced down the stairs and through the lounge door where I caught toes four and five on the doorframe. I bent over instantly in pain. It hurt so much more than a stubbed toe. Trying to keep the momentum I rushed around with a slight limp. The problem appeared when I put my trainers on and struggled to fit them over my tender toe. I made it to the doctors on time, and was seen early. I didn't question the foot at the doctors as I was so conscious that I wanted to be out on time for the run. My foot was still throbbing at this point though so I removed my left shoe to drive to our meet point and just drove in my sock instead.
When I arrived at the meeting point I could no longer fit my trainer over my foot at all!
In the boot of my car luckily I had a spare pair of old trainers that had a little more give in them. With much heaving over the edge of my foot I managed to get them on. It didn't hurt to walk although the left side of my foot was still painful.  The run was OK, although I was aware that my foot wasn't right and afterwards I returned home to put my feet up with some ice and hope for the best.
The next morning my foot had really bruised up.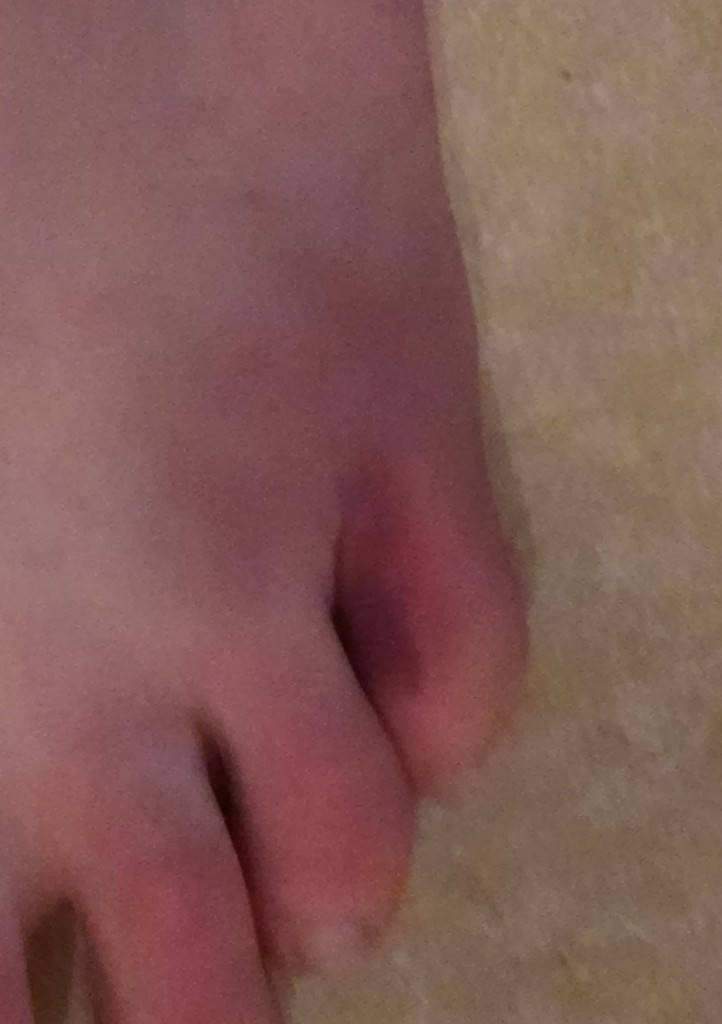 Six weeks out from race day no-one wants to see that!
The nurse at school splinted it for me yesterday morning and I'm hopeful the swelling will have gone down enough that I can run again end of the week/early next week.  One missed run in and I'm already very antsy!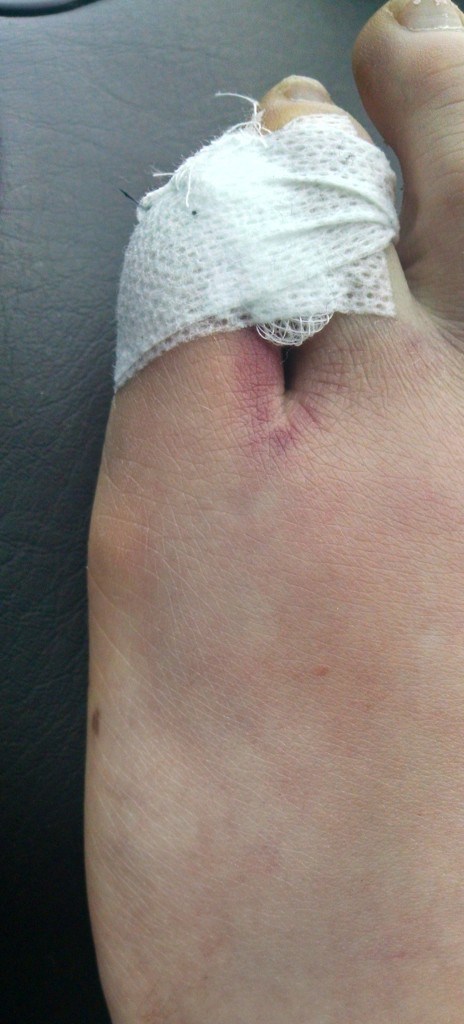 To take my mind off it I thought I'd recap the hen do I went on two weekends ago for one of my best friends, Vicki…
The four of us she had chosen as bridesmaids had put together a weekend of girlie gossip, good food, scavenger hunts, alcohol, movies and dancing and it was superb.  

We began on the Friday evening with a calm evening in at a Bridesmaid's house. Party food was provided and so were the party games.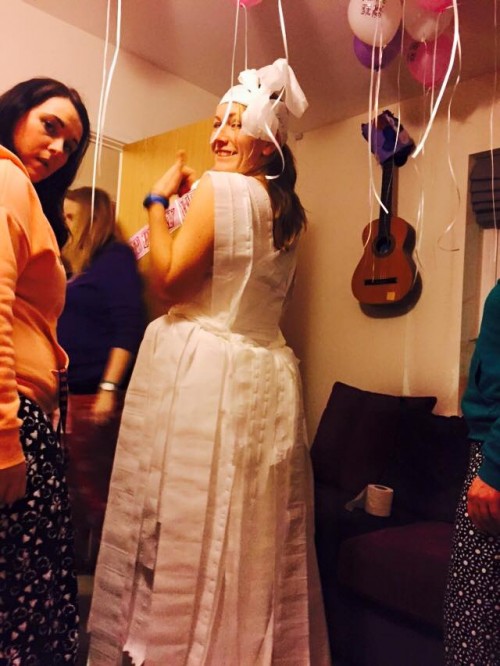 Yep, that's me in a wedding dress made of toilet roll paper.  I'm not quite so sure what's on my head but the girls did a good job with the skirt of my dress.  I felt a bit guilty when our team beat Vicki's team by a mile but thankfully I've seen Vick's wedding dress for the real day and it's beautiful and 100% not made out of toilet paper.
Saturday morning we regrouped for a breakfast at Frankie & Benny's before setting off in convoy to Cambridge where we checked into our hotel and grabbed taxis into the city.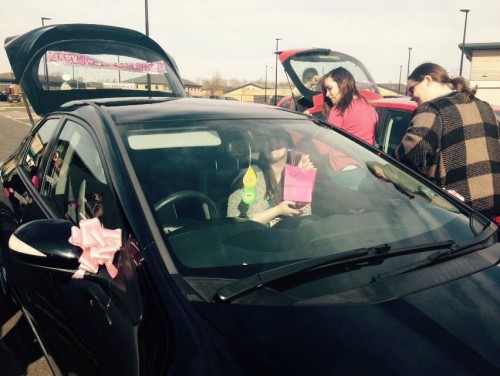 All of our cars were decorated with pink ribbons and Hen Do banners!
The first main activity for the day was a scavenger hunt through the city.  Vicki is incredibly competitive and loves working things out so this was perfect and thankfully, so was the weather!  We split into two teams and were given maps with points marked out and a list of questions to find answers to.  As well as questions there was a sheet of items we must bring back, such as a promotional pen and an inscribed gift to the engaged couple.  There was also a sheet with a list of photos/videos we had to take and this part was probably the most fun…
We had to fit all of us into a phone box…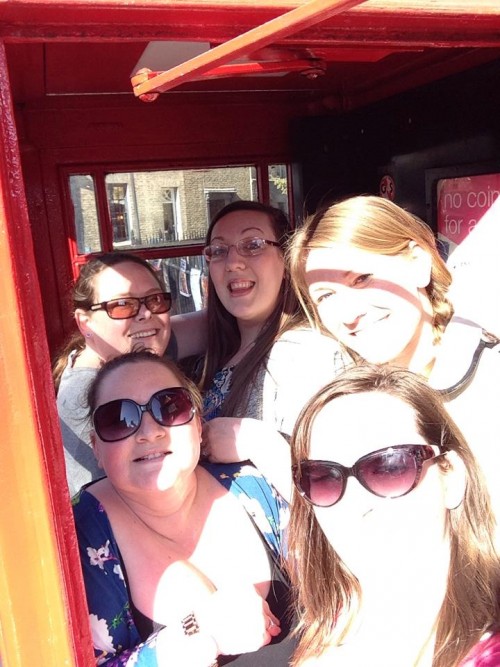 …We had to take a picture of us with a statue…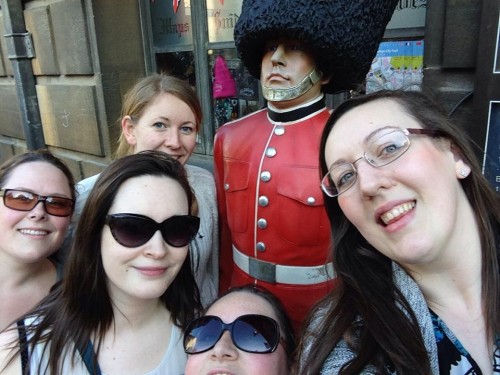 …One of us in a punter's bowler hat…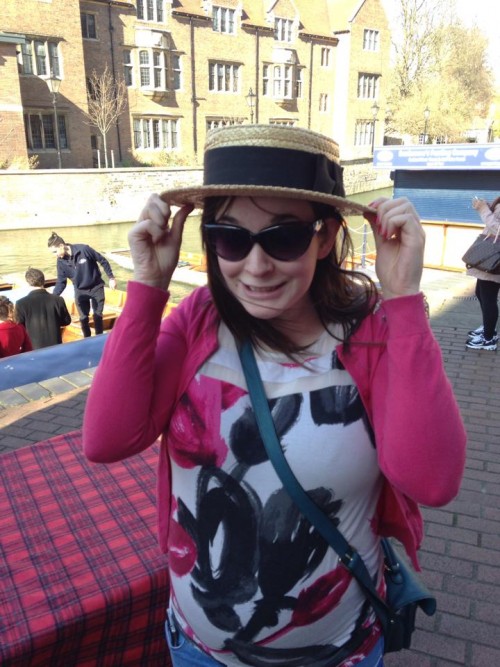 …and lots more including a video of a member of our group being serenaded by a stranger and a photo of a member in a wedding dress!  (Bad luck for anyone to see.)  We were knackered when we caught taxis back to the hotel to go through our answers at the end!
A quick change at the hotel and pre-dinner drinks and we were off to Jamie's Italian for dinner.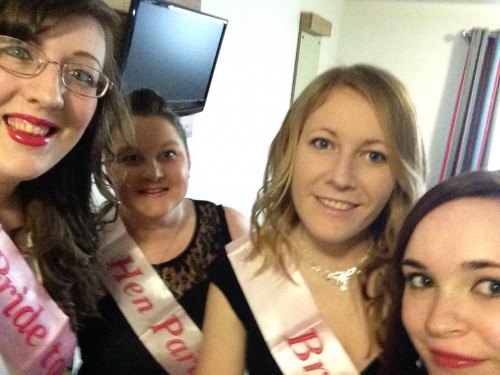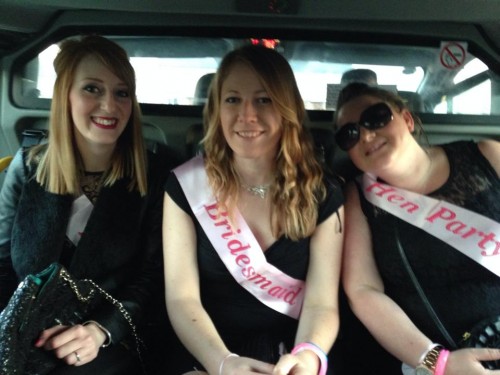 I have wanted to go to Jamie's for the longest time and this was possibly the part of the weekend I was most excited about.  Although I was a little disappointed when the menu came out and there was nothing that really took my fancy.  

 In the end I went for roasted carrots and a prosciutto, mozzarella and melon salad.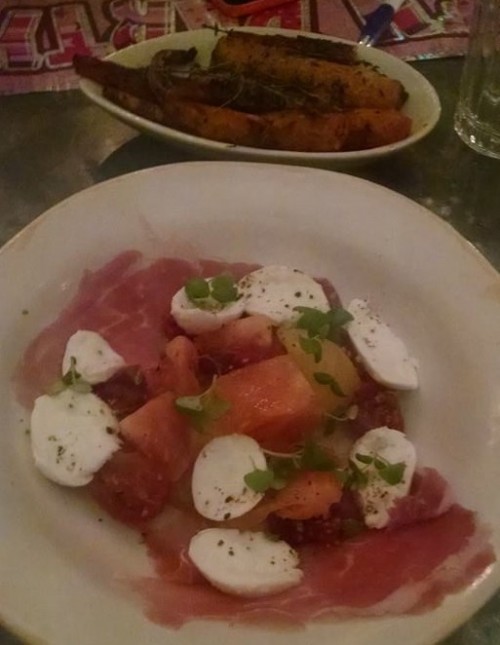 What can I say?…I'm pretty predictable!  As someone who has eaten this dish on numerous occasions in a variety of different restaurants though, I can say that this dish was delicious!
From Jamie's it was a short walk onto the next stop – Lola Lo where we began our cocktail making class and games.  I don't get out to drink very much but I do enjoy a good cocktail, and we made several before heading into the club itself…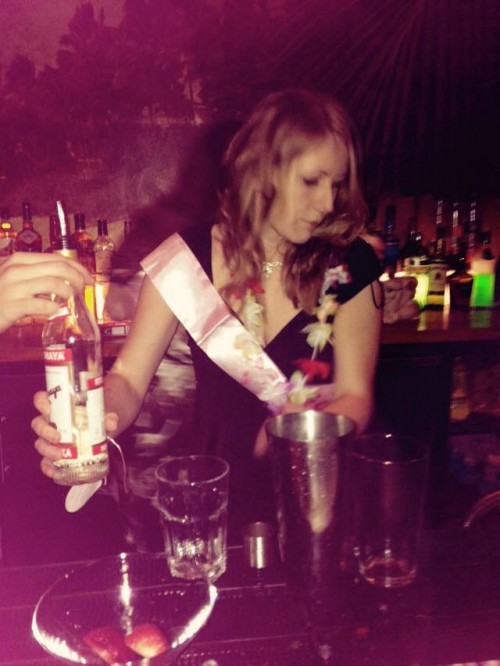 Being pretty old now, one group of us (including a pregnant hen and a hen with a baby) caught a cab back around 2am and the other group stayed out late.  I was happy heading back early to catch up on sleep though after the manic stressful week I had had with work.
The next morning we grabbed a hotel breakfast and leisurely got ready before our convoy of cars headed back to Peterborough and Wildwood where we enjoyed platters of starters for picking at and then I chowed down on a goat's cheese salad.  Again, predictable, but sooo good.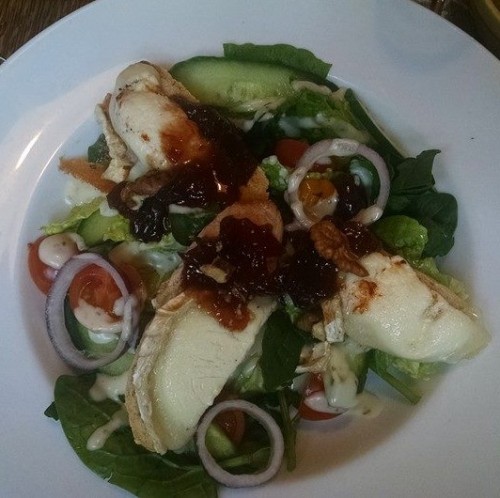 Wildwood has it's own cinema room and so after lunch we shuffled Vicki through to the large lounge chairs with comfy cushions where candyfloss and pic 'n' mix sweets were waiting.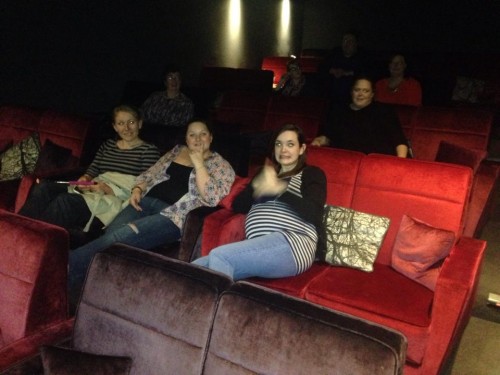 Dirty Dancing was played which was one of her favourite films and then after that we played a video of messages from us all on the big screen.  Mosty funny messages, some good luck messages and some sweet ones thrown in.  We succeeded in making her cry!  The hen do was the perfect mix of fun, alcohol, laughs, memory making and a little bit of lovely.  I'm pretty sad that this is the last of my close friends to get married now!
What have been your favourite weekends away with the girls?