When I first started running I pulled out some old trainers from the back of my cupboard that had been kicking around for several years.  They didn't have a lot of support and were the same size as my feet which I soon realised was a size and a half too small for running long distance.  Several toenails were lost in the lead up to my first marathon in 2012!
In 2013 I was lucky enough to win a place on Operation Ultra as part of Women's Running magazine, and as part of my prize I received two pairs of Asics trainers.  I fell in love.  I rotated and looked after those beauties (well, Dan did the cleaning of them!) and they saw me right through to Christmas just gone.  But by that point I knew I was desperate for another pair.  The trainers I had received as part of my winnings were trail shoes, but also competing in a lot of road events I saw the benefits of having a pair of road shoes as well.  I'd just never spent so much on a pair of trainers before.  I was used to previous pairs costing me £19.99.
Luckily Dan recognised my fear of spending and knew how much better for me the proper running shoes had been, as well as how much longer they had lasted and on Christmas day I received a shoebox containing a brand new pair of Asics Gel Fuji Trabuco 3 GTX trails in a size 10.5. (Ahem, yes, I have rather big feet and wear a size 9 shoe normally.  No comment please!)
A few people had given me money for Christmas and put together I worked out that I could afford a new pair of road shoes.  I tried a few on in store and fell in love with the red Asics Nimbus 16s.  Two days later, they arrived on my doorstep and my feet were super happy.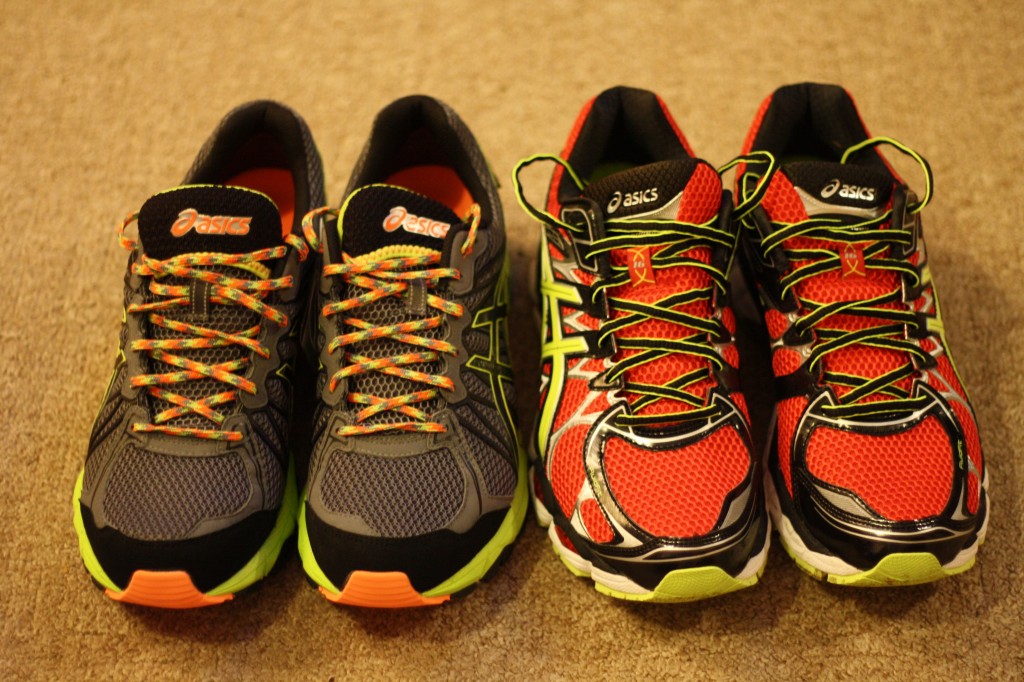 Imagine how excited I was to receive an email from SportsShoes last month asking if I would review a pair of their Asics trainers in return for getting to keep the pair.  What does every runner always need?  A supply of beautiful trainers!  So erm, yes please!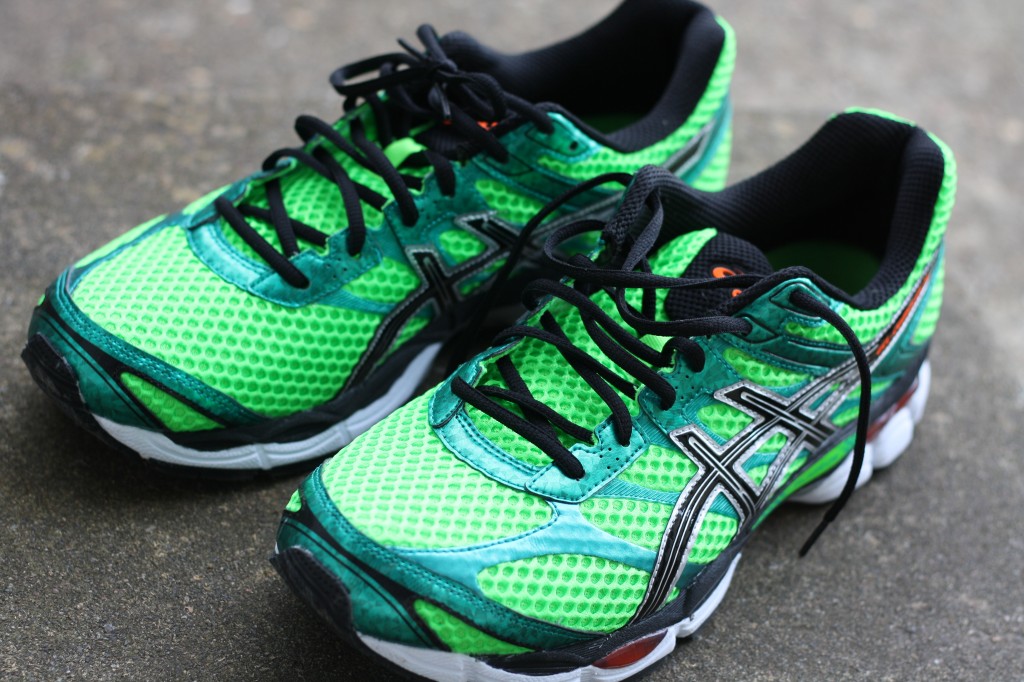 I deliberated for ages over which ones to choose.  I could go for some more Nimbus 16s, although I already had a pair of those.  I thought it made more sense to test out a different pair and after a few days of going backwards and forwards, checking out the spec of each trainer on the Sports Shoes pages I decided to go for the Cumulus 16s this time.  In green obviously, sticking to club colours.  They arrived quickly and I was super excited to tie them up and compare them to the other trainers.  Therefore, although my review is only required for the Cumulus, I intend on reviewing all three of my 'new'-ish trainers.
I wore these for ten miles of trail the first time I took them out and they felt so comfy!  No blisters or rubbing although on the first two runs I could tell that they were new and hadn't yet moulded to my feet.  They felt a little tight across the bridge of my foot but I have the fattest feet out of everyone I know.  By the time it came to my third run in them they fit like a glove.
Obviously to test the trainers thoroughly I had to take them through thick mud…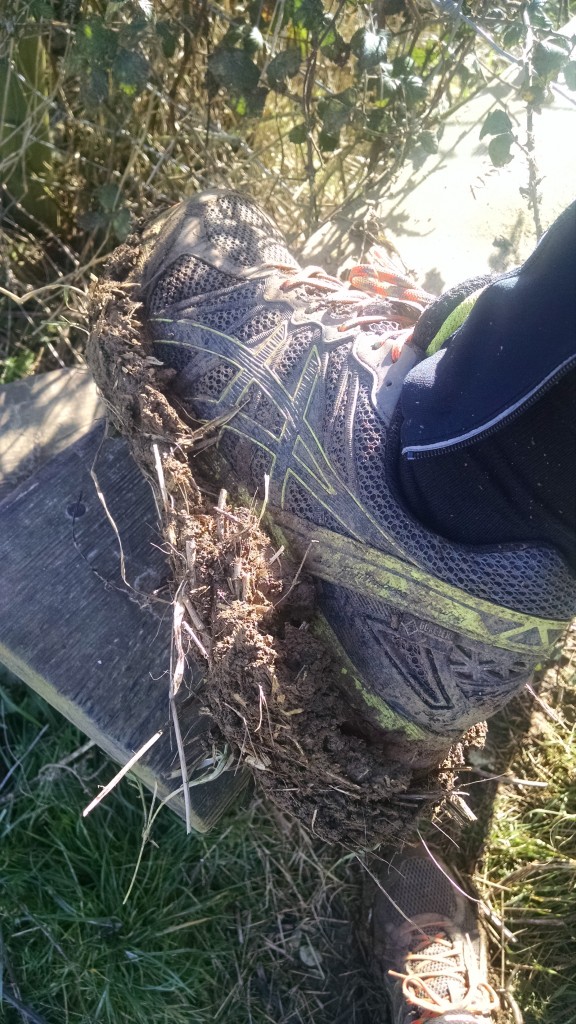 …and they kept me surefooted during the cliff-climbing sections of South Devon marathon last month.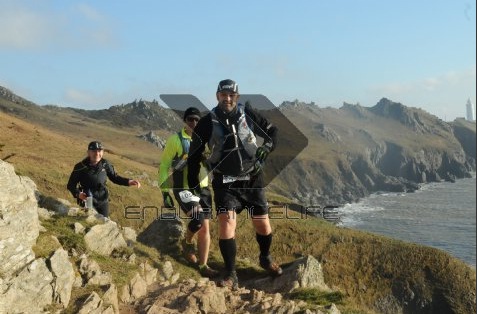 Having run quite a lot of off-road over the past year I need shoes which I can comfortably throw myself down the hills with some degree of trust and these fit the bill.
The first time I put my Nimbus 16s on I felt like they went up a long way at the back of my foot towards my ankle.  Although, when I've seen pictures of myself running I can't say I've ever noticed this is the case!  Again, there was no rubbing and I haven't had any blisters.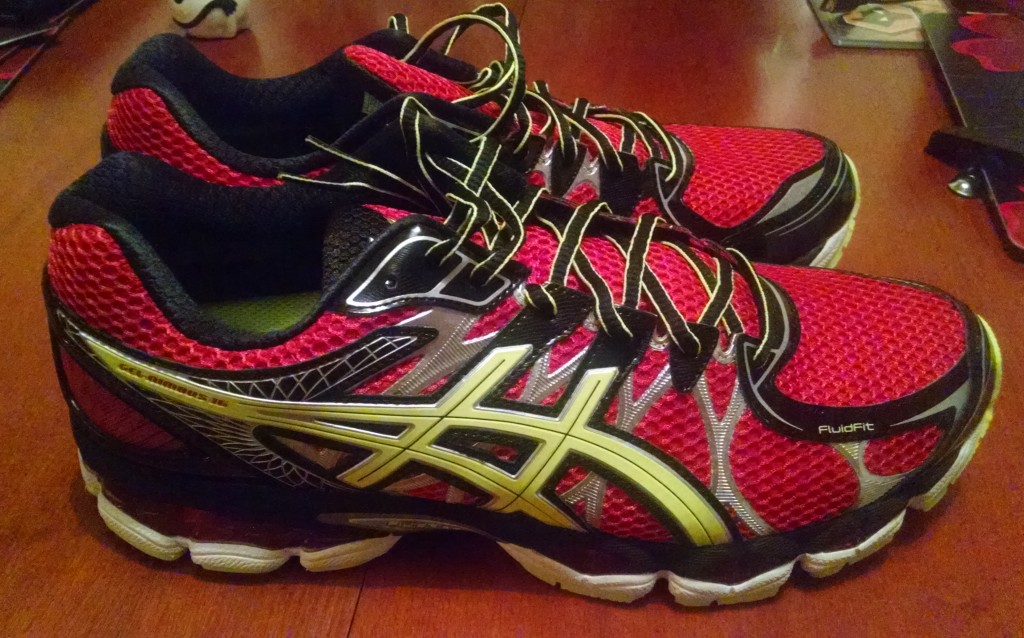 I haven't run any races since buying these shoes, but the first thing I noticed about them whilst on a run was how incredibly light they were.  After being weighed down in a pair of trails covered in thick mud all Winter my feet felt they were flying on the first (supposed-to-be-) easy four mile run I took.  It was so easy to pick my feet up high and the base of the shoes sprung powerfully and almost automatically across the tarmac.  I couldn't resist throwing a bit of fast fartlek in along a flat stretch of the route and enjoying my legs really picking up the speed.  They do feel roomy inside.  Running long distances I need a shoe which lets my feet expand as I run over time to avoid the dreaded black toenail and I like that these shoes have a lot of space in the front as my feet get warmer over time.  P.S.  They look hot!  I like to imagine that the Asics symbol down the side is actually a lightning bolt as I speed past everything in sight.
My feet felt very cushioned and well supported in these and unlike the other two shoes I never felt the tightness across the bridge of my foot during the shoe's first couple of outings so these are potentially slightly wider.  Even though the Cumulus feels a little more weighty than the Nimbus model, these have become my day-to-day running shoe that I use in all training runs as I find the support I gain during turns and mixed pace sessions is spot on.  As someone whose entire body seems to sweat up incredibly quickly when running, the mesh over the toes allows my feet to experience some fresh air and keeps my toes from overheating during a run.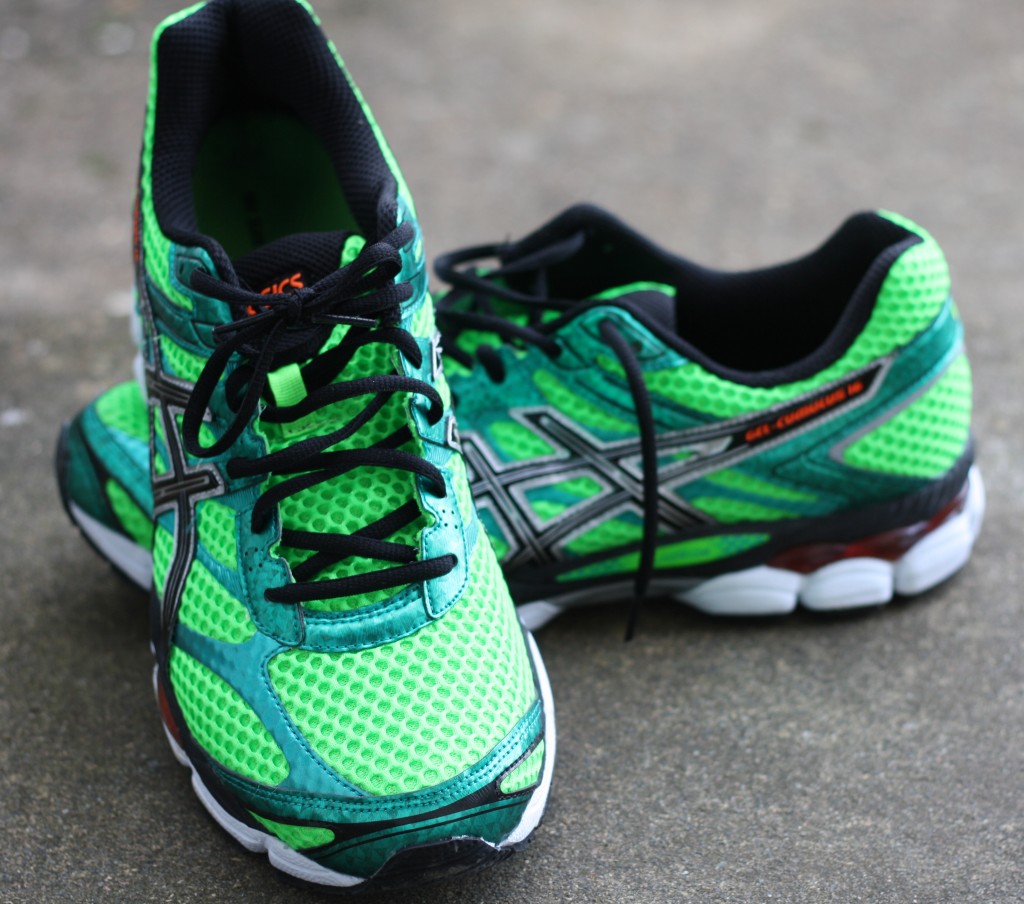 These shoes are a little less pricey than the other two but equally as high in quality.
I do feel as though there is no moving away from Asics for me now as far as trainers are concerned.  I am very happy with the quality of the three pairs I currently own and I have a different use for each pair.  The Trabucos for trail runs and trail races, the Nimbus for road races and the Cumulus for everyday training.
I think I'm all set for the 2015 race season now!
Do you own any Asics items?
What trainers do you run in?
What trainer size are you?  Is anyone as big-footed as me?!