My toe has gone from being a little twingy, but me insisting that it gets on with things, to me forgetting I ever injured it in the space of a week.  So, I have gone from an extreme four week taper, to fitting several runs in this week and now I'm back onto the taper again!  My runs have been strong this week which has helped to regain some of my confidence for the upcoming Milton Keynes marathon on Monday.
This Monday I headed out on a 3.6 mile run with Dan after work.  We took things pretty slow and Dan needed to stretch at the two mile turn around point.  It felt good to be out at a chatty run pace again.
This week started off pretty manic.  I had an email last week to say that I had been selected to interview on Tuesday for an internal position at school following an application I had made earlier in the week.  I absolutely hate interviews and when it comes to questions requiring me to big myself up I really struggle as I find it sounds so false.  Dan was a massive help over the weekend, – between us we made a list of about ten questions that might come up during the interview and I wrote and learnt versions of model answers to each one before spending a long while practicing responses to them while Dan mock-interviewed me.  Alongside the formal interview I had 30 minutes of tasks to complete which went well.  I didn't think I would get the position as I have only been in my job fulltime since January but I was proud to think that I had been invited for interview following my application letter.  My feedback the following day was good – I had lost out purely because the successful candidate had already been in the role whilst working in a different school.  Probably one of the better interviews I have had!
Tuesday evening I headed out on my own to test out a new trail route.  Although I am eager to get back to club now that I am running again, my group were only planning on running 3-4 easy miles as so many of the runners had either just run London marathon or will be running Milton Keynes this coming weekend.  I had been asked to come up with a 6-7 mile trail route from the town I live in for next week so I set out on my own with the intention of exploring any footpath signs I ran past.  I had intended on running at about 11mm pace over the fields but about four miles into my run my leg disappeared from beneath me and before I knew what was happening the front of my left leg bashed against the top of a badger sett hole and my right knee crashed to the ground.
Left shin – scraped: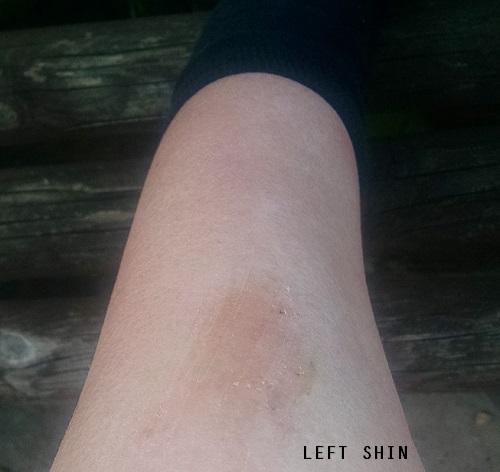 Right knee – bleeding: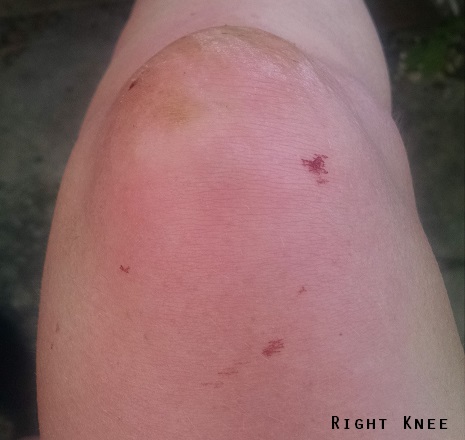 Excellent.  Who would be a runner?!  Things could be much worse though, I'll get over it.  I walked the remainder of that field.  The grass was high and the holes were well hidden.  When I arrived back out onto the road again I picked up the pace a bit into the 9:xxmm to head home.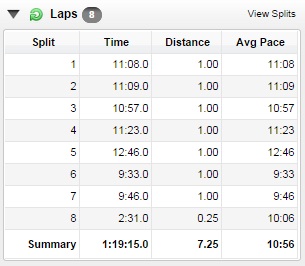 Last night I was shattered but desperate to head back out on a trail run with club.  There were eight of us that met in the car park in Grendon at 7pm.  Within half a mile we got cornered by some cows with their young on the bridge. We turned around and tried the route in reverse but as we were seven miles into the run with less than a mile to go we realised the cows still hadn't left the bridge we were due to cross.  We snuck (incredibly quickly) along the back of the field they were in and leapt a fence at the other end, only to discover that we had landed ourselves in another field with cows in!  Kev headed alongside the fence near to them and kept them distracted whilst us girls sped round the back, unnoticed.  Several minutes later and we spotted one of the guys running full pelt towards us and safety as the other guys jogged casually behind shouting out "They're coming! RUN!"  No cows were in sight, but it was funny to watch!
We're all a little bit nervous around cows after one of our club members was attacked a few years ago.
Top interview techniques?
Do you run/walk through cow fields or avoid them where possible?!