All week I was undecided over whether or not I should run the Oakley 20 on Sunday.  Oakley 20 is one of my favourite races and has been one of the first in the season I've booked in as part of my marathon training for the past four years.
I was gutted when I broke my toe ten days before race day.
I did the sensible thing and took three days off straight after, but then I ran ten miles of trail last Sunday. It didn't make things worse, although my foot clearly wasn't right during the run. I took another four days off, then ran a mile on road on the Friday before the race and an easy parkrun on Saturday. I survived both runs and my foot wasn't any worse off for it so I decided to at least start the race on Sunday. If I started and realised that things weren't right I would easily be able to pull out and let somebody know on the course.
I ran Oakley 20 in 2012 in 3:36:56.  The year after in 2013 the race was cancelled due to poor weather but I still went out and ran 20 miles in the snow on my own in 3:38.  Last year I had had a rubbish year of training so used Oakley as a confidence boost to run slowly and steadily round the course starting off with others.  I completed it in 3:51:54.  This year despite my toes and aiming to run slowly I ran slightly quicker than that in 3:46:34.  I'm not feeling too disheartened, as despite my relative slow time last year I still PBd at London three weeks later.  I still have five weeks left until race day for my foot to fully recover and despite that I'm feeling much stronger than I did this time last year.
Anyway, we arrived nice and early at Oakley.  I gave a lift to a friend and there weren't many others there when we arrived so we made use of the floor to organise our race numbers and get race-ready.  Loo queues were avoided by using the secret toilets by the bag drop at the other end of the school.  Top tip for anyone running Oakley next year.  I used these loos twice and didn't queue for a single minute!
There was a delay at the start, although I'm not sure why, but we didn't set off until 10:10 (due to start at 10am) when we slowly trickled over the starting mats.
I had a brief panic when there were only four people handing out cups of water at the first water point (mile 3).  I didn't want to change pace so early into the race and I didn't want to risk stopping incase my foot decided it wasn't happy.  I was running with a fairly large crowd of people still at this point and I just couldn't get in to the table to grab a cup and then it was too late and I had already passed the table with nothing from it.  I purposefully hadn't taken my usual large water bottle on the race as I don't intend on running the marathon with it and instead intend on taking fluids on at water points around the course.  Luckily, by mile 6 the pack had thinned out a fair bit and I could grab a cup from the cadets as I passed.
The first few miles were easy.  Worryingly easy.  My game plan had been to run to 160bpm on my heart rate monitor, but as a rough guide, keep it below 11mm pace for the first twelve miles.  At twelve miles we ran past race HQ and I would be able to judge how my foot was feeling and either drop out/pick up the pace/steady up a little accordingly.
Miles 1-12 pace:  9:46, 10:10, 10:48, 9:55, 10:38, 10:59, 10:36, 10:56, 10:53, 10:38, 11:09, 10:53.  Pretty much spot on target.  The variation in speed comes from the hills on the course as my effort stayed pretty much the same throughout the first half of the race as you can see from my heart rate stats below…
Miles 1-12 HR:  153, 158, 162, 159, 163, 163, 162, 163, 163, 161, 161, 163.
One of the things I love most about Oakley is the rolling hills.  There's nothing that stretches on for miles but instead, plenty of short, sharp climbs, each followed by a nice rolling downhill.  Hills are one of my strengths and usually I can power up them, before letting my body relax and stretch out my legs to run back down the other side.  It became apparent quite early on though that although I wasn't in pain from my toe whilst running on the flat, running downhill at full pelt (for me) and putting all the pressure on the front of my foot was probably not the best decision I could make.  So no making the most of the downhills for me on Sunday!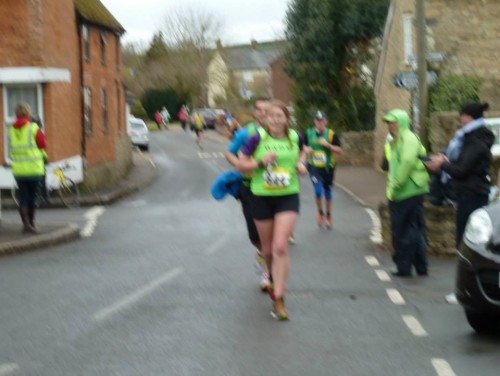 You can't really see me in this photo about 9 miles into the race as unfortunately it's a pretty blurry shot.  But you can see how many layers the spectators are wearing and how bare my legs are to compare to the lack of visible skin from anyone else in the picture.  It was pretty windy out there on Sunday!
As I headed along the road with the school on, I half had in my head that I had had a successful long run and I should call it quits whilst I was ahead.  The other half of my head wanted to see what else I could do in the remaining eight miles…and that half won.  Especially when I ran along the outside of the school to cheers from club runner's partners and club runners that had already pulled out of the race.  One of them shouted out "You're already doing better than us!"  And that was the final straw for me to continue with the race.  I walked through the water station which was just past the school though and then struggled to get back into a proper rhythm for a little while.
My feet had swelled from the running by this point twelve miles in.  Just like they would on any other day.  Only, with an already swollen toe, there wasn't a lot of extra space in my trainer for that to happen and it got a little uncomfortable in there for a while!  Not painful, just uncomfortable.  I would have stopped had I felt pain.
The wind in the second half was horrific as well.  At points along the course we were barely moving forwards despite legs desperately going up and down on the ground!  My head was still pretty much in the right place though which is something very positive to take from the race.  After a tough couple of miles of bitty running I just told myself to run steadily to the end…so I did!
Miles 13-20 pace:  12:00, 12:23, 12:52, 12:28, 11:52, 11:52, 11:40, 11:27.  Nubbin: 0.28m @ 9:16mm pace
Miles 13-20 HR:  158, 159, 155, 156, 156, 158, 159, 161.  Nubbin:  167
The last mile at Oakley is the worst.  You run back past the front of the school for the last time – although this time, instead of the partners of club runners cheering you through you see hundreds of runners that have already finished the race walking back to their cars.  You turn down a side street into a housing estate and weave down a few alleys before emerging at the bottom of the school playing field.  Here is where you can safely start a sprint finish, because with just a lap of the field to complete now, the finish gantry is in sight.  I had heard two ladies chatting just behind me as I had come out into the field so I really picked up the pace here to try and leave them behind and keep my finishing position for the race.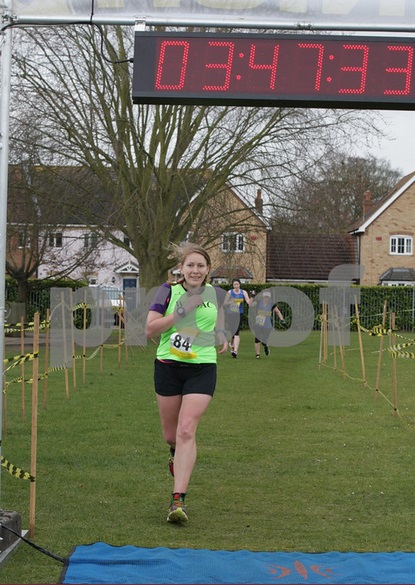 I really like this shot from the official race photographer.  I think I still look pretty strong here and I can see the two ladies I had heard just behind me not long earlier way back in the distance in the back of the picture.  My hair is a bit all over the place but that just evidences further how incredibly windy it was on the day!
Position:  794/843
Official time:  3:46:34
As well as running without my own water, for the first time in ages I also ran without food, instead using two maxifuel mixed berry gels to take in small doses along the course.  First 20 miles of road completed for this cycle of marathon training!  Although I did complete a trail marathon back in February as well but running trail is completely different to running road.
Randomly, my foot has felt a million times better since finishing the race and I can now flex it much more than I could before starting…maybe running did it good?…!
Oh, and this year's hoodie colour?…Yellow and black.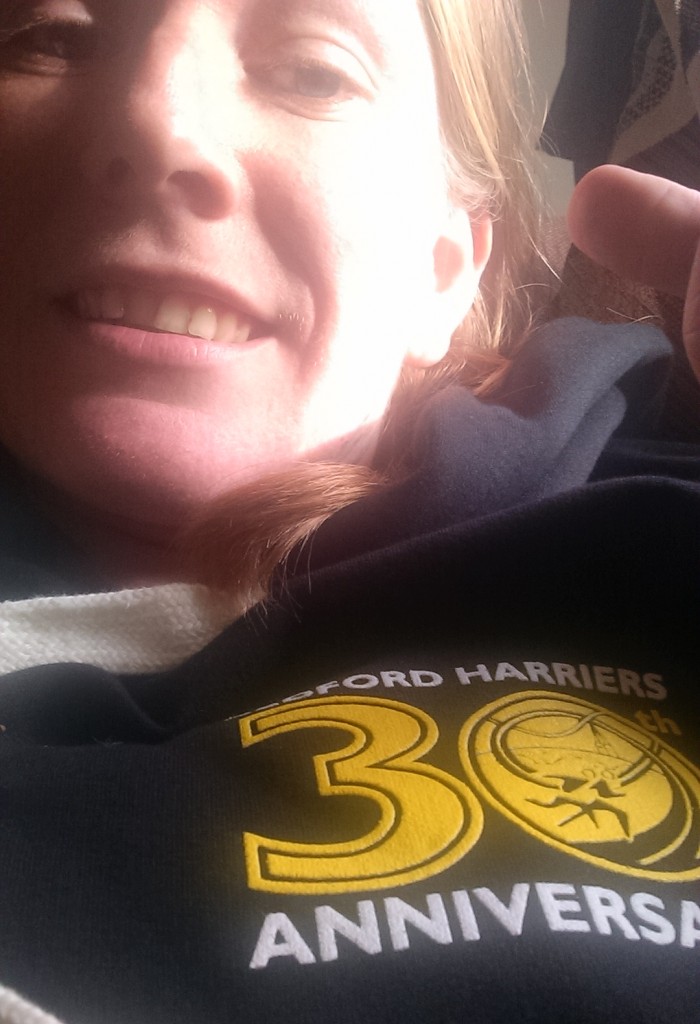 Do you prefer to join others in a race for your long runs?  Or to run them alone?