Who got caught out by April Fools yesterday?  When I first woke, I logged in to Facebook to see this status by one of my local parkruns…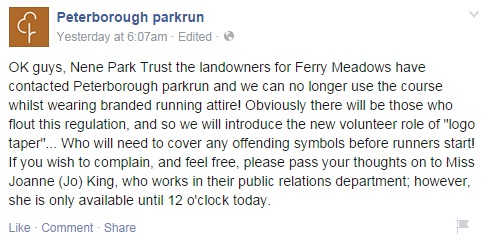 At a quick skim through I honestly thought this was real!  Shows how gullible I am.  On a second read I picked up on the little details like Jo-King and only being available until 12pm.  Whoops!  I was on to everything April Fools after that though.  There were some good ones.
A Beautiful Mess: The Documentary  << I love how much work went into this and bet it was really fun to put together.
Run, Eat, Repeat: The Ultimate Giveaway
Com.Google
Groupon: Learn how to bark course
Mail Online: Longleat Bubblewrap
The Sun: Simon Cowell £5 note
Telegraph: The Boo!Mark
On Monday morning I headed over for a spa day with my friend Vick.  I had bought us a day pass with lunch and massage included as a belated birthday gift for Vick.  As we filled in the paperwork when we first arrived I was stumped on a couple of questions.  I haven't visited spas many times, but when I have always struggle with the questions like 'What is your daily skin-care routine?'  I'm afraid I just wash my face when I'm in the shower each morning!  If I wear makeup I obviously take it off at the end of the day but it's not often I wear it.

Vicki opted for the 50 minute facial and I went for the 50 minute all-over body massage.  Ideal after having run Oakley 20 the day before.  I started off on my front and the lady spent probably a good 20 minutes getting all of the tension out of my back.  My shoulderblades were really tight, although I'm happy to say they're much less so now!  My legs were not too bad surprisingly.  I must hold my arms up too high when I run.
After 25 minutes I flipped over onto my back and she massaged the front of my body.  I hate my runner's feet…always have, even before I was a runner.  They're big, chunky, have crooked toes and, now that I'm a runner either have very short toenails, or dark toenails.  I really didn't expect her to massage my feet so leapt up the second she touched my right foot.  She was using a lot of force as well, so it's a good job she didn't start with my left foot, where there were broken toes!  I informed her of my toes and she left well alone thankfully!  I felt very relaxed by the end of the session and when I met back up with Vicki we headed to the sauna to continue our relaxation.
Lunch was booked in for 12:30pm and we were both really impressed with the presentation and variety in our meal.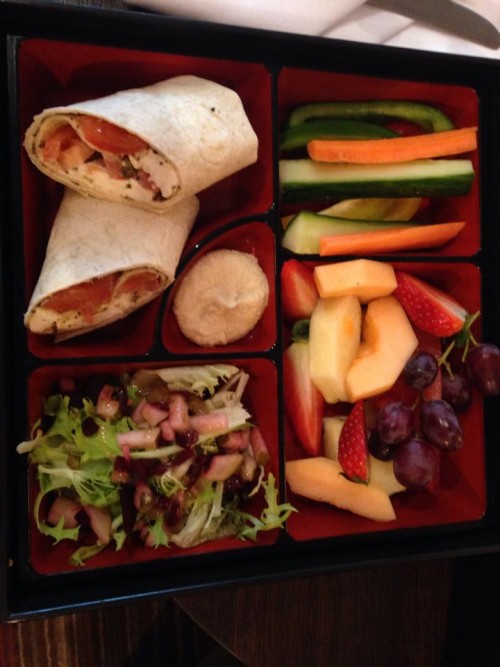 A mozzarella, tomato and pesto wrap served apple and beetroot salad, carrot, cucumber and pepper sticks with hummus and a selection of fruit for dessert.  Yum!  It was a really nice day on Monday, which was a pain after the weekend of rubbish weather, but it was nice to come home to the daffodils all out in force down the side of our house.  Gonna have to cut our grass this week!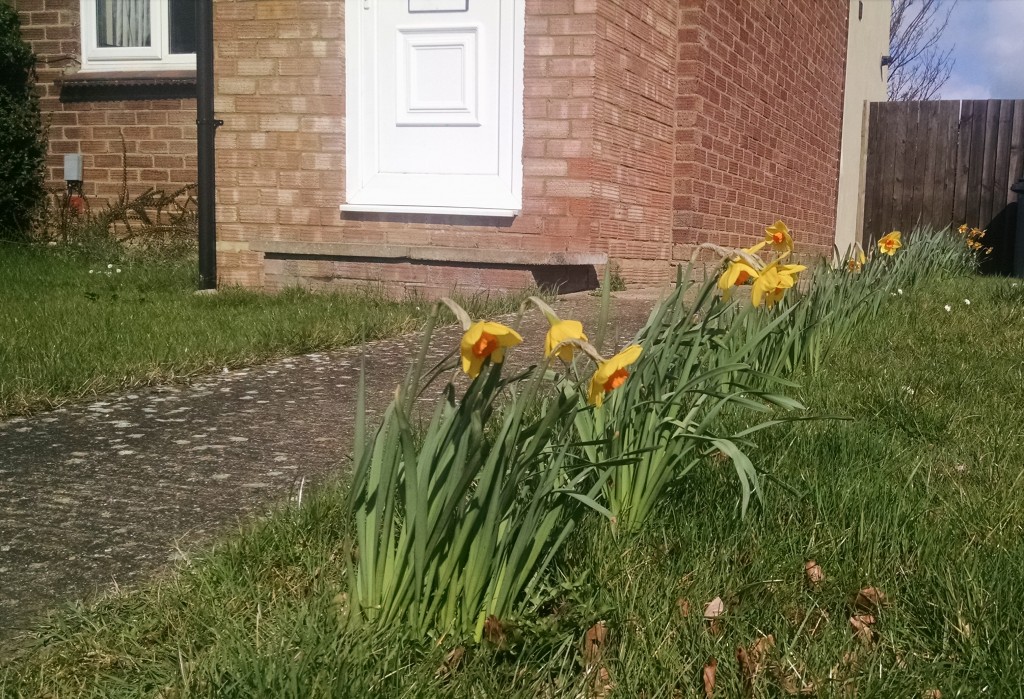 Tuesday morning and the laptop was out and put to work first thing.  My friend Amanda turns 30 the week of Radio 1's Big Weekend in Norfolk.  She decided it would be nice if we could all get tickets for the Saturday to celebrate her birthday together.  Nice, but impossible unfortunately!  

My cycle of getting tickets went like this…Get laptop set up half an hour before tickets go on sale.  Constantly refresh page to see an error on the screen.  Finally get through to a page where you can enter your postcode.  Having parents living within Norfolk I used their postcode to try to get tickets (95% of tickets are allocated to people with a Norfolk postcode).  I kept getting sent to a page which put me in a queue to go through to choose which day of tickets I wished to purchase.  When I chose Saturday a message appeared on screen telling me that 'tickets were currently not available'.  More refreshing followed.  I opened up a new tab and left my finger hovering over the F5 button to try and get tickets from a Cambridgeshire postcode, using a friend's address.  Eventually I managed to choose tickets for the Saturday.  Excitement!  Then, by the time I had filled out the payment form this message appeared…

Rubbish!  Tickets for the rest of the UK had already sold out by this point, so no point trying my address.  I went back to my Mum's address instead.  Another twenty minutes of refreshing and twice getting through to the payment page only to have the message 'Tickets are currently not available' repeated to me before seeing this screen…

Poo!  Oh well, none of my friends appeared to get tickets, despite all coming from the Norfolk area.  I guess demand was just too high.  We shall have to celebrate Amanda's birthday a different way instead.  I have been to a Radio One Big Weekend before.  I worked at the 2009 event in Swindon.  As I was working it, our campsite was right behind one of the main stages and we met lots of celebs which was fun.
Most of the rest of the day was sorting out clothes and bagging up items for the charity shop.  We had six bags full!  How did we accrue so many clothes?!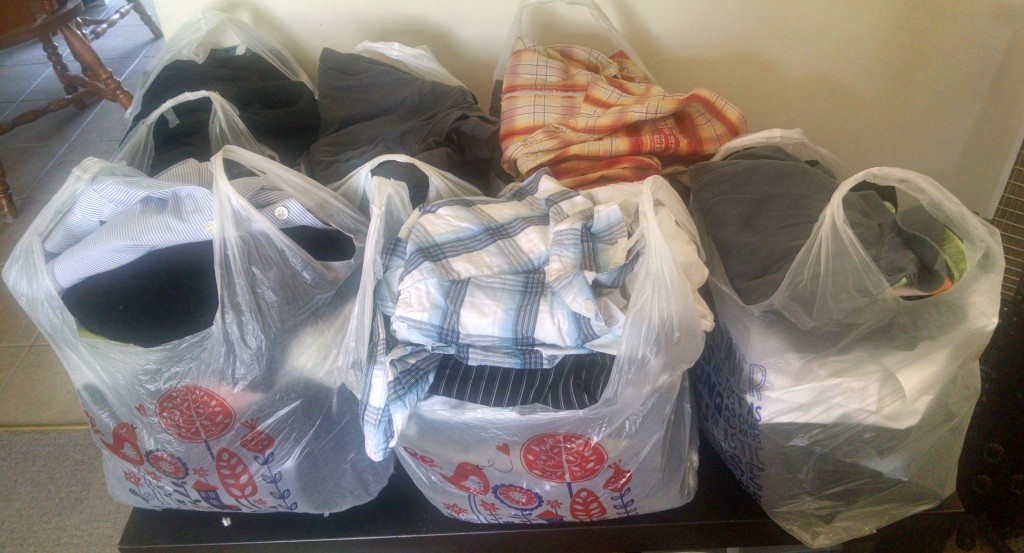 We also have several up for sale on eBay, in case anything takes your fancy…
Tea was a make your own pizza.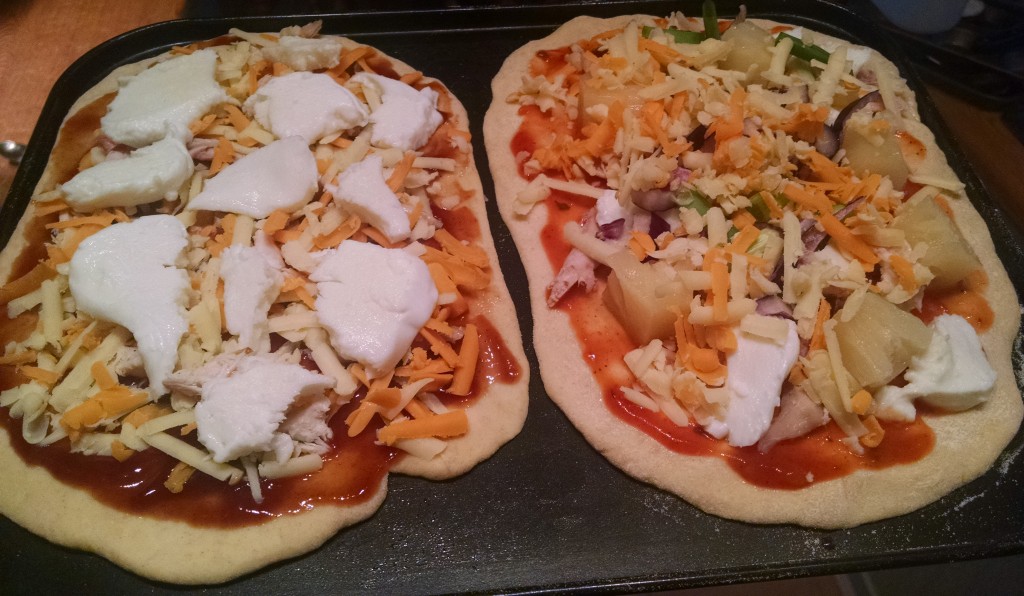 I laid out lots of bowls of toppings on the side and we each created our own.  Obviously mine is the one which has pineapple, red onion and spring onions on top.  Dan's was pretty plain with just chicken and cheese and a lot of BBQ sauce.
Did you get caught out by any April Fools pranks?
Have you been to any of the Radio One Big Weekends before?
Have you been on a spa day recently?