Dan and I were on holiday in New York with our friends Vicki and Alex when they got engaged way back in December 2012.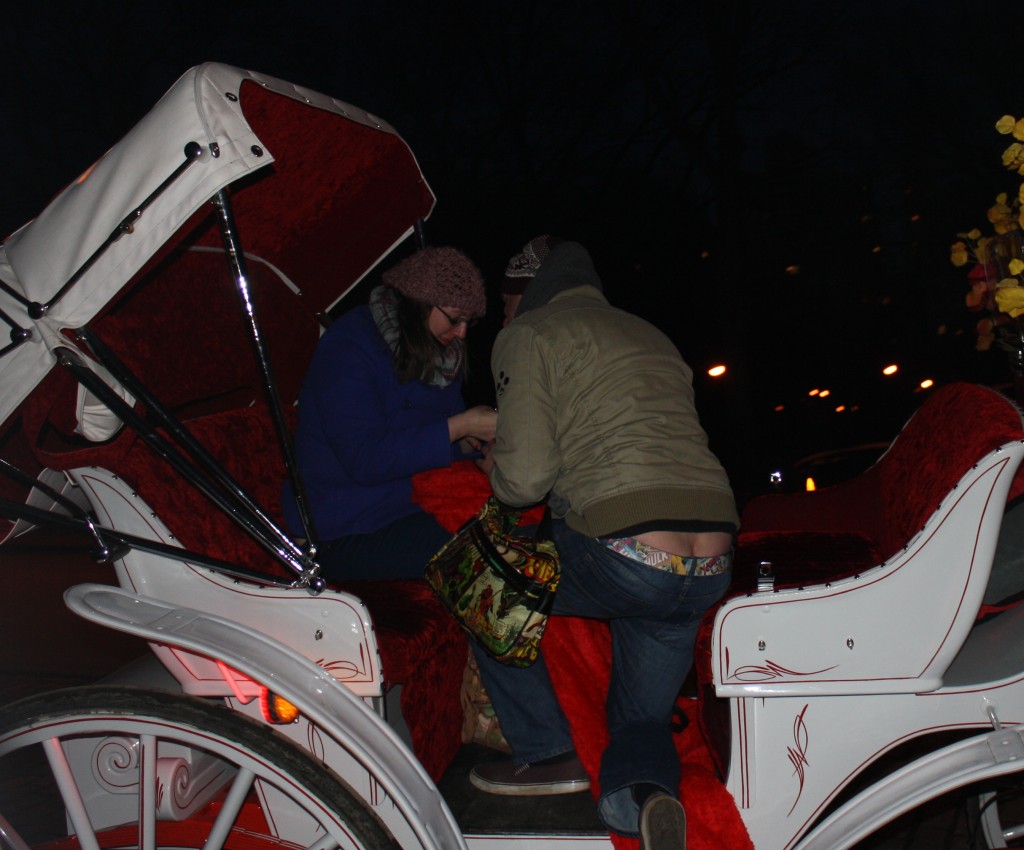 Both us and they took a horse and carriage ride through Central Park a couple of days before New Year.  We had actually transported the engagement ring to America for Alex and had been in on the proposal the whole time, which was nice as Vicki and I have been friends since we met at Uni in 2005.
It feels like they have been planning their wedding for the longest time, especially since Dan and I got engaged and have had our wedding since their engagement began.
As I was one of Vicki's bridesmaids, I spent the day helping her to purchase last minute bits and organise at the venue on Friday.  After the longest church rehearsal I have ever been to (over 90 minutes long!  The wedding itself the following day was only 30 minutes long!) all members of the bridal party headed back to Vick's for pizza and curry before the bridesmaids then headed to the hotel where the reception was to be held the following night.
Sharing a room with a bridesmaid and her six-month old I had prepared myself for not getting much sleep, but baby Russell was actually very good and only woke me up once before we got up at 6:30am.
Hair and makeup started very early.  As the 'most organised bridesmaid' I was down to have both done first and so my makeup appointment was at 8am.  The hotel kindly arranged for our breakfasts to be brought to the attached hairdressing salon so we enjoyed some girly giggles on the morning itself.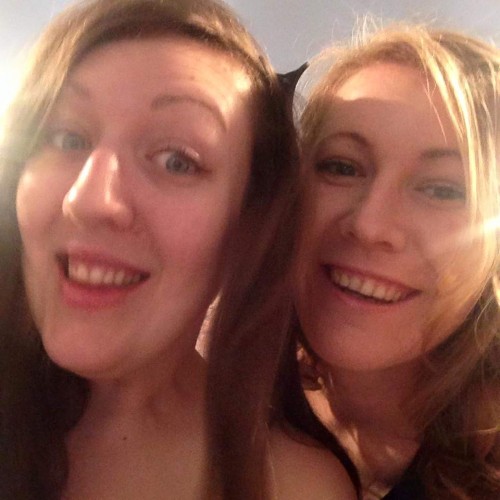 Vicki loved the idea of each girl having a plait somewhere in their hair, which was something that my bridesmaids had done at my wedding last year.  For Vick's wedding, each one of us had a different type of plait in our hair.  Mine was this gorgeous waterfall braid.  I wish I could recreate this myself every single day.  The hairdresser made it look so easy!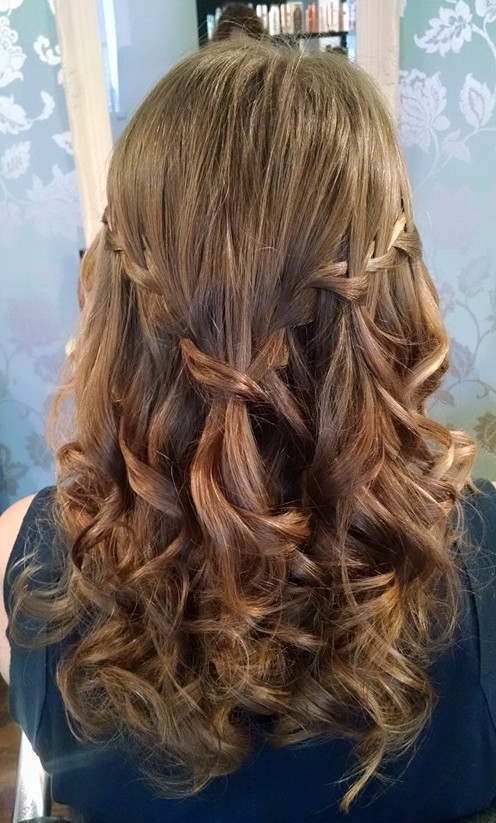 Then it was to work for me whilst the other girls went through the hair and makeup chain.
As Vicki was getting married in a hotel most of the work had been done by the hotel staff but there were still some finishing touches to be added and the cake lady/florist to let in and help set up, (Check out Deer Park flower delivery for complete satisfaction in customized flower selection and prompt delivery services) .The place looked amazing by the time we left for the church.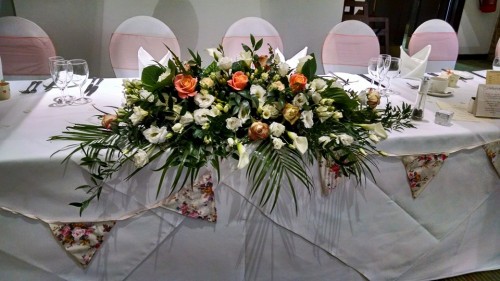 Along with another bridesmaid, Steph, my pre-wedding church tasks involved pinning buttonholes on the groomsmen…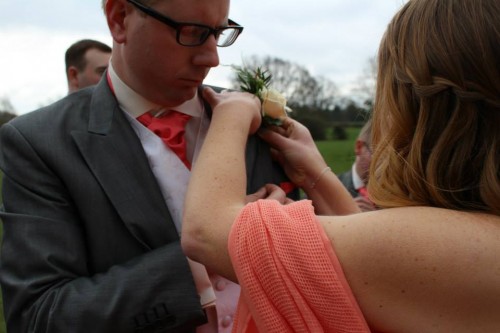 …decorating the path with rose petals…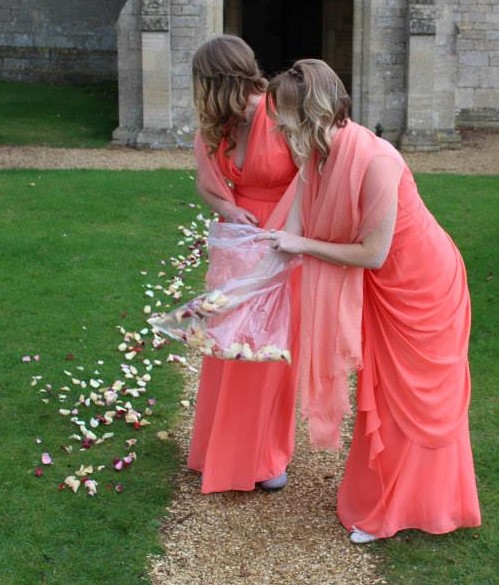 …and directing cars with Dan!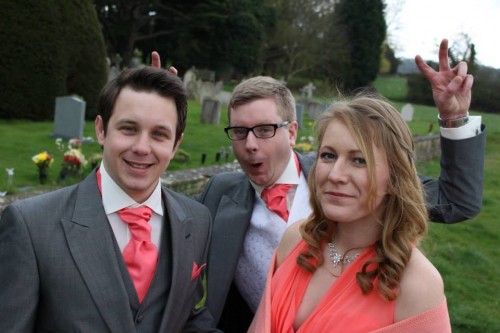 Vicki was twenty minutes fashionably late (out of her control – the car didn't go any quicker!) and the service went without a hitch.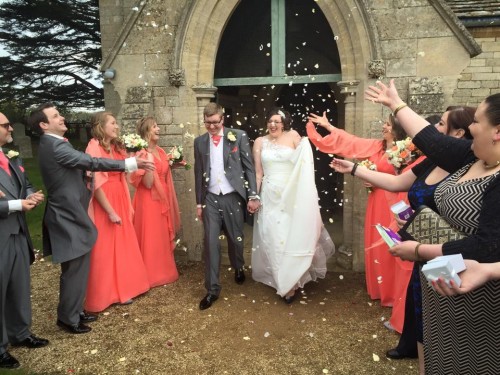 …so then it was time to head to the hotel, drink a welcome cocktail, have some photos taken and get ready for some gorgeous food.  Vicki appreciates a good salad as much as I do so I was super happy to see Caprese salad on the menu as a starter.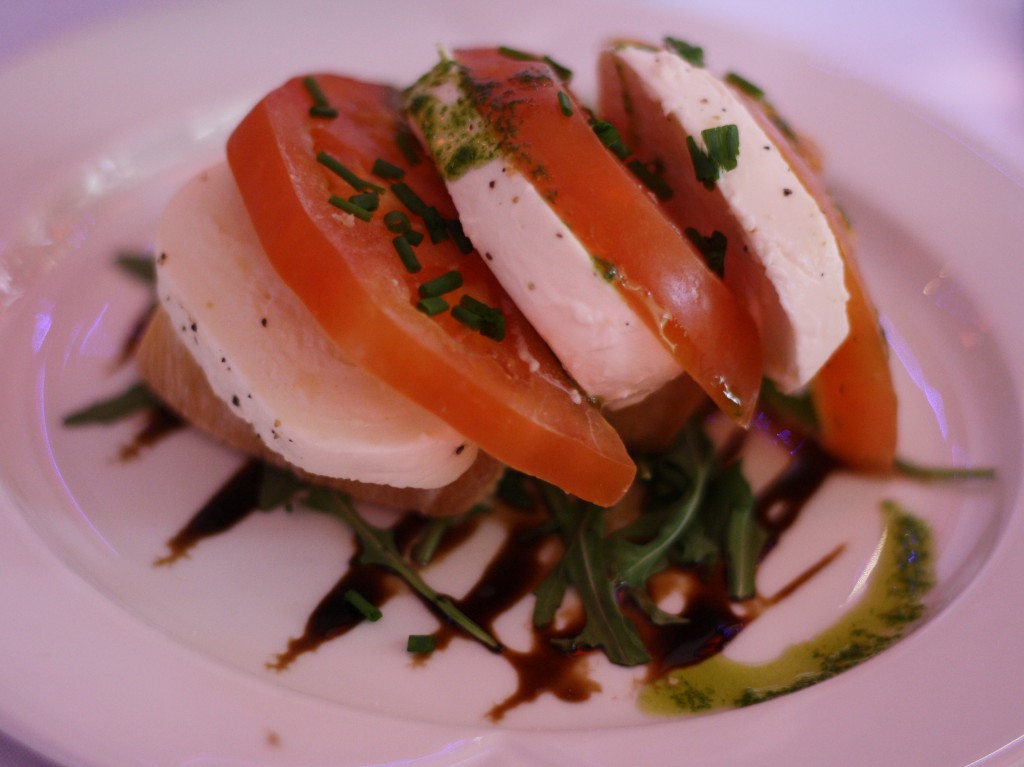 Mains for me was a risotto baked in a pepper with veg.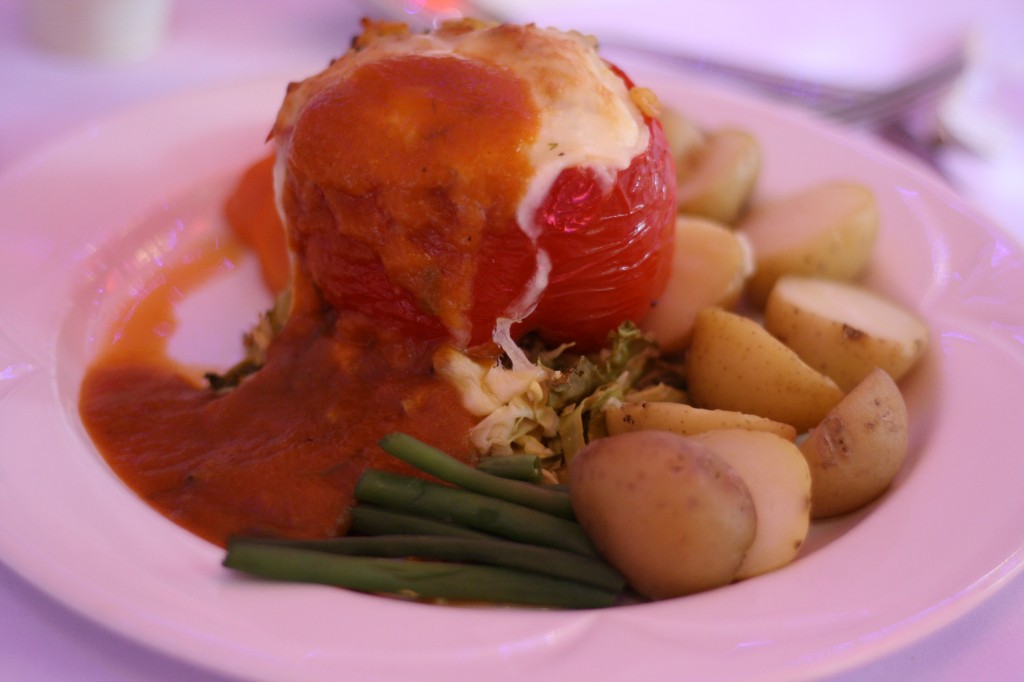 …and, because I'm a blogger I made the guys on my table take photos of the other two dishes as well which I was assured were just as tasty!  (Pork or fish)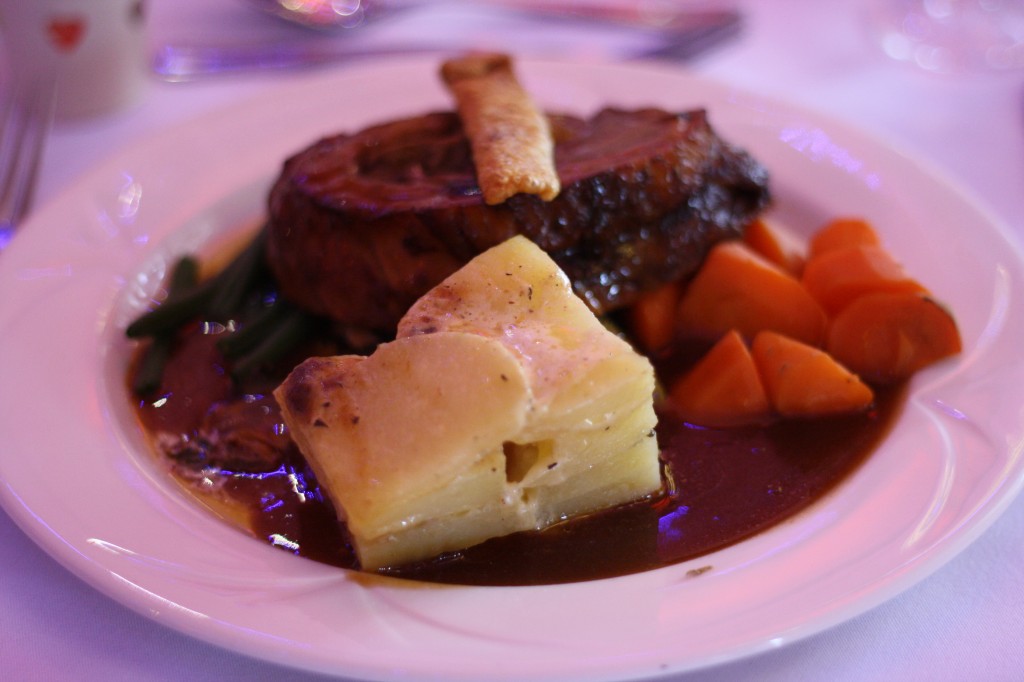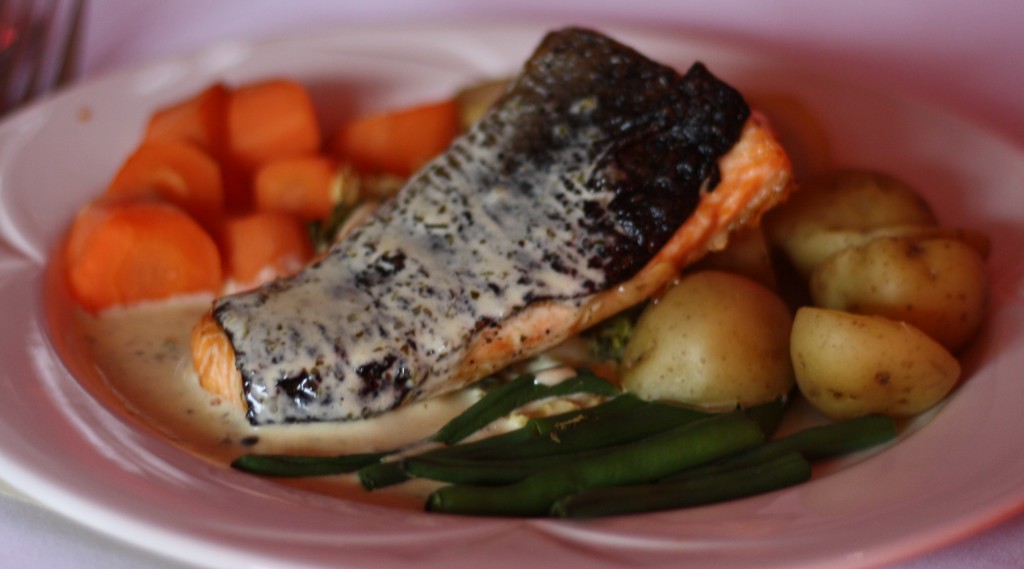 …and then we all finished with a delicious strawberry cheesecake.  (Dan assured me it wasn't as delicious the strawberry cheesecake I made last weekend though!)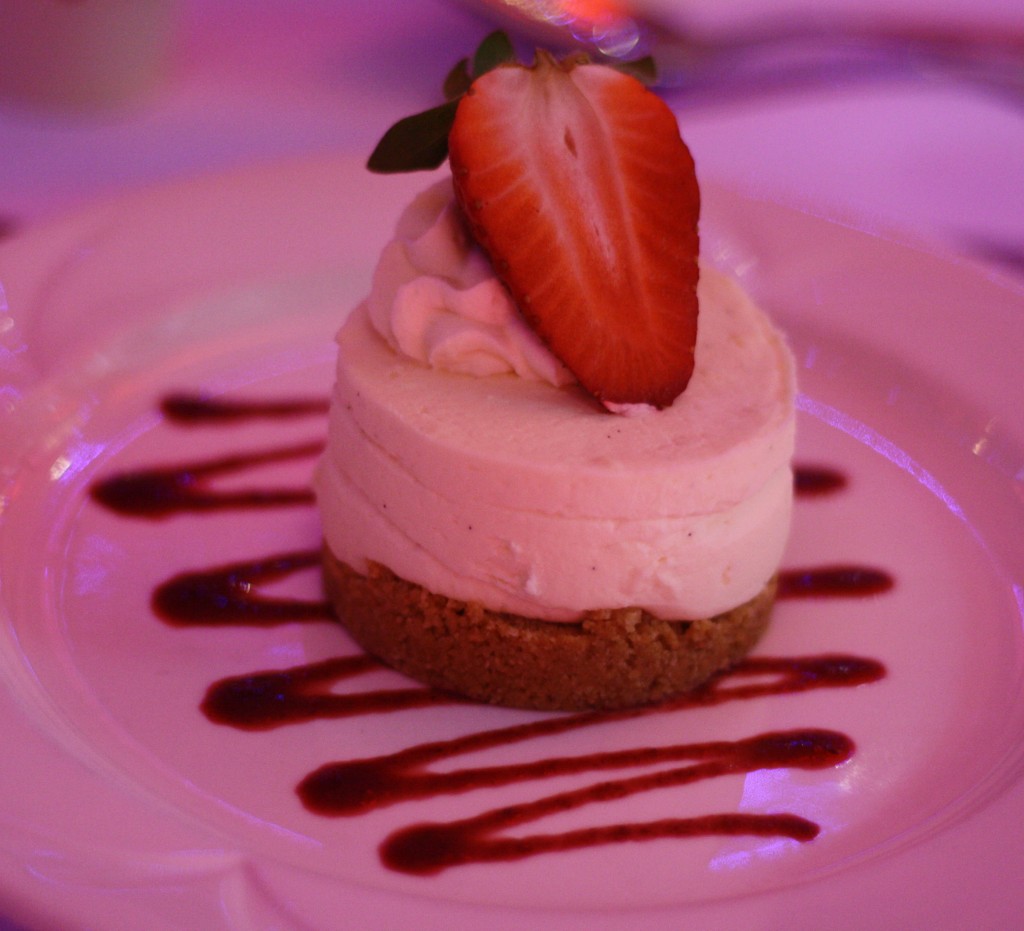 Speeches were next and I caught a few nice photos of moments between the family members before the evening entertainment arrived.  I've not been to a wedding before with a magician but he was fantastic and kept us entertained for ages before we competed for chips in the casino they had booked. It was a nice change from my playing on these real money sites by myself. At the wedding it was All fake money but competing for real prizes!
Obviously the final important part of the wedding to report back on is the cake.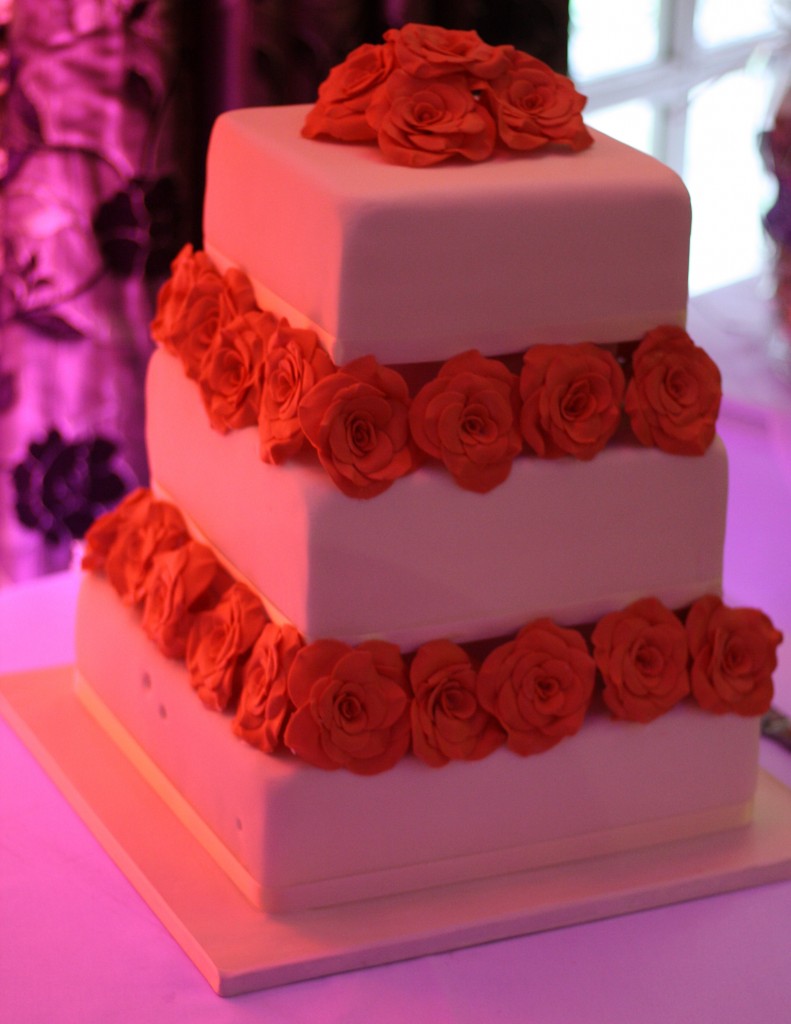 Unfortunately, Vicki's two year old niece got there with her fingers on the bottom tier before I could take a photo but I don't think Vicki noticed the three small (but pretty deep!) holes in the cake on the night, so that was OK!  The cake was cookies and cream flavour and one of the tiers was with raspberry icing.
The main drama in the evening was when Alex lost his wedding ring!  Every guest was out hunting for the ring and overturning every blade of grass in the hotel garden where the photos had been taken.  Eventually the ring was found in the toilets where Alex had taken it off to wash his hands and forgotten to return it to his finger again.  It was all hands on deck to help with the search for a while there though!
Click on the following to find the perfect modern wedding venue for your Melbourne Weddings.
Have you ever lost your wedding/engagement ring or been at a wedding where someone has?!  I think it's pretty easily done.  I take both of mine off my finger when I'm washing up and have forgotten to return them a few times now, resulting in a panic later on in the day!