So yesterday I headed back to school after two full weeks off.  The alarm was set for 5:15am (I cry a little inside every time I set this alarm and this is coming from a morning person!) and I was feeling super enthusiastic about the new term ahead.
Roll on day two and I'm already knackered.  I couldn't stop yawning by lunchtime today and I'm not sure if it is just me, but after two weeks of feeding myself when my body says it is hungry, I found it rather tough today waiting until school lunchtime at 1:10pm.  My stomach was growling from 11am!
I've come back for the new term determined to be more organised and efficient when it comes to meal planning and eating better though.  I always start off with good intentions but this time I really am aiming to ensure staying on top of meal planning becomes a habit.
I've rekindled my love for porridge just lately and both days this week I have enjoyed a bowl of porridge with a little cocoa mixed in and topped with a kiwi fruit.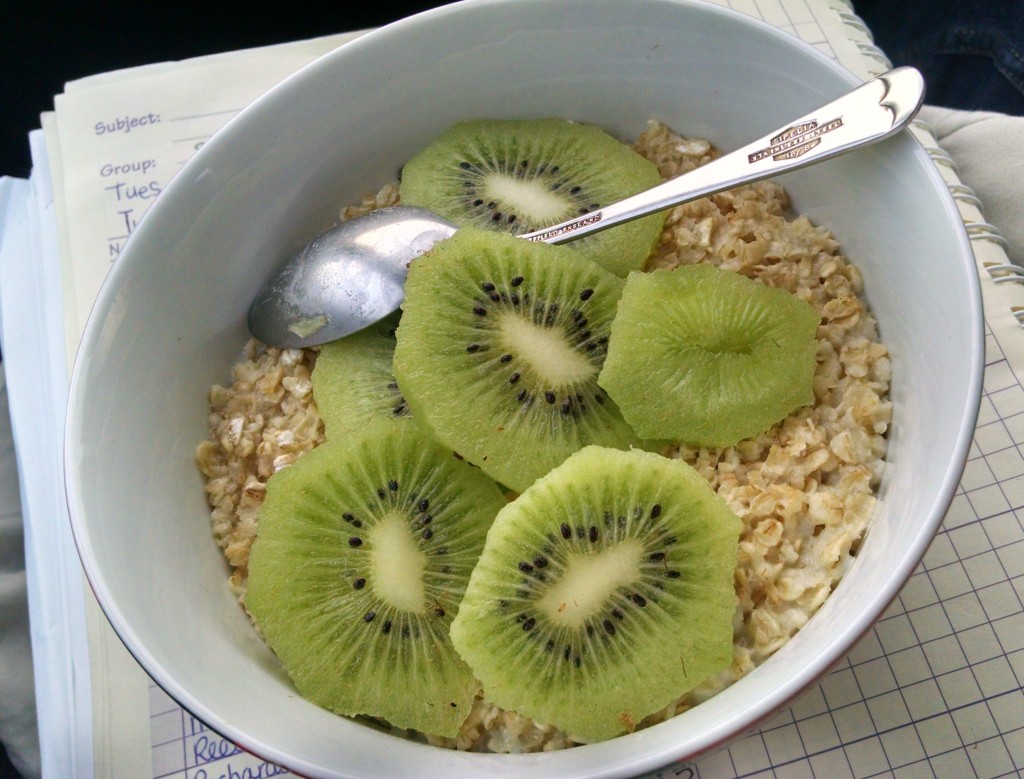 The difference has been that making the porridge has been the last thing I do before leaving for work each morning.  Instead of waking up, drifting downstairs and slowly picking over my breakfast first thing – usually sneaking a second helping of something to delay getting ready for work even longer – I have been making the porridge just minutes before heading out of the door.  Because Dan and I car share, I can eat my breakfast whilst Dan is driving me to work and I instantly save myself probably twenty minutes in the morning.  Those twenty minutes are now used for completing some hardcore core work.  Today it hurt to cough…might need to tone it down a little tomorrow!
I have used the rest of my car time to plan out in detail which meals I intend on making on which nights and even have a defrost schedule for what meat needs to be pulled out of the freezer each night of the week!
I was sent some nakd nibbles this week following a competition win on facebook and they reminded me just how much I need a snack mid morning when I start to flag.  They also reminded me just how much I love nakd!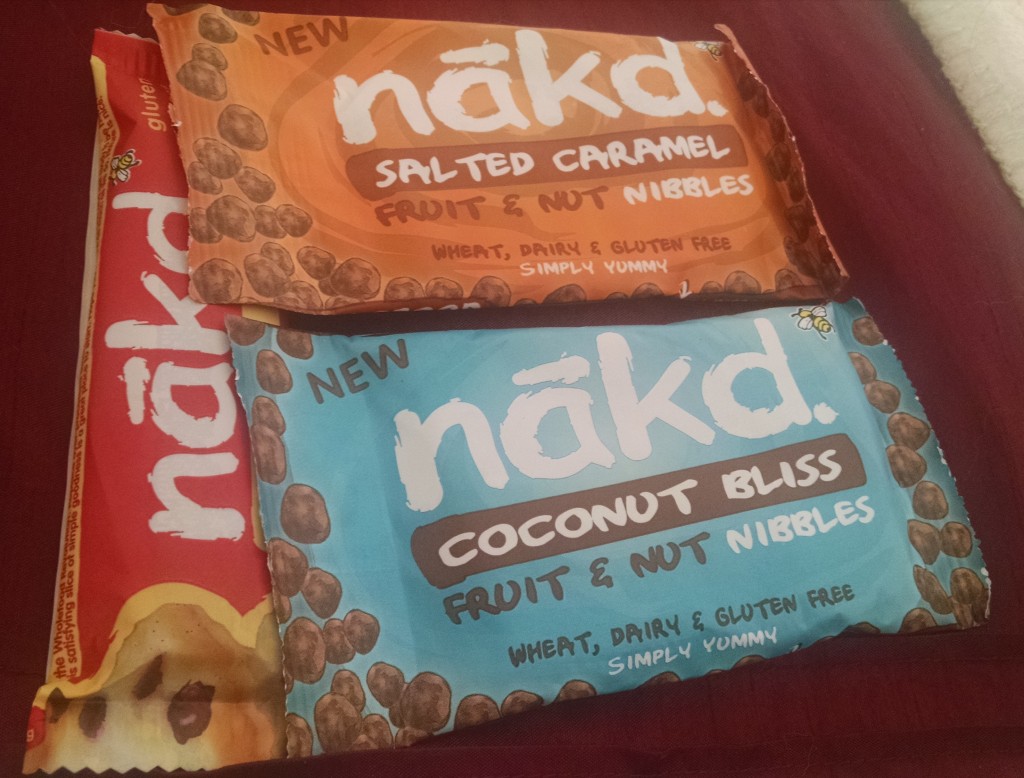 Anything that comes in salted caramel wins my vote straight away and the nakd coconut bliss were just like little mini Bounty bars, but softer and much better for me.  I'm all ready to purchase another batch!
Lunches – I've gone with the batch cook on a Sunday afternoon, eat a similar thing for the rest of the week approach.  I had been casually looking over the Deliciously Ella website for a while when I stumbled upon Ella's blog post on Healthy Eating on the Go.  This ticks all the boxes for me.  I love anything with lots of variety and I love the mix in this salad.  I'm using up some of the white rice in the cupboard this week, as we appear to have accumulated rather more than I think we can munch through before our moving date, but I shall be converting to a healthier grain version once I've eaten down some of our white rice supplies.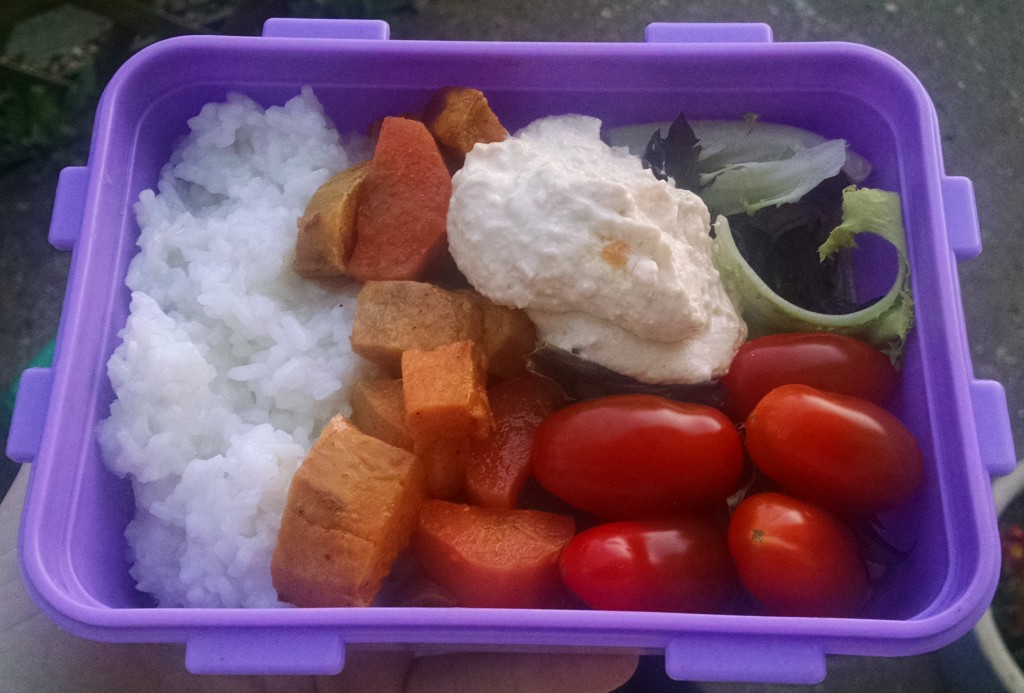 In today's lunch I enjoyed; two spoonfuls of white rice, a selection of roasted sweet potatoes and roast carrots, some mixed leaves, plum tomatoes and a large dollop of hummus.  Tummy was kept happy until teatime!
Yesterday I made this super thin base ham and tomato pizza from scratch.  Dan doesn't compliment my cooking often but he did comment that I made a 'cracking pizza' yesterday, followed up by complimenting the omelette I made and failed to photograph for tea tonight.  Gotta be doing something right then!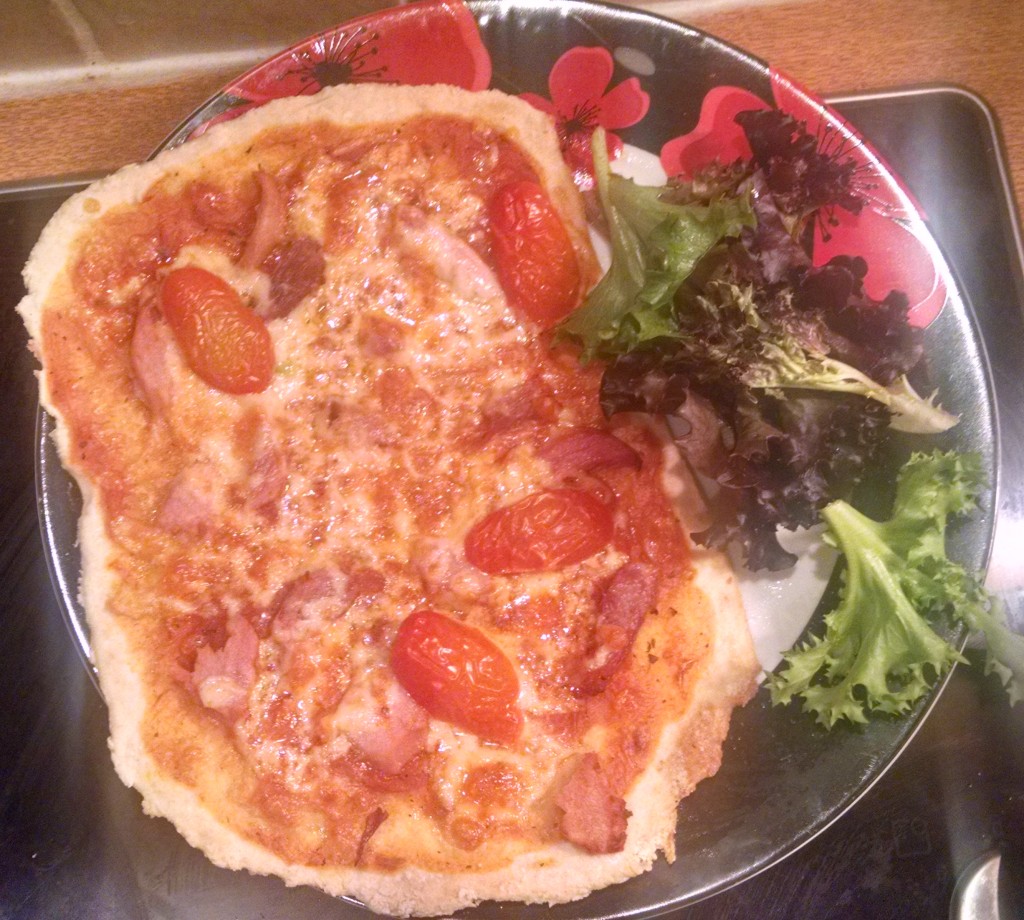 Does your tummy struggle to cope when you have to go back on a work-lunch schedule?!
Do you meal plan?  If so, how do you go about it?