Yesterday was the day I had penciled in to test out running again after taking sixteen days off running, and falling five and a half weeks after first breaking my toe.
I wore my old trail trainers just to be on the safe side (they're a little more broken in and flexible around the toe area) and although my toe felt a bit weaker, I had no problems pulling my trainers on or running across the fields.  This makes me incredibly happy!
Last night was a special run.  The chairman of our running club was stepping down after ten years in the role and had decided to organise a seven mile trail run for as many people could attend, starting at his local pub.  After the run we were invited in to the pub where he had organised a spread of sandwiches and the nicest potato wedges I have ever tasted!
The promise of food at the finish and a chance to enjoy a pint after the run drew in more people than usual, and the largest number of runners yet turned up for the trail run…27 runners!  Another fifteen or so (mainly those running London this weekend) joined us at the pub afterwards.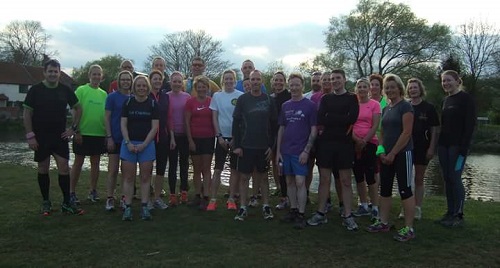 Great turn out and a lovely way to celebrate ten years of our chairman at the club.
This morning, as I had enjoyed my Friday evening run so much I headed to parkrun to tot up another run closer to my 50.  (I'm slowly getting there, nowhere near as quickly as I had hoped though.  I think it will be well into 2016 now before I get my t-shirt.)  I purposefully planned on aiming to hit 30 minutes for the parkrun – much slower than normal.  Definitely didn't want to overdo my toe or wear myself out with the marathon now nine days away.
Spot on pacing!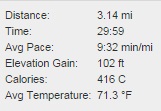 …29:59.
…but then my parkrun text came through and it recorded at 30:01.  Pah!  Annoying!

Another one closer to the magical 50 mark though and another run complete post-injury.
Another incentive to get to parkrun was so I could enjoy another trip to Magee Street Bakery afterwards for a hot chocolate and cake with a friend.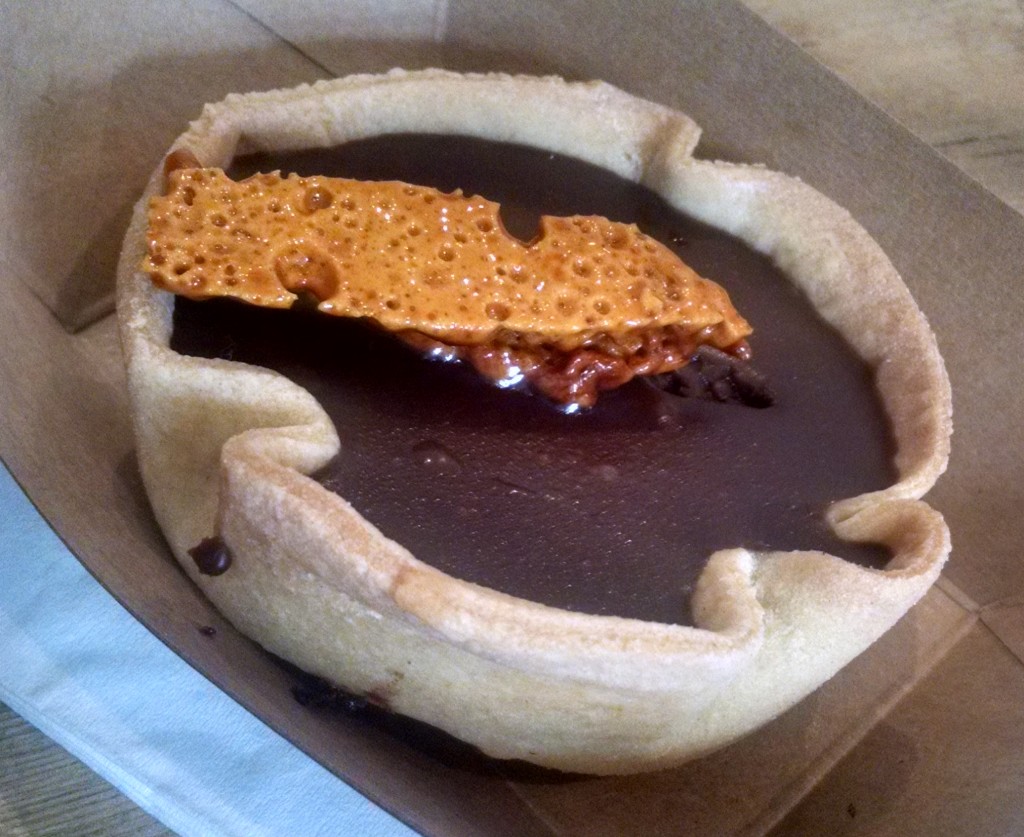 (Reused pic…I can't resist the salted caramel tart from that place!)
Although my toe caused no problems last night, as soon as I started running I felt the uncomfortable ache on my right hip that has come on now and again on runs since February.  I assumed this would disappear after the time I had spent off running.  It aches, and is a little uncomfortable but does not hurt.  It almost feels like the muscle on the side of my hip is just stiff.  I did speak to the doctor about it as it seemed to come on about the same time that I started losing weight a couple of months ago but the doctor didn't feel that the issues were connected.  I guess it will be a job for the physio if it continues.  It's always something!
I'm getting really excited about heading down to spectate at London tomorrow morning.  Although not so excited about my get-up time.  We board the coach from 5:30 in Northampton, but to ensure we arrive in time I need to leave mine by 4:40am as I am picking a friend up on the way.  4am get up it is.  

 Will be worth it though!
What is your favourite bakery treat that you could eat every time?