I absolutely loved the atmosphere around the course when I ran London Marathon last year.  The thousands of people lining the streets for the entire route really made the course for me.  As did the runners with messages on their backs, running hand-in-hand with others or laughing away with the person running alongside them.  I came away from the course last year knowing that I wanted to go back and support friends there in the future.
Last week a friend from club messaged me to see if I was still interested in going down to watch the race in person.  He was running it himself, and had booked three seats on the local Northampton Road Runners coach, but now only needed two of them.  Obviously the idea of heading down still appealed to me…and did so even when I was told that we were due to board the bus at 5:30am.  When Tom wanted picking up at 4:50am though, I'll admit, I wasn't quite so keen!  That is even earlier than my school alarm!
But…I like marathons a lot more than I do school and at 4:50am on the dot I rolled up and set off to catch the bus with Tom and his sister.
A little after eight, the bus pulled up amongst a whole line of others at Blackheath and we wished the runners good luck before Katherine and I headed off in the direction of Tower Bridge to catch the runners in a few hours time.  I say we headed off in that direction…we actually stood still in the field for several minutes pretending to study our map but actually keeping our eyes up and waiting for other spectators to head off first so that we could follow them to the station!
Good job there were some friendly marshals out on Sunday, because they got us both to the station and on the right tubelines.  Otherwise I would probably still be sat on the (rather wet!) grass at Blackheath now!
When Dan had come to watch me run London last year he had seen me at Tower Bridge and then again three miles from the finish.  I needed the boost of seeing someone I knew by the halfway point and with Tower Bridge in the background it was a popular point for supporters, so the atmosphere was buzzing.  It was no different this year, despite the much colder weather.  After crossing Tower Bridge three times to make sure we were in the correct spot (good job we arrived early!) we caught the wheelchair athletes coming through and then managed to spot some others supporters from our club so grabbed a space next to them on the front of the barrier where we watched the elite women power through.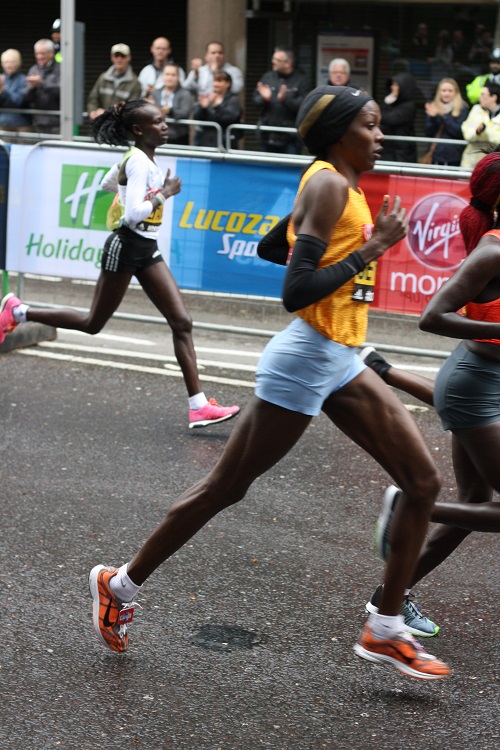 Look at the muscles in those legs!
Time went so quickly all day, but most of all in the morning.  We thought we would have loads of hanging about to do between dropping the runners off at the start and seeing them through at the halfway point.  Not the case.  Time flew.  It seemed only minutes before the elite men were heading through.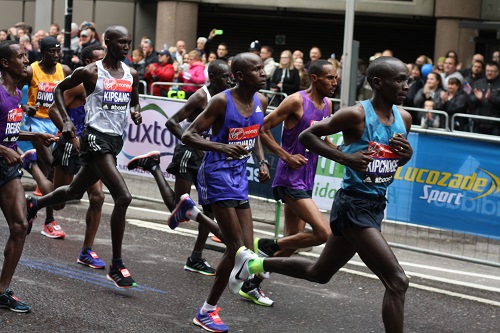 The streets were lined with spectators by the time the men came past.  Katherine and I were at the front of what was probably a six-deep crowd.  We hadn't intended on moving on until Tom came past (1hr 55m) but it was impossible to move anywhere by this point anyway.
It was so interesting watching the front (non-elite) runners coming past and the road gradually fill up more and more with runners.  A clump of guys ran through together not too long after the elites.  A couple of us in the crowd pointed and shouted out "First woman!"  The cheers really grew then, and once more when one by one we realised there was another woman towards the back of the little pack with a very familiar running style.  Paula Radcliffe.  The sound was deafening as she ran past and I am sure I saw a grin cross her face.  The woman next to me told her child that she thought that was the one that they had been told to look out for but she couldn't remember her name.  This was the same woman who had informed those around her that she thought Usain Bolt was in the lead and was pretty sure that Mo Farah was in second!  Erm, not quite!
People either side of us were leaning over the barrier so far and children everywhere had those large inflatable sticks that they were beating together and getting in the way of my attempts at photographs.
I tried my best to photograph runners from our club but it wasn't long before I gave up after many failed attempts…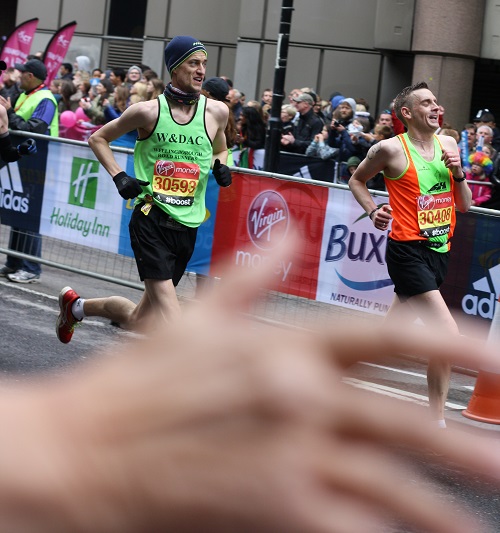 There were too many hands, arms, inflatables and other body parts that kept getting in the way!  As the time went on it was more and more difficult to spot runners in the crowd before they were right on top of us and I turned my full attention to cheering and trying to get the attention of runners I knew to help give them a boost at the halfway point instead.
We had told Tom where we would be so that he could look out for us and as soon as he had come through, looking strong and still on target for sub 4 we managed to squeeze our way out of the crowds and head back onto the pavement where we slowly made our way back up to the station.  The queue was barely moving at all.  One rude man tried to push into me and told me that no-one would get anywhere unless we pushed.  His tactic clearly didn't work as we passed him a little later on.  One good thing came of our slow moving line though…we got to see Paula heading back through mile 22 on the other side of the road.  Well, we actually heard the crowd cheering her name before we saw her!
It was absolutely freezing stood out waiting for runners to come past and I lost the feeling completely in one set of fingers.  Lots of rubbing them together whilst on the train seemed to do the trick though and by the time we arrived at St. James's Park ready to catch runners come through to the finish they had regained feeling again.  We arrived just as our front runner, Jon flew past, although despite loud shouts and cheering he didn't see us stood on the sidelines.  He stormed through to finish in 2h 55m.  We made our way to the 600m from the finish sign where we met up with two other runners from club.  Kev and Kim.  Kim had come prepared with her club vest ready to wave at runners as we saw them heading our way and the next 90 minutes flew by as we cheered everybody on through towards the finish.  I was chief tracker and kept updating everybody on the progress of our club runners.  The ice lollies that Kev bought us at this point went down well, although as an afterthought we could probably have done with something a little warmer!
We stayed in this spot until our runners on target for a 4:30 finish came through and then made our way to the club tree – the spot that has become the waiting point on the other side for runners of our club to meet up.  I would have liked to stay out supporting for longer, but unfortunately, with the bus pickup being a 45 minute walk away from the finish, and collecting us in just over an hour we needed to make sure that a) Tom could still walk (questionable when it involved curbs!) and b) we could find our way there!  We also made a quick detour on the way to a McDonalds for a hot chocolate.
Absolutely knackered by the time the bus arrived back in Northampton (may have had a little snooze on the bus on the way back!)…a 4am get up and I even managed to walk more than 9 miles as a spectator!  Very worth it though and I had a great day!
Did you watch (in person or on TV) London marathon this weekend?