Yesterday I ran parkrun at a nice easy pace.
I wanted to fit in an easy 5k to keep the legs ticking over ready for Milton Keynes marathon on Monday so parkrun followed by a trip to Magee Street Bakery was the perfect solution.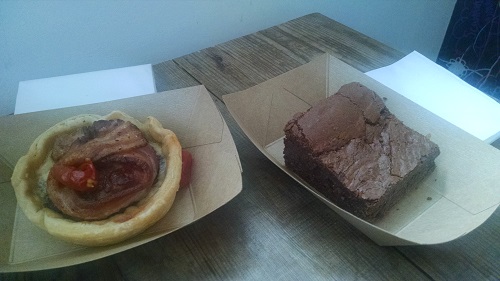 Obviously I went for the brownie and Laura went for the breakfast pastry.  Although parkrun being pre-breakfast, I was tempted by the pastry…until I realised how much bacon was on the top.  I'm not the biggest fan of bacon.  I am a big fan of brownie.
My local parkrun (Northampton) turned three this week, and to celebrate, the Race Director bought enough chocolate coins to fill a pair of buckets at the finish line.  Each finisher was allowed to take two upon crossing the line.  A lovely gesture for the runners.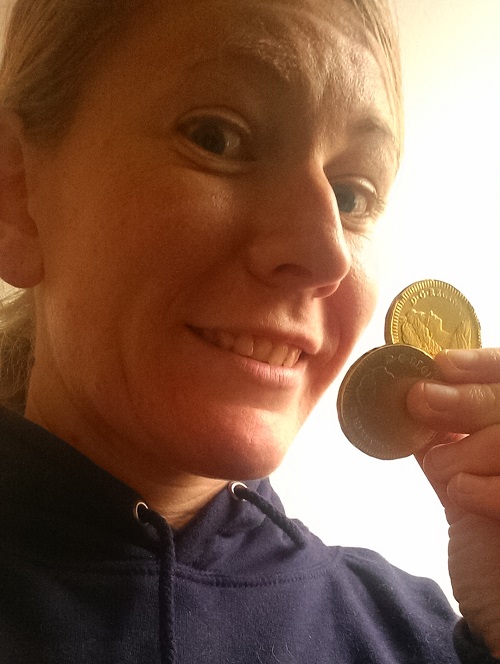 Excuse the manic expression.  Apparently I am unable to take a relatively normal selfie anymore.
I had planned on running the 5k at marathon pace by feel and set my watch up to display heart rate and overall time before beginning the run, so that I was ready for the marathon and could check that I had set my watch up correctly.
Turns out that 9:36mm feels like marathon pace to me at the moment (bet my body won't agree with that at mile 20 tomorrow!) and I ended up completing the parkrun in 30:10.  I swear I chatted to several people on the way round though – having a conversation with one of the marshals about a race he was running this weekend and chatting to one of the runners who was nearby about how addictive running becomes.
At least it wasn't full on 100% parkrun effort, but it's a good job I've roped in some pacers to help me on the way tomorrow otherwise I'd be burnt out by mile 10!
The rest of the day I chilled around the house and started to organise our house move, starting full on box packing today whilst Dan was away.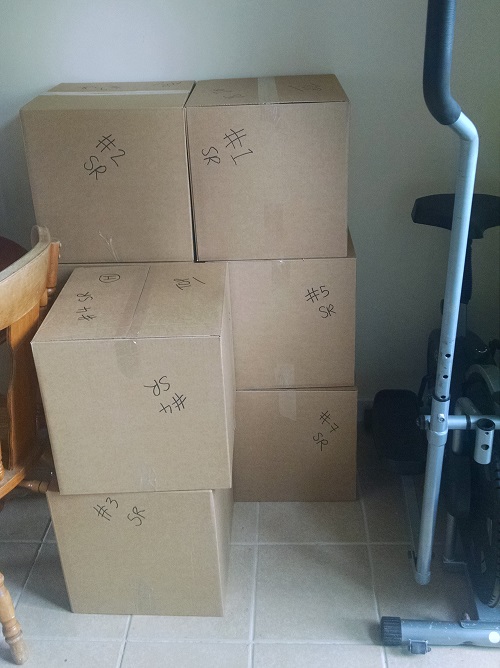 Each box is numbered on all sides and the top and I've marked which room it is to go in so when we arrive in our new house we can just dump stuff in the correct rooms, set up the bed, get a takeaway and sleep!  Haha!  Each number is logged in my notebook with the items inside.  Get me and my organisation this weekend!  Probably wasn't a great idea to be carrying large, heavy boxes down the stairs the day before I want to run a marathon though.  The deciding factor when it came to stopping was when I thought I was at the bottom of the stairs, but actually wasn't and almost fell down the last one.  The rest will wait for another day…
I've just had my pre-race pizza…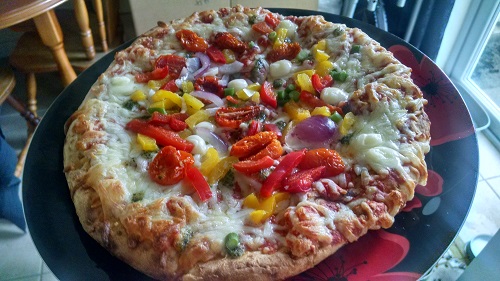 …not a pizza fan, but it's become tradition the night before a race and fills me with confidence knowing that it's worked in the past.
This isn't filling me with too much confidence right now though…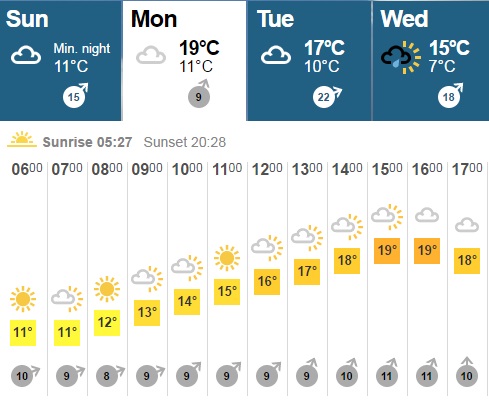 …although Erin assures me that the Met Office is displaying the weather in Milton Keynes a couple of degrees cooler now.  I don't run well in the heat and the last thing I want is to see a heat wave hit tomorrow lunchtime (although great news for the spectators!)  I was hoping for something around 8 degrees and overcast.  Suncream and cap it is then!
I have three targets for tomorrow, because one of my first coaches told me to always have three targets with the aim of being able to secure at least one.  Gold:  4:45.  Silver:  Sub 5hours.  Bronze:  Sub 5:15.  Four of my five road marathons have been between 5hours and 5:15.  At London last year my watch beeped the 26.2miles at 4:45 but I was nowhere near the blue line and ended up running quite a bit over distance which was frustrating, but also gave me the confidence that I was capable of hitting my goal at some point.
I'm never normally nervous before long races, only the short ones, but I am feeling a little nervous tonight.  I think partly because I took several weeks out from training last month when I broke my toe so I'm not sure what to expect from less mileage.  Also, because a friend is jumping in to pace me from Willen Lake at mile 16 of the course.  What if I can't keep up with her?  What if I let her down?!
I just punched in my parkrun time from yesterday to the McMillan Running calculator and the calculator seemed to think that if I had raced the parkrun and achieved a 30:10 time I would still comfortably come in at sub five hours.

…and obviously I didn't race parkrun, I ran it comfortably, chatting as I went.
I plan on setting off with the 4:45 pacer from the start line.  Although again, this is something I'm not too sure about as when I looked the pacer up on Run Britain Rankings, he had only achieved one sub 4:45 time in a marathon previously.  I know this doesn't mean anything…he might run off-road, not race official measured courses or there could be any number of reasons why he hasn't recorded sub 4:45 marathons, but it still didn't fill me with confidence.
Dan is coming to support and taking a spare pair of trainers with him (just in case, as I haven't run further than 10 miles in my road shoes since breaking my toe and I don't want them to swell up and be painful – touch wood though, I've had no issues with my toe this week).  He is also bringing an orange and a nakd bar to pass to me mid route.  I shall have on me two gels and start off with a throw-away bottle of water, although water stations are frequent on the course.  He is hoping to spot me at mile 6, then mile 16 and again at the finish.
I picked up some extra pacing bands from the London expo last year so shall be wearing one of those.  I purposefully will not be displaying pace or distance on my watch for this race.  Milton Keynes has markers up on the course for each mile and I will compare the cumulative time on my watch to the time I should hit each mile marker as stated on my pacing band.  I might very well be running at the correct minute miling, but that's only good if I run dead on 26.2miles which is pretty unlikely!
This was supposed to be my goal race and my stupid toe messed everything up and now has me worrying about race day!
Milton Keynes marathon has a tracker for the first time this year, so if you don't have plans for the Bank Holiday and wish to find out how I'm getting on you should be able to track me here.  (My bib number is 1368.)
Do you get nervous before races?
How much thought goes into your race strategy for each one?