My favourite book is 'Nineteen Minutes' by Jodi Picoult. If you've never read it, I can recommend…I have read it several times since I first picked it up!  The book is to do with bullying and revolves around a shooting within a high school.  Jodi Picoult alternates narratives between each of the main characters and the first chapter of the book starts out like this…
In nineteen minutes, you can mow the front lawn; color your hair; watch a third of a hockey game. In nineteen minutes, you can bake scones or get a tooth filled by a dentist; you can fold laundry for a family of five.
Nineteen minutes is how long it took the Tennessee Titans to sell out of tickets to the playoffs. It's the amount of time it takes to listen to the Yes song Close to the Edge. It's the length of a sitcom, minus the commercials. It's the driving distance from the Vermont border to the town of Sterling, NH.
In nineteen minutes, you can order a pizza and get it delivered. You can read a story to a child or have your oil changed. You can walk two miles. You can sew a hem.
Yesterday I missed out on a sub 5 hour marathon by 28 seconds. I don't even know what you could do in 28 seconds. Not a whole lot I am sure.  I couldn't even walk to the bottom of our road…but 28 seconds is the difference between a marathon time starting with a 5:xx and a marathon time starting with a 4:xx.  Gutting!  But…on the plus side, I did score a new PB!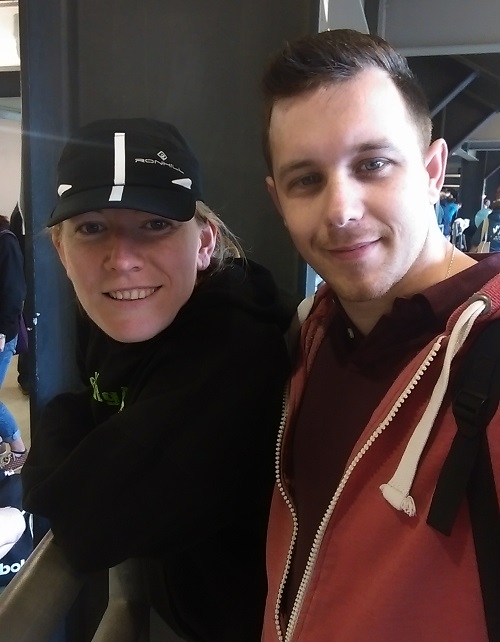 I was the first to arrive at the stadium from my club yesterday morning, along with Dan as support, and my friend Hayley who was running the half marathon.  Because this is the third time I've run the MK marathon, I knew the WDAC 'spot' at the stadium so we headed there and it wasn't long before numbers started to build up.  There were sixteen of us running the marathon and ten runners in the half.  The sun was already out and the air was warm outside of the stadium so I made sure to apply lots of suncream and also added lots of vaseline to my underarms.  Stupid club vest for cutting my arms in the past!
When we made our way out of the stadium at 9:30am the sky was overcast and I started to feel a little more positive about the day.  I'm not a warm-weather-runner!
Our race bibs each displayed a coloured dot, signaling which race start we were supposed to be in, but the coloured flags were very close together.  I was due to start in the back pen, (purple) anyway so just moved my way towards the back of the field until I spotted the 4:45 pacer.  I found another runner from our club here and we had a chat whilst waiting for the gun.  The countdown began.  3…2…1…and we moved forward slightly and wished each other good luck.  And then we stopped again.  A few minutes later and the countdown began again?…3…2…1…and again, we moved forward and stopped.  It wasn't until the third countdown that we realised that we were simply setting off as part of the third start as each coloured starting flag had had it's own start wave to help get runners over the line a little easier.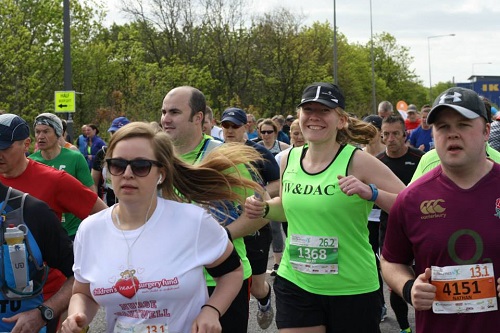 The first mile, as it always does, literally flew by.  We had barely been out there before I noticed my watch beeping to signal the distance.  I guess I had just gotten carried away waving at and looking out for all the club support on the sides.
Mile two was another beep that went by without much event.
Despite my reservations about the pacer the week before the race, from talking to him on the start line he seemed to know what he was talking about, and had in fact completed marathons in a large number of locations.  He was quite chatty and gave a great pep talk to our little group of 4:45 hopefuls before we took off, as well as chatting to each person individually as we went along.
The first couple of miles are a little confusing to look at on the map.  The course wasn't like this the first year I ran it but in 2013 they added in a section that went through the city and along a series of dual carriageway stretches.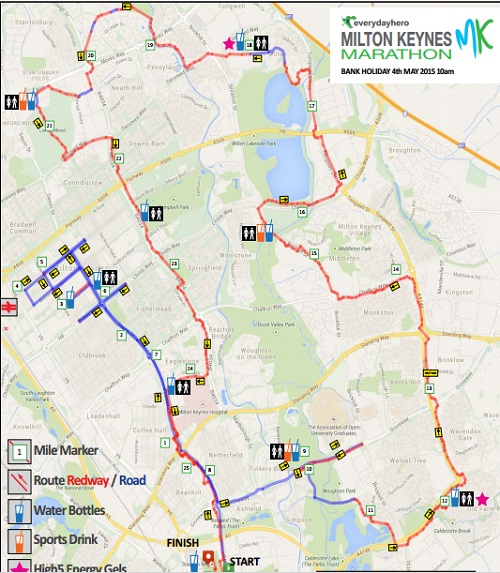 It is nice to see other club runners heading back in the opposite direction and being able to shout out encouragement across the barrier, but at the same time, it's not very exciting to run up and down the same roads alongside the shopping centre for the first six miles.  Pros and cons.  The support was great.  I spotted Laura (who had offered to pace me later on in the race) and one of the club coaches at the 2.5mile mark, 3.5 mile mark and just before 6 miles as well.  Dan popped up half a mile later to see me still going strong with the pacing group.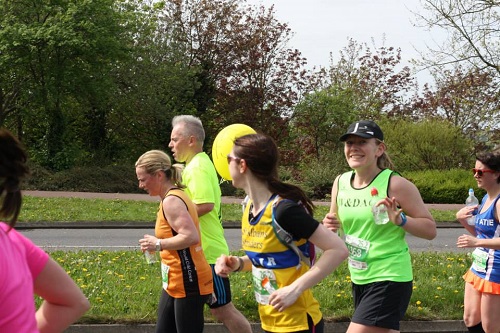 First six miles:
Mile 1: 10:21
Mile 2: 10:39
Mile 3: 10:33
Mile 4: 10:19
Mile 5: 10:33
Mile 6: 10:27
Until this point I hadn't really looked at my splits.  I purposefully hadn't displayed them on my watch, or the distance, as I knew it was likely that I would run over distance and then end up disappointed if my pacing had been right, but for the distance I had run, not the 26.2 I was being recorded for.
The pacer, Paul, told us here that he had gone a little faster than the planned 10:52mm to allow for extra distance on the course but would be slowing down to around 11mm at the halfway point.  I was a little concerned about this, but figured I was better off sticking with a group than not and at the time the pace still felt pretty easy so I held off dropping back.
Just before mile eight I noticed my shoelace flapping so leapt onto the grass verge to relace it before lengthening my stride slightly so that I could catch back up with the group gradually.  No sooner had I caught up with them again than the same lace came undone and I had to leap offroad once more.  I ensured it was securely done up this time!

At the mile ten point there were a couple more runners from club and I was still breezing.  Feeling easy here.  I look like I'm enjoying it more than the pacer!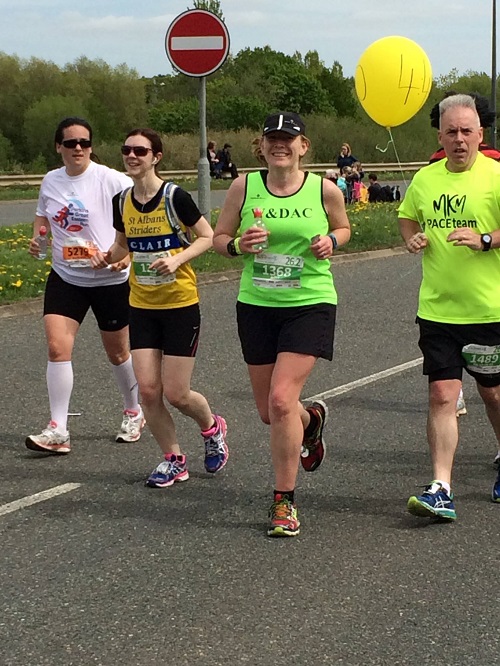 We still had pretty much the same group of ladies at this point (don't think there were any men other than the pacer himself?) and there was a lot of banter going on which was nice.  The pacer had picked up several half marathon runners in the first part of the race and they split off from us here, heading back to the stadium towards the finish.
Mile 7: 10:16
Mile 8: 10:31
Mile 9: 10:24
Mile 10: 10:28
At each mile marker I was comparing my pace band against the cumulative time on my watch to assess how I was getting on.  I was quite excited to see that at this point I was about nine minutes ahead of where the 5 hour pacer would be and I think this went to my head.  I knew I shouldn't be going this fast and I knew I wouldn't find it this easy right to the end, especially as the weather was really heating up by now but I thought it would be better to bank a bit of time. (For future reference, this is NOT a good idea!)
Mile 11: 10:32
Mile 12: 11:00
Mile 13: 10:55
It was very hot by now, I felt I could still keep up with the pace but my heart rate had quickly gone from mid 150s to 169bpm and I didn't want to end up collapsing and wiping out all chances of even collecting a medal, never mind aiming for a PB so I slowly pulled back my pace little by little and let the pace group get away.  I knew I had made the right decision to let them go, but it was tough seeing them disappear into the distance.  All of a sudden I was on my own.  I glanced down to see that a salt line had appeared on my shorts and knew I needed to get some salts on board soon.  Dan and Laura were due to be waiting for me just before mile 16 and I kept plodding forward, putting one foot infront of the other to get closer to them.
It was somewhere around here that I bumped into Rob, the guy I had stood with on the start line, now walking along the footpath.  He was having a bad day and struggling.  He described his current running situation as 'walking on piles of lego bricks'.  I encouraged him to run slowly alongside me but he didn't last more than a couple of dozen steps and told me to go on.
Dan, Laura and a few others from club were stood just before the 16 mile marker and I shouted 'Vaseline!' at Dan, which he then threw to Laura who ran out to meet me.  After waving at the supporters I grabbed my orange half from Laura and liberally applied extra Vaseline on my left underarm where I could feel my vest rubbing in the heat.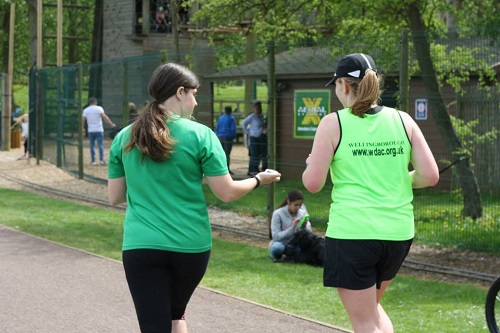 We had a quick walk so that I could eat the orange and glug down some of the Gatorade I'd gotten at the aid station half a mile earlier. (For future reference – the Gatorade was horrible, – really, really sweet.  I much prefer the Lucozade that I've had at aid stations in the past.)
Mile 14: 10:49
Mile 15: 11:28

From here, things went downhill…
To be continued…