You can read part one of my Milton Keynes marathon experience here… >> The good half
Read below for the half of the race that wasn't so good…!
So I was incredibly lucky to have my friend Laura offer to pace me for the final ten miles of the marathon.  When she offered a fortnight ago I was quick to say 'Yes please!'  A much quicker runner than me and having recently completed a coaching course, as well as being able to chat away about nothing whilst I grunted in response were all appealing qualities for my pacer!
I must admit I can't have been much fun at all for those 10.2 miles though!  I started out being able to chat a little but Laura quickly dominated the conversation and my responses became grunts!
Mile 16:  11:53
I was paying the price of setting off too quickly and once I had walked to take on board the half orange and nakd bar that Laura had passed over to me, I was into the vicious walking cycle.  My heart rate kept jumping up too high which worried me – so for the last ten miles it really was a run-walk-run-walk strategy that kept me going.  I was disappointed with myself as the first half had been so consistent up until this point.  I recently read a blog (I'm afraid I can't remember which one) where the blogger had written that they didn't start noticing results until they pushed themselves harder than they thought they were capable of and being able to do that consistently as part of their training had helped to improve their times and take more than an hour off of their existing marathon time.  I had pushed myself harder than I thought I was capable of in the first half but unfortunately just didn't maintain it in the second half!
Mile 17:  12:12
Mile 18:  12:22
The official photographer snapped a picture of me desperately trying to smile without showing my teeth here as I had just taken a large bite of nakd bar and it was stuck all round my teeth!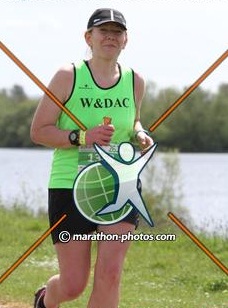 Mile 19:  12:44
Mile 20:  12:50
The second half of the race is much more picturesque than the first and takes you round all of the lakes and little villages on the outskirts of the city.  This thankfully meant that in places we could shelter a little from the sun, which was a good job as it was out in full force by this point and I was very glad of the suncream I'd put on that morning.  Despite the suncream I still ended up with large lines where my watch and pacing band had been.
It was about here that I started to get a sharp pain in the middle of my chest, just below my ribcage.  It wouldn't go away and was still there when I walked, although not as severely.
Laura kept telling me not to worry about my time, that my target was now to finish.  I knew I was going to finish.  I never had any worry about that, I'm stubborn and it was only a 10k to go by this point.  Marathons don't fit in to a schedule very easily though and I wanted to make the most of this one!
I had also forgotten just how many redways were on this course.  They didn't bother me in previous years but I did notice the elevation change this year!  Milton Keynes is a flat course if you forget the redways!
Mile 21:  12:11
Mile 22:  13:12
I was getting slower and slower.  Since Laura had joined me I had been worriedly checking my pacing band at each mile marker to see my target time start to look more and more like it would remain a dream forever.  The pacing band I was wearing was the 5 hour one and I was now only a few minutes ahead of where I should be if I was aiming to run a 5 hour marathon.  It was at this point that the 5 hour pacer passed me (a little ahead of his target) and I felt really upset that I had spoilt my race.  Perfect timing for two of our club runners to appear on the side of the road and support us (or not!)  I think my words were "Don't take a photo of this!"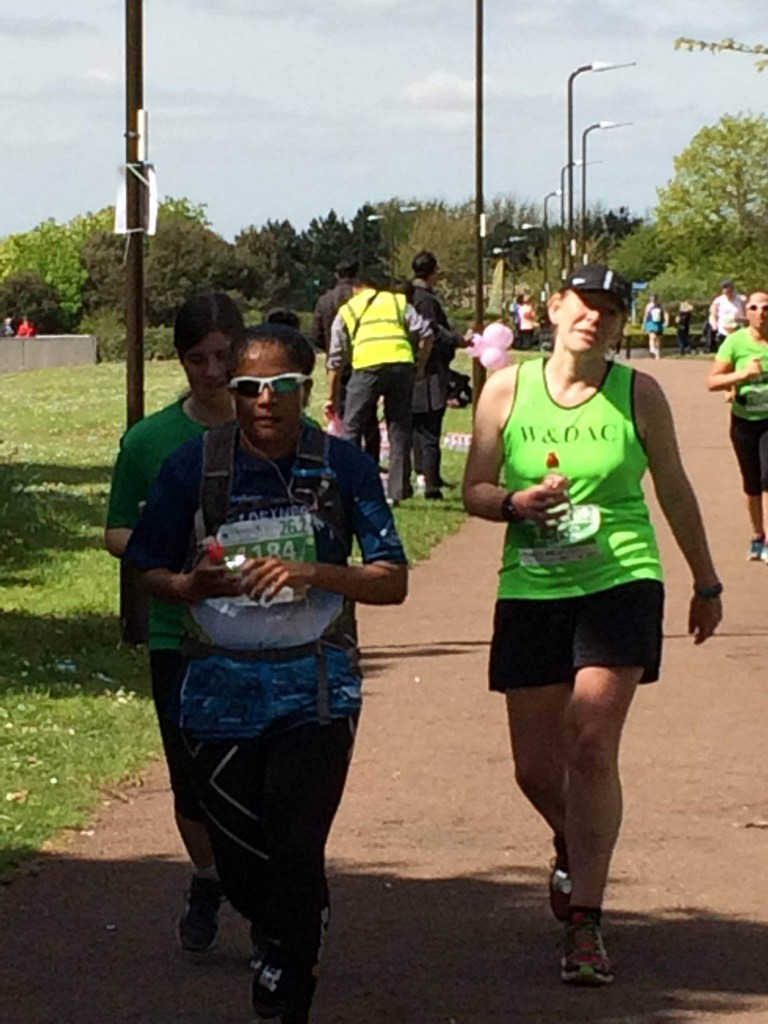 Although that was quickly followed with a grin and an attempt to pick up the pace to get that 5 hour pacer back in sight again.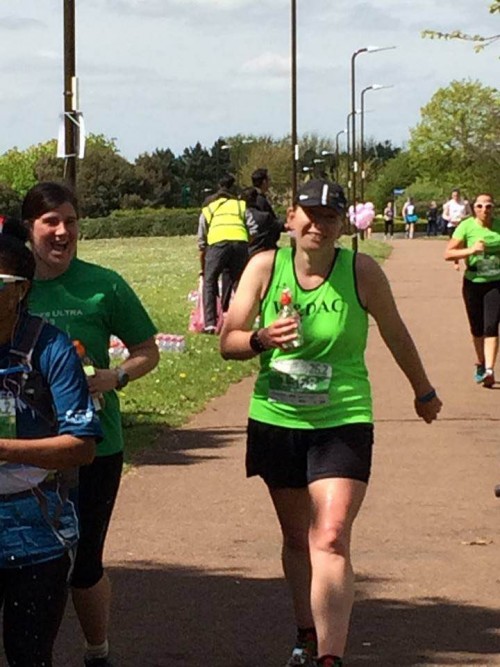 Mile 23:  12:23
Mile 24:  12:02
There were a bunch of guys here with the sign 'LUBE' written behind them and some Jamaican music blaring from speakers.  They kept shouting out 'Ladies, would you like some lube?!'  It sounded rather wrong but it made me smile!
Mile 25:  12:12
I was determined to run from mile 25 to the end no matter how slowly and no matter how much my chest hurt by this point.  We kept it steady and when Laura left me in the stadium carpark so that she could rush inside to cheer me over the line I lengthened my stride, knowing I was almost there now.
Mile 26:  12:02
There is nothing like my running club when it comes to supporting other runners.  As soon as I entered that stadium all I could hear were the shouts and screams of my name from the ten runners still sat on the side waiting for me to finish.  Obviously I picked up my pace and beamed.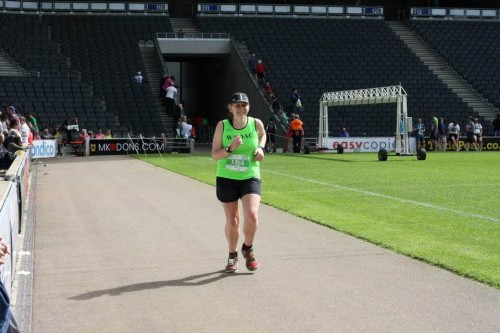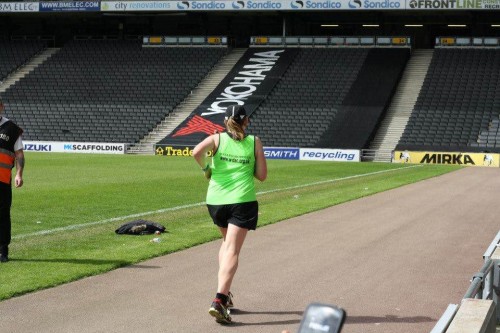 They didn't disappoint at all and when I reached the far side of the stadium their volume went up even further and so I really pushed for the finish.  I was there now.  Apparently I ran that last little bit at 7:13mm pace!  I crossed the line and stopped my watch.
Nubbin (0.51m):  10:08 pace
I had set my watch to show cumulative time on the top of my watch.  This meant it only showed  hours and minutes, not the seconds.  As I pressed the stop button my watch I saw it read 5:00.  GAH!  I laid down on the field next to the finish for a few minutes building up the mental energy to check my time.  How gutting that I was only a few seconds short of that ever-elusive sub 5 hour marathon.  Finally I built up enough energy to open up the data and check my seconds…  5:00:28.
But…a new PB, lessons learnt and a much stronger first half than I thought I was ever capable of in a half marathon right now, never mind a marathon.
The other two times I have run Milton Keynes Marathon we received printouts of our time and splits as we crossed the finish line but there did not appear to be any splits handed out to runners this year.  About 30 minutes after finishing I received a text telling me I had completed the race in 2hours 14minutes and I panicked that I had only been entered into the half marathon, not the full marathon as I thought, but apparently there had been a mixup with the times that were texted out and I had just been texted another runner's half time instead.  The results were available immediately online, so it was nice not to have to constantly check for my official time.  I was a little disappointed with the goody bag.  In the past we had a t-shirt, and a full size mars bar amongst other things, but no t-shirt this year and the mars bar was now fun-sized!  There were also a few other samples and a bag of crisps in the bag, which I ate not long after.  The medal, as in other years was a good one though, with a really thick, quality ribbon, which is nice.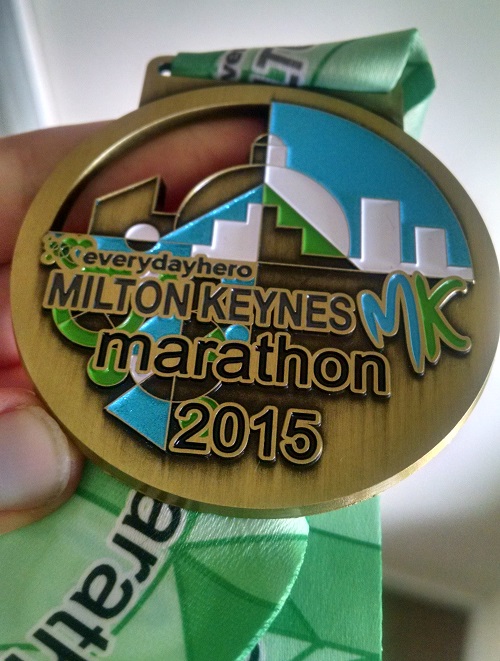 Marathon number 8 done.  Where shall I head for marathon number 9?…!
Any suggestions for fast, flat marathon courses over the next couple of months?