1. London marathon
Who entered the ballot this year then?  I put my name in the hat first thing last Monday morning despite the change in rules for this year.  Normally the ballot shuts after a certain amount of entries, but this year they decided to run things differently and keep the ballot open until the Friday – four days later.  I am glad I got a chance to run at London last year as I would imagine the number of people being persuaded to enter across four days is much higher than those who got up at 6am to secure their spot before the cut-off in previous years.
One good thing came out of it though.  >>  The ballot went live the day of Milton Keynes marathon.  As Dan stood chatting with my club friends and watching us all prepare for the marathon he came across all confident and entered himself.  I bet anything he ends up with a place next year now!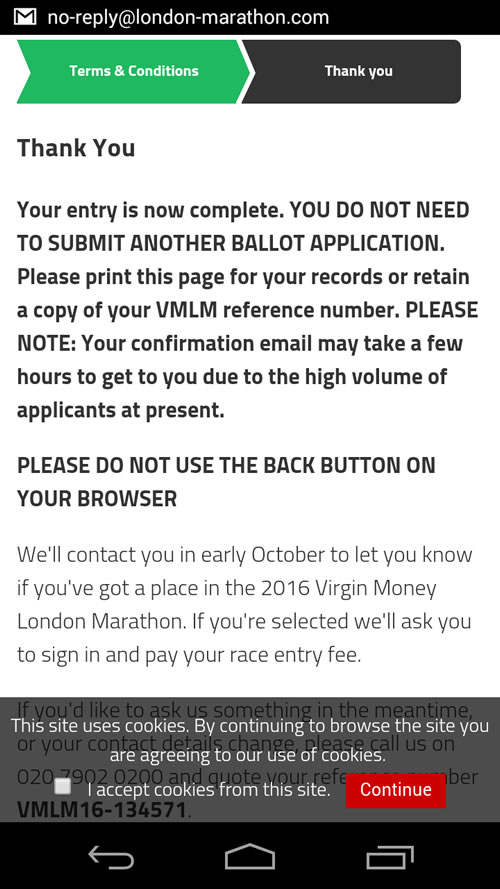 2. 14 days until the move
Our official move date is now the 29th May – Friday of the half term holiday….two weeks today…and we still have so much to organise!  My list is actually getting longer I swear!  We are now almost up to 40 boxes packed and placed in the kitchen and I'm starting to get concerned we're not going to fit everything into a van!  We're definitely running out of kitchen room!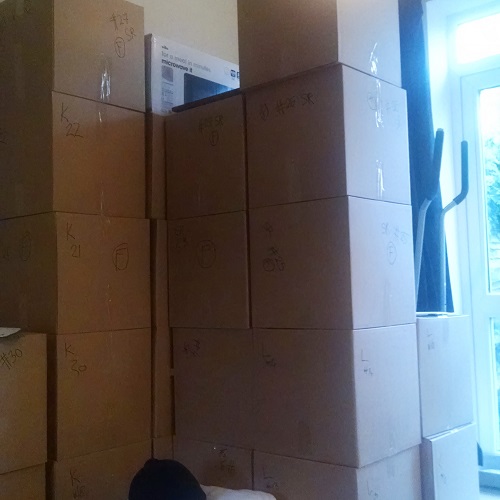 Despite my continuous growing list, I do feel that I'm on top of things right now.  My main concern is the juggling act on the morning of move day.  Because we will be moving into the house owned by the people moving into our house.  This means we both need to be out of our current houses first thing in the morning so that the monies can be transferred by lunchtime.  We have to load everything in a van in one go before waiting and then when we get the go-ahead setting off for our new home…two roads away!  It almost seems silly getting a van.  We could just about organise a to-me-to-you parcel up the road!
3. I'm loving running right now
Like really loving it, – can't get enough of it right now.  I want to join in on all the trail runs and enter all the races.  I need to be careful I don't overdo it too soon and wind up getting injured.  I'm really looking forward to a Summer of running though.  Pub runs and river dips.  BBQ runs and new trails.
4. An early morning wake up call
Last Sunday morning I was up bright and early to knock back some porridge before heading out on the Waendel Walk.  As I sat downstairs digesting my porridge and catching up on some blog reading I heard a loud thud on our lounge window.  I peered outside to see a little Great Tit face-down on the lawn outside with his bum sticking up in the air.  Bella was outside on the prowl so I quickly scooped the little bird up and brought him inside.  He seemed pretty alert when sat on my hand and continually turned his head but did not attempt to move his body or feet when I picked him up.  I was running out of time to set off for my run so I did what anyone would have done.  I woke Dan up with a bird in my hand and told him he needed to keep the bird away from Bella until it was capable of flying again.  A reasonable request, or so I thought.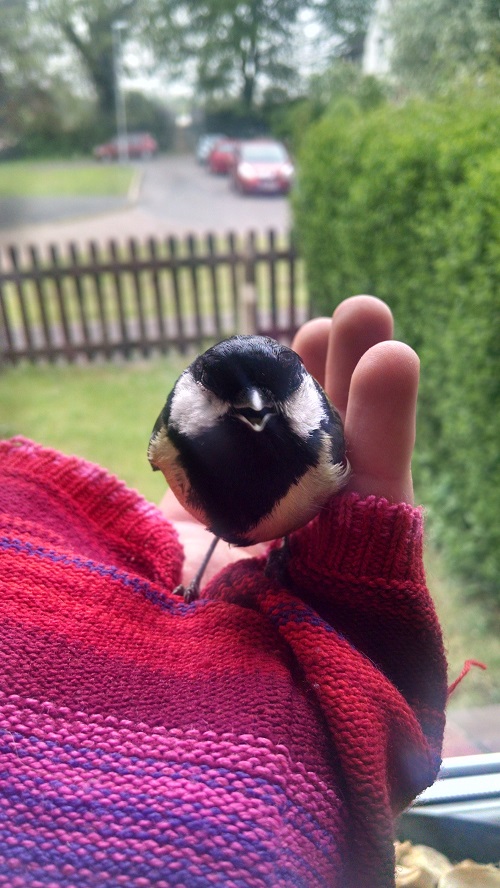 Turns out Dan wasn't very impressed with being woken at 7:30am with a bird in his face and ten minutes later, whilst we were debating what I should do with the bird, the bird decided he was feeling much better and decided to take flight around the bedroom!  Luckily I'd had the sense to shut the door on entry so at least he was contained but it was the funniest thing watching a half-awake Dan duck under the duvet cover everytime the bird swooped down alongside the head of the bed.  Eventually after about ten minutes of me sweeping him in the direction of the wide-open window he saw sense and disappeared off into the world and I disappeared on my run before Dan threw something at me!
Top moving tips?
Do you have any animal rescue stories to share?