In my calendar for today I have had the Dukeries 40m trail race marked for ages. The race is part of our club trail league and a bunch of friends from the club had planned to run it.
Entries for the race closed last Sunday. I hadn't entered by Sunday lunchtime and was still undecided as to what I wanted to do race-wise and goal wise for the rest of 2015. My 'goal' for the year had initially been to have a strong marathon at Milton Keynes and to PB at the marathon distance. I achieved the PB but didn't have quite the race I was hoping for on the day and was left feeling rather deflated and knowing I could do much better.
I am still entered for the Shires and Spires 35m race at the start of next month. Large numbers of our club are running this. I wouldn't be surprised if we had 50 members running on the day! It seems almost everyone I've spoken to lately has entered so it should be a great race atmosphere out there. I would like to beat my time from two years ago, when I first ran it. Several of the first time ultra runners plan on running at the back of the field in a large group but I know from experience that I run better on my own or with just one other person. I'm confident on the course, having entered for two years running now and having completed sections of it on numerous training runs.
My legs felt fine after Milton Keynes which had been the initial reason I held off entering Dukeries (in case I was no longer able to walk!) but with Shires two weeks after Dukeries, combined with a house move the week before Shires, a 4:00am required get up on race morning to get over to Nottingham and my Nephew's third birthday party moving from the Saturday to the Sunday I eventually made the decision not to run. I immediately felt like a huge weight had been lifted from my shoulders and almost immediately afterwards I also made the decision that I should postpone another marathon PB attempt until the Autumn.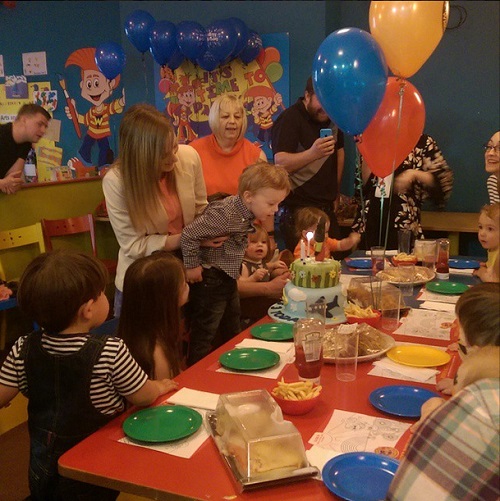 There's my nephew, blowing out the candles on his birthday cake earlier on today.
And for all the cake lovers out there, here is the cake my Mother-In-Law made.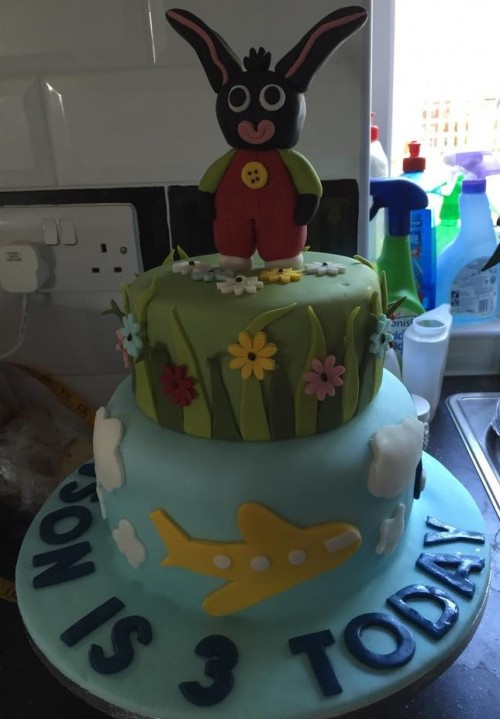 Apparently it's some character from a kiddie program.  I don't know, – I'm not clued up on programs for three-year-olds, but it looked amazing and tasted pretty good too whilst we waited until 3:30pm for our lunch in the restaurant!
Over the coming months I want to make a real focus of the shorter distances and concentrate on running strong to heart rate.  During the week I made the decision to get to as many parkruns as possible this Summer and aim to run measuring at 170bpm on my heart rate monitor so that I can track my progress as I go along.  This website tells me that for a 5k distance I should be running at 95-97% effort.  170bpm is just short of that for me, but means that there is a bit of wiggle room and helps to make me feel confident that I can hit that target.
I kicked off this plan at yesterday's parkrun in Northampton, and, after several months of no-shows, Dan decided to join me.  (Buying some snazzy new running kit in the week helped him to make his decision.)  The last three times that I have run Northampton parkrun it has been as an easy run or one without pressure so I wasn't sure how I would get on running for a time again.
After one minute of clapping for a local runner who had recently been killed by a car whilst out on a road, we set off a little after 9am.  I made sure to start off on the far side of the start line, on the grass where I feel happiest and also giving me opportunity to overtake several of the runners that had started too far forward when the run began.
I just let my legs do the work to begin with, trying to slot back onto the track and find my place in the run – not glancing at my watch until we reached the far end of the park and had turned along the bottom end.  146bpm.  That couldn't be right, surely?!  I was pushing harder than I would have done on feel alone at such an early point in the race and yet my heart rate was displaying so low.  For a few seconds I thought that perhaps my watch was picking up someone else's heart rate details.  I quickly made the decision to roll with it though and to gradually pick the pace up until my Garmin displayed 170.
The field seemed much more crowded at this faster pace and twice a runner darted infront of me giving me no time to react, catching the back of their heels as they scuttled through.  I glanced up in time to see a non-parkrunner who was heading along the path in the opposite direction to us plough into one of the parkrunners from my club head on and knock him sideways.
Finally, one mile into the run I hit that magic 170bpm on my watch I had been looking for and I stabilised my pace.  The first mile absolutely flew by.  Turns out 8:24 minute miles go much quicker than the 9:30mm I have been running parkrun in just lately.  Who would have thought?!
I still felt good but kept my pace steady as I came into the second mile.  Here, one of the guys who used to run at our club came alongside me.  "Hiya Mary, how you doing?" "Good." (between gasps!) "There are quite a lot of people here today aren't there?  I think our club is beating yours this week." "Yep."  "How has your running been going?  Are you aiming for a PB?" "I'm on target at the moment."  (Took me a long while to get those six words out!)  He wished me luck and shot off past me at this point but I headed over to apologise as soon as I saw him at the finish.  I had just been concentrating on my run!
Mile two went by in 8:51 – still on target for a PB.  My current PB stands at 26:55 – 8:40 minute miling.
The third mile was tough, but manageable.  The thing about the 5k distance is it is tough the entire time, unlike the marathon, where your body starts to ache towards the end but you've kept pretty steady up until that point.  During a 5k you are going almost full blast from the very beginning.  I hadn't slowed down though and my watch beeped to display 8:57mm.  I didn't have the mental capacity at that point to work out if I was still on target for a PB, although thought it would probably be close so really gunned it along the last 0.13m to the finish line with my final nubbin at 8:04 pace, finishing in 27:13.
Not a PB, but the closest I have come since setting my PB back in February 2013.
Position: 189/341
Female position: 32/132
Age cat position: 5/16
Do you have a game plan when you run at parkrun?