Lots and lots of trail runs have been taking place just lately.
Last Tuesday evening I ran the mile and a half to a new pub that had opened up in Stanwick.  From here I tested out a 6.7m trail route I had previously mapped out so that I could lead the Friday night pub trail run that week for the first time.  The route had a nice mix of paths, field, stubble, grass, trees which had fallen over ditches we would have to cross and track.  It did have a section of about 0.25m in the middle where we ran alongside a fairly busy road which I worried about, but in the grand scheme of things it didn't make up a large portion of the run at all so things worked out fine.  Once I returned to the pub (not open on a Tuesday night unfortunately!) I then headed the mile and a half back home again.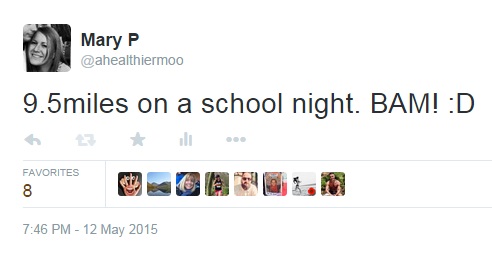 Wednesday night, after quickly packing three more boxes (our current nightly minimum) ready for the move I suddenly realised that I had never driven myself to the start point for the club trail run that evening.  Everytime I had run that route in the past I'd always been driven by others.  Not the most observant of passengers I realised that I had no idea how long it would take me to get there and quickly set off whilst hurredly trying to program the village name into my satnav.
I arrived as a herd of runners (is that the correct collective term?!) headed along the road towards me.  Luckily they spotted my car so waited as I launched myself out, grabbing my heartrate monitor, Garmin and phone as I ran.  There were 25 of us all together.  We've only ever beaten that number when free food has been involved!
I took my rest day on Thursday and then Friday was my turn to lead the club run out from the pub in Stanwick.  I was worried when another 25 runners (and a dog!) turned up.  My worry levels increased when quite a few of the faster runners turned up and everyone asked me to explain the route…I'm rubbish when it comes to giving directions!
I started off running at the front around 9mm pace and comfortably ran at this speed all of the way round, with various pauses for photos and turnbacks to regroup with the other runners.  Luckily I wasn't panting out of breath at the back shouting out instructions to the front runners the whole way round!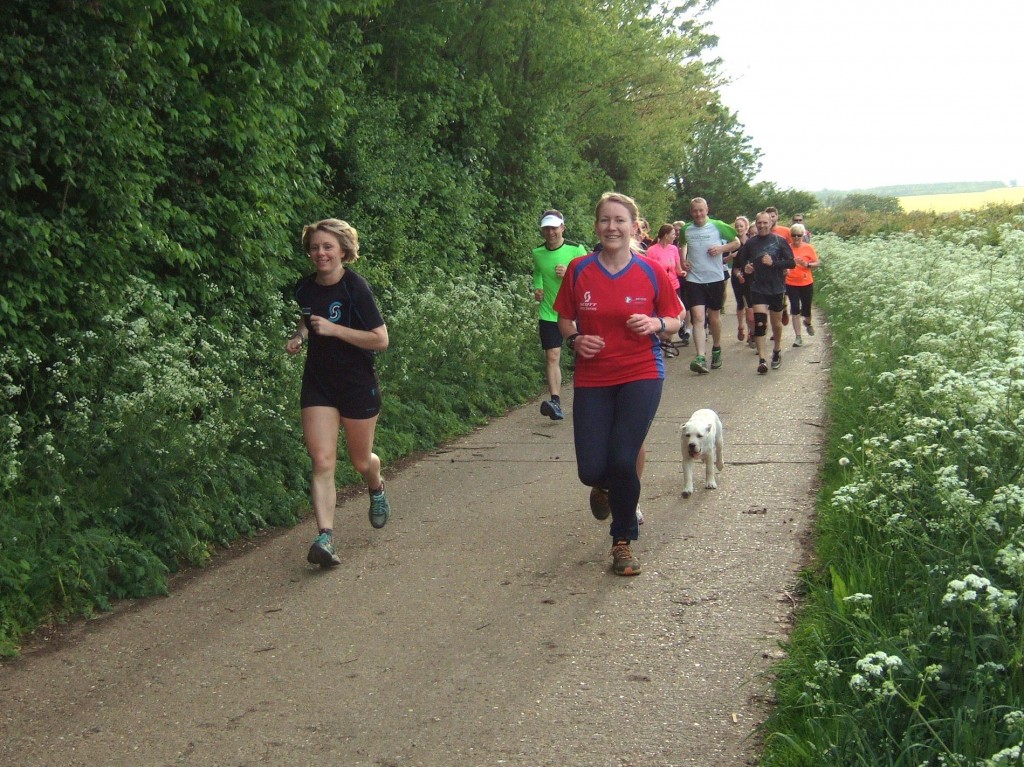 Alan, our membership secretary likes to take lots of photos so we have several from the night!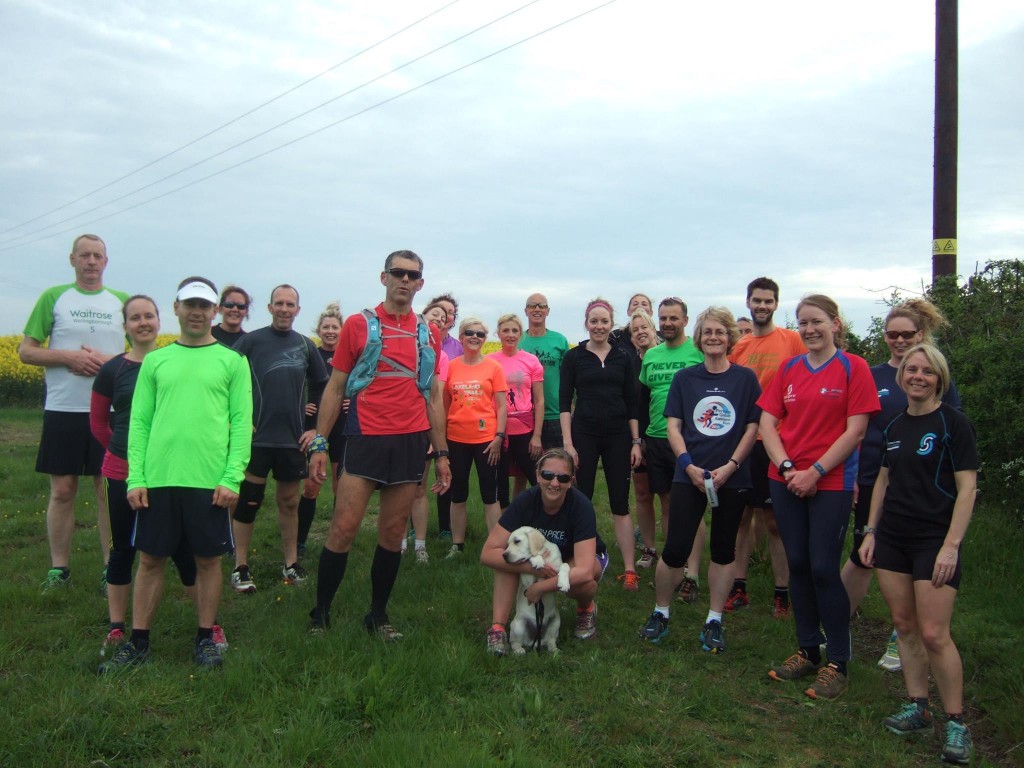 And we couldn't miss the photo opportunity from the bridge!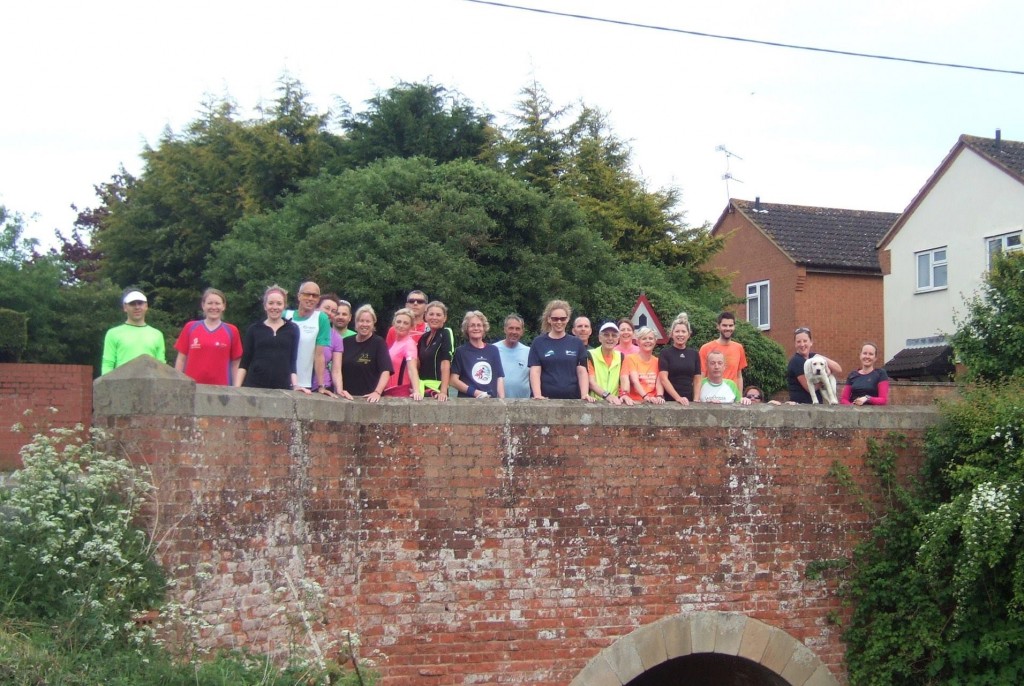 Obviously we then stopped in to enjoy a pint or two at the pub we had started out from (The Duke of Wellington) and I returned home much later than planned!
The next morning I headed over to Northampton for the parkrun with Dan.
Unfortunately after my run on Saturday morning I was unable to run again until last night due to packing for the house move, producing a programme for the upcoming Northamptonshire Track and Field event this weekend and Ofsted being in at school.  Busy times over here in the Pearson household!  Last night I made it out to club though and really enjoyed another great new route down by the river along Great Doddington for 7.4miles.  The weather has been perfect for lots of trail just lately.  The ground isn't too hard but the evenings are nice and light and it's warm enough still to head out in a t-shirt after work.
How have you been making the most of the light evenings?