OK, spoiler, because I'm too happy and I can't stop myself blurting it out.  PB alert!!!  

Last night was the Blisworth 5 mile race, part of the East Midlands Grand Prix series made up of several shorter distance races over the Summer months, each starting at 7:45pm.  My running has been going well lately so I was looking forward to a Summer of stronger racing.  Although, as always, wound up way more nervous due to the shorter distance of the race.  There's no time for error in a 5 mile race!
After a stressful day encountering several house moving issues (post to follow) I ambled over to Blisworth where I met with Steph and Laura for a destress chat.  Steph was running, Laura was supporting and after Steph and I had collected numbers and queued for the loo we still managed to fit in a good 40minutes of chat.  The start line at Blisworth is about a 10 minute walk from the registration desk so we ambled over.  It was nice and relaxed – no time to stress over the distance coming up.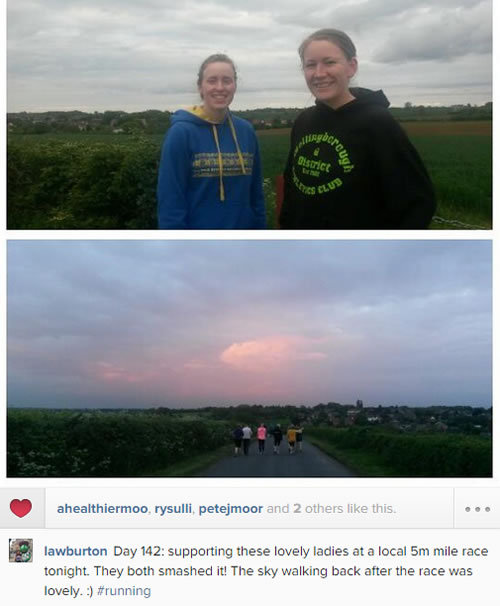 I had spoken to another runner from club in the week and had told them that I had not run Blisworth before but looking back on race morning through my blog I realised that I had indeed run Blisworth last year, and it was pretty damn hilly out there!  Clearly I'd just blocked it from my mind.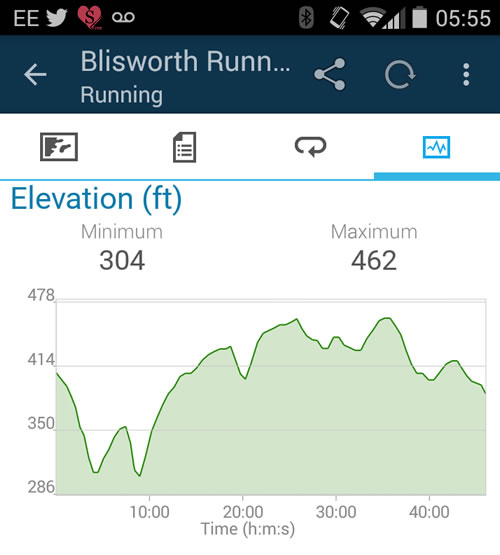 With a few minutes to go before the start, Steph and I both wished each other luck and headed to our separate starting locations.  I started from the left hand side of the road which is very unusual for me.  The right side was so crowded I couldn't squeeze in!
I had worked out before the race that I needed to stick somewhere around the 165bpm range when racing over 5 miles.  As the course was so hilly, it would mean my splits probably wouldn't end up being very even but I would be consistently putting in the same amount of effort throughout the race and this meant that I (hopefully!) wouldn't end up crashing and burning on the way round.
It took me 11 seconds to cross the start line and then the course starts off on an amazing downhill.  I really let my legs go down here.  I leaned forward and let my legs take long strides.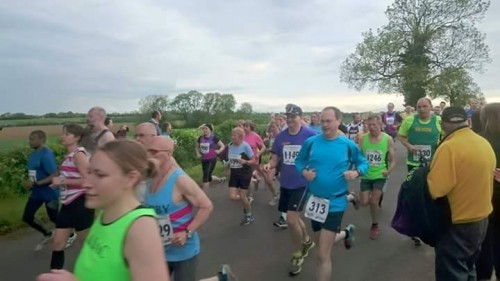 (You can tell this is at the start of the race because my hair is still nice and tidy in this photo!)
My heart rate remained fairly low, under 150bpm so I made use of the downhill because the course is very cruel in that you get to the bottom of the very large hill, have a short uphill which you head back down again almost immediately and then you loop back and run back up the very large uphill, with all your supporters still stood at the top and no chance of getting a sneaky walk in! 😛
My first mile (just before heading back up the large hill) ticked by in 8m 19s.  Super speedy for me, but it had contained a large downhill that I wouldn't reap the benefits of anywhere else!  As we headed back up the large hill towards the farm where the start/finish line was held the sun was sitting just wrong in the sky and everything was so bright.  I could hear people shouting out my name as I ran past but couldn't see a thing!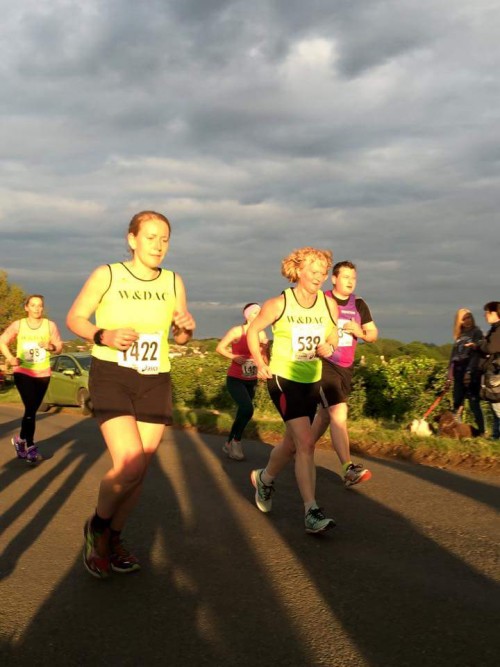 This was right at the top of the hill.  I just put my head down and pushed on to the very top, trying to keep my effort consistent on this section.  I knew it was the worst part of the course!
We got probably another half mile up the road and a car drove up behind us.  The runners were all still quite clustered and across the road at this point and rather than wait the couple of minutes it would take us to get to the turning, the woman beeped her horn at us for us to move out of the way before speeding a little further up the road.  Fag hanging out of the window in her hand.  I heard a few more beeps as she went up the road and did make a comment to the runners around me at the time.
We turned off and headed round to begin our loop back.  Here, a woman was running in front of me but her stride was shorter than mine, resulting in me having to keep clipping my stride, making me off balance.  I moved out to the right to overtake her, but she moved to the right at the same time as me.  I chopped my stride some more and moved over to the left to undertake her instead.  She moved back over infront of me!  I hadn't thought it was deliberate the first time, but now I did!  This happened about ten times before another Wellingborough runner pulled up alongside the left of this lady, I saw my chance and gunned it to the right of her.  I didn't see her again after that.  I was rather annoyed that she had tried to block me from coming past though.  We were only running at about 9mm pace so position in the race meant nothing to us!  There should have been no reason for her to not let me pass.
Miles two and three went by in 9m 45s (heading back up that hill!) and 9m 18s.  It was here that I realised I was in with a good chance of getting a PB.  I desperately wished at this point I had remembered to check what my PB was before setting off that evening.  I knew it was 47 minutes-something, but couldn't for the life of me remember the something!  I had a feeling it was around 9:30minute miling, and knew it had been set way back in 2012.  (It was 47m 57s – 9:36minute miling.)  I instantly felt nervous as soon as I realised that I was heading towards a PB and ended up having to block the thought from my mind so that it didn't alter my running.
Mile four went by without issue in 9m 26s and it was here that I knew I would definitely achieve a PB.  All of my miles (other than the hilly one) had come in well under the 9:30 pace I had ingrained in my mind to beat.  I vaguely worked out that I could run the last mile in 10 minutes and still beat my previous record, and I was definitely on target for smashing my previous time set at Blisworth the year before (49m 47s).  Just the one hill to go then!
A little way infront of me I could see a runner flat out on the grass verge.  She had two marshals holding her legs up high, looking to try to bring her back round.  On talking to Steph later, the lady had gone down not far infront of her with very laboured breathing.  The ambulance rushed out as I came through the finish line not long after but I do not know any more.  I hope she was OK.
We came out back onto the stretch of road where the farmyard was.  I only knew this from having run the course last year.  The marshals at this point shouted out "Only 500m to go!" though.  I didn't kick as I am sure that it was further to go than this.  It actually ended up being half a mile from the finish, so I'm glad all I did was lengthen my stride slightly.  I overtook several people along this stretch of road here.  I kept checking my watch along this point, -my heart rate had crept up to 170bpm since being told that it was only 500m to go and as I passed the 400m to go sign and could see the gantry in the distance I was still feeling good so made the decision to pick up the pace and finish strong, continuing to pass other runners.  I doubted myself slightly on making the PB here.  Why is it impossible to work out simple maths problems in your head whilst running?!
As I reached the turn onto the farm I could hear other runners from my club screaming out to both me and the lady just in front of me who was also a Wellingborough runner.  This was all I needed to pick my pace up even further and I really powered around the corner, skidding on the gravel that was on the surface.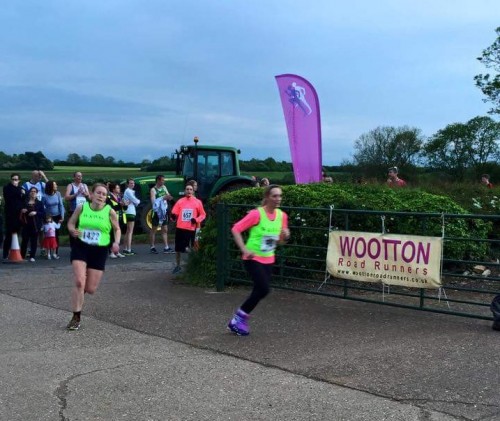 I thought I was going to go down for a second, but somehow managed to use the skid to my advantage and take power from it to pick up the pace even further.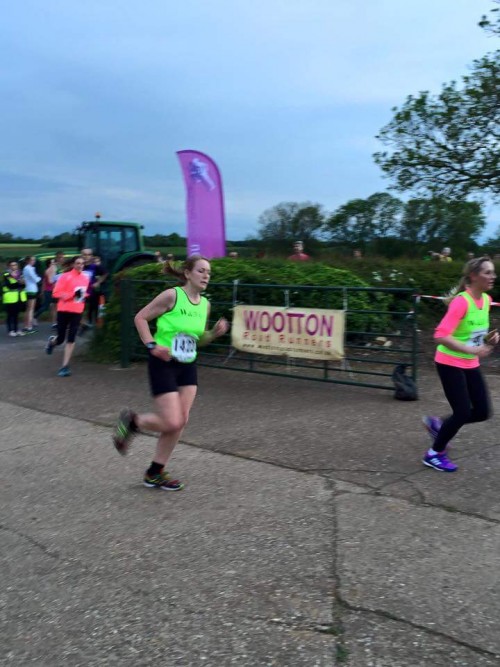 The finish is about 50m from this point and I managed to power past that Wellingborough lady in front and just pip her to the post.  I immediately turned round and apologised for overtaking right at the end, that I knew I had been so close to a PB and wanted every last second to count.  She seemed OK about it though.
I couldn't stop grinning when I walked through the tunnel.  Because I had run a smart race effort-wise I had no need to throw myself down onto the ground afterwards either (as so often happens!) so once I had grabbed my water and bourbon biscuit, I headed over to join my club mates and cheer the rest of our club in.  Still grinning ridiculously at achieving a new PB!
Mile 5 went by in 8m 53s and the 0.5 nubbin was run at 6:29 pace!
Super, super happy with the result!
Garmin time: 46:03
Official time: 46:05
Finishing position: 342/396
Female position: 90/128
Category position (senior female): 30/43
I found it quite interesting to compare splits to last year as well.
| | | |
| --- | --- | --- |
| Mile #: | 2014 | 2015 |
| 1 |  9:20 |  8:19 |
| 2 |  10:04 |  9:45 |
| 3 |  10:19 |  9:18 |
| 4 |  10:24 |  9:26 |
| 5 |  9:19 |  8:53 |
| Nubbin |  (0.04m) 7:29 |  (0.05m) 6:29 |
Clearly I'm much fitter this year!  No 10s in sight!  😀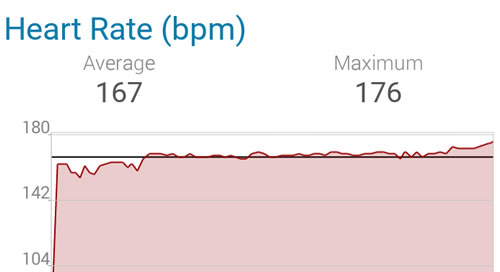 Do you race to heart rate?  Lots of guides seem to advise against it due to the extra stress of race day, which raises your heart rate.