For the last few years, Dan and I have treated ourselves to a break away on Tesco points at least once a year.
Tesco is known for having one of the best reward schemes in the UK.  When I was refused a mortgage in 2010 on the back of having never owed any money it didn't take me long to pick from the best banks with free checking and to decide which credit card company I was going to go with to build up my credit rating.  Using my credit card now I get 1 point for every £4 spent, WHEREVER I SPEND IT.  When you first buy a new house, go on holiday to New York and get married, Tesco points quickly add up and points mean prizes!  Or in this case, nights away.
On Tuesday morning, Dan and I loaded up the car with a holdall of clothes and toiletries that weren't packed in the every growing pile of boxes collecting in our dining room.  All of our money is being hoarded away at the minute ready for the house move and inevitable redecoration so we didn't have a lot to spare but were in desperate need of a break away together.  We received Foo Fighters tickets for Christmas, so this time round Manchester was the chosen location and we transferred enough Tesco points into vouchers to book a two night stay, and have £30 each of Pizza Express and Zizzis for our evening meals.
We did have a little spend on arrival in Altrincham, as, after a quick change cocktails were obviously necessary.  Time to relax and actually see each other for a change.  Life has been so busy just lately!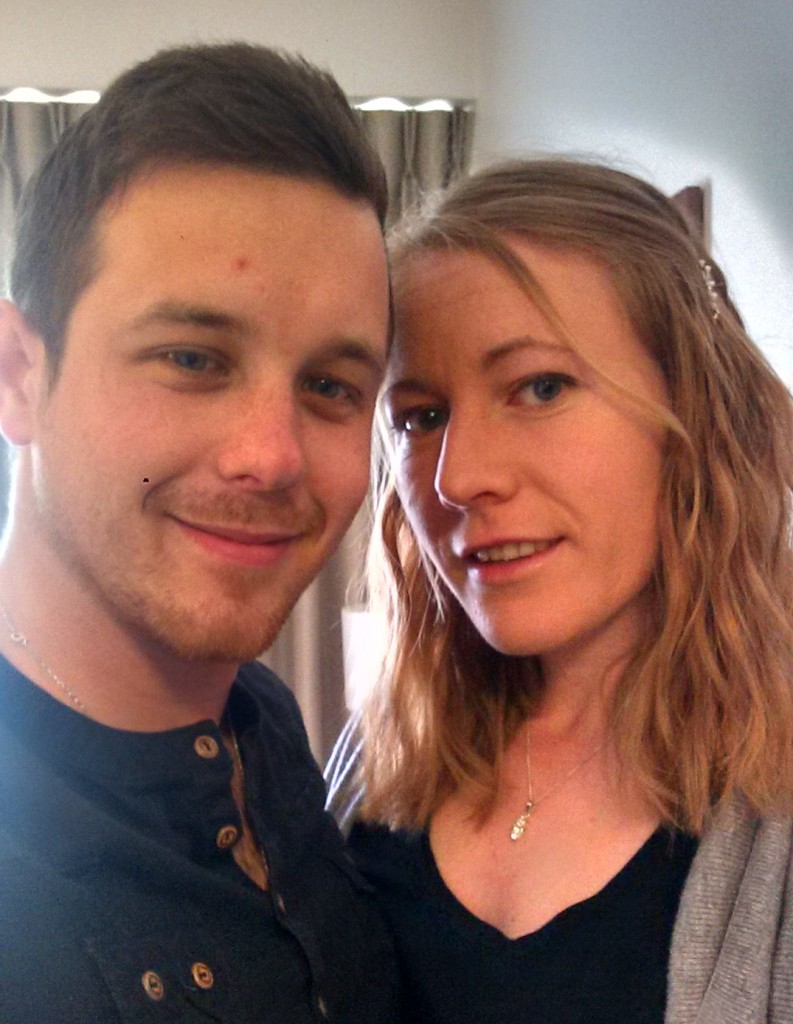 Luckily, we stumbled upon a little cocktail bar in the town centre displaying Happy Hour signs from 6-8pm.  We wandered in a few minutes past six…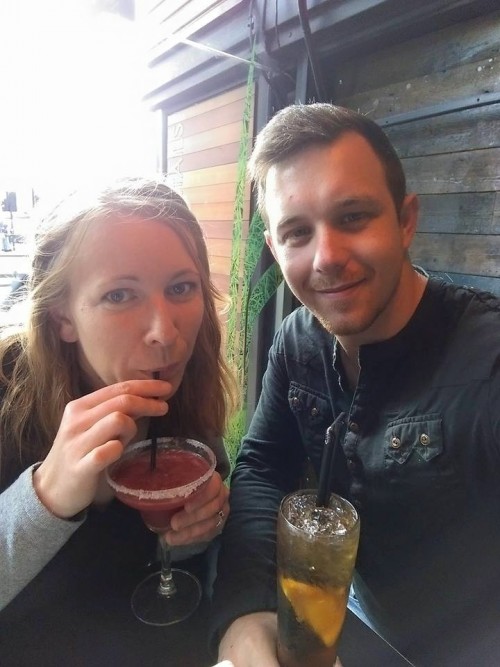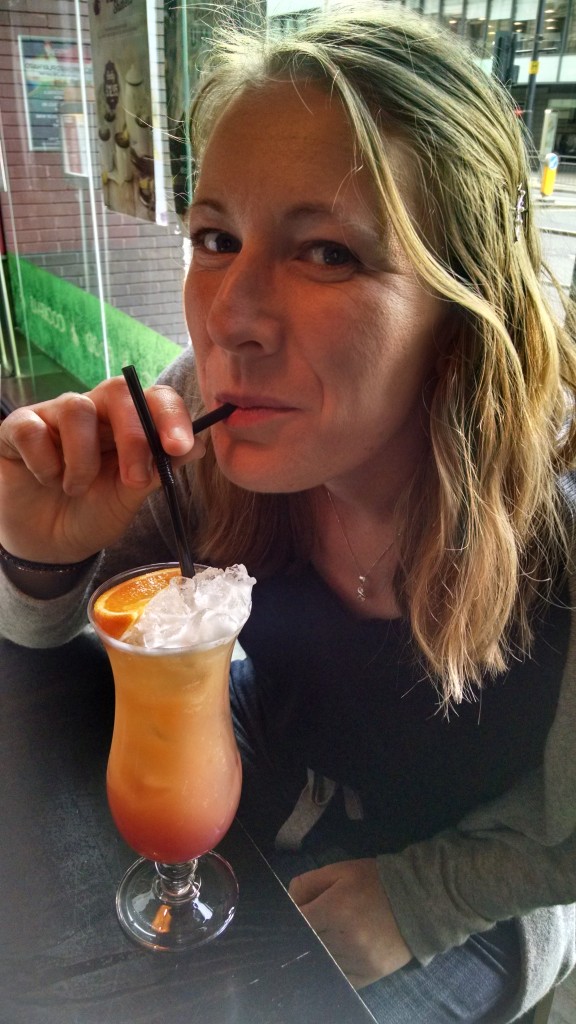 …before heading over to Zizzi for a lovely free three-course meal which included this pizza that was so big it could barely fit in the photo…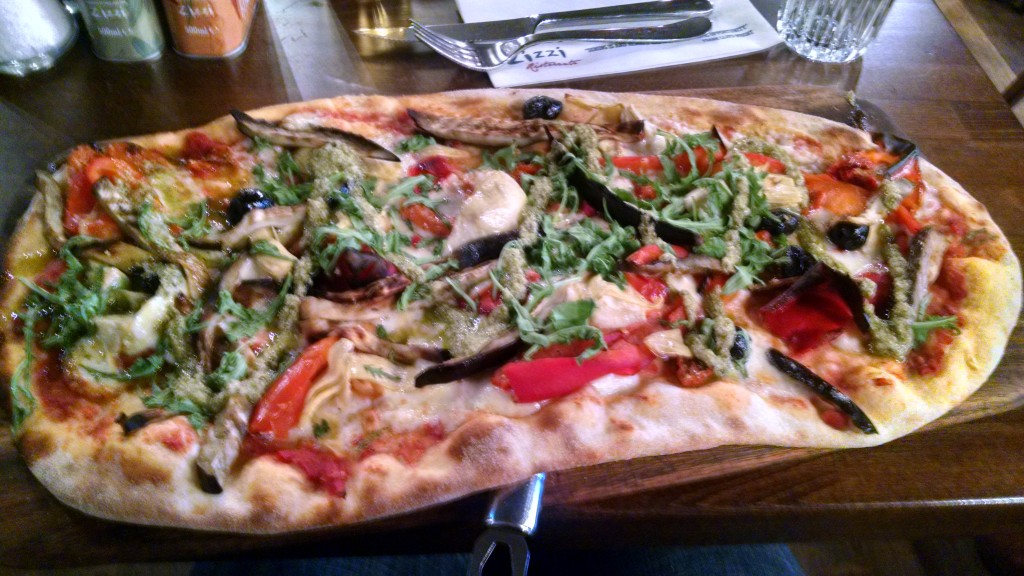 This was the Rustica Primavera – I'm a sucker for any dish containing goat's cheese, green pesto and a selection of veg.
Dessert was all about the Chocolate, praline and sea-salt torte.  This was amazing and definitely requires another taste test immediately!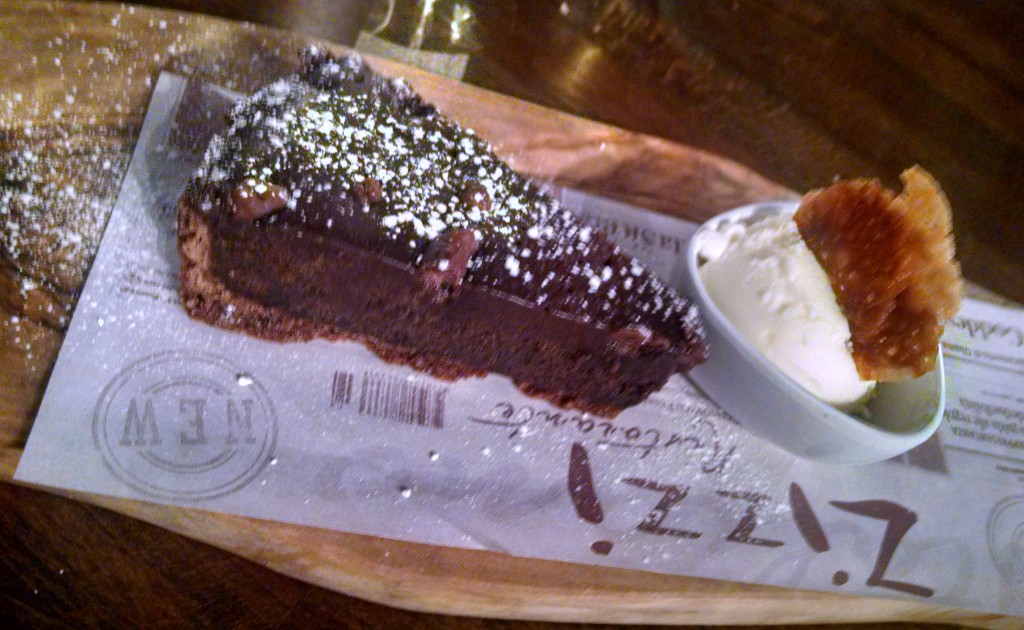 We had a fairly early night on the Tuesday, before a leisurely 8am get-up the next morning.  Eight AM.  I never sleep in this late.  Whenever we go away for a few days, I always make use of the buffet breakfast to grab a Full English.  Dan usually tries to encourage me to have fruit and yoghurt as he thinks I will enjoy it more, but I am too lazy to ever put together a breakfast like this first thing in the morning so I take full advantage of the fact that it is all laid out for me in the hotel.
I don't like bacon, but eggs came in both the scrambled and fried variety so I took both as an extra protein dose for all the walking we had planned that day.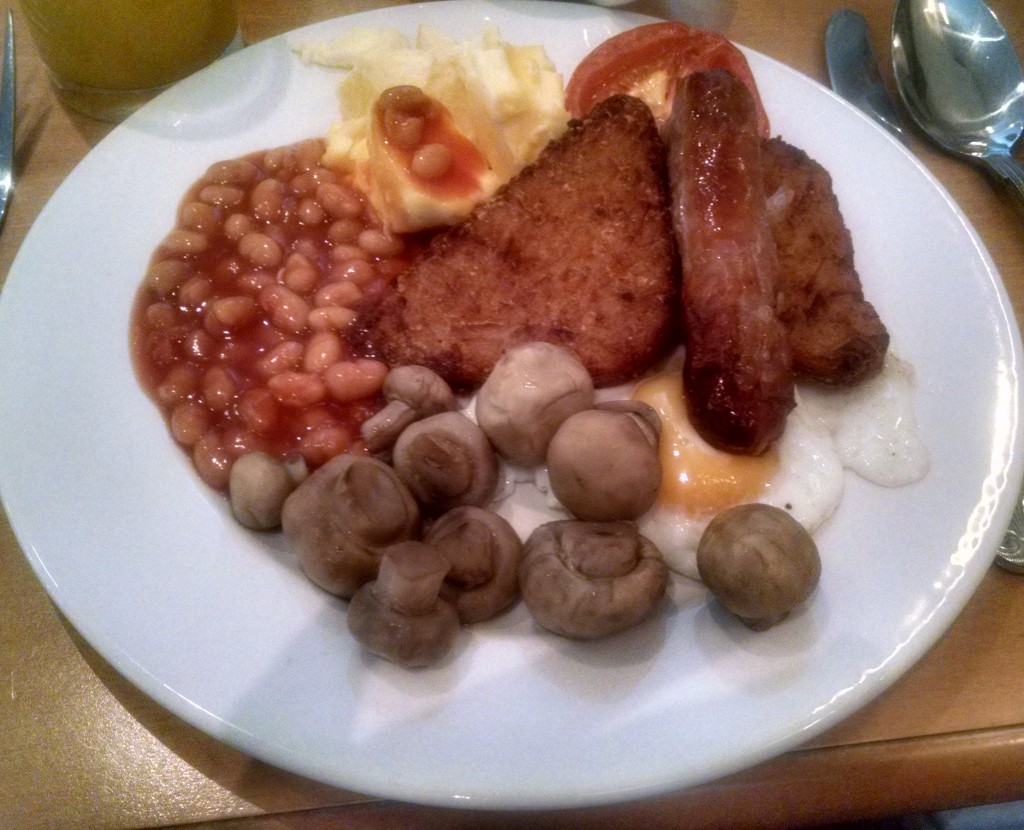 We spent the morning out at Dunham Massey – exploring the gardens and the house.  It was lovely and sunny out.  I felt awful in the morning – my cold had developed into a full on coughing and sneezing fit and so it was nice to get outside and with no time pressures for the day.  We also treated ourselves to some fantastic icecreams whilst out exploring the gardens.  I've decided that our next house move needs to be to somewhere with a garden this size(!)  Everywhere looked so pretty.

We headed back to the hotel for 3:30pm, threw on our waterproofs and headed on the mile long walk to Pizza Express.  It started tipping it down just before we arrived so we were very glad of our forward-thinking and that we wore our coats!
As we arrived, the waiter greeted us in Italian.  Dan, having learnt a few phrases whilst we were away on honeymoon last year decided to respond in Italian.  The waiter, then interested, asked Dan if his Italian was good.  Dan fluently replied in Italian stating that 'His Italian was a little patchy so if possible it would be easier to speak in English.'  (A phrase he used on numerous occasions whilst we were away in August!)  Clearly he did a very good job of replying to the waiter as the waiter then paid special attention to our table and spoke to us several times in Italian.  Dan got rather worried after the first conversation that he wouldn't be able to understand anything said to us, but luckily the conversation centred around food, and that was where Dan had learnt the majority of his phrases from.  We started with some garlic dough balls because seriously, they are our weakness when we head for a meal out.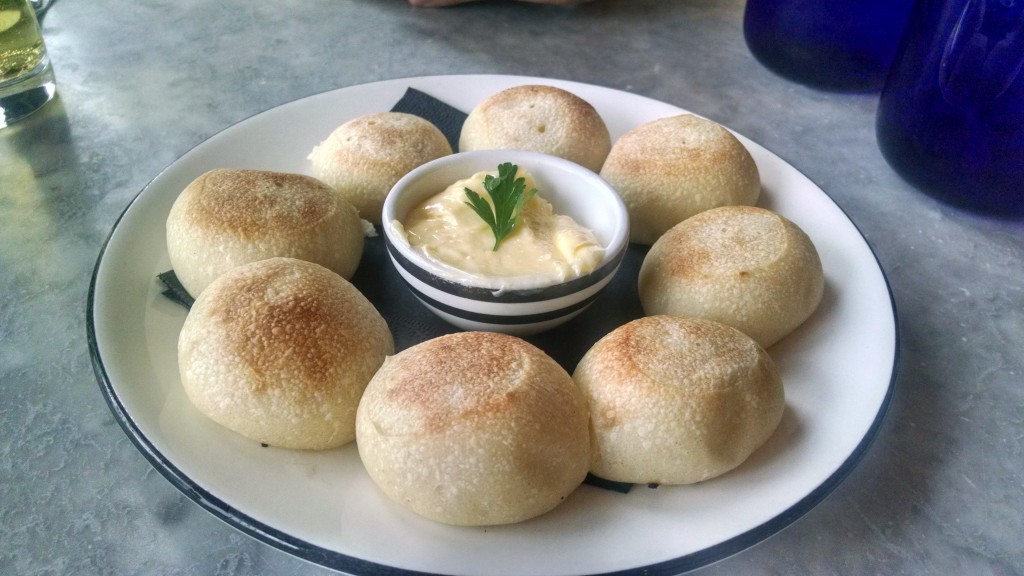 And the salad I chose is going to be recreated at home repeatedly this month…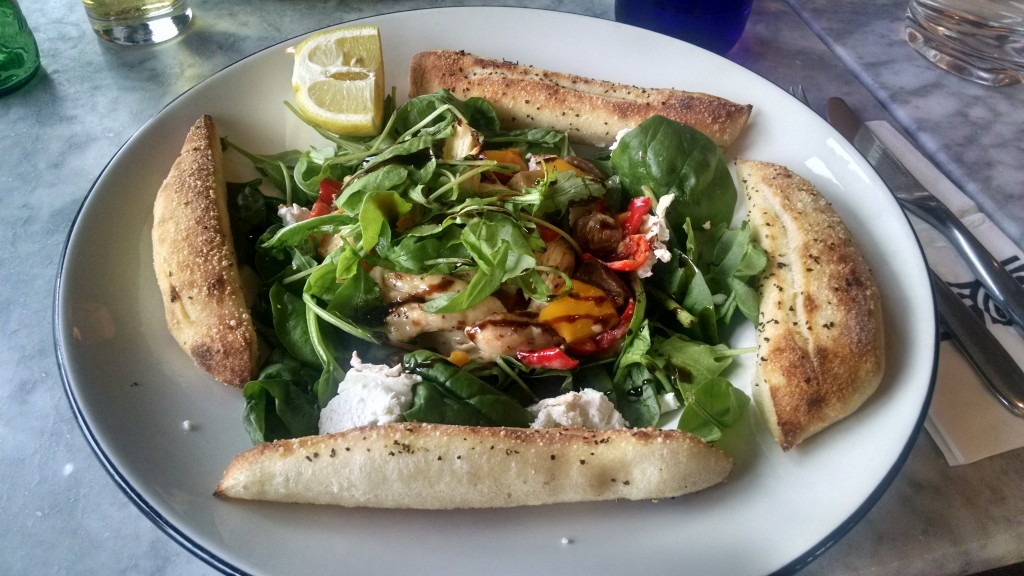 Pollo Verdure – Warm chicken and mixed vegetables in a honey & mustard dressing served on a bed of spinach and rocket with balsamic syrup and goat's cheese, a wedge of lemon and warm dough sticks.  I could literally eat this for days on end and not get bored!
After dinner we headed back out to the tram station to catch a tram to Old Trafford, where the Foo Fighters gig was to be held.  Somehow I managed to fall asleep on Dan's lap for pretty much the whole 20 minute journey here, whilst in our carriage on the tram people were pressed in up against the glass and winding up the noise with excitement for the gig.  I literally could fall asleep anywhere!
When we arrived it was still raining which was a shame, but it didn't stop us from having a little rock out of our own whilst waiting for Foos to arrive.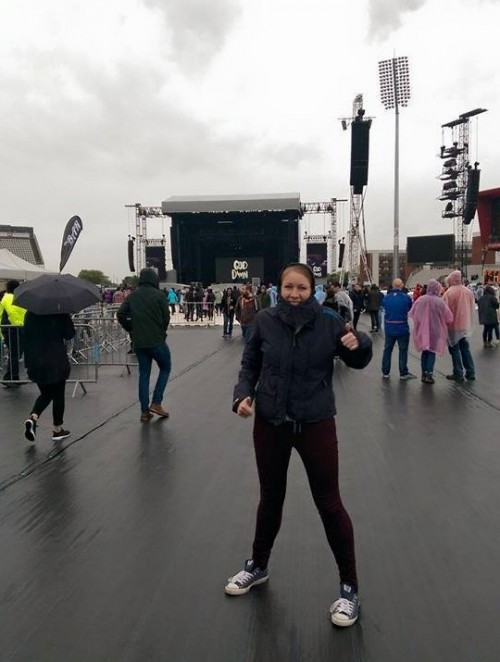 Because we arrived not long after 5:30pm it was still pretty empty when we first got there, meaning that we could pretty much pick our spot for the evening, although I wasn't hugely taken by the support bands.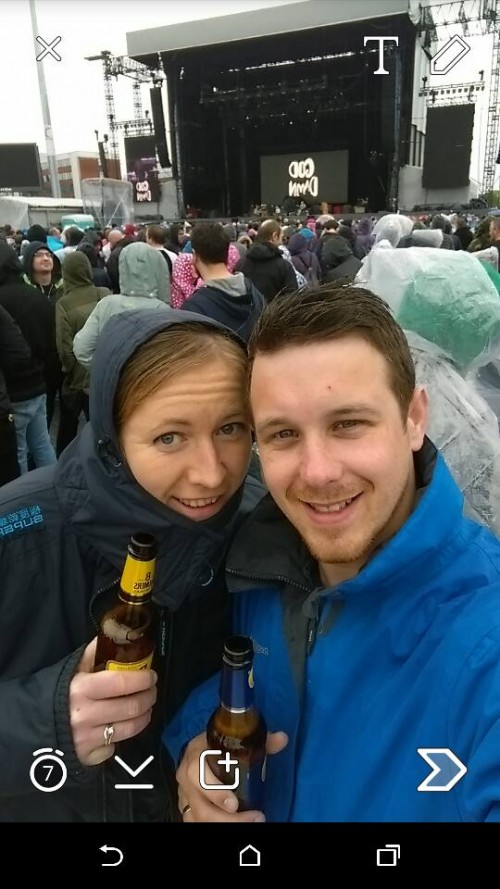 At 8:00pm on the dot we were treated to a really good show though and non-stop amazing music and entertainment for the next two and a half hours.  Dan was looking on Twitter the next day and discovered that apparently the gig was heard from almost ten miles away!  He took lots of video footage on his phone so we only have a few photos.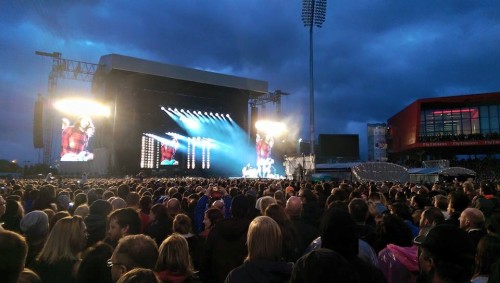 Getting out of the grounds after the gig was a little out of my comfort zone.  People were pushing everywhere and police ended up closing one of the exits to give the movement outside time to die down.  We queued for a long while to get on the tram and then we were really crammed on.  I was glad to get off and back in to the hotel.
I was a little sad to head home on Thursday morning, but having received a phone call on the Wednesday to hear that our move would not be going ahead on the Friday as originally planned we really needed to head back and unpack essentials for at least one more week at work.  It was lovely to spend some time together though and not have to worry about spending too much money as we had been money savvy a couple of months back when planning our trip.
Is a Full English breakfast on the cards when you go away?
What is the best gig you have ever been to?
Do you use any reward schemes at all?  What has been the your favourite reward?