This weekend was a busy one. I do love busy weekends but really struggle with getting back into the working week again afterwards when I haven't made time for the housework, schoolwork and admin stuff I would normally slot in over the weekend.
On Friday evening I headed to Wellingborough Rugby Club where one of my old coaches was holding a charity race night (all races were pre-recorded and shown on the big screen).  Dan and I didn't have much luck with the actual betting, but we did pick a winner in the raffle!  Dan graciously let me have the free one to one pilates session (I really couldn't imagine him giving it a go!)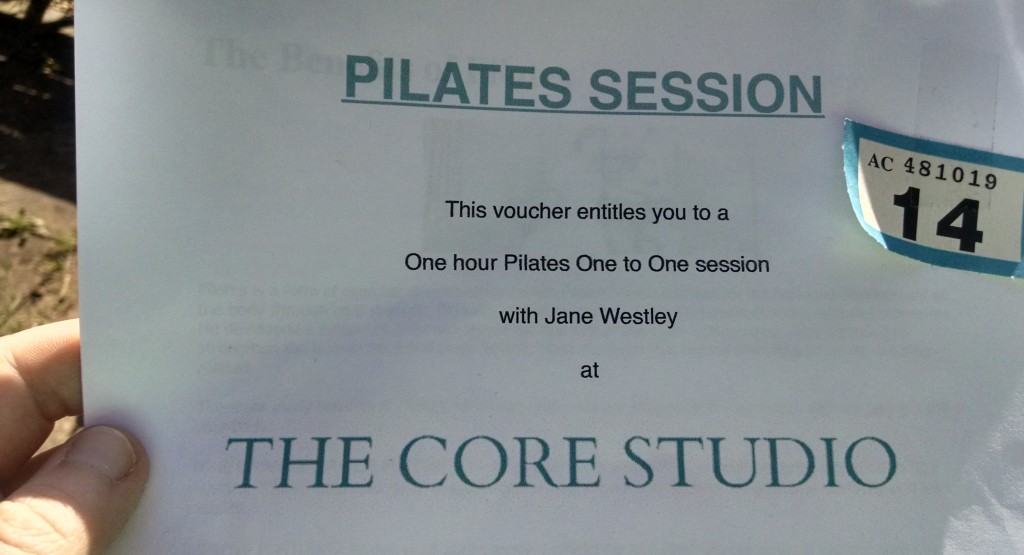 I'm a little nervous about somebody seeing just how weak and inflexible my body is, but at least in a one-to-one session I won't be able to compare myself against lots of super supple people.  This week is a little busy with a 10k race on the calendar tomorrow evening, trail run with friends on Wednesday after school and then a parents evening on Thursday but hopefully I shall manage to book my pilates session for the start of the Summer holidays and it will work out as a nice way to wind down at the end of term.
On Saturday morning I headed to London to meet up with several other foodie/fitness/running bloggers and some classes from Vie Fitness & Spa of Ann Arbor. It was something I had both looked forward to and been incredibly nervous about for a long time. Some of the bloggers that I knew were going I regularly communicate with over blog comments/Twitter/Instagram but there were a few bloggers that I hadn't heard of before, so most likely would not know who I was either. My biggest worry was that when we met up (outside Whole Foods at 1pm) that I would be stood right next to other bloggers without noticing and then there would be that awkward realisation a little while later, followed by an awkward silence coming from the embarrassment of not realising…  Awkward!
In the end I decided to give parkrun a miss in the morning rather than rushing back home following the run, showering and changing super quick, leaping in the car and storming off to London probably leaving my directions on the kitchen counter and forgetting my purse – which would without a doubt have stressed me out.
Instead, I decided to give myself a lot of extra time, enjoyed a little lay in and went through my directions in great detail with Dan. I decided it was probably easiest to drive down to Camden and so Dan found me directions to a parking lot not far from the station and I ended up arriving with plenty of time to kill at a little before 11am, long before our meeting.
Whole Foods was easy to find and after some brief stressful moments pushing through the crowds in the city I decided it would be best to find a pub with WiFi and perch up with my iPad until a little nearer the time. I am really not a London fan and much prefer to live life as a country bumpkin!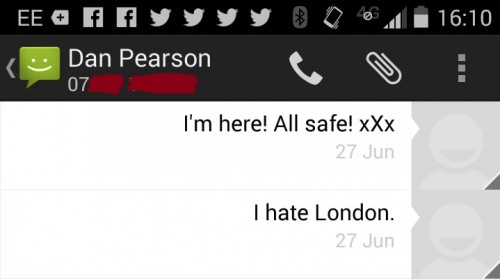 (As you can tell from my phone screenshot I'm rubbish at responding to social media alerts!)
Just before 1pm I headed back over to Whole Foods. There was someone outside.  Should I recognise them? (I didn't!) I panicked, rang Dan and continued to walk round the corner on the phone. Turns out I shouldn't have recognised them (unless they repeated the same ridiculous panic procedure as me but then instead of returning, left completely!) and as I turned back onto the street a few minutes later I spotted Anna. I recognised Anna from having read her blog for the past few years and so immediately felt a bit more relaxed.  As I got closer I could see that she was stood with Pip and Cat and not long after Ceri joined us as well.  I felt very silly for having a moment and being shy. I'd been looking forward to meeting up with the other bloggers for ages.
Our first task was to grab some lunch from Whole Foods to take to the park. This should be easy right? Apparently not! It did make me smile that all five of us spent a long time deliberating over what to choose. There was certainly much more choice than when I pop to Tesco on a Saturday lunchtime! I walked by as Pip was ordering a burrito box without the burrito and decided to follow suit. I am all about the variety when it comes to meals and so I got the guy behind the counter to throw everything in that box; rice, black beans, guacamole, lettuce, tomatoes, sweetcorn, red onion, sour cream… My box was overflowing with delicious food and I made a mental note to recreate this box for some of my lunches this week. I also picked up a pot of mixed fruit salad.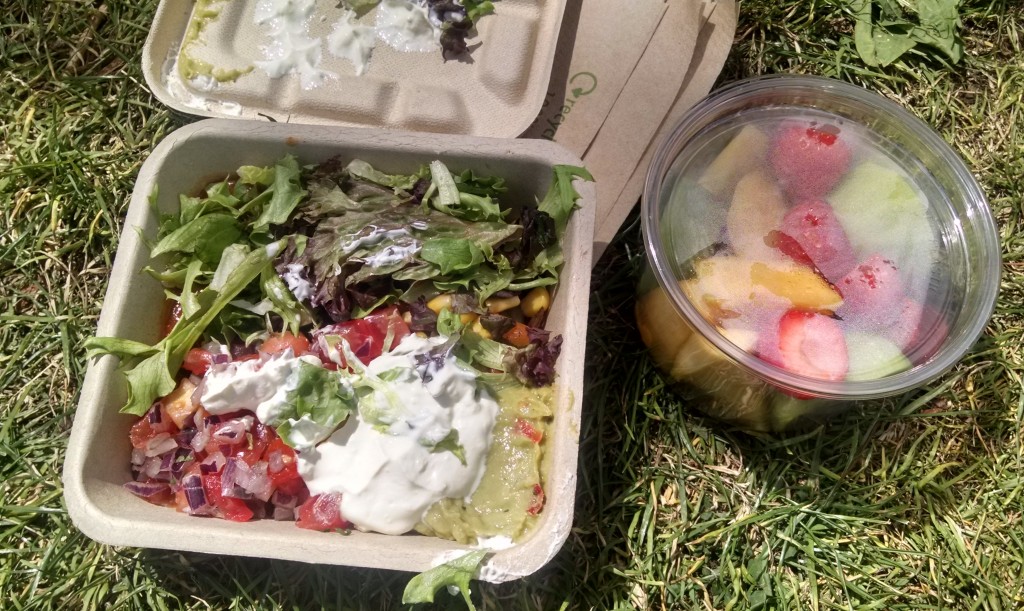 Claire joined us before we headed to the park and the six of us found a nice half-shady-half-sunny spot out on the grass.  It was so hot out there on Saturday, the shade was a welcome break.  The chat was nice and relaxed over lunch. Mainly food natter with a bit of running thrown in. Anna had brought along her Cakeathon medal and my jealousy grew for how beautiful and HUGE and heavy it was in real life!
Anna and I blindly followed the London-based folk back out of the park and to inSpiral, a nearby vegan cafe, to meet up with a couple of other bloggers a little later.  I was glad it wasn't just me that was a bit overwhelmed with navigating the streets of London!  I was amazed at how many runners were out on the streets in the middle of the afternoon.  It was so hot outside and the streets were so crowded I couldn't imagine that getting a very consistent run in would have been particularly easy.  I'm glad I live where I do.
Once in inSpiral we met Laureen and Lily for drinks and cake.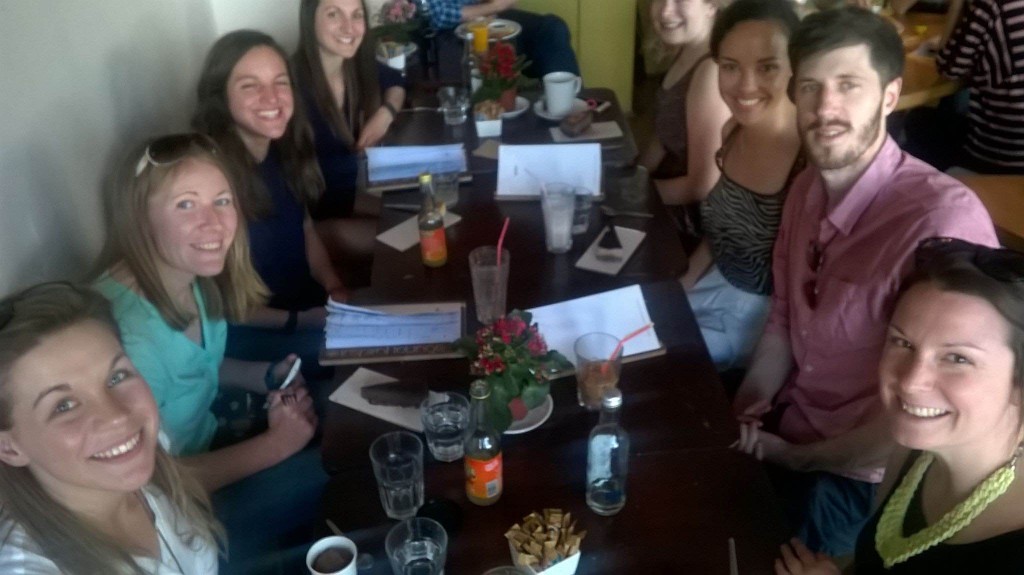 Despite the eight of us having all blogged regularly for a while now we only managed to take one photo between us which included actual people.  (Picture above stolen from Cat!) But, we did all manage to take photos of our meals from the day.  But of course(!)
It was a great debate over what to drink.  In the end I settled on an inSpiral shake – 'Made from a tub of our raw vegan cashew-based ice cream and blended with your choice of milk and a dash of agave nectar.'  I went for mint choc chip with almond milk and it was lovely and refreshing.  I do much prefer almond milk to cows milk since I have begun drinking it.  If only more places offered a choice like this!
My cake of choice was a Raw Hazelnut Tart – 'creamy hazelnut and vanilla filling on an activated buckwheat, cacoe and hazelnut crust topped with a raw chocolate ganache.'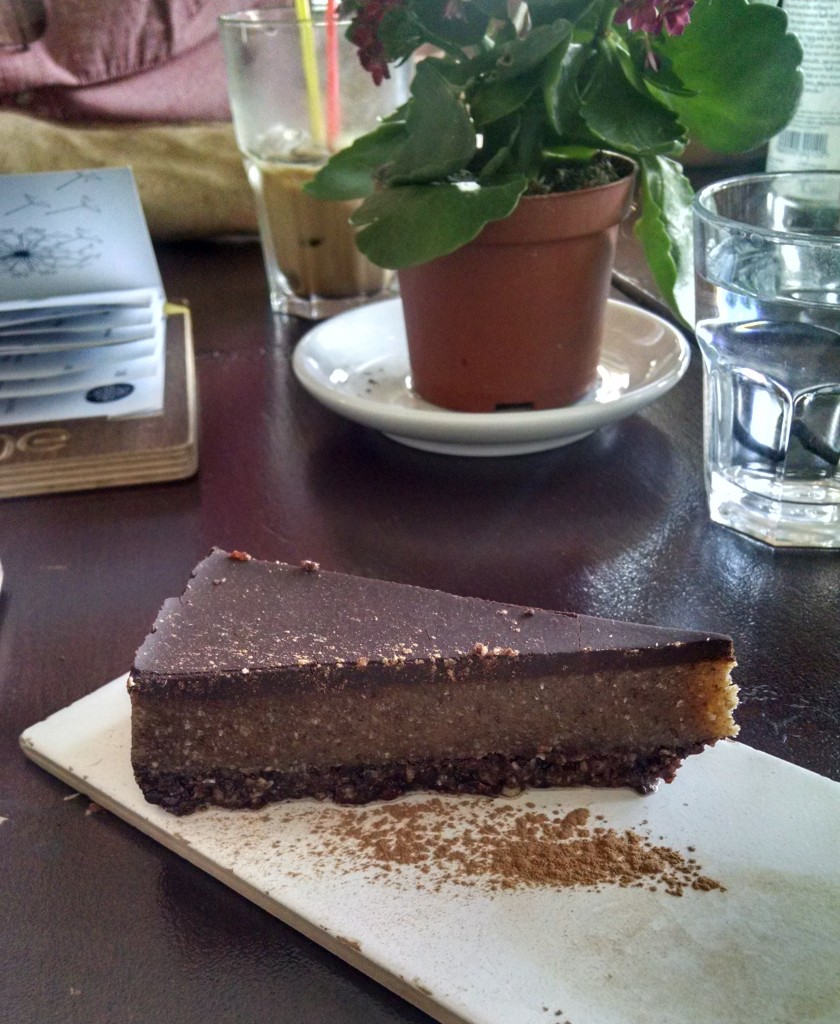 …I made the right choice!
I had a great day and chatted to so many lovely people.  I can't believe how nervous I had been at the start of the morning now and wished I had chatted more.  With so much in common with everybody I'm not sure how I expected us to have nothing to talk about, because there was not a moment of silence once we had all met.  It was just a shame that the day seemed to go by so quickly.  I shall definitely be putting my name down for another meet up!

The drive home was a little eventful, as the fuel gauge display in my car would not display anything and I had no idea how much petrol was remaining in my car, or at what speed I was driving!  Once out of London I managed to pull over and turn off my car.  When I started it back up again the display seemed to work so I asked no more questions!
The following morning I was up bright and early to marshal at the Coombe Abbey running festival for Go Beyond.  The day was completely different to the Saturday and this time I had awoken to grey skies and constant drizzle.  The A14 being closed off and adding an extra 35minutes to my journey didn't brighten my mood at all.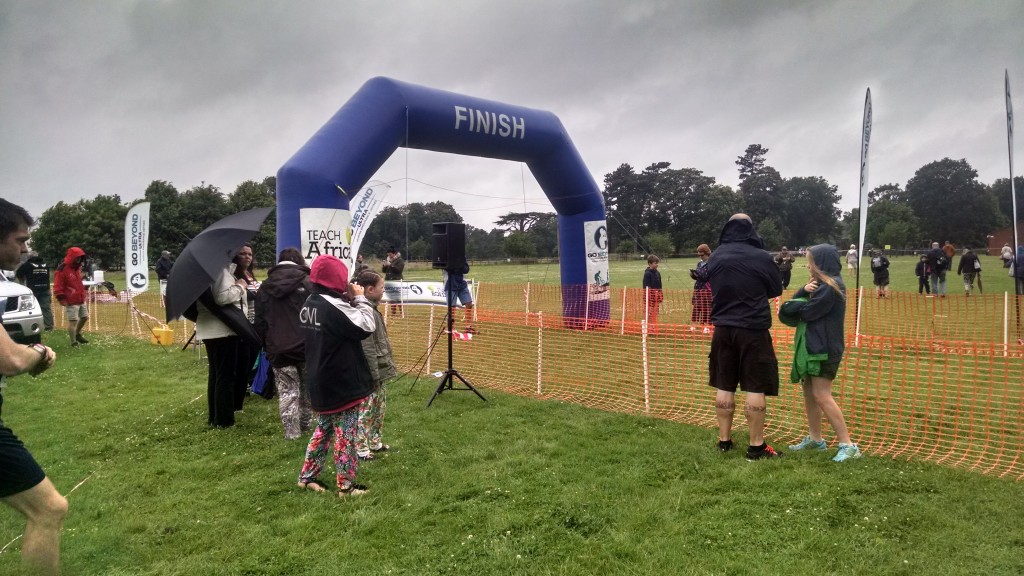 I was managing the registration tent on Sunday; directing runners to the right queues and running over to the chip guys with details of runners entering on the day.  The weather did pick up a lot later on in the day and I'm pretty sure my face got a little burnt in the afternoon.  I did get a few odd questions whilst chatting to runners before they collected their entry packs.  One runner had forgotten his money and wondered if he could pay in euros?!  (The answer, for anyone thinking of doing the same in future, was 'no' I'm afraid.)  Apparently the day before someone had asked the question 'If it doesn't rain this evening, will the course be dry?'  ?!
After seeing the last runner off over the finish line (10 minutes after the marathon had begun, as he had misjudged how long it would take him to get to the event!) I broke down the registration desk and moved over to the finish line where my next station point was at.  I do enjoy being on the finish line – giving out medals and seeing people achieve what they set out to do.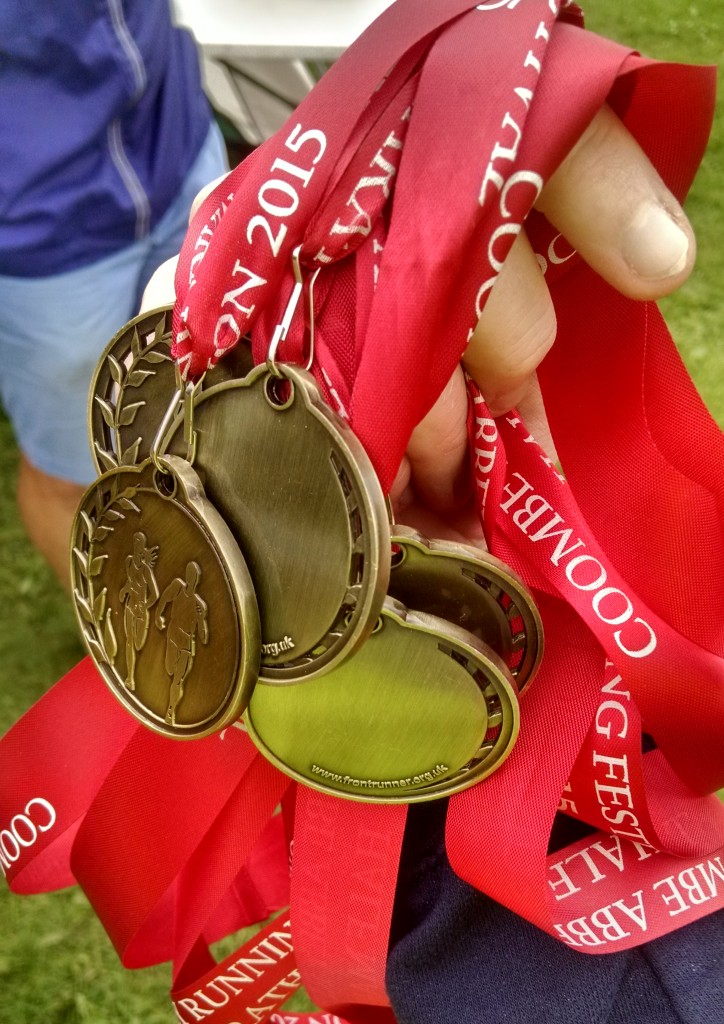 One runner really stood out on race day.  Rosanna Andrews from Northampton Road Runners was running the half marathon and won it.  Outright.  First lady, but also the first person to cross the finish line for the half marathon distance!  Her Mum was also the third lady over the marathon finish line. I've never watched a race before where a woman has come first!  There was actually less than two minutes between the first guy and the first lady for the marathon as well.  With the course set on loops (12 loops for the marathon distance) it was really exciting to monitor the current placings as runners started each new lap and to keep track of who was in the lead.
I was absolutely knackered by the end of the day though and enjoyed a little nap back at home before tea!
How do you prefer your weekends?  Busy or relaxed?
Have you ever met people through their blog before?
Favourite random question you have been asked as a marshal?!
Have you ever witnessed a woman beating all of the men in a race?