Next Sunday I shall be running the Shires and Spires 35mile ultra for the third year in a row.
Shires and Spires was my first ultra back in 2013 and I enjoyed the course, the self navigation, the distance, the whole ultra experience so much that I signed up for a few more ultras afterwards, ran it again the following year and then doubled the distance not long after(!)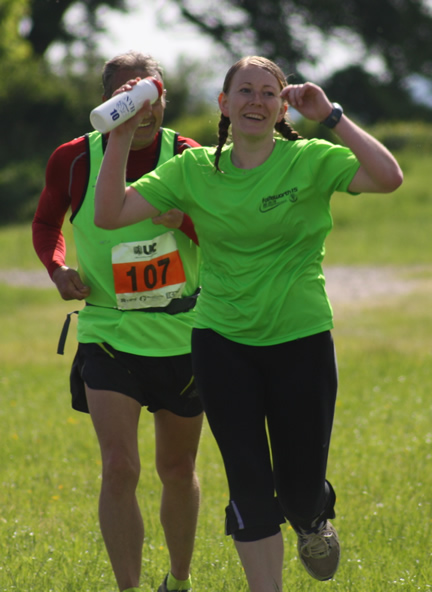 I was back to run the course for a second time in 2014, this time with a big crowd of club runners, – but I got bad sunstroke and really didn't feel very well at all whilst out on the course, or afterwards.  (Still managed to enjoy the ice lolly we picked up from the shops at mile 20 though!)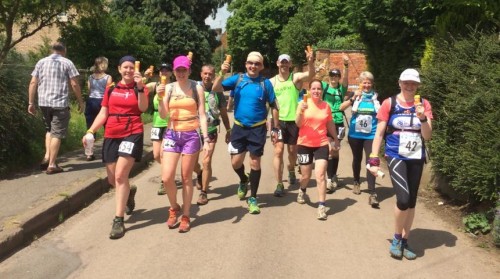 This year I would like to achieve a new PB.  In 2013 I trotted in after 7hours 56minutes and 52seconds out on the course.  Last year I stumbled over the line in 8:40:22.
Looking back after the event in 2014 I found that I learnt three important things:
* Running with others does not always work for me – I'm usually the slowest of the bunch and rather than letting my head switch off and going into autopilot at my own pace I often end up running at the same speed as the other runners, gradually getting quicker and quicker from the pace I originally set out to run and therefore becoming more and more stressed out.  Eventually I burn out and my body gives up on me.
* I need to cover my head whilst out on a sunny day – At both Milton Keynes Marathon and Shires and Spires last year I came away with horrific sunburn along the parting on my head.  The burns scabbed over within a couple of days but were then sore for weeks afterwards.  I've since worn a cap for most of my long runs and felt much better for doing so.
* I need to trickle feed during the run consistently from the very beginning – I think that probably some of this knowledge came from the Conti Run.  I was really stupid last May and despite running 70k on the hot, offroad course, I took on barely any fuel at all and was left feeling very weak and dizzy.  It took me a while to regain the 10+lbs that I lost that day.
So, with that knowledge behind me, and a long run very overdue, on Saturday I headed out with nine others from club to recce the first 20 miles of the Shires and Spires course.  I've run the course several times now, having also completed recce runs both years that I raced it, so I'm not concerned about getting lost out there on the day.  Miles in the legs were necessary though and it felt good to slip in another 20 yesterday after a few weeks of much smaller 'long' runs.  (All pics stolen from Kev.  

 )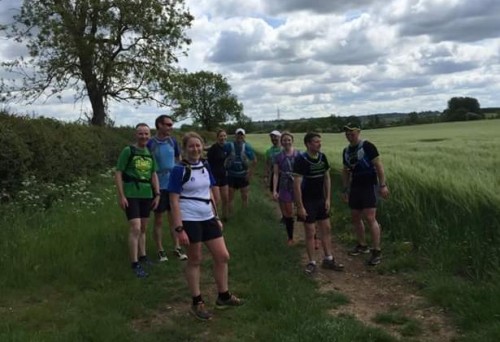 I made sure to fuel up with a couple of nakd bars (Three for two in Tesco!) and of course some of my favourite pretzels!
We set off from the pub opposite Lamport Hall a little after 8am and the weather was perfect for a long run – bright, but breezy and not too warm.  If only I knew the conditions were going to be the same next week.  I don't hold out much hope for that…I appear to be jinxed for weather on race days!  I've already heard reports that the first weekend in June is going to be the hottest the UK has had in a while.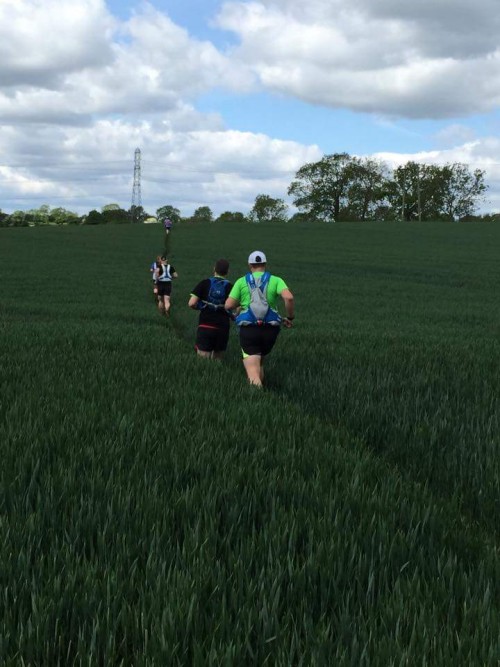 We took things at a nice steady pace out there on Saturday.  As is often the case, I was the slowest runner of the bunch but I never felt like I was pushing hard to keep up with everyone.  It took us 4 hours and 15 minutes to run the first twenty miles, sitting at just over a 13minute mile pace.  This included a ten minute stop at the shop for more water though and I walked much slower with the group up the hills than I would have done had I been on my own.  It's pretty hilly out there on the course.  Ideally I'd like to sit just under 13 minute miles on the day but the weather could change all plans!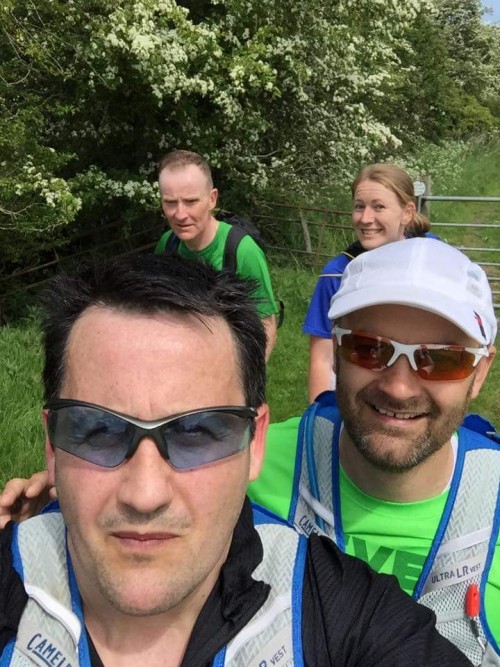 When we reached Long Buckby at 20 miles we stopped to refuel at a little cafe and within 15 minutes, fifteen more club runners had arrived ready to run the second half of the course, led by Kev, who continued to run the whole route.
My legs still felt pretty good and I was confident that I could have continued had I wanted to, so that fills me with a bit of hope for next weekend at least!
Do you ever run recce routes of races beforehand?
…Or afterwards, because you enjoyed the course so much?!