I'm aiming to participate in Juneathon again this year.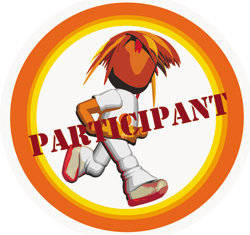 What is Juneathon?  The aim is to run every day (or take part in some other form of exercise), blog about it every day (or tweet about it) and last it out for the full thirty days (one less day than is required for Janathon!).
The exercising every day is the easy part, but having a chance to blog about it isn't, so that will be my downfall.  I'd like to think I can get a few more blog posts up each week than I have been lately though but things are still busy at work, and hopefully will also  soon be busy with our housemove.
I won't be running every day throughout June.  Probably five times a week and then using the other two days to either concentrate on some strength work or head out on a walk.  I would like to ensure I cover 10,000 steps a day, every day, for the rest of June though.
When I got my Garmin Vivofit last October, it was fun watching the number of target steps increase daily.  (The device works out a target for you based on the number of steps you completed the previous day; increasing the amount if you reached your target for the previous day)  Whenever I schedule in a rest day though, the 25,000 steps that would suddenly have become my target would be absolutely impossible!  Therefore, I've fixed my target steps to 10,000 – the number of steps the average person in the UK is encouraged to take each day by their doctor to maintain a healthy lifestyle.  Working in a fairly sedentary job, with long working hours, on non-run days I really do need to make an effort to hit this target.
Yesterday, for my Juneathon effort I grabbed Dan and we headed out on an easy 5k trail run just outside of town.  We were literally fighting the wind the whole way round though.  Why does the wind always seem to follow you on a run?!
Today I went out on my own – planning on an easy 5 mile trail run.  I received a call part-way through the run which lasted for 25 minutes.  I had been really enjoying my run before the call!  The weather had cooled off a lot and I hadn't run on my own in a long while.  I'm not a fan of running on my own all of the time, but I do like to head out alone at least once a week for some 'me-time'.
Unfortunately, my Strava hasn't been recording my runs correctly for a while.  Often it cuts runs short – sometimes by several miles!  My mile splits end up all out of sync as well.  For example, these are my splits as recorded by Strava from tonight's five mile run…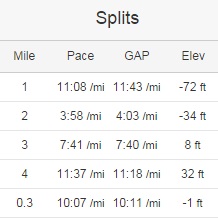 I don't remember running a 3:58 mile tonight…!  Unfortunately, often Strava seems to get confused when I walk or negotiate obstacles such as gates whilst out on a run.  This then results in my messed up stats – either making me look super speedy, or like I barely run any miles at all.  I decided to email Strava and suss out what was going on…
****************************
Hi there,
I run with a Garmin Fenix and have been uploading my runs to Garmin Connect for several years. Towards the end of 2014 several of my friends recommended Strava to me so I signed up and set up my Strava account to automatically pull data from Garmin Connect.
It is transferring the data directly across from Garmin Connect so I am unsure how the data can be so different. Please can you explain what I need to do to correct this!
(I have attached an image to illustrate the differences. The image is from a recent coastal trail marathon which I most definitely did not run at 9:32mm.  As shown in the top of the image, Garmin recorded it as being 14:51mm pace.  Bit of a difference!)
Many thanks,
~Mary.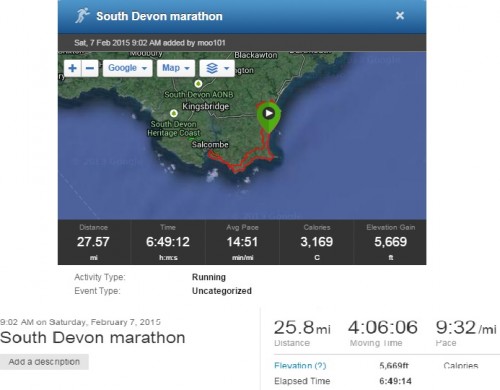 ****************************
Hi Mary,
Sorry for the confusion. It looks like your device is sampling GPS data at very large intervals, which is not going to allow our algorithms to work very well when analyzing your data. Can you change the sampling rate to 1 point each second? Right now your datapoints are almost a minute apart…and a lot can happen in a minute.
Let me know if that improves the data you see.
Best,
Ashley
Strava Support Team
****************************
I haven't changed the sampling rate.  Because my watch battery is supposed to be able to last for long periods of time – up to 15 hours (it doesn't), and I often run long runs or races, I worry that if I changed the sampling rate on my watch, my Garmin would not survive for the whole run.  It appears to record data more accurately on the Garmin Connect website so, for now, I have decided to continue letting my watch upload to Strava, but have been including a link back to my Garmin stats, just so I don't receive any false congratulations on my 3 minute miles!  😛
How often do you head out for a run on your own?
Have you ever had any issues with your watch recording your run?