Third PB in five weeks.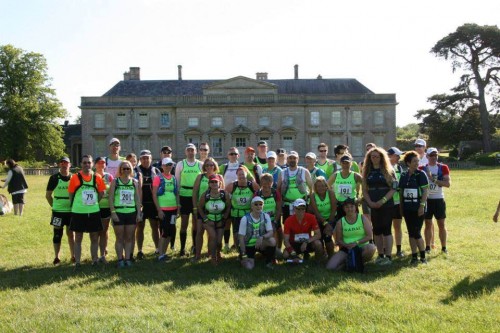 There was a massive turn out from the club at the Go Beyond Shires and Spires 35m race yesterday.  Ultra running has really taken off at the club this year and of the 38 runners on the start line, 22 of them were heading out on their first ultra event.
I'd traveled down with four others and we arrived with just enough time to collect numbers, talk tactics, reminisce about previous events, cake ourselves in suncream, visit the toilet at least once and line up for a group photo.
It was pretty sunny out.  If you ever want to book time off work, wait until you see my long distance race calendar for the year and I can almost guarantee the weekends I am running will be the ones that are scorching hot!
The race started on time and we filed out in front of Lamport Hall and along the road before crossing and storming along the nice downhill through the fields.  I love this section of the course.  The runners are all still fairly together, the ground is pretty easy going and the first couple of miles take in a great downhill.  I averaged just under 10mm for this section of the course.
My plan for the race was to head out on my own, run the sections I could, walk all the hills, spend as little time at the checkpoints as possible and keep moving at all times.  I think I was pretty successful with this race plan!
This was the third year in a row that I ran the Shires and Spires course.  The first time I ran it in 2013, I got a great time of 7:56:52.  Last year, I got sunstroke, ran with others not my pace and struggled over the line in 8:40:22.  I wanted to achieve a new PB and smash my time from 2014.  I did both.
I kept myself rather entertained over the first few miles by listening to the conversations going on around me.  Usually my races are road, – so there are no conversations, or ultra/trail, -in which case I am running with somebody and having my own conversations.  Running on my own gave me the opportunity to get an idea of the people around me.  I later commented to someone that all the conversations I had overheard had been one of two things – techy, gizmo people talking about the millions of gadgets they run with, or people panicking that they hadn't learnt how to read a map or hadn't put enough miles in!
As I jogged into the first checkpoint at mile 4 there was a large swarm of people already ahead of me, clustered around the tables.  I didn't need to top up my water and had brought plenty of food along with me so aimed on running straight through when I worked out that I couldn't even get near to the table.  It wasn't until I'd headed off up the hill that one of the marshals shouted out asking if I'd dipped my chip into the scanner.  I hadn't, so returned to do so.  Several of the runners seemed to hang around for ages here.  As soon as I had scanned in I was off again.
As I approached the massive hill at mile 6 Amos, one of the club runners that had fallen behind caught me up and we walked the hill together.  There was a larger group of eight runners I regularly run trail with on a Wednesday night halfway up the hill ahead of us but I had purposefully started on my own, so as not to put pressure on myself with sticking to their pace.  As we reached the top, one of the guys from the front group, Jay, broke away and joined us.  The three of us stayed within eyesight of the larger group all the way to checkpoint two at mile 9.  Here, the larger group had lost time waiting for everyone to scan chips and fill their water so we all ran together once more.  This time, all the way through until checkpoint three at mile 15.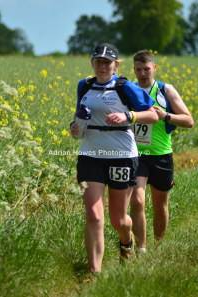 Once at mile 15 many of the group seemed to stop and sit down!  Completely against my plan so I topped up my water, grabbed some food, asked the marshals about the front runners from our club to check all were getting on OK and then I just kept going.  Those that had sat down were much faster runners than me so they obviously caught me up a couple of miles further on, but I would have struggled with the stopping and starting so knew I had done what was right for me.
I found myself walking up the steep, grassy hill coming into Long Buckby (19 miles) with Amos and Jay again and had a sudden urge for a chocolate milkshake.  Upon sharing this craving, we decided we all fancied milkshakes and ducked into CostCutter to shouts of "You're going the wrong way!", emerging with refreshing, cold milkshakes.  They went down a treat!
I remember thinking at this point, I can't believe I've been out for nearly four hours.  This feels really easy.  I'm sure I remember it hurting last time and feeling like I had run forever!  The race yesterday went by so, so very quickly.
I pulled just ahead of the boys as we came into the next village and made it to checkpoint four a few minutes ahead of them.  I walked the hill whilst chatting to another guy and when I turned around, the boys were no longer in sight.  The guy I was talking to told me of the 12 Labours of Hercules race, of Bingo balls races and lots of fun, inventive events taking place to jazz up running.  As I was talking to this guy, another one shot past shouting out "Which way do I go at the top?!"  I shouted out "Left, – then down a long hill and into the field at the bottom!"  He shouted thanks and zoomed off ahead.  The guy I had been chatting to about races, stopped to disappear behind a hedge, and I followed the guy that had sped past me, putting my arms out to the side and enjoying the long downhill road section.  My watch saw 8:xx as the pace for all of this bit!
Part two tomorrow (promise) as it's getting late and I still have some schoolwork to finish off…