Monday night was a night for slobbing and recovering from the madness of the weekend.  Often, I find it's my head that needs to recover after events rather than my legs!
Tuesday night I went for a walk and having watched the first two Jurassic Park films over the past couple of weeks, Dan and I sat through Jurassic Park III whilst getting on with some work, so that we were all prepared to go and see the fourth film at the cinema later this week.
For anyone thinking of having a Jurassic Park marathon film session and doing the same over the next couple of weeks I suggest stopping after number two.  The third film was rubbish!  A couple of points during the movie Dan and I exchanged glances and weren't sure if we were going to continue…It was so cheesy and the effects were awful, despite being made eight years later than the first film!  I have much higher hopes for film number four.
Yesterday I had a long day at work.  Wednesdays are always long days.  I arrive in school a little after 7am but don't start teaching until 8:45am so tend to spend the morning marking and planning.  On Wednesdays I have two of my three allocated planning hours – one either side of lunch, so I actually finish teaching by 12:05pm.  Dan doesn't pick me up until 5pm so by the time I leave work I often feel incredibly fed up of spending hours on end sitting in front a computer marking and filing.  Yesterday it seemed like I had a million jobs to get through, including writing 150 year 10 reports and I never made an actual to-do-list, which always ends up stressing me out as everything I need to do ends up becoming a tangled mess in my mind.
I wasn't in the best of moods when I returned from school, and my stress levels were rather high so I made the decision to head out on the club trail run from the Embankment in Wellingborough.  There were twenty-one of us altogether and it had been advertised as an easy run for those still recovering from the ultra at the weekend or gearing up to run the South Downs Way this coming weekend.
It was a nice easy out and back route along the river dodging the horses along the way.  On the return route one of our runners spotted that the bridge seemed to be smoking.  The bridge in question was blocked from the public route – with access only from the private farm the other side of the river.  Two of our guys quickly climbed the edge and we formed a line passing along runners' bottles of water which we filled up from the river.  We rang the fire brigade and stayed until the bridge was only smouldering, but a bit of adventure for the night!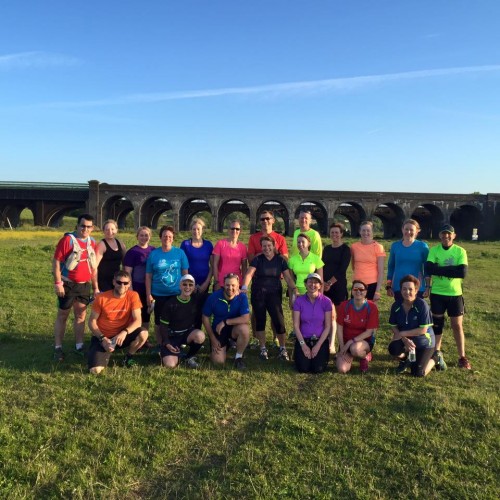 Standard trail group photo (with a different bridge in the background!)
Have you ever had to call the emergency services out whilst on a run?!