Quite early on when I first joined my running club I heard of the Colworth Marathon Challenge. The event appealed to me from the very beginning…a marathon ran over three days in June. 5 miles after work on the Friday night, 8.1 miles at Saturday lunchtime and a half marathon on Sunday morning. All run off road around Colworth estate and free camping included in your entry fee.
I had been going to enter the multi-day event in 2013, but never picked my training back up again soon enough after my Spring marathon. The same thing happened last year. This year however I kept on top of my training, am still feeling strong and made sure to enter for the whole weekend. (You can also enter each event individually.)
Colworth isn't too far from where I live (about 12 miles away) so I had plenty of time to get home from work, grab a drink and quick snack, throw some clothes for after the race into a bag and get to the start.  I'm told the biggest turn out is on the Friday evening, when there is also a kids fun run and lots of unattached runners competing in the shortest distance.  It wasn't manic though, and with so many from our club on the start line it had a great atmosphere.
One of the regular runners from our trail runs works at the estate and was marshaling on the course so let me have a look at the route on her map before we begun.  I started from fairly near the back of the pack.  From talking to a few others beforehand it was suggested that the best way to approach the weekend was to run at tempo pace on the Friday night, keep it nice and easy on the Saturday and then race the half marathon on the Sunday so that was my plan.  We didn't even know the race had started from the back until people started moving.  It took me several seconds to get over the line and then my stride was rather choppy from having so many people around.
The race starts off on a grassy field before heading out onto a concrete track for a way.  All of the holes in the field had been spray painted orange so that there were no accidents from any runners.  At this first race runners were also allowed to bring their dogs so several runners came flying past pulled by excited dogs along this section.
The field soon thinned out and I found myself running almost alone, gradually picking off runners infront of me.  The route wasn't as 'traily' as I had originally thought.  Off-road was a better description, as much of the race was on concrete or flattened farm tracks – so it was still a fairly fast course.  There were some significant short, sharp hills the whole way round though.  I've been working at my downhills just lately so used this as an opportunity to practice powering down them.  I was happy to pass several runners on the downhill sections as I leant forward and just went, then didn't worry too much about my uphills, as I know I can run those hard when I'm on it.  Just before three miles into the race there was a lovely long downhill where I zoomed past several runners that had been playing leapfrog with me up until this point.  They didn't overtake me on the uphill and I remained infront for the remainder of the race.
At mile three there was a water station.  I didn't see anyone take a plastic cup from the volunteers, and almost felt sorry for them, stood out there for the hour with not a lot of business.  Clearly, some runners ahead had taken cups as there were a number still strewn to the sides of the path.  Here, we headed into a wooded area.  We were still running on a fairly flat track although it had clearly been muddy at one point before the weather had warmed up and where footprints had dried into the path the ground was a little uneven.  Not helping matters either we had gone from bright sunshine into darkness as we entered the wood and I struggled to see just where to put my feet.
Heading to the finish involved a long climb on the road.  One of those climbs near the end of the race where you have lots of other runners who have already finished walking back to cheer you on so there is no chance of a sneaky walk on route!  I still felt good but slowed my pace slightly.  I knew that we were close to the finish and wanted to save some energy for the final sprint.  I had tried to keep my heart rate around 160-165bpm for the race and felt comfortable the whole way round.  Upon reaching the top of the hill we had a tight double back and turned onto a track which led onto the field.  Here I was stuck behind a lady that had kept stopping and walking just infront of me for the past couple of miles.  I had continued to overtake her, then she would put in a burst of speed, pass me and then start walking right infront of me again.  It was rather annoying.  As we came out onto the field I lengthened my stride and kept to her upper pace.  I could hear the club Ladies' Captain shouting my name from about halfway down the field.  My aim was to push hard for the finish once I reached the spot she was standing at.  As I neared she shouted for me to push my shoulders down and relax my arms, I listened and did as I was told before really taking off and powering my arms to help me push past the lady up ahead.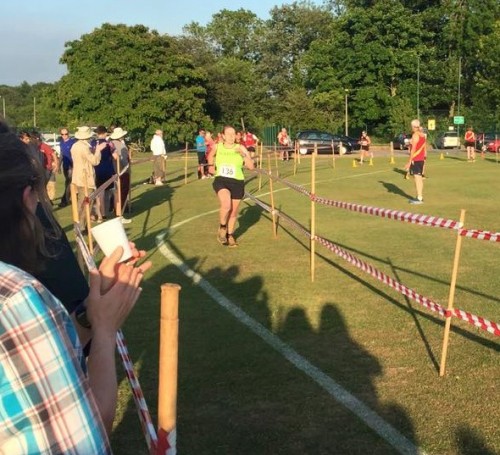 (For some reason in that photo it appears that I run with my knees up to my chin.  I hope I don't.  Sometimes it's better not to see photos of yourself running!)
I beat the lady by several seconds in the end – you can see her in the shot below to the far left of the picture.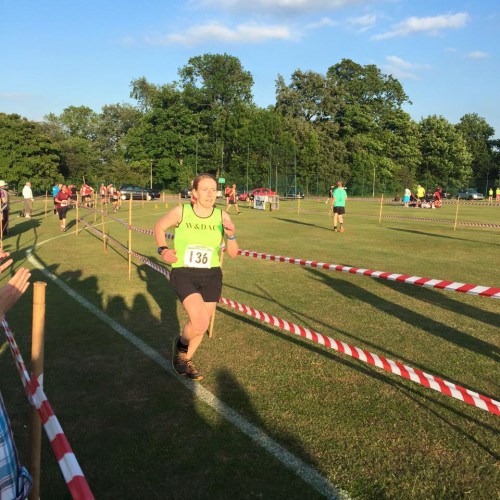 I was really happy with my strong finish.  Had I not gotten my new 5 mile PB a few weeks back at Blisworth, this would have beaten my previous 5 mile PB time.  And I hadn't really 'raced' it until the end.  Apparently my nubbin of 0.1 miles was run at 6:30mm pace!
With a BBQ going on and all the free icecream and Lipton iced tea you could dream of, lots of runners stuck around after the race.  It was a really nice evening, although I headed home before the presentations begun.  9pm I felt was a little late to begin presentations for a 5 mile race that had begun two hours earlier!  Especially when the majority of us would be racing again the following day.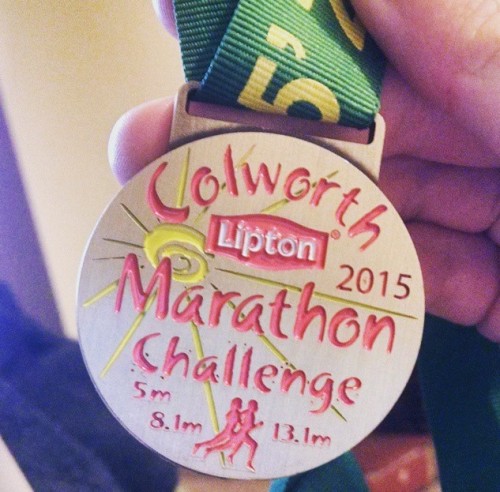 Splits:  8:45 (Mile 1), 9:25 (Mile 2), 9:24 (Mile 3), 9:39 (Mile 4), 9:52 (Mile 5), 6:30pace (0.1 mile nubbin).
Watch time: 47m 47s
Official time: 47m 49s
Position: 251/320
What's been the best freebie at a race you've attended?  Because of my recent sugar consumption warning from the dentist I've avoided the ice cream so far, but shall be treating myself to a little cup tomorrow after the final race.