An 8.1 mile race.  What a random distance to run!  It fit in with the 5 miles from the Friday and the half marathon on the Sunday though to total the 26.2 mile marathon distance over the weekend, and I'm all about adding another PB to the list.  (After checking on both Facebook and Twitter, it appears that even obscure distances count for PBs! 😛 )
The course was described as a trail race, unlike the races on Friday and Sunday, which were both classified as off-road.  I wore my trails for the full weekend though.  I just find them comfortable to run in.  The day was very warm, but we were treated to a light drizzle of rain before the race which cooled things down.  It then absolutely tipped it down on the drive home, so we got in just in time!
We set off at the race heading out in a different direction to the night before.  We'd actually been silenced before the race this time as well to let us know about the tricky terrain and a klaxon was blown at the start.  On the Friday night, I'd had no clue until we were moving that the race had already begun!  The first couple of miles were easy – there was a hill, but the terrain was what I was used to – grassy verges of fields and well-trod footpaths.  I clocked up a 9:25mm and an 8:09mm for the first two miles.  I'm not entirely sure that the second mile was accurate.  I hadn't felt like I was moving overly quickly, my heart rate remained stable and just before I hit the two mile point a pair of Northampton Road Runners came up behind me exclaiming that they were currently running at 9:09mm pacing.  So I'm not sure if my Garmin perhaps lost a little signal going through the woods?  Might account for being so out from the mile markers then as well.  I actually ran 8.48 miles instead of the intended 8.1.
A couple of miles into the race we turned onto a track which had huge tyre tracks dug into it.  Several inches deep.  The actual track inbetween the tracks was also very rutted, and where vehicles had crossed from the main track at times, you were running with your feet literally one in front of the other.  There was no room for error!  I had never been very good at walking on the beam at school.  Wish I'd practiced more of it now!  This terrain went on for miles and miles.  Or at least it definitely felt like it did.
Mile 3: 9:39, mile 4: 10:30, mile 5: 10:34.
There were three water stations, which I thought was more than plenty on an eight mile course.  I took water from the first two and then left the last water station, as it wasn't much further to go until the finish.  At both the first water stations I struggled to run and collect the water.  Stupid plastic cups.  I ended up getting it all over my hand and then it went down completely the wrong way when I did manage to gulp some down.  The second water station was at the bottom of a long hill.  I quite enjoyed running down here, as runners were also heading back up in the opposite direction.  The water was at the bottom at the turn-around point.  Somehow I managed to block from my head that enjoying the downhill would mean that we would soon have to endure the uphill and with other runners coming towards us, so no chance to slow our pace.  It didn't matter though.  Although it was tough, other people were finding it tough by now and I overtook a few on this section, remaining in front of them until the end.
Mile 6: 10:41, Mile 7: 10:35.
By mile seven I was hungry.  Like really, really hungry.  All I could think about was what I was going to have for lunch.  The race had started at the really random time of midday.  I'd trialled out a sausage sandwich for breakfast – a breakfast recommended to me by many ultra runners in the past.  Clearly wasn't working for me, or I needed to have had something between breakfast and my run because I'm pretty sure I could hear my stomach grumbling out there on the course by this point!
The majority of the last mile is a lovely long downhill section, although on road.  I didn't want to pick the pace up too much knowing that I was nearly back and eager to save something for a sprint finish.  I could hear someone coming up behind me as we approached a narrow track which led onto the grassy field where the finish line was placed at the far end.  I turned to see Theresa, another lady from my club.  I offered my position up to let her go through the track first, as you couldn't really fit two runners alongside each other here, but she motioned that I go ahead.
We came out onto the field together with probably about 400m to go?  (I'm rubbish when it comes to metres!)  I kept it nice and steady while Theresa picked the pace up a little and pulled in front.  Our ladies' captain, along with a few others started really cheering me along from halfway down the field, shouting out "Come on Mary, keep with her!", "Overtake her!", "Sprint for the finish Mary!" and several other similar comments.  It gave me an adrenaline rush, and from much further out than I had done so the night before I pushed for the finish.  As I drew up behind her I heard Theresa say something along the lines of "Why are they shouting your name but not mine?" and I felt a little bad, but I still had a lot of energy that I wasn't planning on using up after crossing the line.  I first tried to undertake her on the left hand side, as that was the side I had been running on, but as we turned the corner for the finishing straight Theresa tucked right into the cone markers.  I chopped my stride, pulled back out to the right and really put some power in for the finish, drawing over the line a couple of seconds in front again.  Immediately turning round to apologise for overtaking so close to the line.  I think she forgave me, and she did smash my half marathon time today (post to follow).
Mile 8: 10:51, Nubbin (0.48m) 8:28mm pace.
Garmin time: 1:24:32  (Gun time and stats to follow.)
The prize for completing the event was a boot bag for each runner.  They look small, but they were tested by Wellingborough runners after the event, and shoes do fit inside, even with my big feet!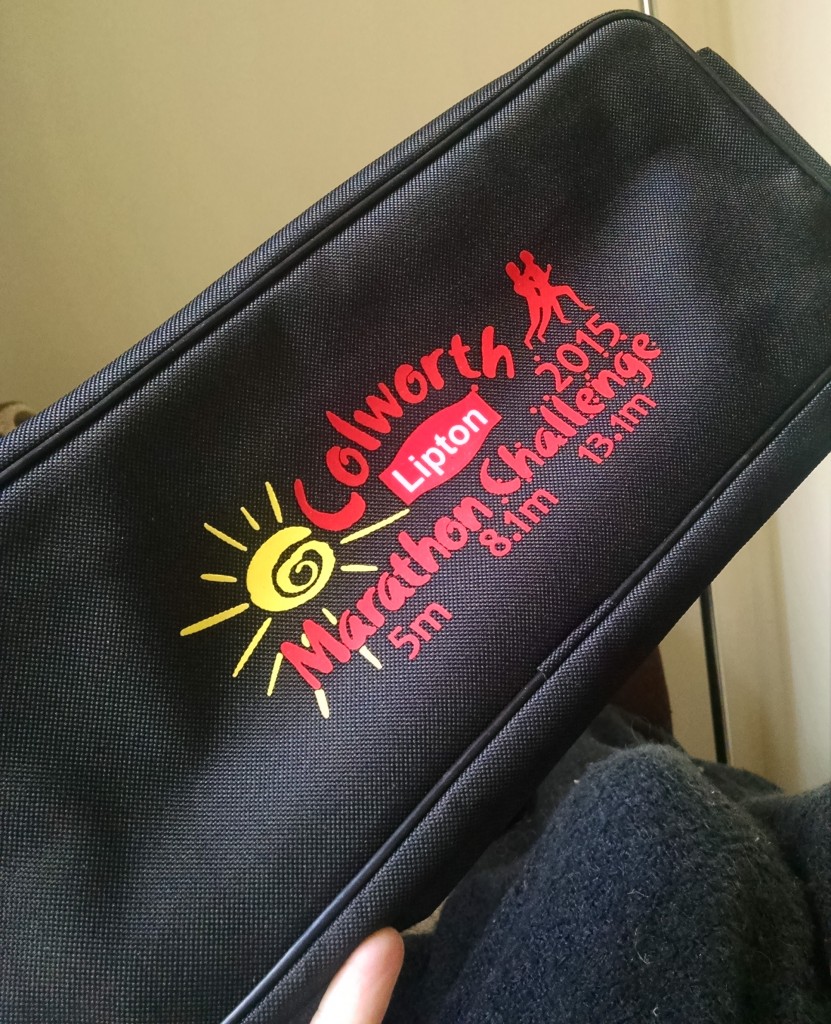 I hung around after the race for the presentations, which were due to start at 2pm.  They still hadn't started by 2pm though and by that point I really needed some food.  I made a quick stop off at ASDA on the way home.  ASDA isn't our normally shop and one of my guilty pleasures is browsing new supermarkets for tasty foods.  I really enjoyed this Mexican chicken and flatbread salad as a late lunch.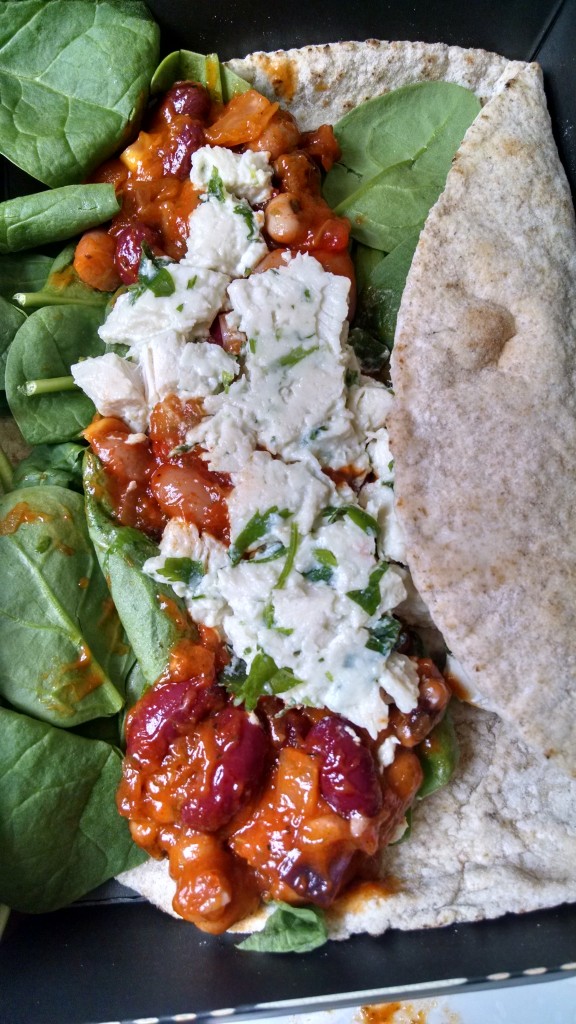 Most of the rest of the day was a write off.  I had planned on getting lots of housework done, caught up on blog reading, get a bit of school work ticked off…
In reality my afternoon consisted of lots of Bella cuddles, catching up with Eastenders, a tiny bit of blog reading and slobbing out in the lounge.  Sometimes you just need one of those days I guess!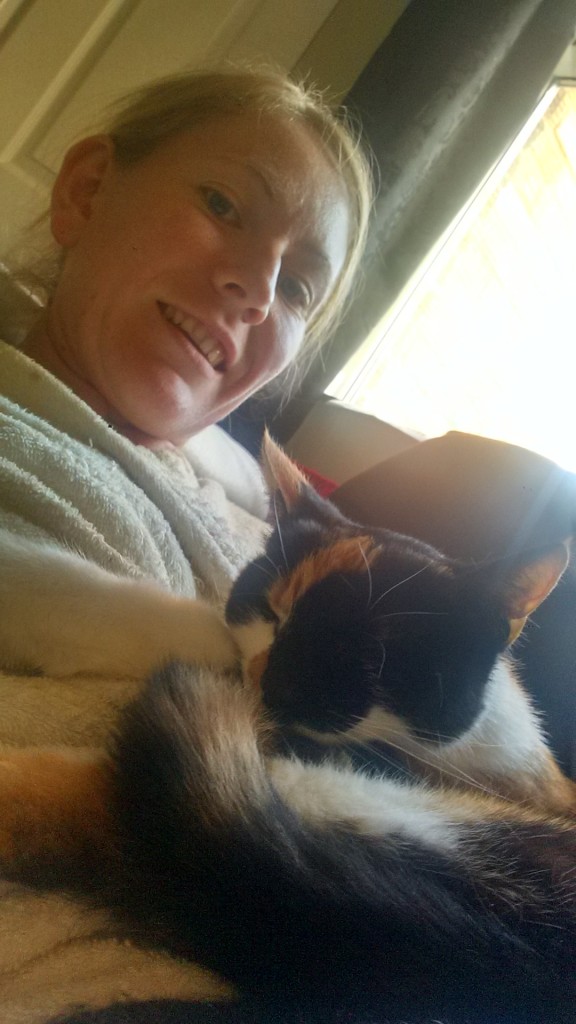 Have you run any obscure race distances before?