I had meant to get this recap up earlier in the week, but taking a weekend off from completing housework and schoolwork so that I could run has it's repercussions and as a result, I was up working until 11:30pm Monday and Tuesday evening, followed by being completely knackered last night.
Yesterday I managed to slot an easy 5 mile run in with Dan after work as my head was telling me that schoolwork was very much over for the day once I got home!  I was rather useless afterwards and headed to bed not much later.  Now it's time to complete the final day of my recap of the Colworth Marathon Challenge I ran over the weekend.  The half marathon.
I didn't have the best of races on the Sunday.  I could probably sum this post up in a couple of short sentences and move swiftly on, but the Colworth Marathon Challenge is one I would like to take on again and therefore, I need to document and learn from my mistakes!
I'd had great runs on both the Friday night and Saturday afternoon, leaving me feeling good and filled with confidence for the final race of the weekend.  Unfortunately, the added confidence meant I ended up going into the final day a little too relaxed.  I'd run the five mile race on day one at an average heart rate of 166bpm.  I'd run the 8.1mile race on the Saturday at a 160bpm HR.  I didn't stop to work out what I needed to be running at for a half marathon, I just knocked 5 beats off from the previous race and roughly aimed to be working with a 155bpm heart rate.
The first mile was spent chatting with a friend who is a much quicker runner than me, as he had wanted to ensure he didn't start off too fast.  We kept things steady but as we wished each other luck a mile up the road and he pushed on, I realised I was yet to check in on my HR.  Luckily, I appeared to be a good judge of effort and I was bang on the target I had set for myself.  I was finding things relatively easy.  The terrain was much easier going than it had been the day before and as I had started off perhaps even slightly slower than my target HR I was picking people in front of me off one by one.
Confidence boost.  My legs felt strong after racing the last two days and I didn't think twice about reassessing my pace.  155bpm seemed easy.  I was cruising along and I picked up the pace slightly.
By mile four a lady had fallen into step with me and commented on what a nice, steady pace I had.  That I just 'looked comfortable'.  I certainly felt it at that stage and mentioned that I had been running to a consistent heart rate throughout.  She mentioned that she had struggled to get into a rhythm so I said that she was welcome to stay with me if she liked and continued to run alongside or just behind me for the next couple of miles.
Mile 1: 10:17
Mile 2: 10:34
Mile 3: 10:05
Mile 4: 9:59
Mile 5: 10:45
Mile 6: 10:56
Mile 7: 10:28
(Although this doesn't appear  consistent, it was over a very hilly course, so the effort levels were consistent.)
The half marathon course was two laps and it was nice to see a hoard of club support back at the start line as we passed through ready to take on the second lap.  I was yet to take any drinks on from the water stations.  Water was passed out in plastic cups like it had been on the day before and so when I decided that I did infact need some water at the halfway point, I made the decision that I was going to slow to a walk to drink it, rather than gulp it and choke myself like I had done on the Saturday.  The first sip still went down the wrong way.  I walked for long enough until I had finished the cup and then broke back into a run again.  Why does running feel so much harder after a walk break?!
I soon realised that my 155bpm target was too high and lowered my expectations to 150bpm, dropping the pace substantially.  The half marathon was never too much but I should have planned better beforehand to have worked out my pacing more successfully as the second half was not as enjoyable as the first!
I did feel as though there were a lot of water stations on the course.  About four each lap I think?  Some were positioned in really random places as well.  One was half way up a steep hill that I really just wanted to power up, not stop and have to restart again (I skipped this station out!)
Mile 8: 10:57 
Mile 9: 11:40
Mile 10: 10:59
Mile 11: 11:47
Mile 12: 11:08
Mile 13: 12:33
Nubbin (0.33m): 9:46mm
All in all though, the race was a good one.  I still managed a sprint finish at the end, although not quite as speedy as it had been on the previous two days.  Not only were my legs a little more tired but this was the one day where I had no-one to race against at the end.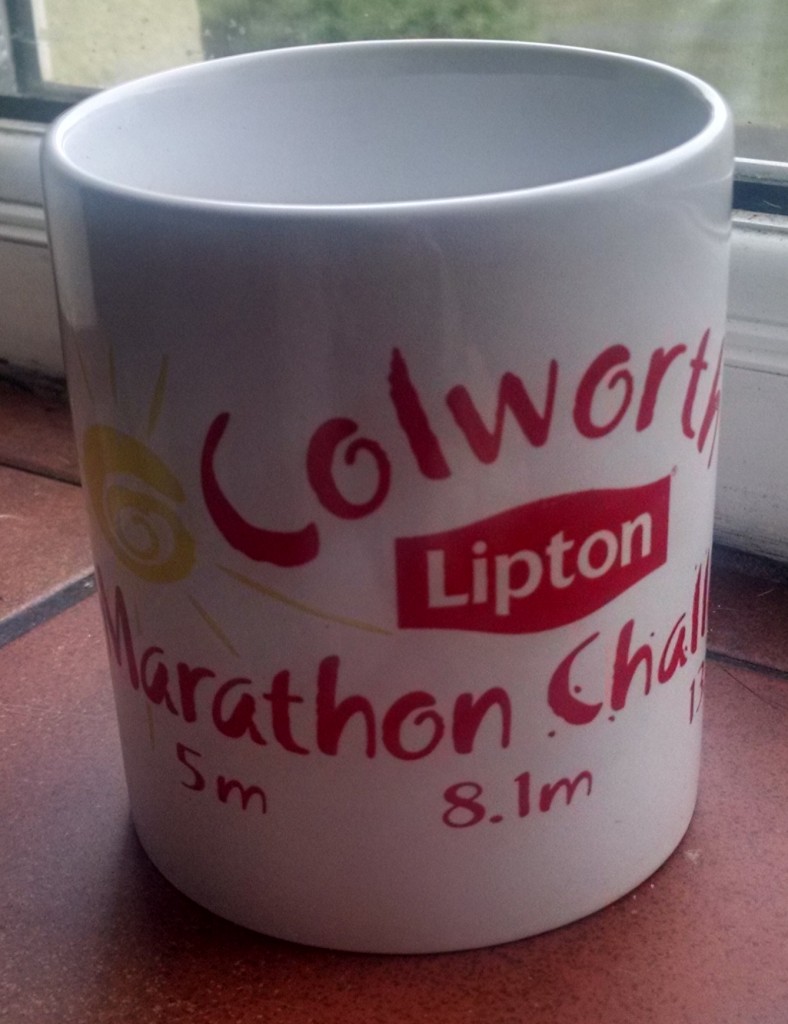 After collecting my prize of a Colworth mug at the finish, I sat with the rest of the club relaxing in the sun and waiting for the other runners to come in.  Sunday was the first time in a long while I had run over ten miles without any food or drink other than water and my shorts were a little salty.  I wasn't disappointed with my time.  I had estimated previously that I would come in at around 2h 30m and my official time was clocked as 2:25:27 (and 196/221 position), so I beat my estimate by almost five minutes and in the process gave myself a new target for next year! 😉
When the rest of our club had come through the finish line we headed over to the marquee where we could claim our prize for competing in all three of the events over the weekend.  This year the token was a slate coaster with the race marked on it.  I really like it.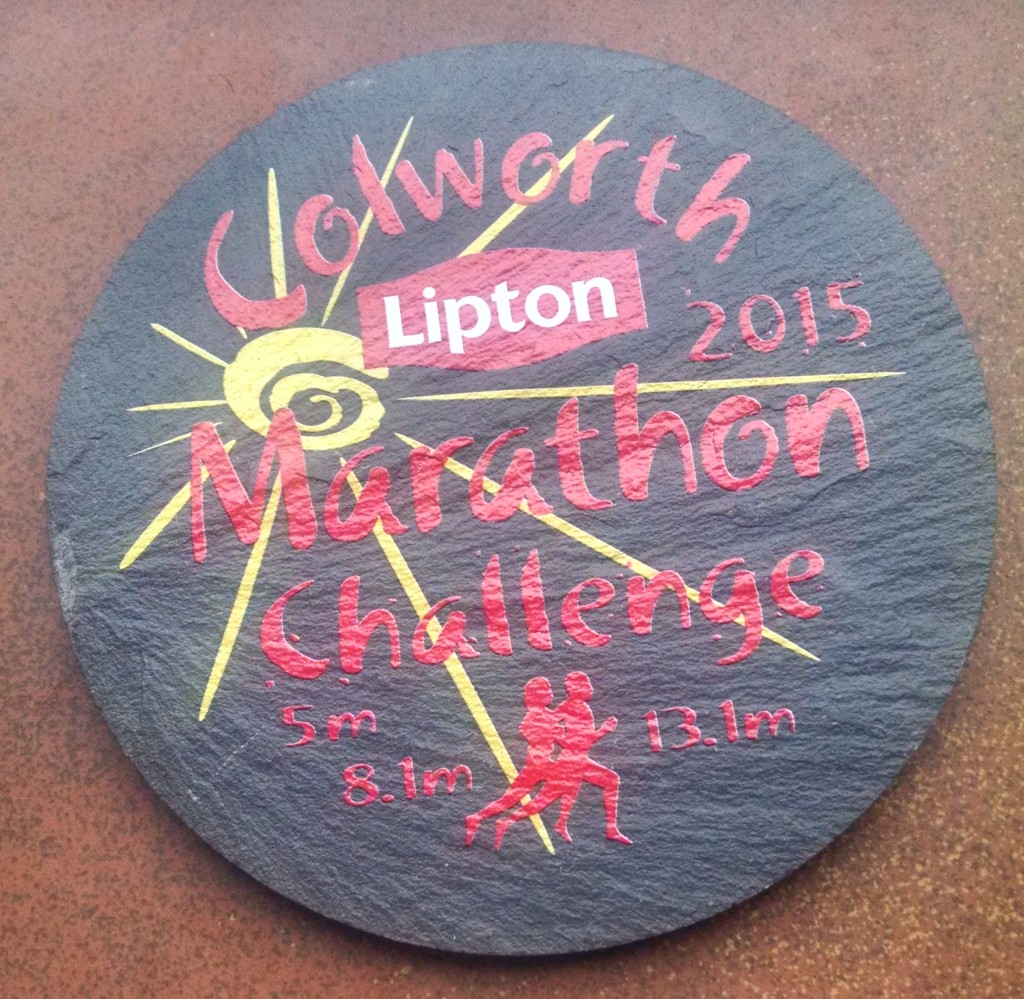 Runners started to drift off one by one.  I was then saying goodbye to a few others when I looked up to see Dan heading towards me.  He had come to see me race but missed me by about 40 minutes.  Clearly his expectations of my time were too low! 😛  When I first started running he used to come to all my races but now he often stays at home instead.  I guess I race quite a lot!  He did stick around so that we could cheer our club at the prize-giving though as they had achieved first female team.
I was hoping that some pictures would be available for me to add to my posts by now, but it appears not.  

 The Colworth Marathon website seems to have uploaded to their website pictures of each runner from the half marathon at the finish.  But the last photo is the runner before me!  Hopefully they were just interrupted mid-load and the rest of the pictures will be added later today…
Overall Colworth Marathon Challenge time: 4:37:39.
Overall Colworth Marathon Challenge position: 135/150.
Do your parents/partner/pets come and watch you at races?
Have you ever misjudged the pace required for a race?