When I first started blogging I really concentrated on looking at the types of food I was choosing and used my then daily blog posts to help keep me accountable for the food I was eating – with the idea that it would hopefully help me to make the correct choices on a more regular basis.  I feel I eat reasonably healthily the majority of the time although I still like a few treats now and again.  (Who doesn't?!)
In 2013 I tracked how much sugar I consumed in a day and following an appointment with the dentist a couple of weeks ago, where he told me I had a sweet tooth – damaging the condition of my teeth by eating too many sugary things I decided to track my sugar consumption once again.  I chose to track my food on Monday earlier this week and these were my findings…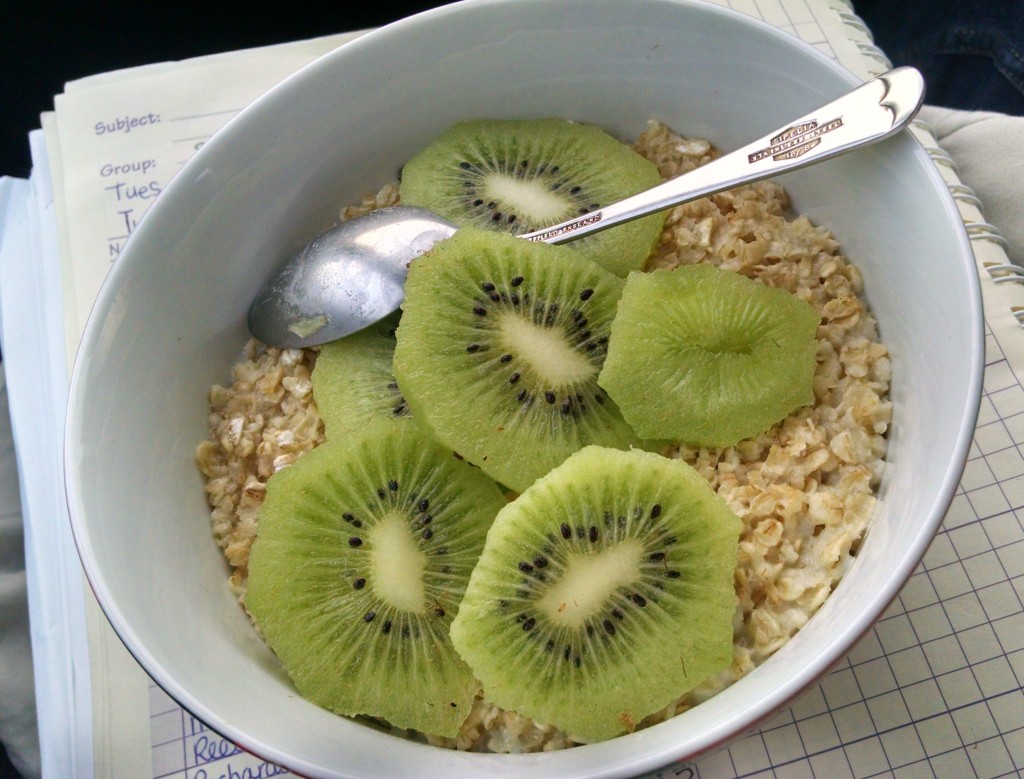 (A re-used picture but lately my weekday breakfast looks pretty much the same every single day!)
BREAKFAST: porridge (8g sugar) with kiwi (8g sugar) on top and cooked with milk (5g sugar).  I used to also add a spoonful of granulated sugar to the top of my porridge but have stopped doing this since I visited the dentist the other week.
TOTAL: 21g sugar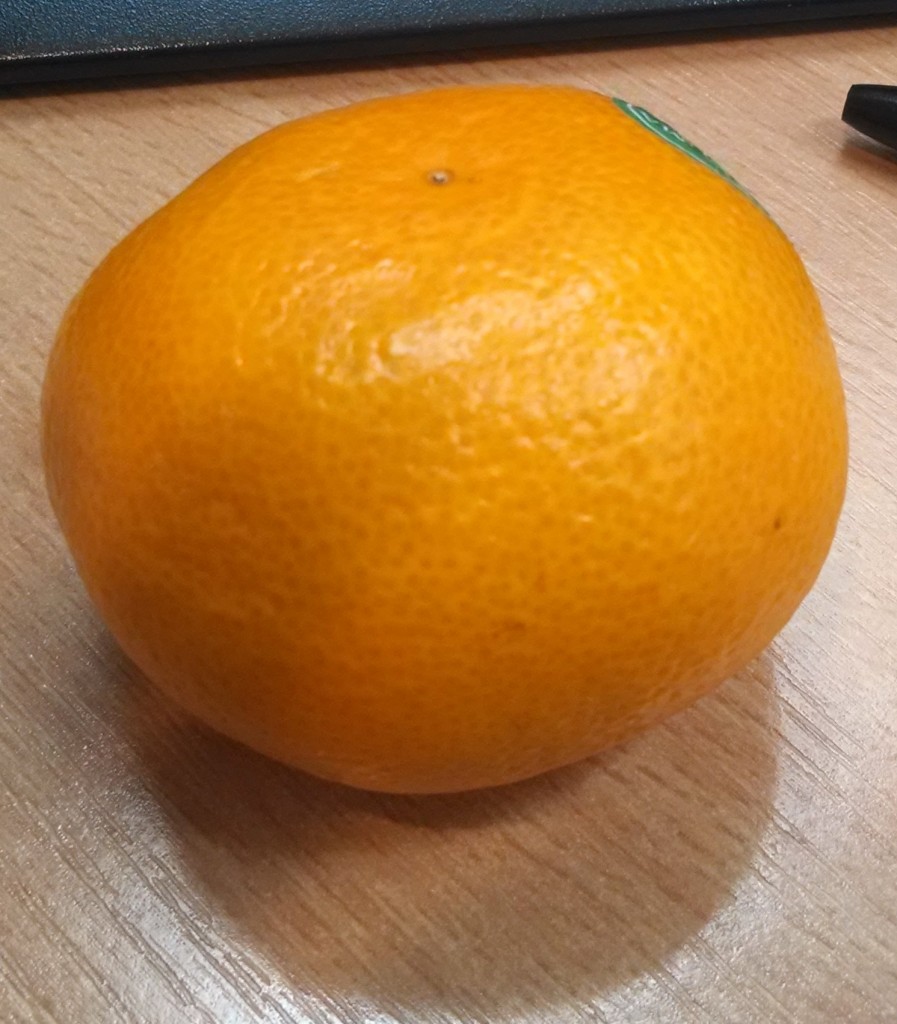 SNACK: 2x tangerines. (18g sugar)
TOTAL: 18g sugar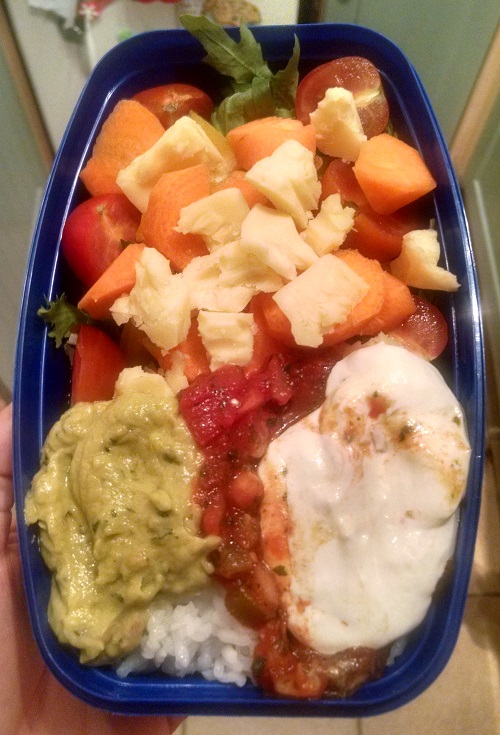 LUNCH: Since enjoying the best salad from Whole Foods last weekend I've recreated this salad ever since!  This pot contains a portion of rice (0g sugar), some cherry tomatoes (3g sugar), a carrot (6g sugar), half a yellow pepper (0g sugar), some rocket leaves (0g sugar), a few small chunks of cheese (0g sugar), and a dollop each of sour cream (0g sugar), salsa (3g sugar) and guacamole (1g sugar).  Delicious!
TOTAL: 13g sugar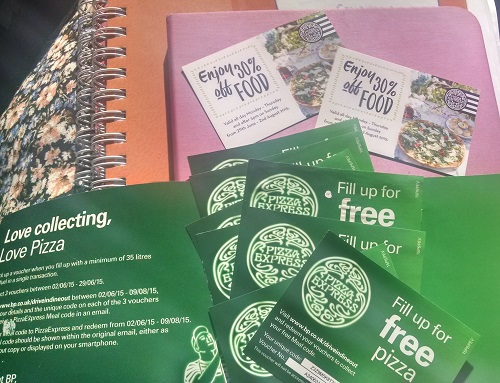 DINNER:  Dan and I have been collecting the BP Petrol vouchers for Pizza Express.  As well as the BP vouchers, we also had some 30% off vouchers from a previous visit.  Looks like there are a lot of Pizza Express visits coming up this Summer!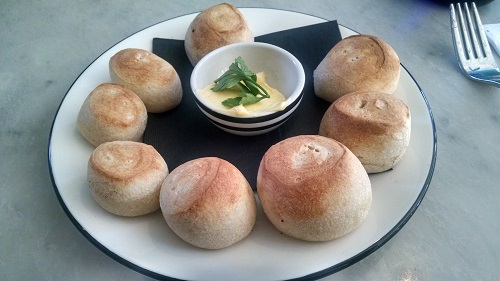 STARTER: Garlic dough balls which we split.  I had the smaller four on the plate. (0.5g sugar)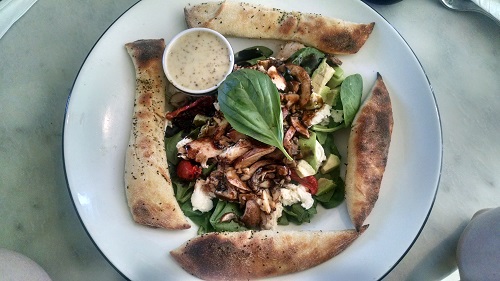 MAIN: The Bosco salad; (7g sugar)
TOTAL: 7.5g sugar
Total sugar for the day: 59.5g sugar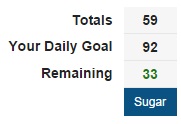 Findings: This time round I used the MyFitnessPal app to record foods and establish their sugar content.  I think there was a bit of variation in the numbers given for grams of sugar in each part of my meals compared to when I recorded the information last time using the Tesco website.
As last time, I found it difficult to find a guide telling me how much sugar I should be consuming on a daily basis.  My MyFitnessPal account seems to think I should be consuming 92 grams of sugar though, and I was recorded as having eaten much less than this amount over the course of the day.  I'm glad I have removed the sugar from my porridge in the mornings, and I've found that I don't really miss it at all.  The kiwi is sweet enough to flavour the porridge and I think I would be more likely to miss the fresh fruit than the topping of sugar.  I was surprised that the porridge itself seemed to have such a high sugar content count at 8g for my portion size.
What now?  Although I don't think I consume excessive amounts of sugar I am clearly doing something which my teeth are not agreeing with.  I tend to eat more salads than fruit, but I do enjoy my fruit, especially at this time of year when it is so hot outside.  I have toyed with the idea of a more plant-based diet over recent weeks.  At times, I do eat more processed foods than I would like, and this does up the sugar content of my meals.  I would (and could!) never go entirely plant based but when the Summer holidays begin (and I get my new kitchen!) I shall have a little more time to experiment with some different meals.
Have you ever tracked your sugar intake?
Do you use MyFitnessPal?