The last few days have been incredibly busy and tiring but finally, we are in our new home!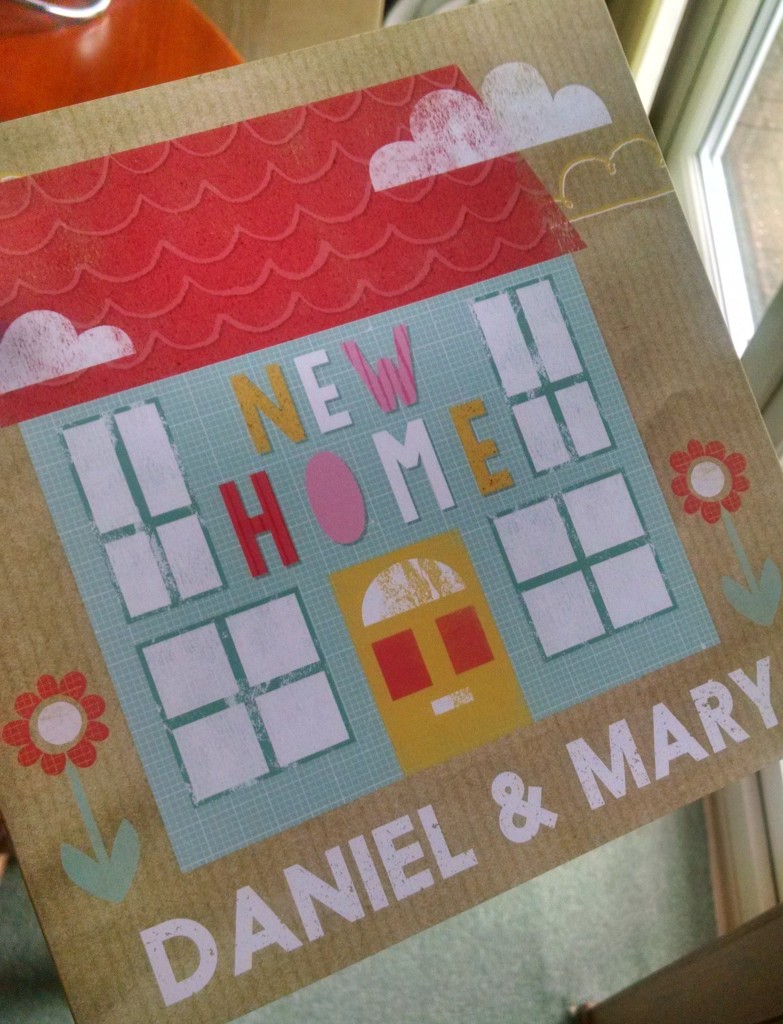 After parkrun on Saturday morning we began packing in earnest.  Although the majority of our belongings have been packed since the end of May, there were several items that we had been unable to pack as we were still using them, and there were a few boxes that we had ended up opening once our initial move date fell through.
We each packed a bright purple bag of items we would need over the first few days.  (Toiletries, underwear, work clothes, PJs…)  Bella also made sure that she packed herself in Dan's essentials bag…!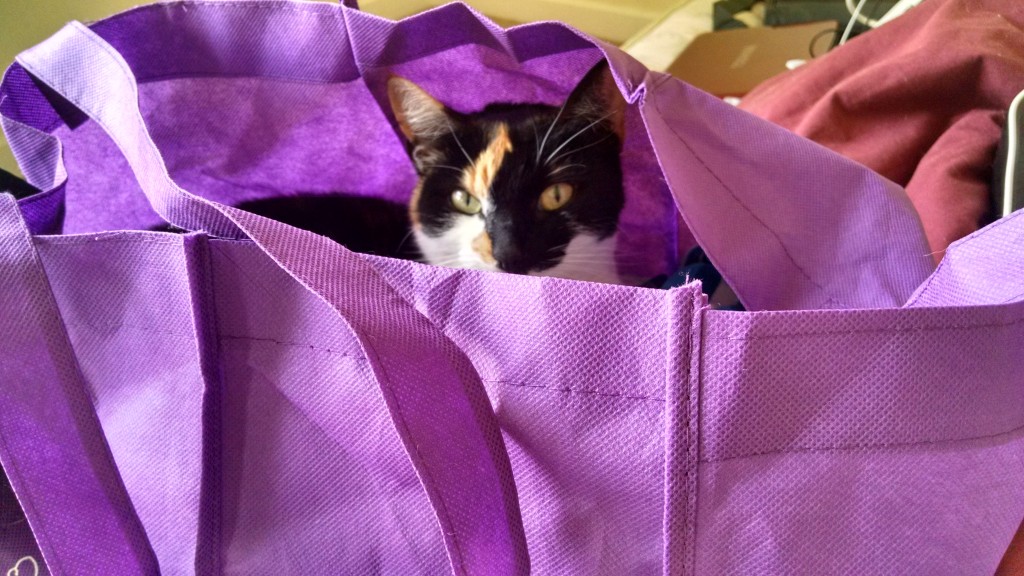 We collected the moving van a little after 5pm on the Saturday and decided that we would load as much as possible that night, as rain was forecast the following day.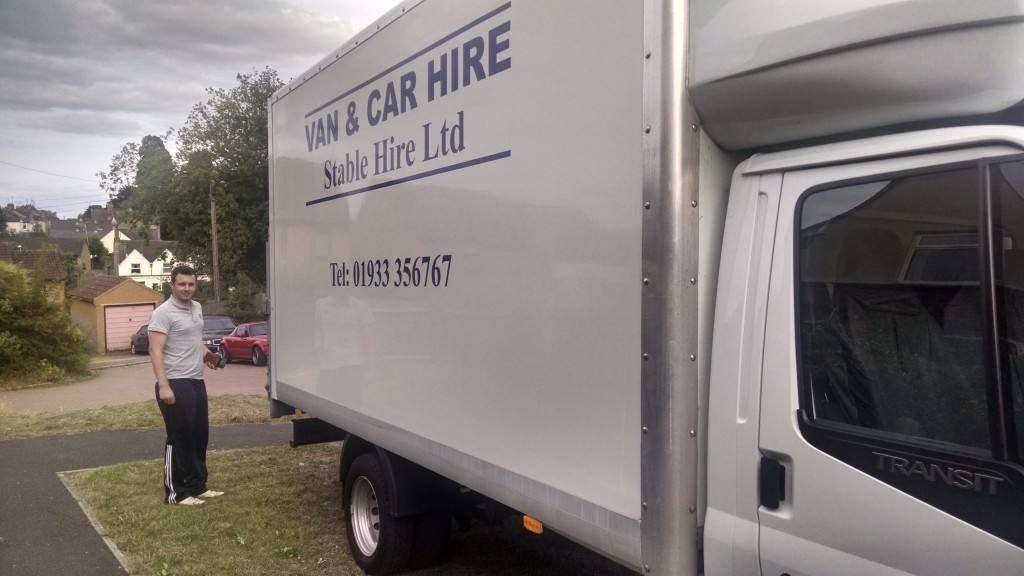 It was literally a giant game of Tetris and we spent a while jigging and rejigging our larger items (bookcases, mattresses and sofas) so that they were stored in the least amount of space possible before piling up the boxes.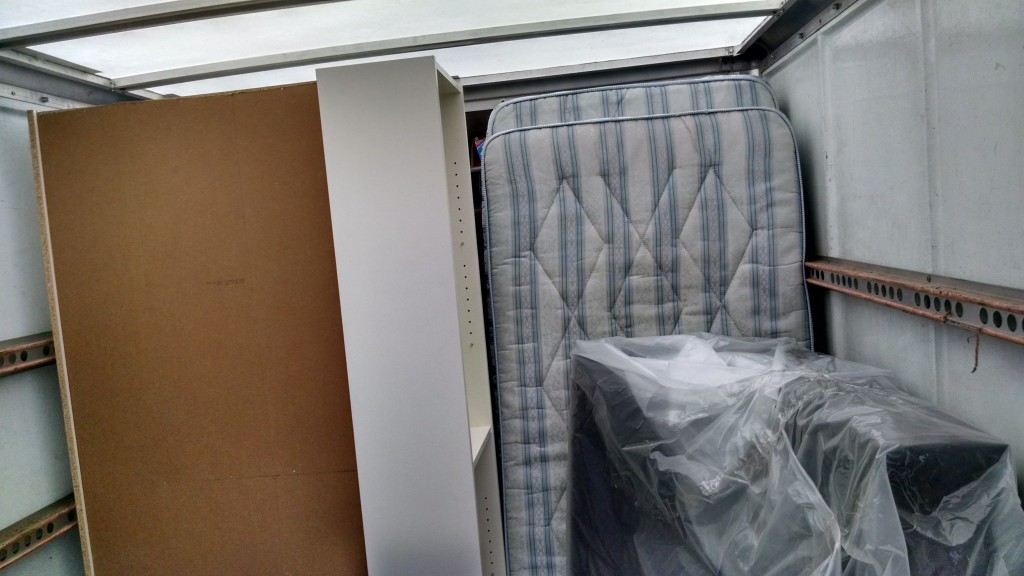 Dan had been a proper taskmaster over the past few weeks when it came to how much we were packing each night and what got done, but he was flagging by this point and it was me that stepped in and made sure that all boxes were loaded before bed!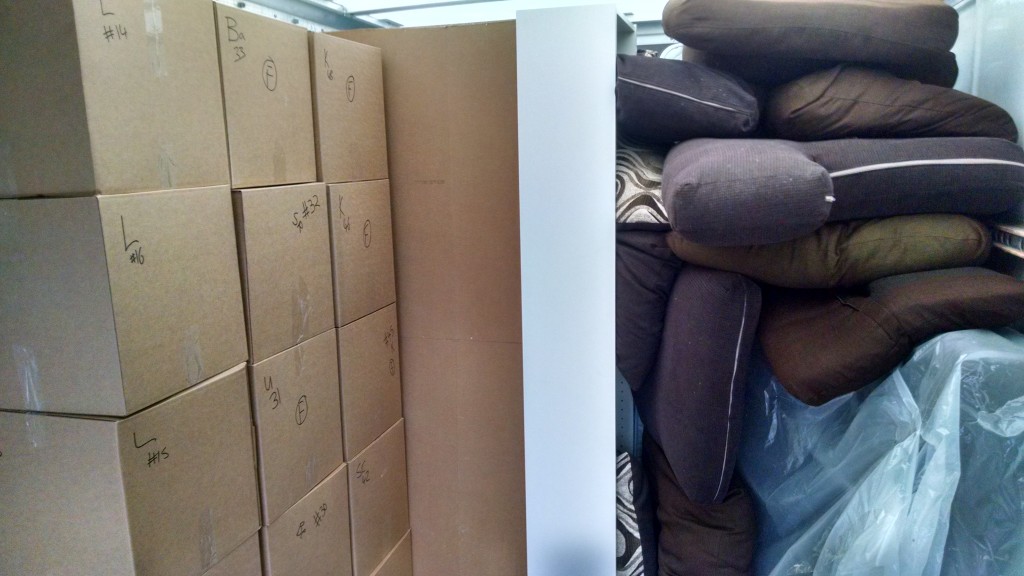 There were 70 boxes in all and it really helped having them all the same size!  We just marked out one side of the van for the boxes and then knew that we wouldn't have to worry about trying to fit the boxes together as they stacked perfectly.
The following morning we threw what remaining clothes we had into large white sacks.  Because we had so many black carrier bags of rubbish we were collecting as we went along, the different colour bags were nice and easy to spot so we didn't accidentally end up throwing away any of our clothes, or packing any rubbish!  (I hope…!)
I was a little confused when I spotted this bag of cats that Dan had labelled!  Although afterwards, I realised he had labelled it 'coats'!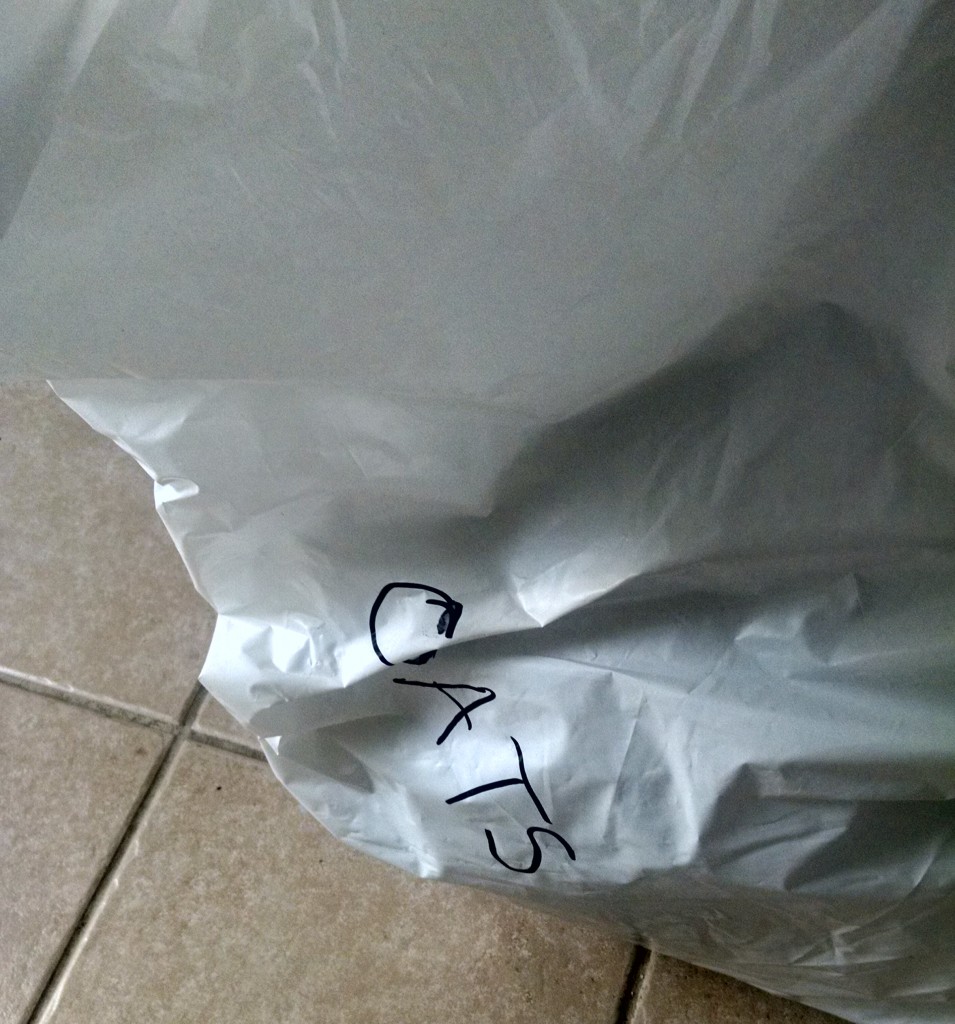 Just as we got the fridge and freezer outside to defrost, it absolutely poured it down outside and our van loading ground to a halt.  Our fridge was already destined for the tip anyway, as it has been leaking badly over the past few months but I rushed outside with bags to cover the freezer.  Luckily, no damage was done.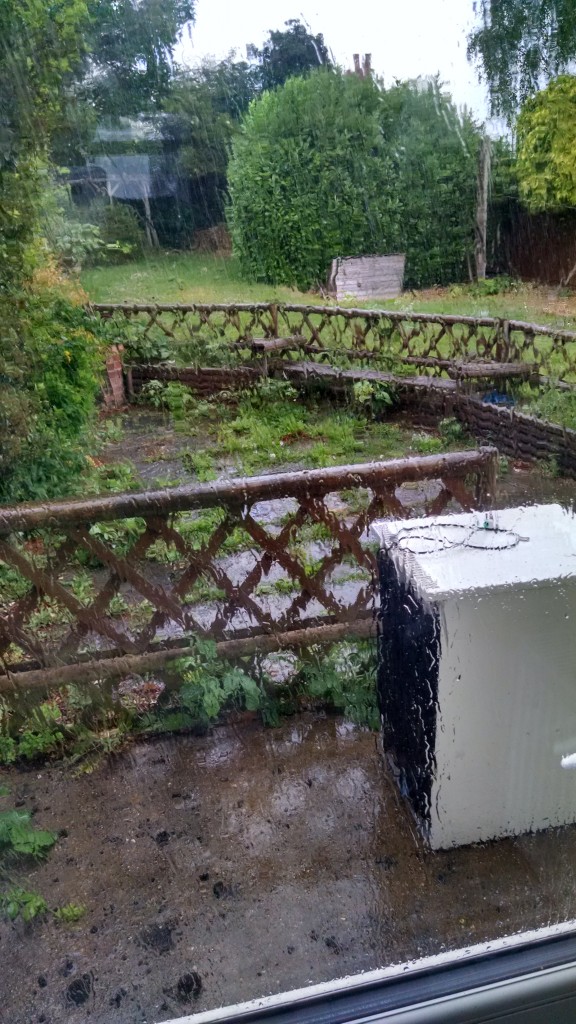 By the time it was dark, everything else was on the moving van so I took the upstairs for cleaning, and Dan took the downstairs.  There wasn't a lot of floor space in our old house, so the cleaning itself didn't take too long.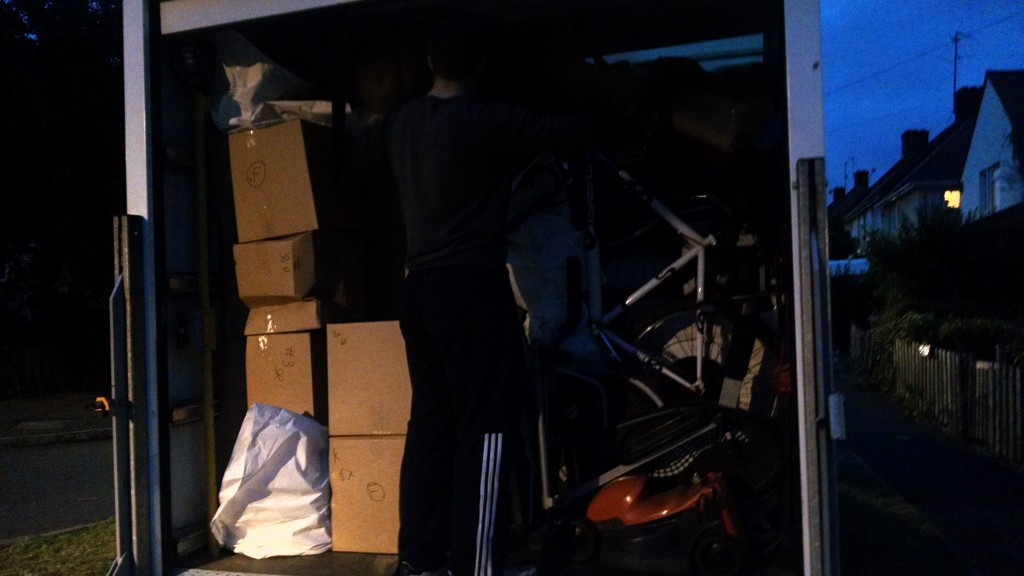 A night on the mattress for us as our bed was in the van now!  We caved and let Bella sleep up on our feet.  Normally she sleeps downstairs in the lounge on the sofa at night, but she had been following us around all day, knowing something was different, there was now nothing left for her to sleep on and the room was echoing and cold so she spent the night with us instead.
When I got up on Monday morning I left a little note for the new owner listing all of the keys and what they were for, which suppliers we were currently with and a few other messages about the house.  I also left the most recent Yellow Pages and town magazines out on the kitchen work-surface.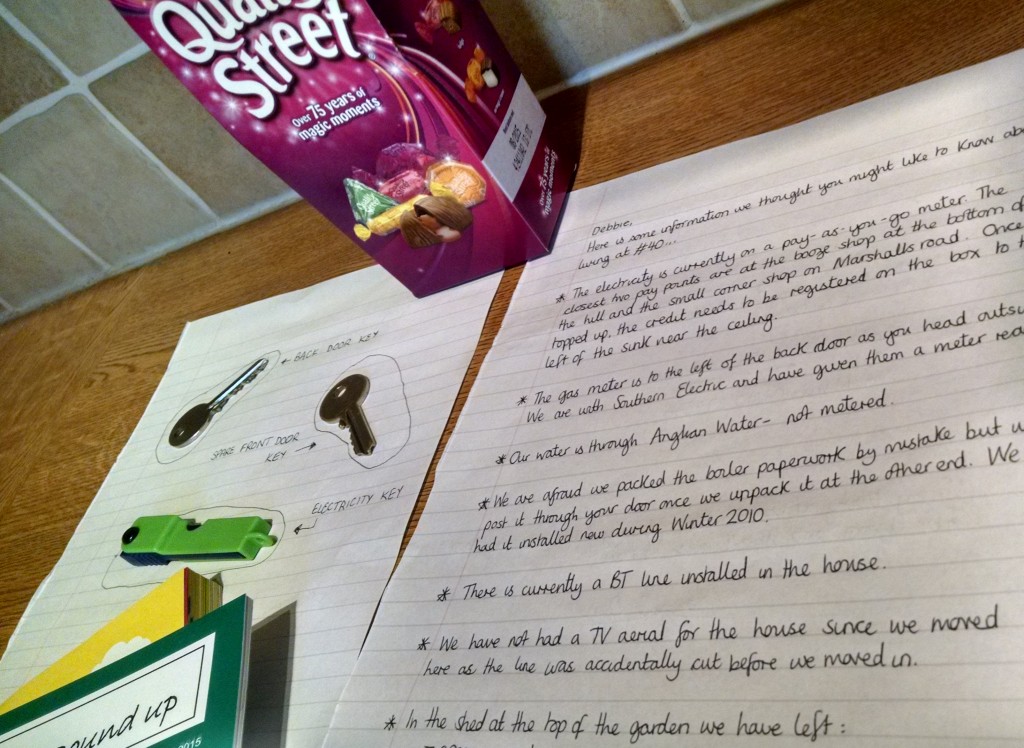 I didn't really say a proper goodbye to the home as I was rushing off out to work as usual in the morning, leaving Dan to make the final touches, along with the help of my brother and my friend's husband, who both arrived nearing midday.
The last two days have been busy ones at work, followed by rushing back to our new home to try and get things a little straighter.  There is a lot of work that needs doing to the new house, so we are leaving several boxes packed up in the garage and spare rooms, but I have started to unpack kitchen items and we've pieced some furniture together now.  It is so lovely having a table back in the house – no more balancing my work on my knees on the sofa!
We won't have internet access until July 24th, so I may be a little slow replying to comments/blogging/catching up with blogs, as I shall only be using the internet at school before/after my teaching day but I will get there.
I have my running clothes drawer all unpacked already, so things are looking up!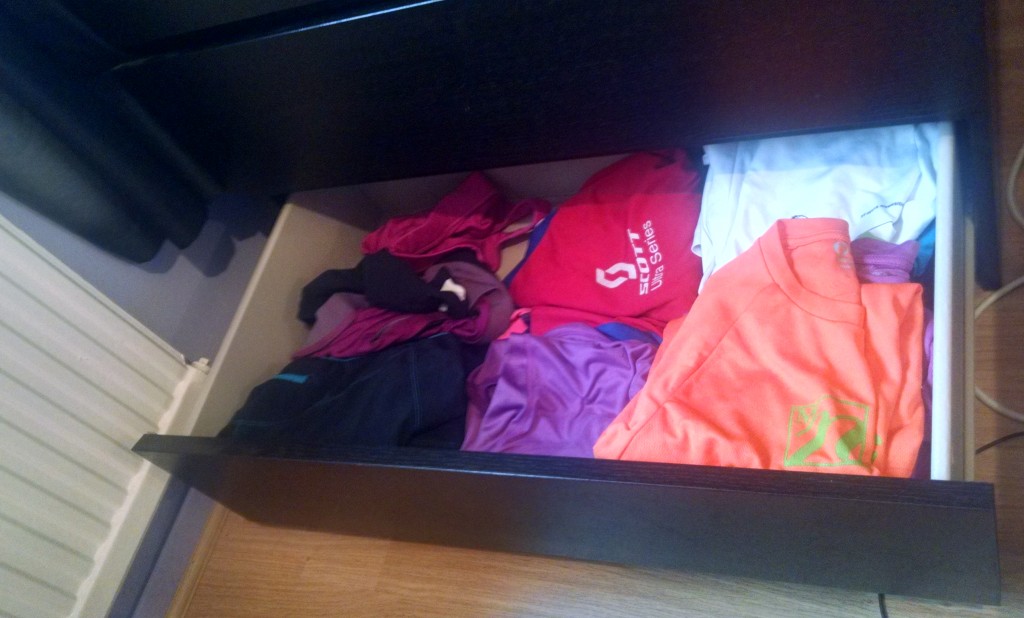 What were your first priorities when you last moved house?