So, although we have now been in our new house for a week, we are yet to get connected to the internet.  BT tells us it is currently looking like 28th July is the next available day they are able to hook us up.  I had intended on keeping up with emails, blogs and social media before and after my teaching hours using the internet at school, but even that has been down following the heavy thunderstorms we had at the end of last week.  There was no internet at all on Friday at school and it has also been down for a few hours today.
What I have been doing instead is a lot of DIY in the new house!
One of the most satisfying feelings is stripping the walls of the bright wallpaper that the previous owners seem to have included in every single room!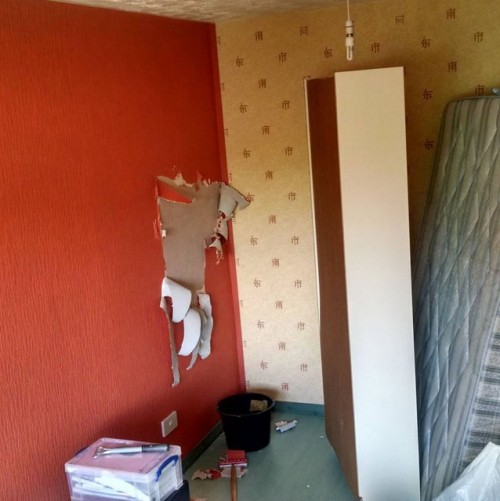 I am sure my lucky streak will come to an end soon but on Thursday night I actually cut a few more seconds from one of my recent PB distances.
Every year our club holds the Wellingborough 5 mile road race on the last Sunday in July, with a chance for those marshaling the event on the day to run the course the week before, whilst those chosen to represent the club team on race day marshal at our club 'race'.
It's nice for a change to not feel so intimidated by all the 'quickies' at the front of the pack and to start a little closer to the start line.
After consideration, I did intend on racing the 5miles.  I had weighed up the option of heading out on a chatty run with friends or keeping things steady, but the course also has a lot of PB potential and I knew that there was a good chance I could improve on the 5 mile PB I had set back in May at Blisworth 5 (46:05) as that had been run on a hilly course and on a hot day.
Rushing around in the morning before school I forgot to take my lunch though, so after work Dan and I rushed home via a quick stop to Tesco so that I could inhale a sandwich.  The 'race' didn't start until 7pm and I wouldn't normally have eaten so late but knew I would need something to help get me round.  I then promptly fell asleep for the remainder of the journey home (house moving is tiring work!) so was rather groggy by the time we arrived back nearing 6pm.
A quick change into shorts and club vest before rushing off to the start, although I couldn't go to the loo.  I hoped it wouldn't be a problem.  I would have been really annoyed if eating too late stopped me from having a good run!  Luckily, I didn't need to worry.
It's tradition that we take a group club shot including members' children before setting off on the course.  I'm over on the far right of the picture.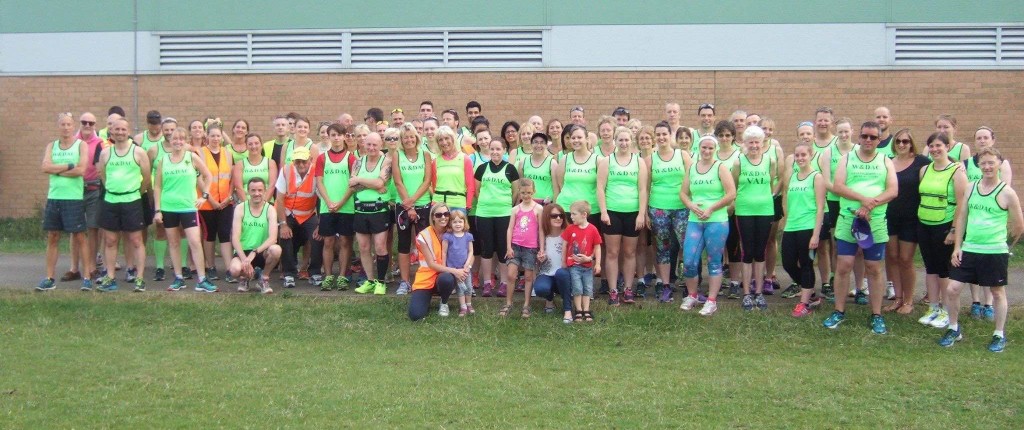 When the gun began I stuck to my tried-and-tested heart rate method and kept checking I was running at around the 165bpm mark.  I was a little nervous at how far up front of the pack I was, but a lot of the quicker runners were out marshaling so I trusted my heartrate monitor and stuck to my guns.  With it being a club race, I knew everybody out there and a couple of people who were taking the run a little easier tried to start conversations with me as they went past.  I hope they didn't think I was being rude with I stuck my thumb up at them or nodded or shook my head in response.  For the first couple of miles I was pretty much on my own, with the occasional runner overtaking me.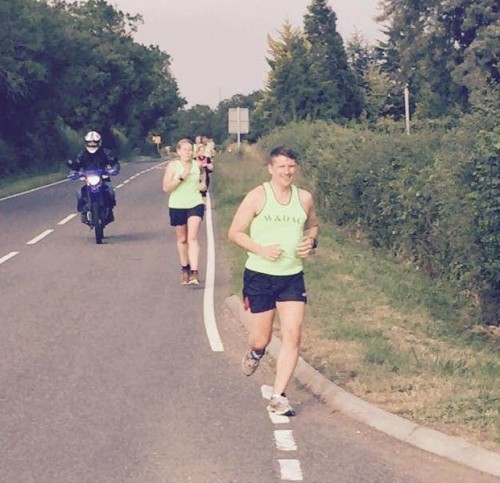 I was only vaguely aware that photos were being taken of us out on the course.  Obviously by this point I was counting steps.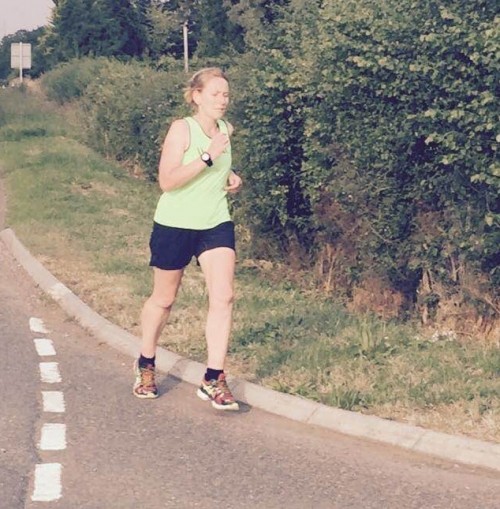 I ran my first mile in just under 8:30 minute miling.  I wasn't struggling but I was a little concerned that it would come back to hit me later on.  At the start of my last 5 mile race I'd been hoping for sub 9:30mm.  That's quite a difference!
The next two miles were around 9mm pace  (didn't bring my Garmin to work so unable to check – I shall update with exact figures when I next have access to the internet!) and at the start of mile 4 you hit the one and only gradual hill on the course.  Although I remained at the same effort, this mile was much slower at 9:46mm, which rather concerned me.  Luckily the last mile is back on the flat again and I got a lot of encouragement from the marshals, and also a shout out from the club captains who drove past in their car.  Along the final stretch of road I stormed past a couple of runners and came through the finish feeling strong.  I'd purposefully not checked my watch during the final mile and so was unsure whether or not I had achieved a PB until after crossing the line.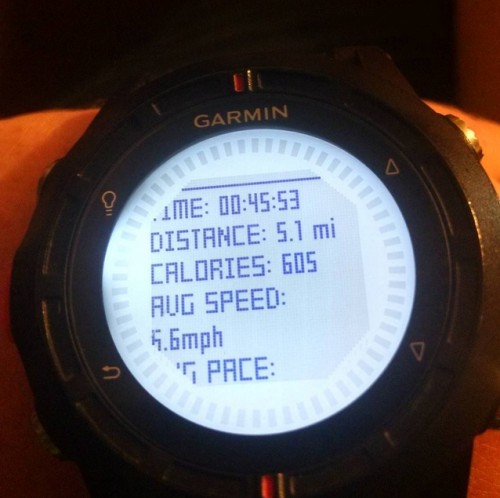 …I had.  The official results marked me as finishing in 45m 55s.  Another 10 seconds off from my Blisworth 5 time back in May and a total of 2 minutes and 2 seconds faster than my previous PB.
This is such a difference from when I ran the club BBQ run last year.  That run saw me stop and start numerous times over the five miles and throw myself onto the ground at the finish line incredibly disappointed with my performance.  I just checked my club website, as it appears I didn't even post my finishing time on the blog last year, but it actually took me 50m 37s to cross the line in 2014, and I knew I was very capable of a much better performance than the one I had given.
What do you do with all of your 'free' time when you don't have the internet?
How do you come back from a bad race?  Does it make you feel more nervous about repeating the same race in future?