My Summer holiday began today and it did not come soon enough!  I have been on count down for the last fortnight at school, just waiting for the end of term!
Every year since my first as a teacher I have filled my Summer holidays with fun things.  Six weeks sounds like a really long time but most years there aren't many days where I don't have something planned out to do or somebody to see.
Last Summer was spent preparing for my wedding and then jetting off on honeymoon.  I can't believe that in a fortnight Dan and I will be celebrating our first wedding anniversary!  This year really has gone so quickly.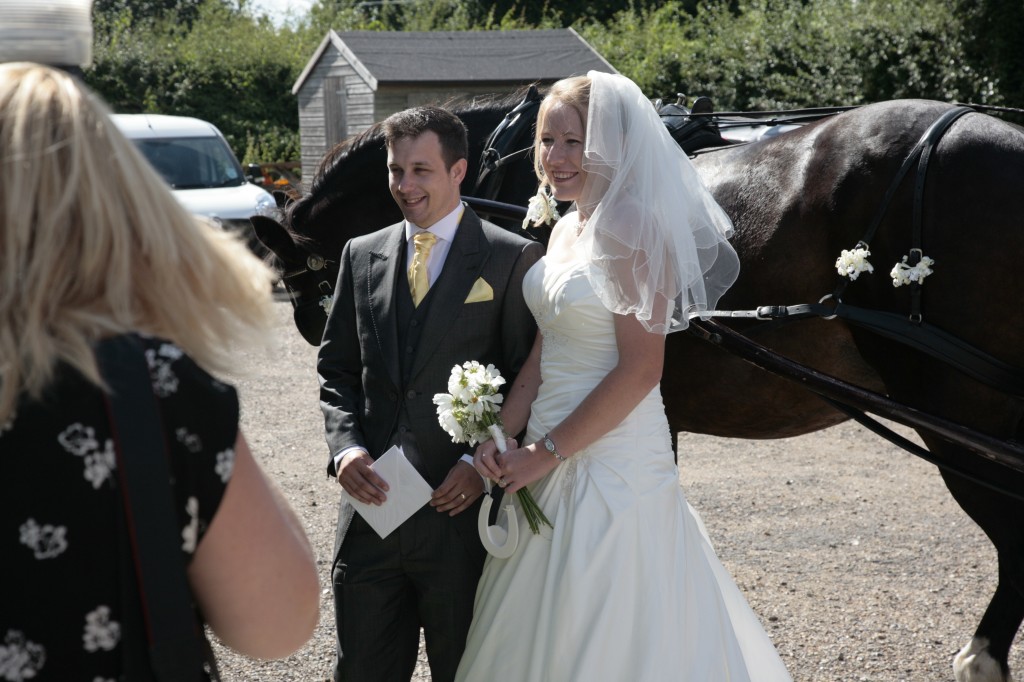 For our anniversary, Dan and I are spending a night away in Stafford – our uni town and where we first met.  We're hoping to head to some of the bars where we headed on our first dates and visit some of the places that we did all those years ago back in 2007 when we first got together.  We're only going for one evening – partly to save money and partly because we don't want to leave Bella in the new house for too long, even if someone was to come round and check on her.
I am sure that she will love it here when she has fully settled, – we would not have made the decision to move if we thought that she wouldn't like it.  On advice from others we have decided to keep her in for the best part of a month before letting her outside to explore and I don't want to unsettle her further by us spending several days away.  She has begun to settle already and although she hasn't cried to go outside, she enjoys spending her time on the windowsills…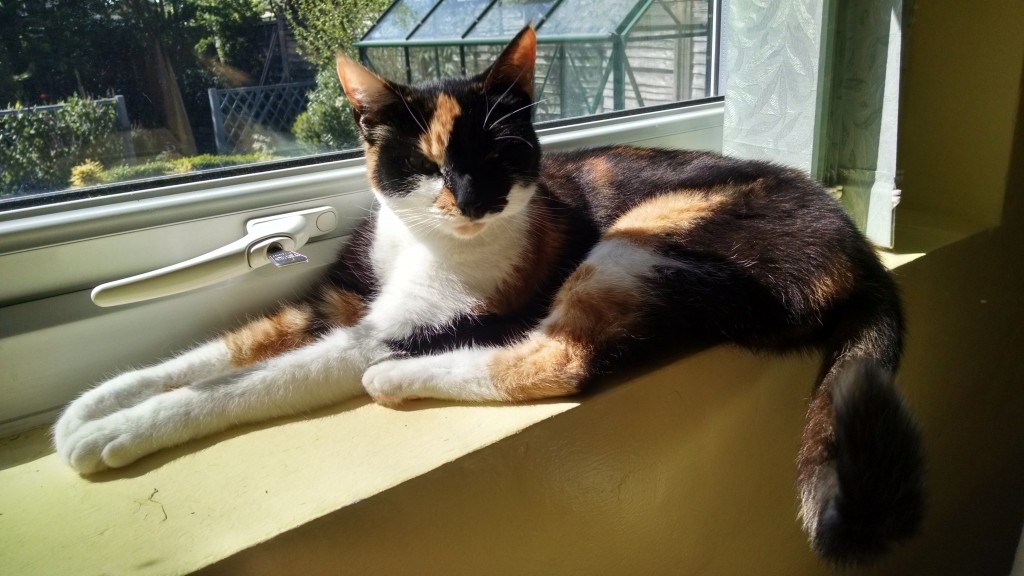 …and exploring underneath the back of the kitchen units…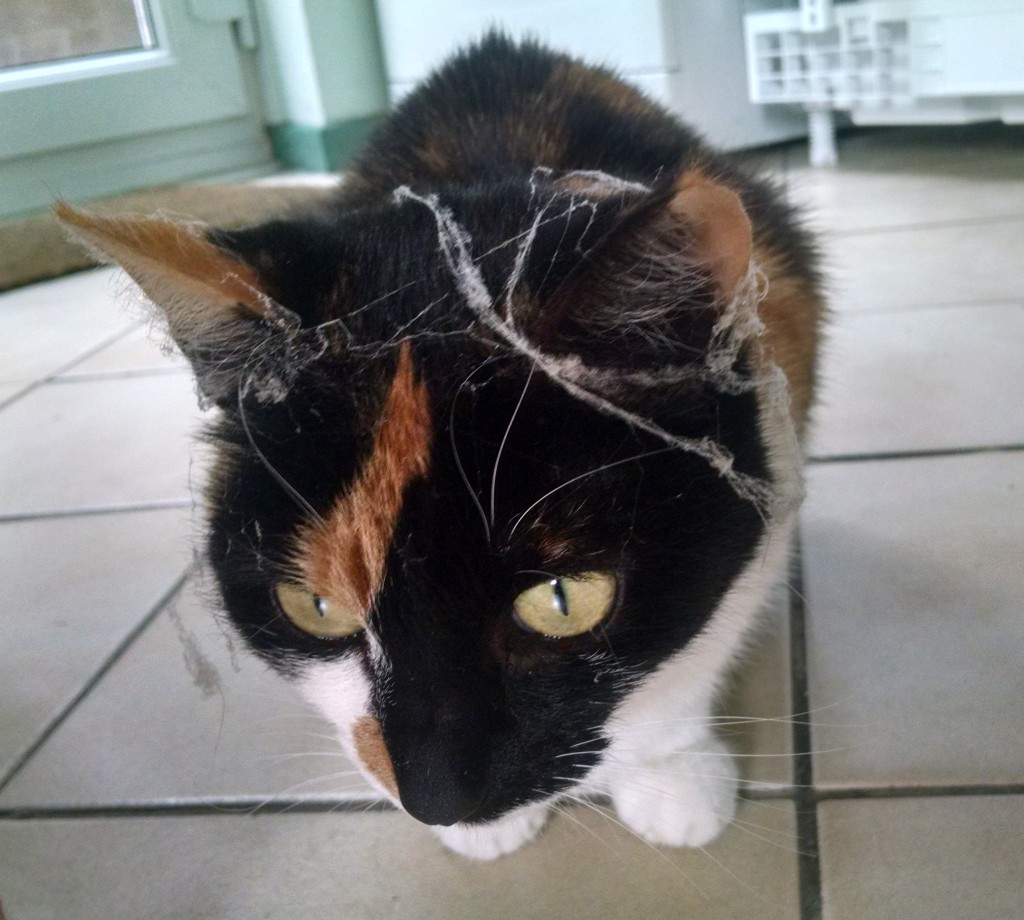 …hopefully soon to be stripped out!
A lot of my Summer will be spent working on the house, mainly over the next few weeks.  I've packed away DVDs, books and ornaments into boxes in the garage for the time being so that I can really get stuck into wallpaper peeling and paint stripping this week, without a multitude of boxes in the way.  It is so lovely to sit down and be able to type this blog post on my laptop at the dining room table with lots of space around me in the room.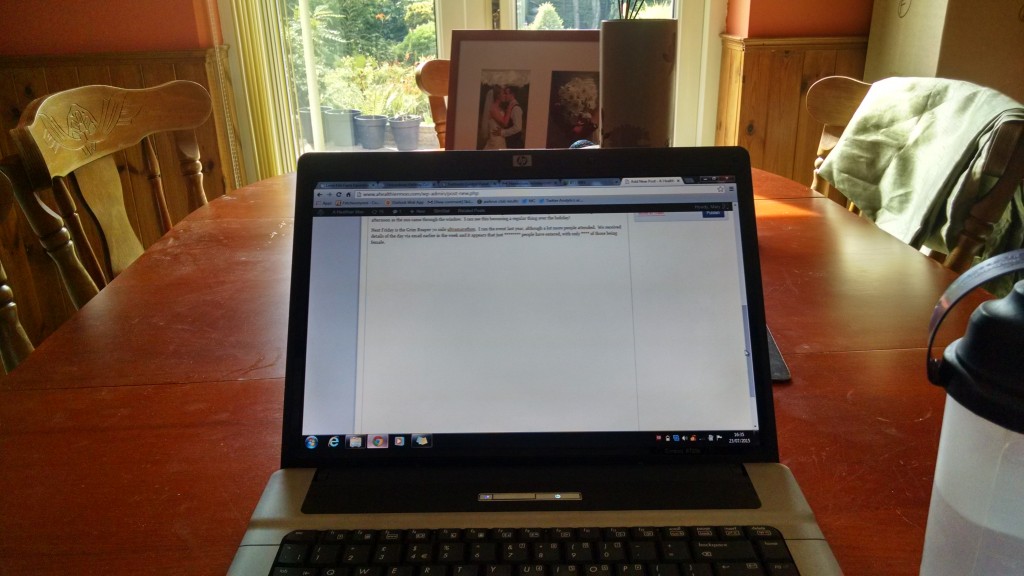 Bella has enjoyed me being at home today and has joined me in the dining room this afternoon as the sun came through the window.  I can see this becoming a regular thing over the holiday!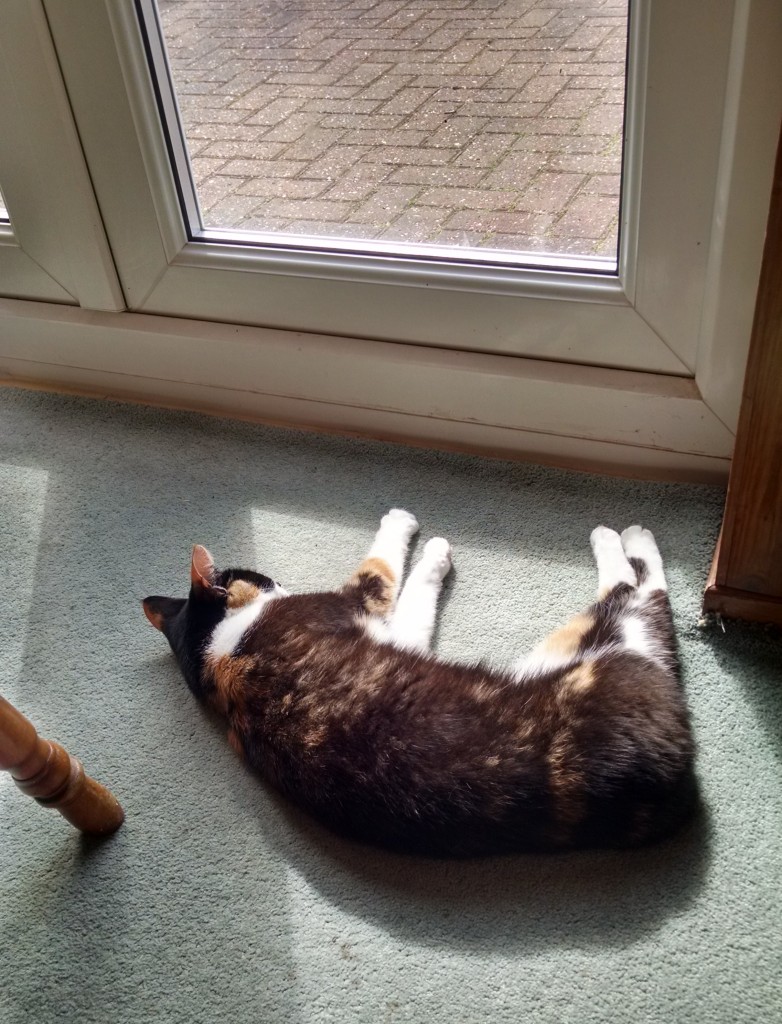 Next Friday is the Grim Reaper 70 mile ultramarathon.  I ran the event last year, although a lot more people attended than are looking to do so this year.  Runners received race day details via email earlier in the week and it appears that just 28 runners have entered, with only 8 of those being female entrants.  A couple of friends at club have asked me just lately if I am ready for the event.  I think I am.  I'm not nervous.  Although my mileage has been nowhere near as high as it was at this point last year, I have been running strong just lately, and knowing that I have completed the event before is a big mental boost as well.  I feel much more experienced when it comes to knowing how to tackle longer distance events this time round.  And, if it all goes to pot on race day I won't beat myself up.  I know that I am capable of the distance and have proven so before.  I've had a good season so far this year, ticking off a few PBs and I would like to see if I can achieve another over 70 miles.  But if it doesn't happen, it doesn't happen.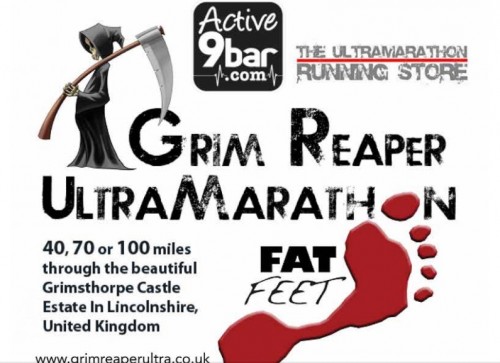 Something else I can't wait for is being able to get back in the kitchen.  Our old kitchen was really tiny, so it's been lovely having a large kitchen to prance around in over the past few days.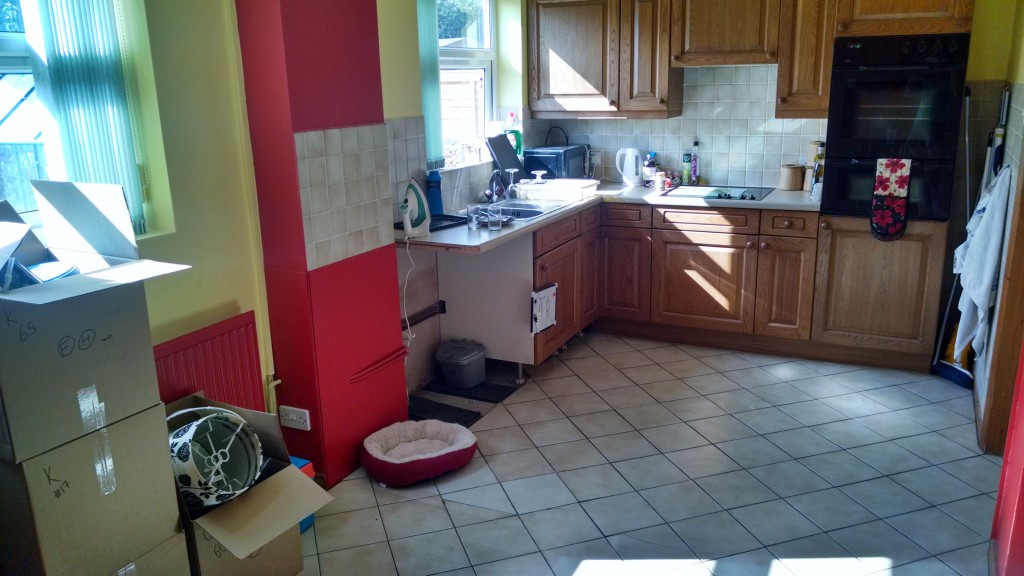 It needs a complete re-model though as things just haven't been thought about very practically at all.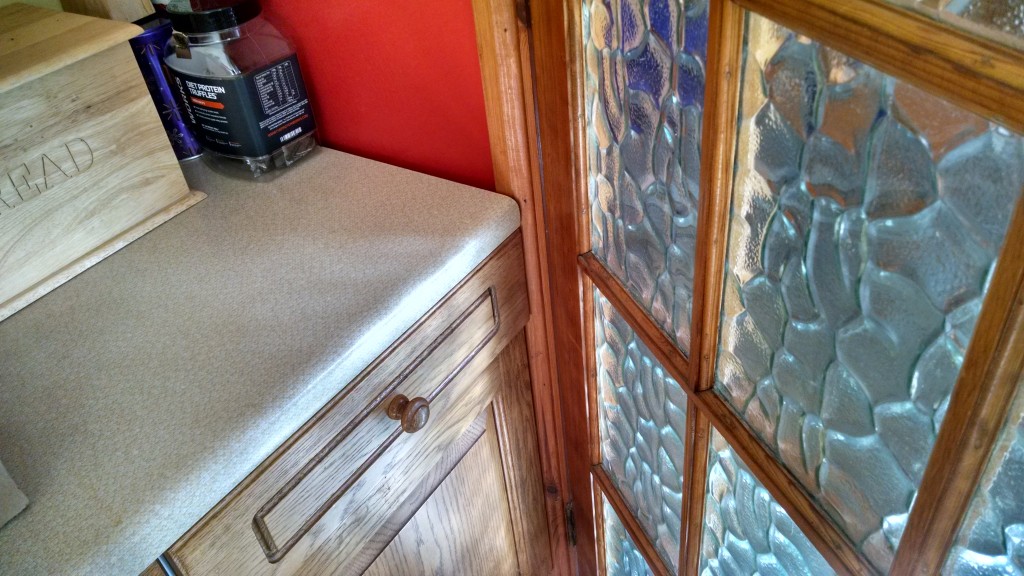 This set of drawers behind the door really annoys me.  Not only has it not been laid flush to the wall (as it was too long) but the glass door between the dining room and kitchen is free to bang against the cupboard knob handles – potentially smashing them if too much force is applied!  You have to first shut the door to the dining room fully before you can open the kitchen cupboard door to see what is inside.
Unfortunately, as the most expensive item on our to-do-list I don't think the kitchen will be completed over the Summer holidays, but at least I will be able to start cooking again.  It was getting rather old living off of Co-op snacks and leftovers.  I've got lots of Pinterest recipes I want to try out!
I would also like to spend more time on the blog over the Summer.  The design has been bugging me for ages and there are so many little mistakes that need tweaking.  It really annoys me every time I visit AHM but I just haven't had the time to be able to sit there and fiddle with the design until I have it looking the way I want.  We still don't have the internet at home at the moment (currently looking like it will be next Tuesday now before we do have it) but the large grassy area along our road and just infront of our house falls in a BT WiFi hotspot which I discovered last night, so I can at least write and read blogs on my tablet again now.   It's probably a good job that our house isn't 50m further over, as otherwise I would be distracted by the internet when I've actually still got quite a lot to do, but it is nice that I can access it now if I need to.  I took my laptop out earlier to bring up my 'new post' page before returning indoors to write this post and then I shall head back outside to publish it.  I don't fancy sitting outside on my laptop squinting in the sun for an hour!
What plans do you have for over the Summer?