On Saturday morning I headed to Northampton parkrun.  The evening before I had been in two minds to mix things up and try out a new parkrun course but the free WiFi hotspot outside our house wasn't playing ball and so without directions I thought it probably best to stick to what I knew!
I wasn't sure how to pace the parkrun.  Standing on the start line a few minutes before it was due to begin I was still debating just what to do.  Should I run a really easy pace and cruise round to the finish?…Should I run at a steady pace?…Or should I pace to heart rate as I would if I was aiming for a PB?  With Grim 70 this coming Friday I really didn't know what to do for the best, and then I glanced up to see my friend from work had placed herself just in front of me on the start line so I offered to run with her instead.  Sometimes it's nice not to have to make all the decisions yourself! 😛
Lindsay hadn't run for a few weeks and just wanted someone to keep her going round so we set off at a steady 10:30mm-ish pace.  I could comfortably chat away yet encourage Lindsay round the course.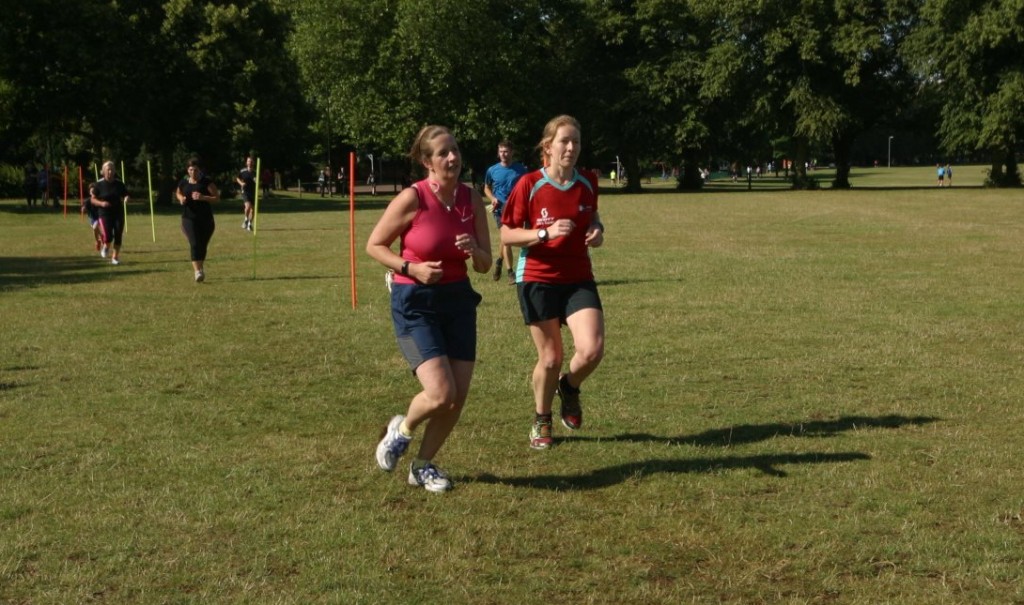 I'm not quite so sure Lindsay saw it as very encouraging though, or comfortable!  I let her have two walk breaks but made her run the rest of the way!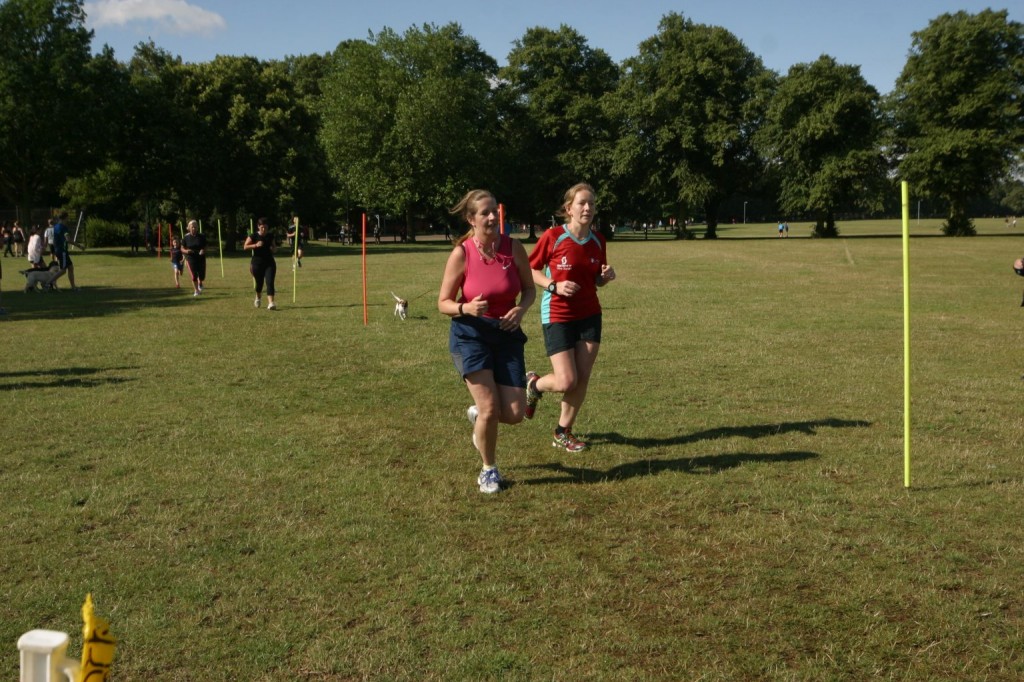 We made it to the finish line in 34:15.  I was in 268th position and 93rd lady over the line.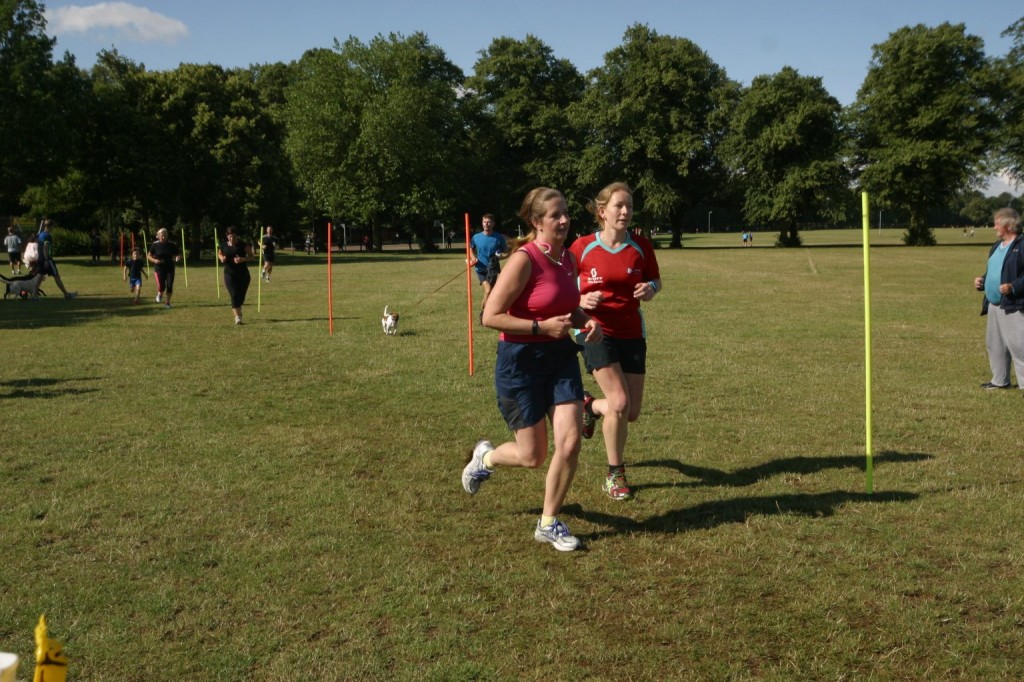 She must have a little trust in me though as she has asked me to come up with a plan for her to help her to get to the 10k distance.  Her only prerequisite was that the plan didn't involve skipping!  I've stressed to her that I'm not qualified to put anything together, but have come up with a rough guideline for her which includes 3 main running sessions each week.  One incorporating some hills, one slow and easy run building up to the distance and one parkrun each week to be run as a tempo run.  On the other days I've added in walks, core work, swimming and workout DVDs to try and build her strength up to cover longer distances.  I quite enjoyed coming up with a plan for somebody else actually.
The weather was lovely on Saturday morning – nice and cool.  It was similar on Sunday morning when I left the house at 7:45am to go and marshal at our club race; the Welly 5.  However it didn't stay that way and all marshals and runners ended up absolutely soaked and shivering by the end of the race!
By the end of the morning I was sporting three t-shirts on top of each other underneath a jacket – trying to keep warm and dry!  The Wellingborough 5 t-shirt I received for marshaling was nice though – I headed out for a run in it this morning and the medium fit perfectly.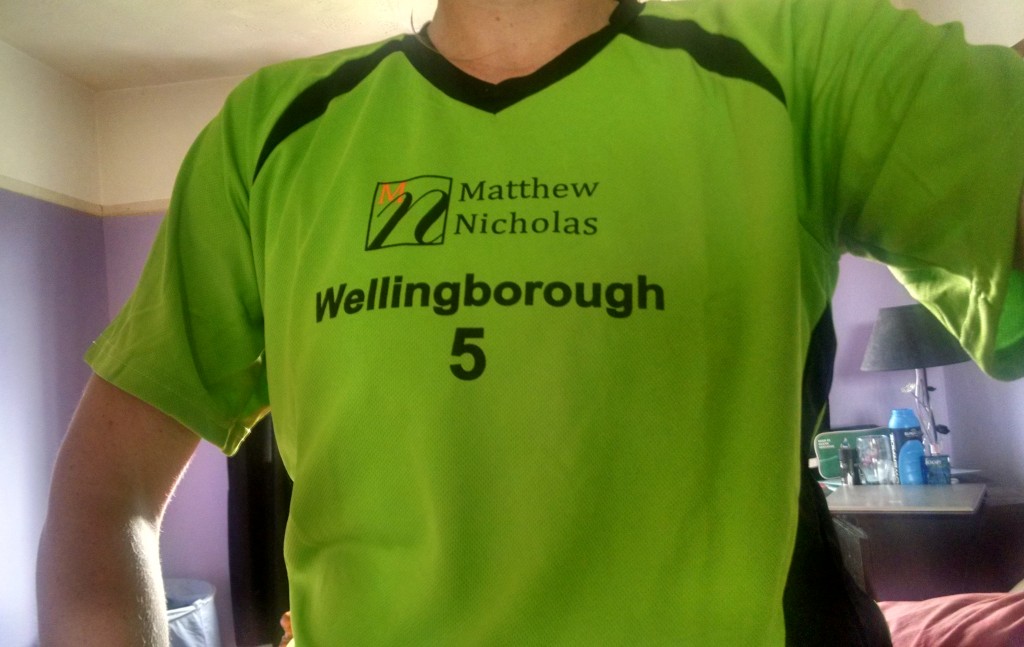 (Excuse the headless pic!  I find photographing myself impossible with my phone!)
For the race on Sunday I was out marshaling on the front road with two other runners from our club.  Our job was forever changing; Firstly, we stopped cars turning into the Old Grammarians (OGs) HQ itself – pointing drivers to the car park on the other side of the road instead.  Then we held back runners until the road was shut for the race start.  This was followed by manning the edges of the road and ensuring no excited spectators got in the way of the runners, and then lastly we turned to face the other direction ready for runners to head back towards the OGs so that we could steer them in the right direction.  This is my usual marshaling spot and has been for the past two years, although there are usually just two of us.  I used the extra marshal to my advantage though and this year I took photos of both the race start and also runners heading to the finish line – with the aim of photographing everyone out on the course.  Our local parkrun has recently had a photographer at the runs most weeks and it's been really nice to look through the photographs afterwards.  (Usually anyway.  There are some questionable faces I'm pulling in some of my photographs!)  Turns out another runner from the club, Gary, had the same idea and so there were lots and lots of pictures from the race all over social media yesterday afternoon.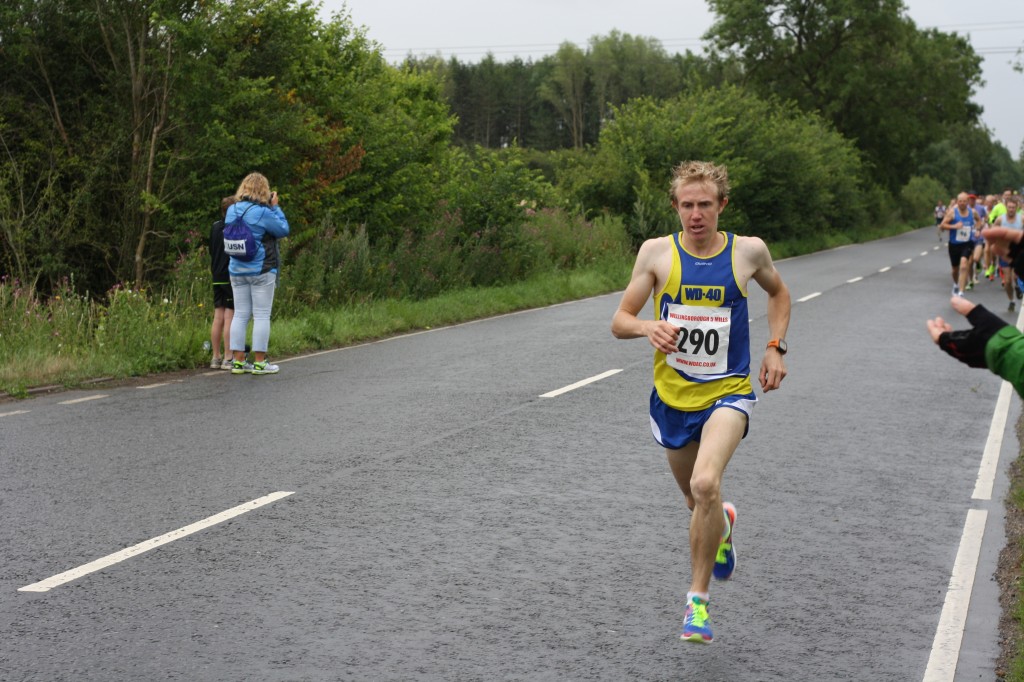 This guy is the eventual winner of the race.  This is 1/3 mile past the start line and you can see the massive lead he already has on the rest of the field!  He went on to win in 24:43 – more than two minutes ahead of the guy in second place, and running sub 5minute miles for the whole race.  Mental.
After the race I had a long chat with a couple of the guys also running Grim on Friday.  There will be three from our club running the 40 mile distance and three of us running the 70 miles.  I am the only one who has run the 70 before, and Kev, who pulled at mile 40 last year has decided to run the 40 with his wife as preparation for his 100 mile race the following weekend.  Seriously amazing!  Between us we made a collective decision to take much more than we will need as it's better to have too much than not enough.  Gary's family will be popping in during the day to see how we are getting on and Dan will stop by after work.  I'm sure that either will pick up anything that any of us feel we need by this point and bring along.  Last year Dan received a desperate phone call begging for chocolate milk and oranges which he delivered to me at the 40 mile point!  It was great chatting about the upcoming race though and it got me all excited for what is to come later in the week.
I arrived home from the race (soaking wet!) to my parents-in-law who had stopped by to drop in a bed for our spare room and to look round our new house.  They had made us an early anniversary cake and also brought Bella a present of a gift bag filled with four different packs of Dreamies.  Bella could not get her head in that bag quick enough!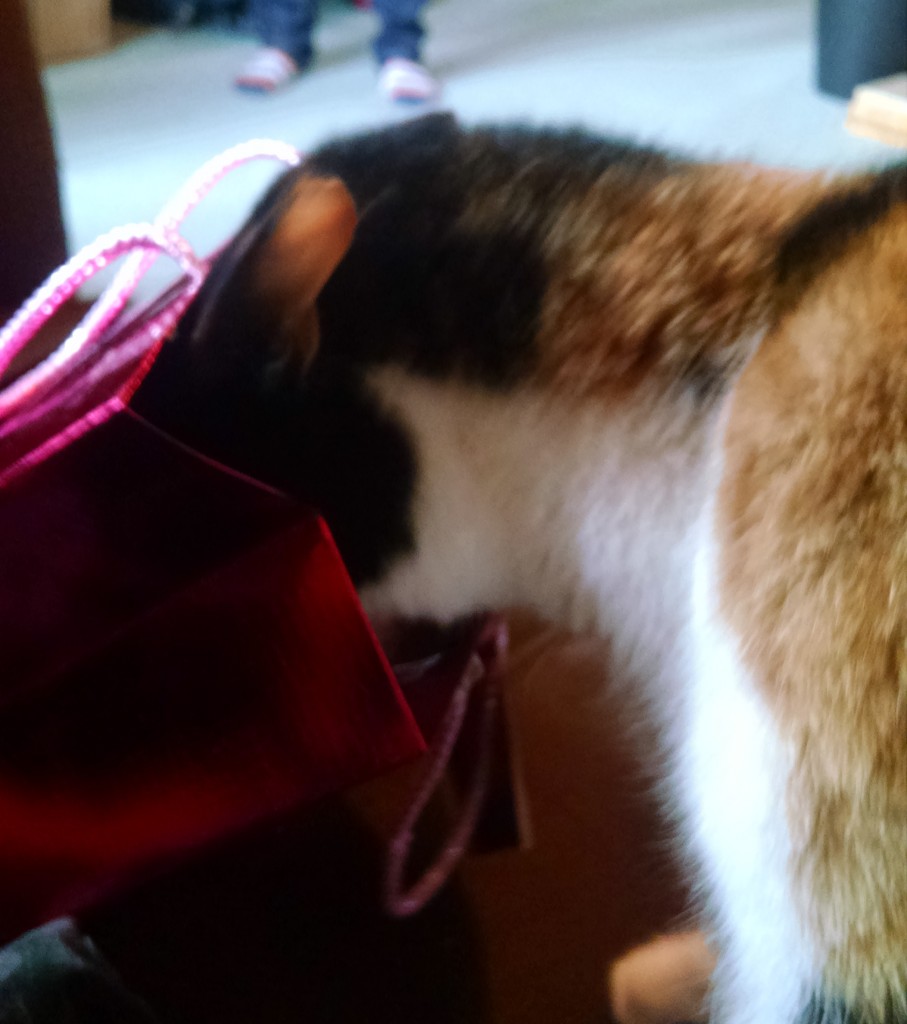 We gave her a few and then Dan put the bags up high in the kitchen.  Apparently not high enough though as Bella managed to scramble up and get one of the bags onto the floor overnight.  This morning Dan came up to show me the Dreamies treat bag that he had found on the floor ripped to shreds.  Bella by this point had let herself into the bathroom and was licking the tap in the bath.  Dan thought she might well be feeling quite high from so many Dreamies in such a short space of time!  Luckily there have been no ill effects and she is currently curled up on my lap as I type this but the remaining three bags of treats have been hidden away out of sight.  It's like having a naughty child in the house!
How do you manage to take pictures of yourself for your blog?!  Someone please teach me!
Do your animals go crazy for treats?  Bella will do anything for a handful of Dreamies!
Do you tend to overpack for races?