Last night I was roped into going along as the results person for the Eastern Veterans Athletic Club track and field events at Corby.
I didn't know a whole lot about the events, not being old enough to score (age 35 for a female and 40 for a male) but this year our club was co-hosting an event with Corby AC over at the Rockingham Triangle in Corby as we do not have our own track in Wellingborough.  The club captains pleaded with me to help out and score so I agreed to do so – thinking that it would take my mind off of my taper for the Grim 70 on Friday.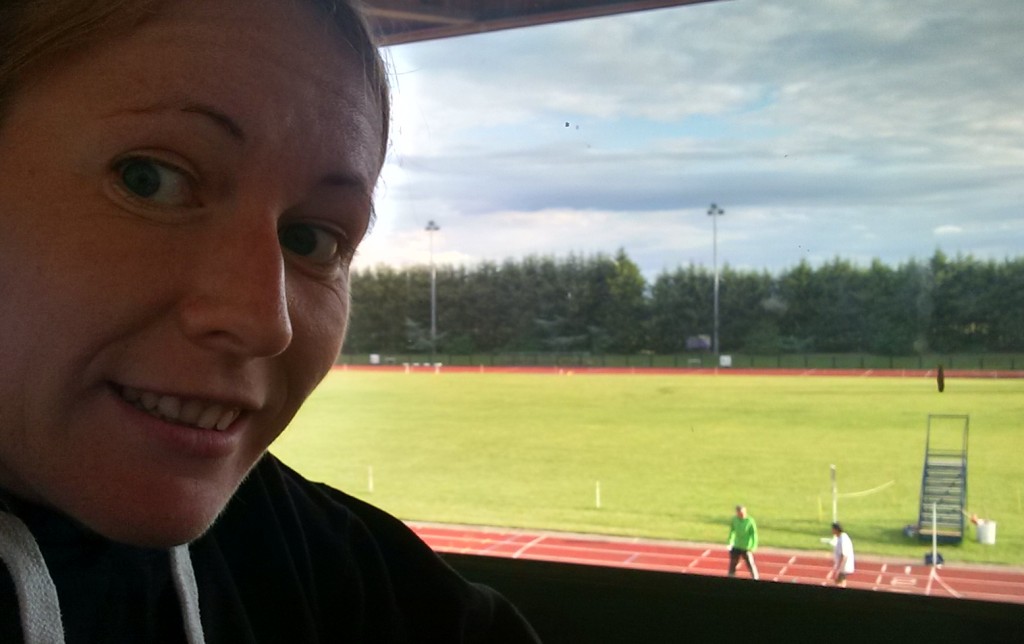 I turned up a little before 6:30pm, laptop in arms.  Earlier that day I had received via email a recording spreadsheet and declaration sheets of who was competing in which event from three of the five clubs that were attending.  The email recording spreadsheet was the most complicated thing I have ever seen, including twelve different workbooks and almost every cell containing a formula.  I struggled to work out what I was expected to enter where…and that is coming from an ICT teacher!  I had received instructions over the phone earlier that day to find membership numbers for each entrant (which I found on a different spreadsheet tab) and enter them into the spreadsheet declaration tab for each competing team.  I did this for the three clubs that had sent me their forms, but could not do this for the two teams which were yet to announce their competitors.  Luckily I received their sheets not long after arriving so quickly searched for and typed in membership numbers in the correct places before results started to trickle in.
Women wore letters on their bibs and men wore numbers.  Each referring to their age and club.
Nene Valley Harriers = 1/A
Peterborough AC = 2/B
Corby AC = 3/C
Wellingborough & District AC = 5/E
Huntingdonshire AC = 6/F
There were three age categories for the majority of events.  35-49, 50-59, 60+.  If a competitor was in the first age category they would have just one letter/number printed on their bib, the middle age category would have two and the oldest category would have three printed.  So, our Vet 60 lady had EEE printed on her bib.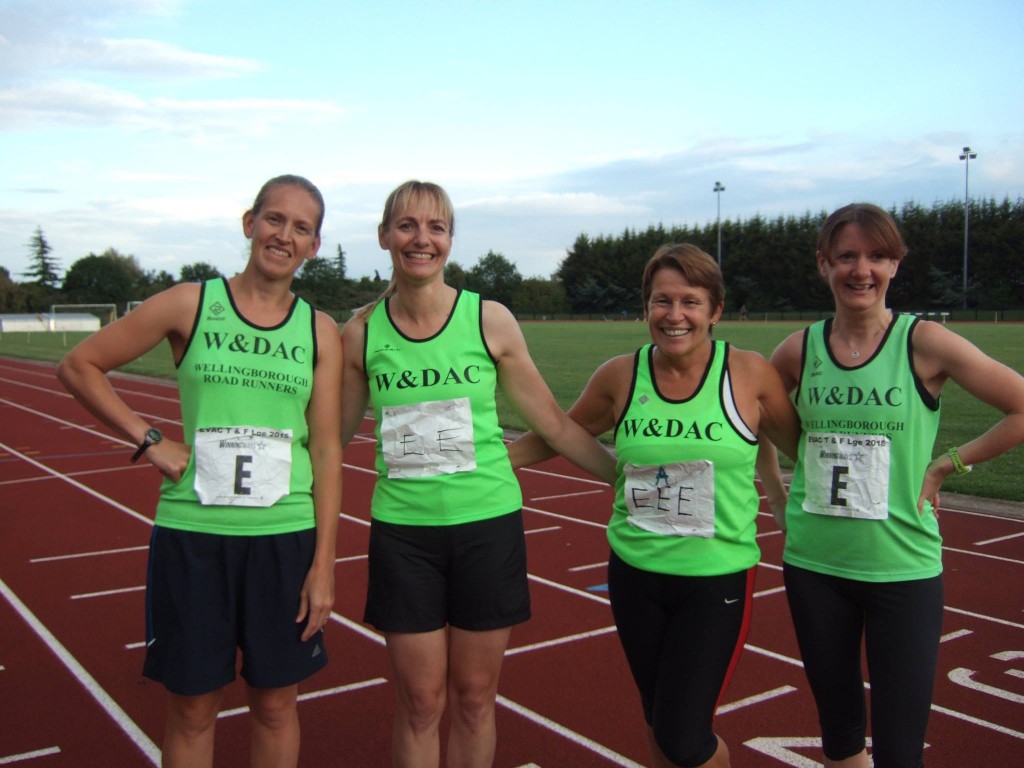 This meant that some people would be displaying the same bib number/letter if they were competing for the same club and of the same age category but entered in different events.  Not being familiar with EVAC, not knowing a huge amount about track and field events and not having anyone show me how the scoring worked on the spreadsheet, this confused me for quite some time!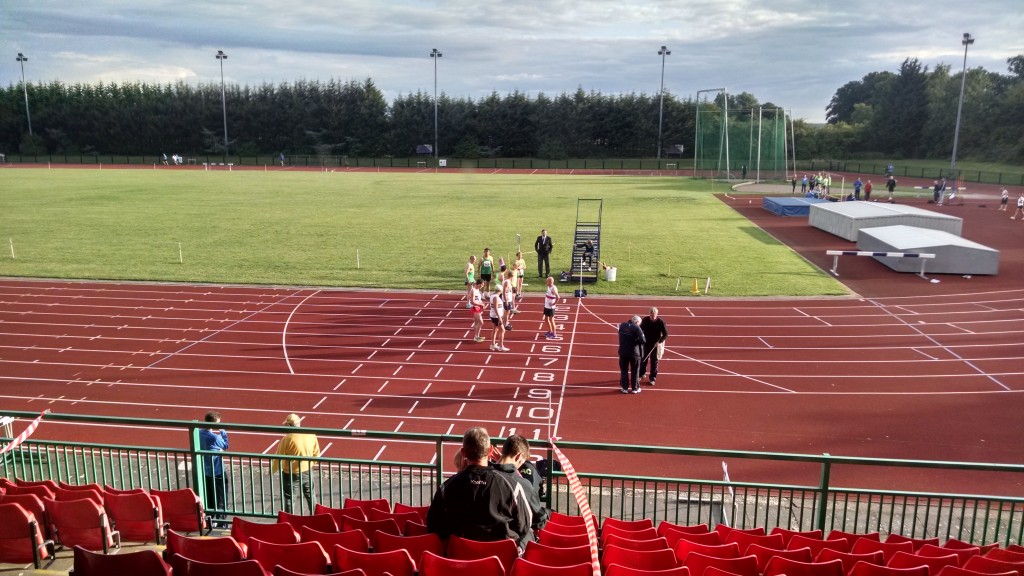 The first event was the most confusing of all.  Each club could enter two competitors of each gender and of any age into the 2k walk.  Category A and category B – essentially two races held at once.  Category A was the faster entrant and entrants were already selected on the spreadsheet before the event.  Males and females competed together and then I received the results sheet up in my place in the top scoring box with a bunch of numbers and letters scribbled alongside times.  I had to split males from female runners and then had to establish if I needed to change category A and B entrants around on the declaration spreadsheet workbook (if the person supposed to be scoring for category A was in fact slower than their teammate) and record their times on separate sections of the spreadsheet.  It was so confusing!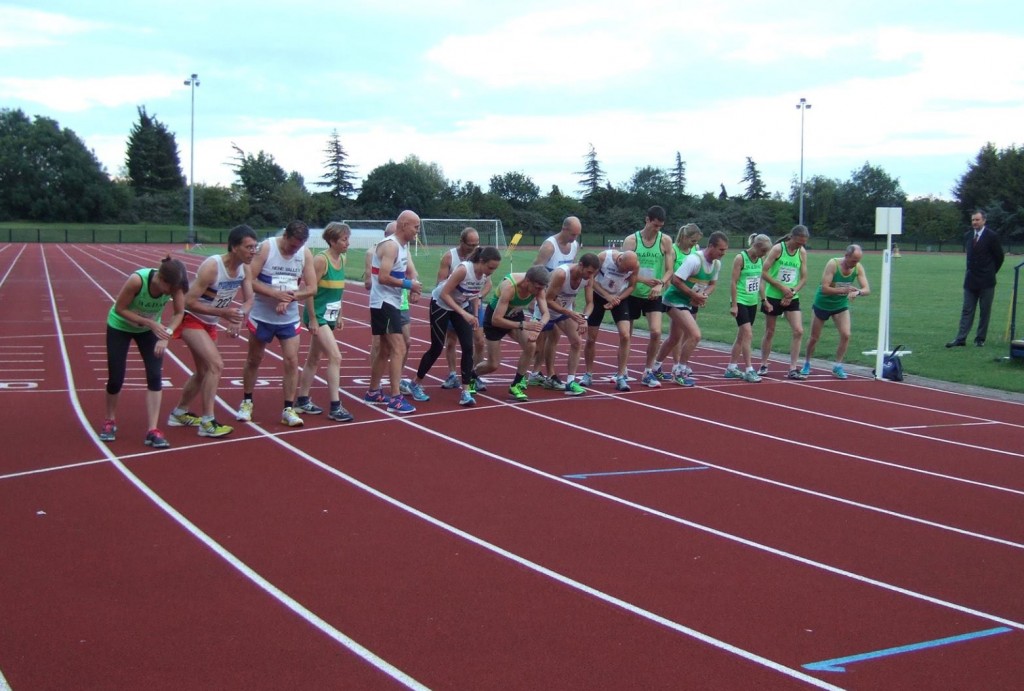 For the longer events, like the 2k walk and the 2000m they put together both men and women, although I then needed to split the results up on the spreadsheet afterwards.  Sometimes it was unnecessarily confusing.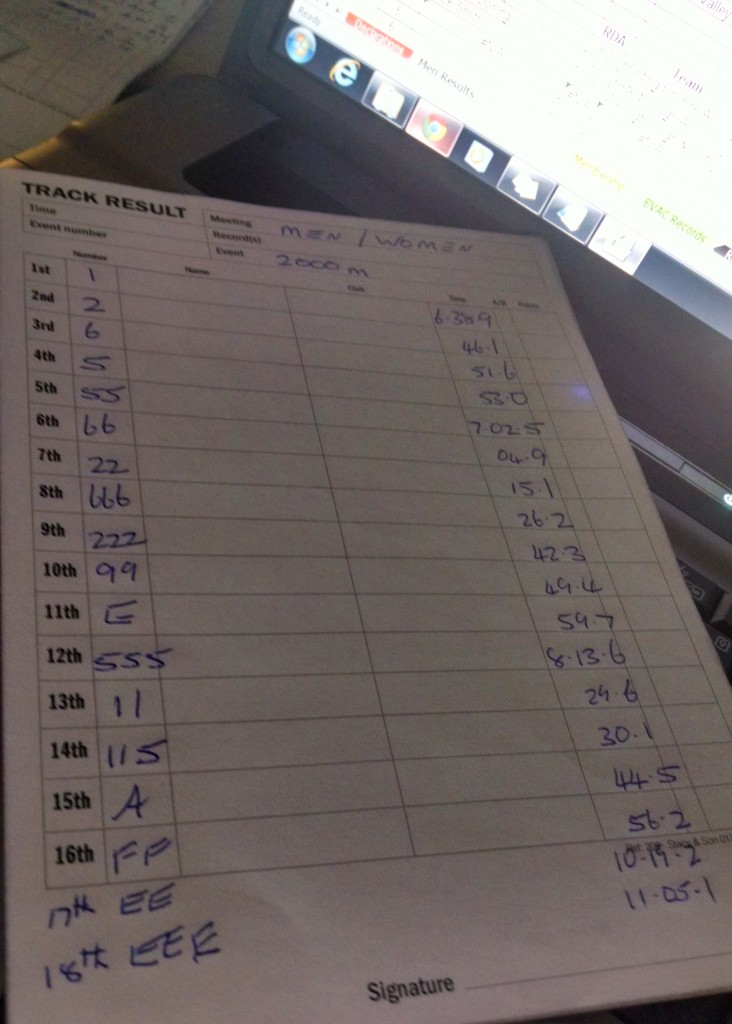 In the above photo of the 2000m race results sheet there is a number 99 and a number 115 – these are 'guest' competitors and non-scorers.  Either they already had someone competing for their age group in their club at that event, or they were too young to be able to compete but would want to enter anyway and would still want to receive times.  This messed the spreadsheet up as points were automatically allocated to competitors you gave a position to so the formulas all had to be overwritten.  Again, good job I was an ICT teacher.  I know plenty of people that would have struggled much more than I did here!
Several people came and changed competitors on their sheets throughout the evening and one guy came to state that he had not been included in the original hand written walk results – requiring a big faff of changing the results sheet around to include him.  One person had added herself to the wrong declaration sheet and several competitors came to pull through the results sheets to find out their times.  Very frustrating when I was desperately trying to get myself organised with all the results coming in at different times!
I thought I wouldn't have a lot to do in the nearly three hours I was there but in actual fact I didn't get a chance to watch many of the events at all.  I did manage to glance up just as the men were running their relay though.  I was especially interested in this after having had a go myself at the school sports day a few weeks back.  They were so fast.  Having been used to running long – nice and steady since becoming a runner, watching others run over the 100m distance before passing on to the next person at such amazing speeds was literally breath taking.  I couldn't draw my eyes away until the end of the race.  Our guys came second, although held the lead right down until the last runner of the four.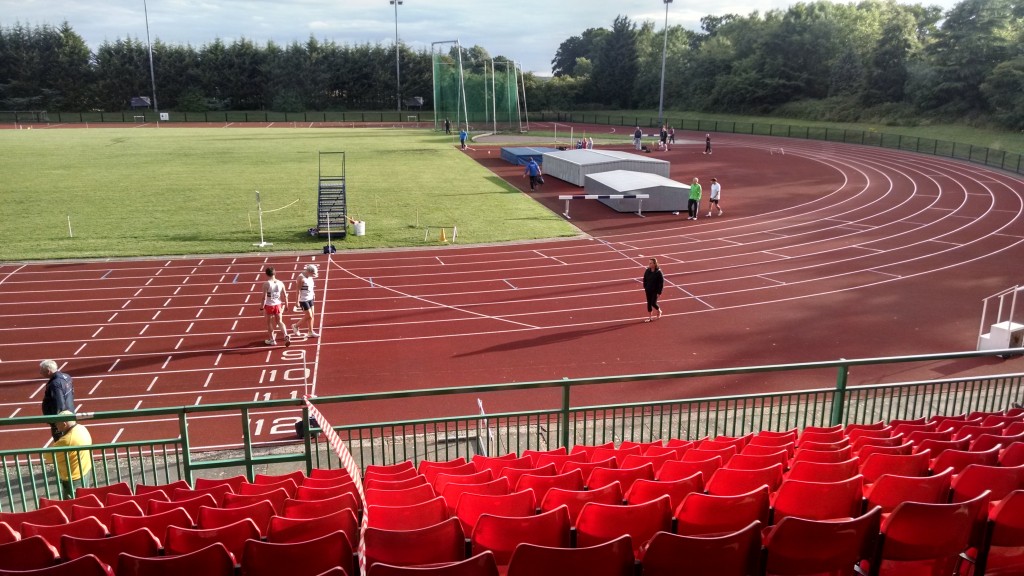 The results weren't all confusing.  The jump and throw events had results sheets which listed the name of each person and also their position and distances/heights.  They hadn't recorded any no-scorers and these sheets were super easy to follow.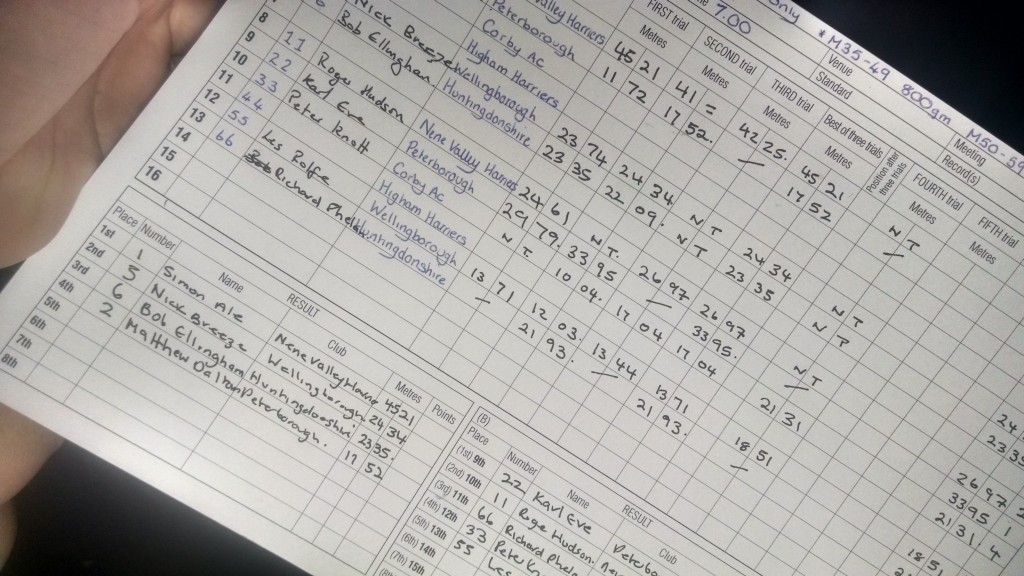 I would help out again, but having done it once now and knowing the sort of problems I encountered, I would ensure that I had answers to all questions before being left alone in the box with no outside help!
Have you ever taken part in any track or field events?
Have you been part of a race which has had an alternative way of scoring/placing competitors?