Having just gone through the house move process Dan and I picked a fair few tips up when it came to getting super organised and making the moving process run as smoothly as possible. I pinned loads of ideas on my Pinterest boards but not all of them were relevant or particularly helpful.  I've put together some of the best tips I've come across here, adding some of our own into the mix as well.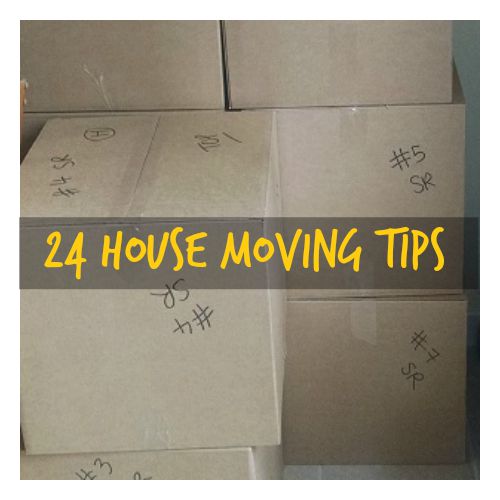 Pre-move:
We made sure to start packing early.  We have collected a lot of 'things' over five years of living in our old house and I really didn't want to leave it until the last minute to organise them all!  As soon as our house went on the market I started thinking about packing up our belongings and this took some of the stress out of the process, as I still had a lot of time to collect together items.
One of the first things I did was to pull all of my clothes out onto the lounge floor.  I made six piles – one of clothes that were good quality or had been expensive that I would try and sell on eBay, one of clothes that were still very good quality but that wouldn't go for huge amounts – these were put aside for a future car boot sale.  A third pile of clothes and smaller items that I took to the charity shop, a fourth pile was for clothes that had no life left in them so were destined for the clothing banks.  The fifth and sixth piles were for clothes I wanted to keep.  One pile of clothes that I would still be wearing before the move and the other with clothes that were out of season or I could live without for a few weeks, so could be packed up in suitcases there and then.
We found that clothes were much easier to carry and also to transport when they were placed in bin bags.  We ended up putting several bags of clothes into our cars as we had filled the moving van up.  We would not have been able to stack many boxes into our cars, but bags of clothes were easily moulded under seats and into weird positions.  We made sure to keep our rubbish bin bags black, and our bin bags for clothes white so that we didn't accidentally bin any bags of clothes!(Coats, not cats!)
As we took apart items of furniture we put all screws and fittings into freezer bags and made sure to label them with what they contained.  Some people suggested photographing how to put together tricky items, but most of our furniture is fairly easy to take apart and put back together again.
We picked up two sets of marker pens and packing tape.  You either end up losing a pen in the piles of packing or getting really frustrated when you get to the end of a roll of tape and hadn't thought to purchase another!
Dan's Dad is Managing Director of a plastics company, so was able to source us 100 boxes that the company uses for packaging parts.  They were all 50cm by 50cm so stacked perfectly on top of each other as our dining room slowly turned into a pile of boxes over a few months.  It made our game of Van Tetris much easier than it would otherwise have been when it came to loading the other week.  When I took my belongings to and from Uni I remember using boxes from the local ASDA to transport items back in my Dad's truck and it was a nightmare trying to wedge items together so that everything fit and that nothing would slip and break.
I studied lots of ways to label the boxes and the way that I found most efficient was to mark each box with a number.  Alongside this, I made sure to keep a notebook detailing what each box contained and which room it was to go in when we arrived.  I then wrote a box number, which room it was to go in and whether or not the items were fragile/heavy onto each box.  Each room had a code (a very basic one…K = Kitchen, SR = Spare Room!)  It was super easy to work out where our pillowcases were when we arrived!It's amazing how quickly a box begins to get heavy so we made sure to have a stack of cushions, towels and cuddly toys that needed to be packed to wrap around breakables and fill up some of the heavier boxes.
I transferred insurance onto the new property as soon as we knew the moving date.  I wasn't really sure how this worked going into the move but apparently from when contracts are exchanged you need to have insurance on the new property.  Your contents insurance remains on your current house until the day you move when it is also transferred across.
Because I was working on the day of the move I took the upstairs (smaller area) and Dan took the downstairs to clear the final items.  On my rounds I double checked drawers and behind radiators, and then got Dan to walk round and check the upstairs once I had finished.  I've heard lots of stories about photos that have slipped down the back of radiators, or like Dan did, – an entire drawer of kitchen knives and utensils left in the old house! (Which I then ended up going over to collect after I'd finished work on that Monday.  Good job we only moved a few roads away!)
One of the best pieces of advice we received was to keep an open first-night box out during packing.  Our box contained deodorant, moving clothes, work clothes for the following day (as we were both working on the Tuesday), water bottles, contacts for me, two sets of cutlery, Bella's food/litter/toys, towels, soap, screwdrivers, a towel, etc… out so that we didn't have to trawl through loads of boxes to find the items we would be needing that evening when we first arrived.
I meal planned for the fortnight before we moved to try and eat through what was still in our cupboard and minimise how much of it we had to box up and move with us.  Some of our eat-up-the-cupboard meals were pretty random.  Rice with baked beans, a lump of sausage meat and a quarter of a pepper anyone?…!
Something we didn't do, but would have done had our fridge been arriving a little sooner to our move date was to place an order for a delivery food shop to arrive at our new property the day after we moved.  Who wants to go and traipse around the shelves in Tesco when you're already knackered with so much left to do back at your new home?!
We wrapped cling film around everything we could!  Why spend ages repackaging something that is already all together?!
During the move:
Dan and I had paced out beforehand the size of the van alongside the ever growing pile of boxes in our dining room.  When we loaded the van up the day before the move our bigger items went down one side of the van (like sofas, tables, washing machine…) and then our boxes could stack alongside these, as we had made ourselves very aware just how much space was going to be in the van.
I wrote a two page essay(!) letting the new owner of our house know about bin days, utility providers, paperwork for fixtures (like the boiler), items that we left and where they were (for example, we left the moving tools for our woodburner in the shed and the shower screen for the bath which we had never attached).  I also marked out which keys were for which doors and left a gift of a box of chocolates on the side.  I had planned to leave something homebaked, but there was no time for that in the end!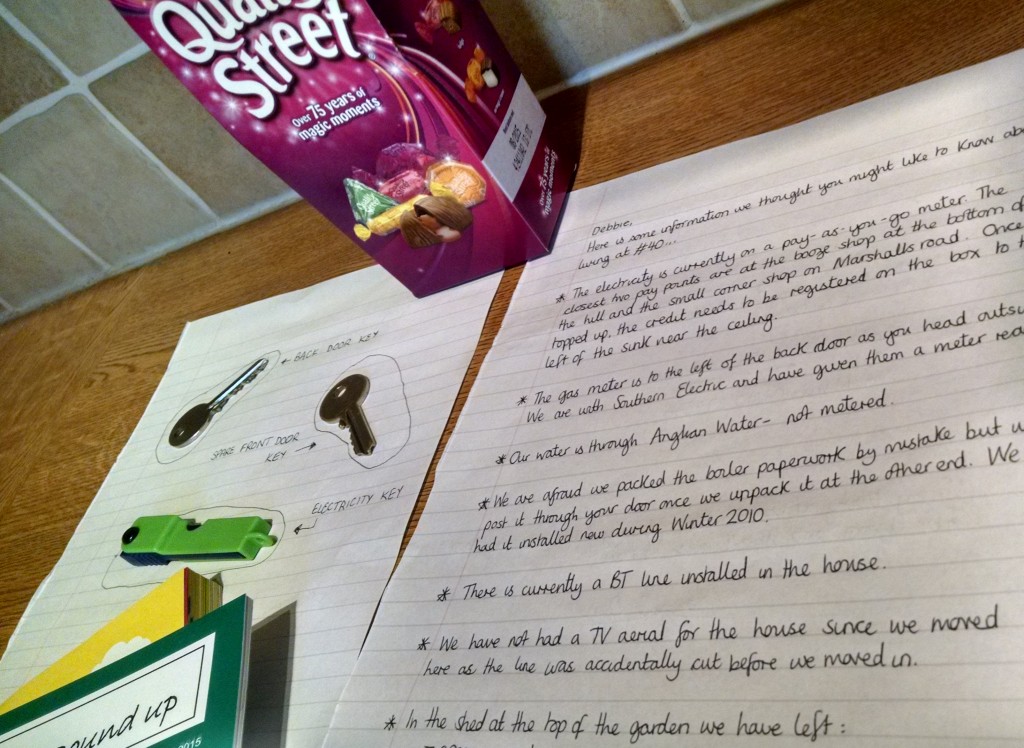 The absolute last thing that was packed was Bella.  She was also the first thing to be unpacked.  Dan shut Bella in the bedroom of our old house on moving day, and left her until he got the call to say that we could exchange keys.  When he arrived at the new house he placed her travel cage on the floor of our new bedroom and left her shut in there to acclimatise to her new surroundings.  We chose our new bedroom to shut her in as it is front facing so it meant that she would be able to hear and see us coming and going with boxes from the car.  She was very unsettled with the move and when I arrived home from work she was still cowering in her travel cage on the floor of the bedroom so I made sure to spend a lot of time with her and give her lots of cuddles.  She's much more settled now and has discovered all the nooks and crannies in the house already!
Along with Bella, a bucket of cleaning items was also one of the last things to be packed. Not only did we scrub our old house from top to bottom, but we did the same at our new house as well!
I made sure to take utility provider contact details for water, electricity and gas for both properties before our internet was cut off (we were more than two weeks in our new house before we were reconnected!) and I used my phone to take photos of all meter readings before leaving the house the morning of the move.  I made sure to do the same when we arrived at the new house as well.  Although randomly, that afternoon a guy from Anglian Water came to read our meter so that was one we didn't forget!
Post-move:
We knew all along that putting together the bed would be one of the highest priorities on our list when we first arrived.  We had no idea how long we would last before flaking out.  Putting screws (correctly) in a bed and finding the sheets aren't very fun activities when you're exhausted!We were both knackered the first days after the move and Dan managed to carefully screw all legs onto this little table before realising that they should have gone on the outside, not the inside of the framework!  Definitely allow time for error!
For months Dan had been planning our first meal.  We hardly ever order takeaway but moving house seems to be the ultimate time to do so and Dan was very excited about ordering from Domino's Pizza!  There isn't a Domino's in our town but there is on the way to the yard where we rented the van from.  We had a vision of sitting on boxes and eating our takeaway before unpacking.  I'm not sure why this is always the image you see in films when people move…We sat on our sofa with the takeaway!
Dan and I each chose a soft sports drink bottle to keep out with us for the move.  When we were in the new house we made sure to always place it down in the same location.  It was easy for things to get lost on move day, so always putting them in the same place helped us to know where to find them when we were gasping.  Moving is thirsty work!
I made sure to check that all lights and hot water were working in the new house early on whilst it was still daylight.  We've moved from a house with a combi-boiler to one without and it has taken a bit of getting used to.  It was handy to know that when it was still dark outside the following morning I would be able to have a warm shower and find the lightswitches to be able to navigate my way around the house before work.
Because I couldn't be there for the move itself, I enlisted the help of my brother.  Dan also enlisted the help of my friend's husband and between the three of them they had completed the majority of the move by the time I returned home from work.  At lunchtime Dan nipped to our local bakery to buy sandwiches and cakes for the three of them and when I arrived to our new home that evening I served up some squash and chocolate cake my Mum had sent up with my brother.  Fully fed workers are much more willing to help! 😛
I was very glad that I had learnt our new address and postcode off by heart.  I had to relay it to so many people over the few days following the move and it helps to get it right! 😛
Any important tips I've missed?