I knew I hadn't done as much training going into the Grim Reaper 70 this year as I had last.  I mentioned last week that although I didn't have as many long run miles in my legs this time I felt more confident mentally than I had last year.  I had already run 70 miles before, so it didn't seem quite such a long way.  (It's all relative.  To lots of people 5k doesn't feel like a long way now, yet it would have felt much further to them before they had run it for the first time.)
Just like last year I headed down to camp the night before.  This time with Gary and Ian.  Gary was also running the 70 miles and Ian the 40 mile distance.  Neither of them had run the event before, so after a dinner of a sausage bagel for me we wrapped up warm and headed out for a walk along the start of the course so I could show them which way the route took us.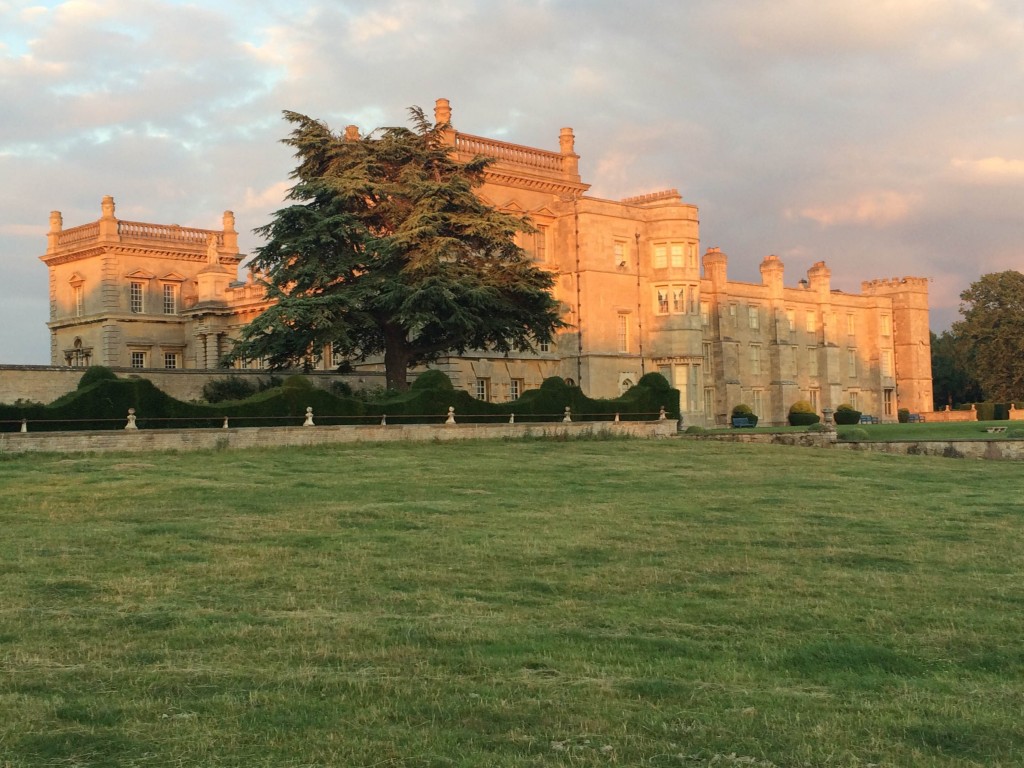 The sun was going down as we walked out onto the course and we were treated to a beautiful view over the lake.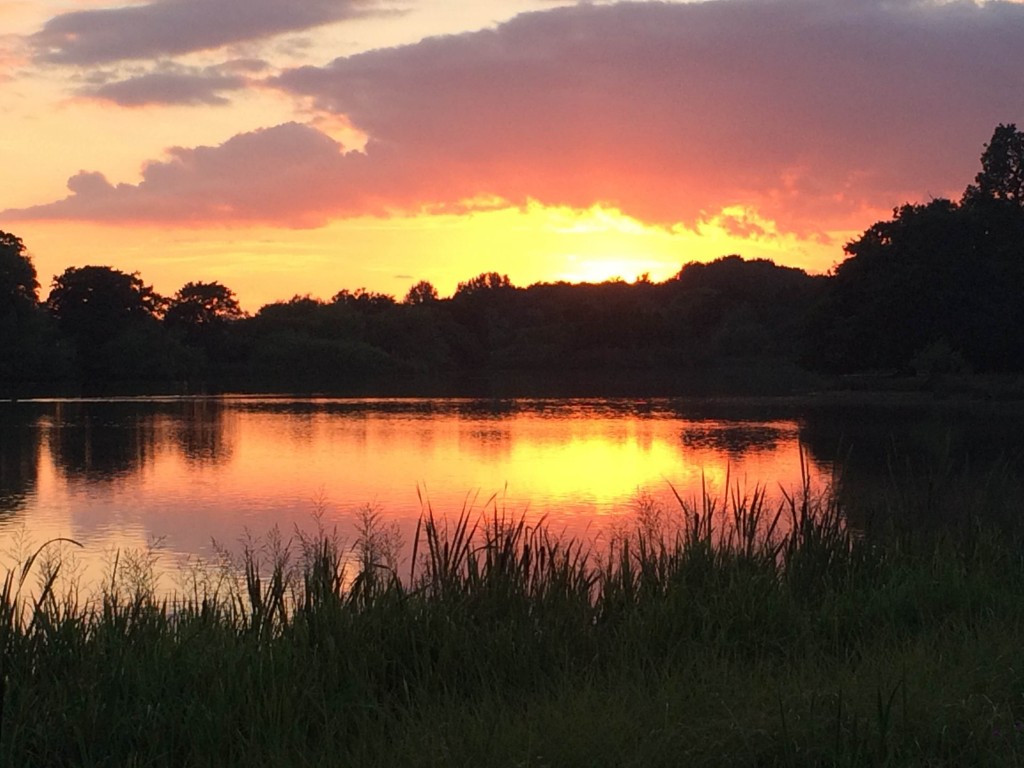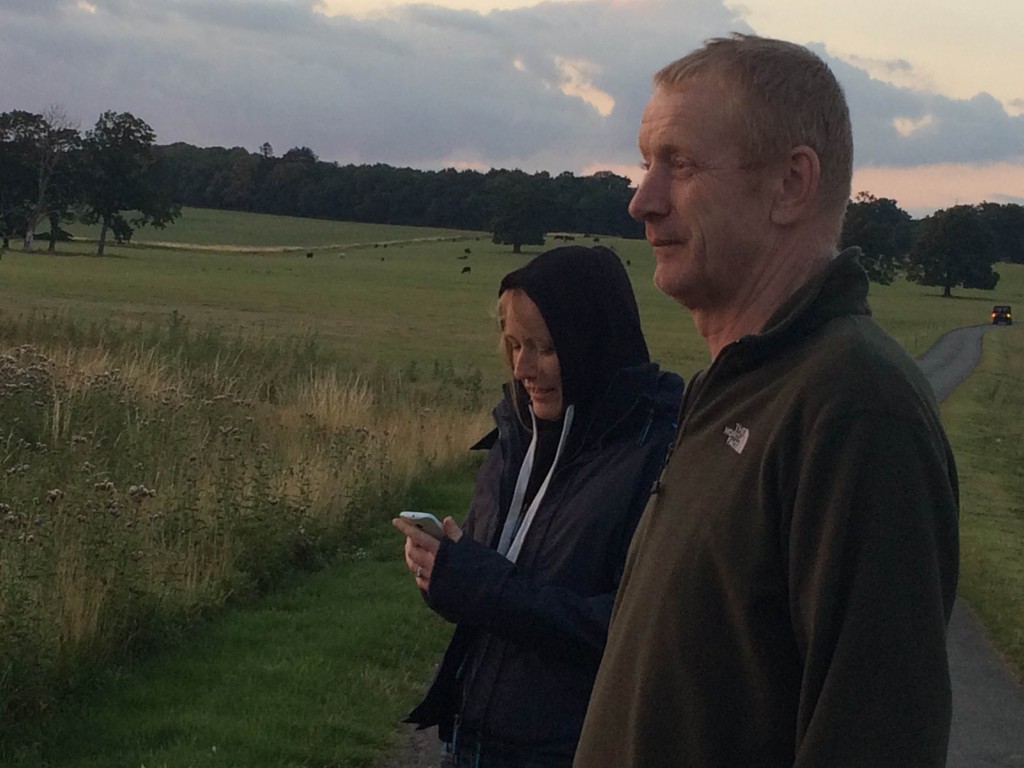 It was so, so very cold though.  I wore three t-shirts, a hoodie and my coat for the walk and when we returned to the campsite I had to keep standing up and pacing because of how cold it had gotten.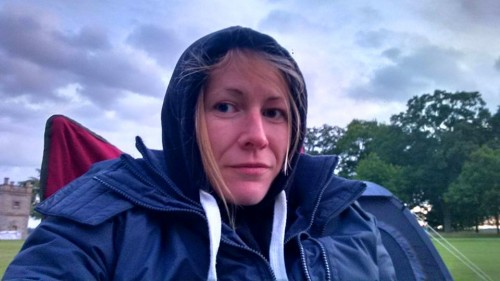 We were told in the morning that it had gone down to somewhere between 4-6 degrees overnight.  We had headed to bed somewhere in the region of 10:30pm but I had remained fully clothed and really wrapped myself up inside my sleeping bag, wishing I'd had the sense to bring a couple of extra warm blankets as well.  I fell asleep fairly quickly but had woken by 2:30am and struggled to get back into a proper sleep again, finally dozing off until about 6:15am.
I was not ready to remove any layers when I woke though.  Gary and Ian wandered over with me to the patch of field where the sunlight had hit first to help in my efforts to warm up.  Although the sky was completely clear in the morning, – a beautiful blue -we could tell that it was going to turn into a hot day, – it just wasn't there yet.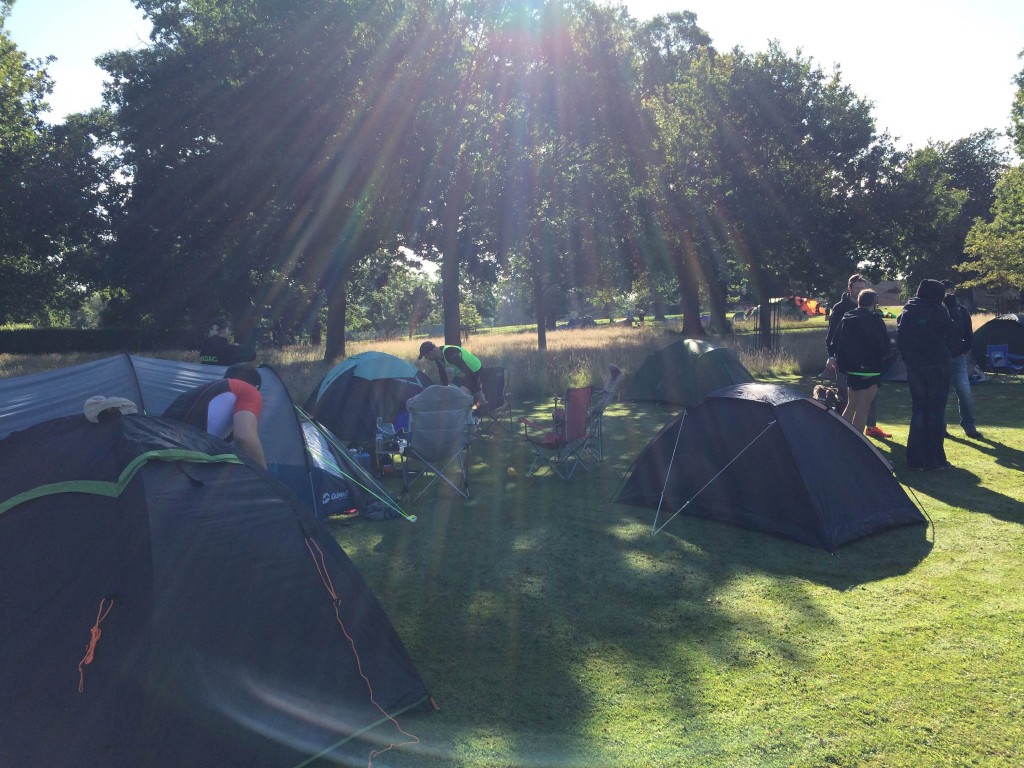 I was really thankful of the hot chocolate Gary provided me with to warm me up from the inside!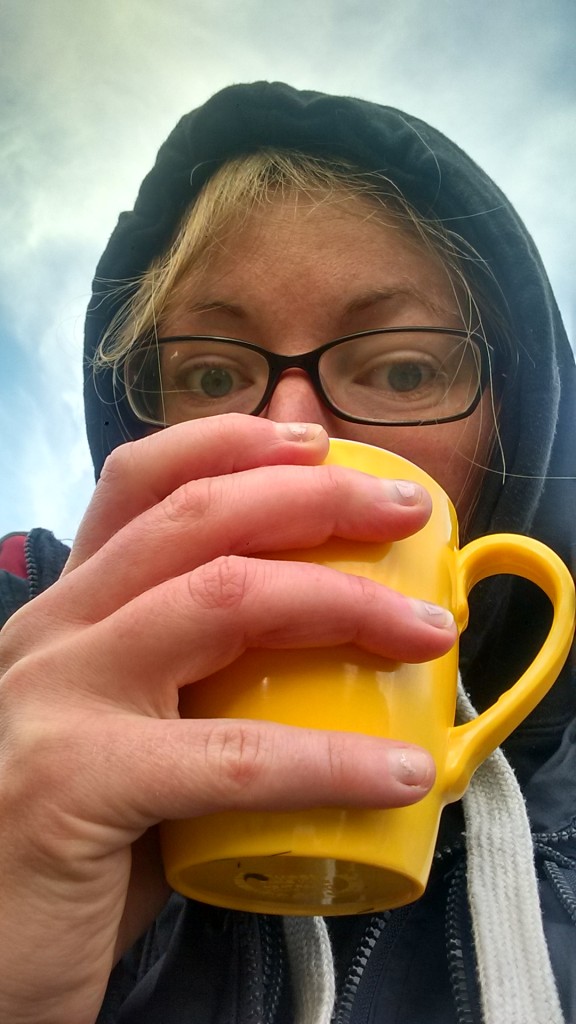 Soon the other guys from our club began to arrive.  Nick, Craig, Kev and his wife Julie were running the 40 and Amos was running the 70 along with Gary and I.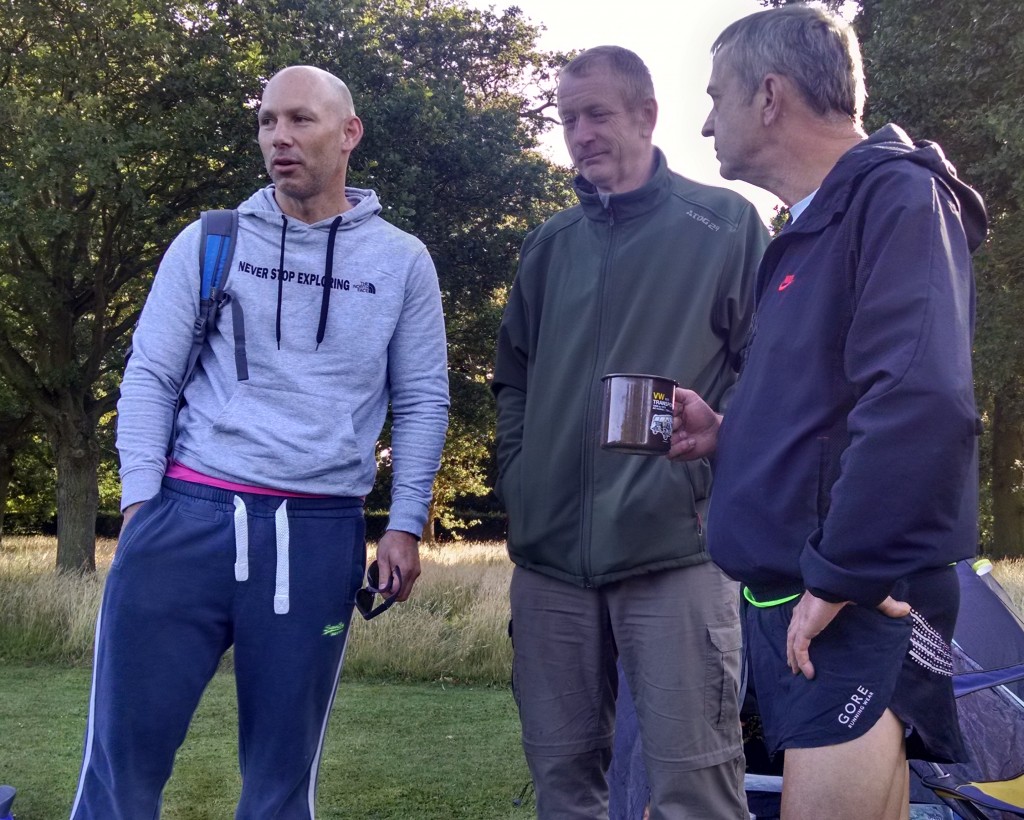 I wasn't very hungry but force fed myself another sausage bagel and saved getting ready until the very last minute – still not having warmed up in the cold of the morning.  The race began at 9:30, so I intended on dragging my kit bag over to the toilet block for about 9am to change into my shorts and club vest.  One of the race crew came round all the tents to inform us a few minutes beforehand that briefing would be at 9am.  All of a sudden I was running out of time!  In the end, I skipped briefing, asking the others to fill me in on anything I missed and headed to the toilet block to get changed, shivering as I stripped off my many layers and brushed my teeth.  Once walking back in the sun though I began to warm up almost immediately.  The weather went from ridiculously cold to boiling hot within a matter of minutes.  Of course it did.  It was race day!
Time for a few quick group shots…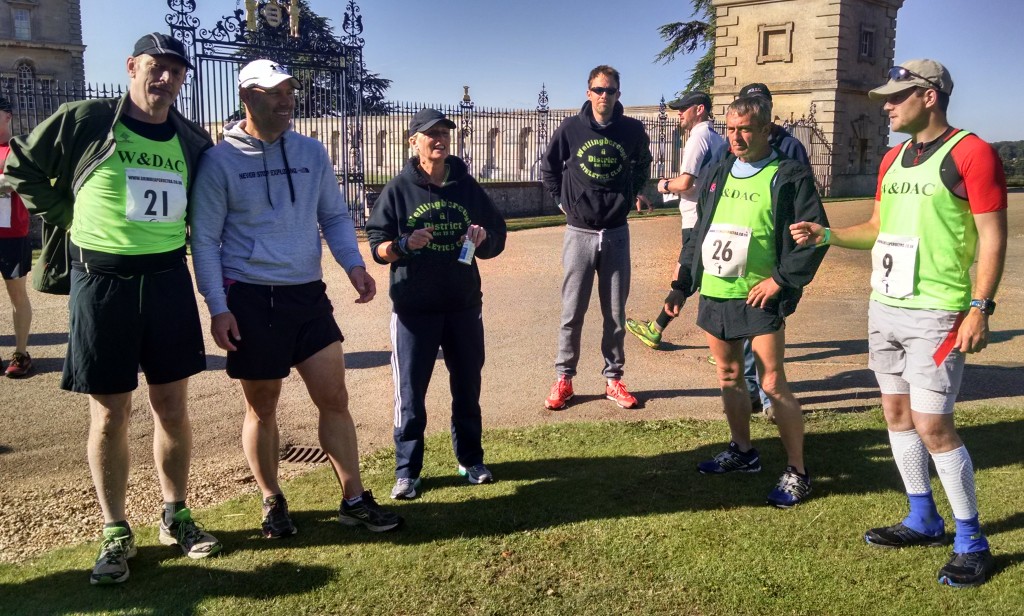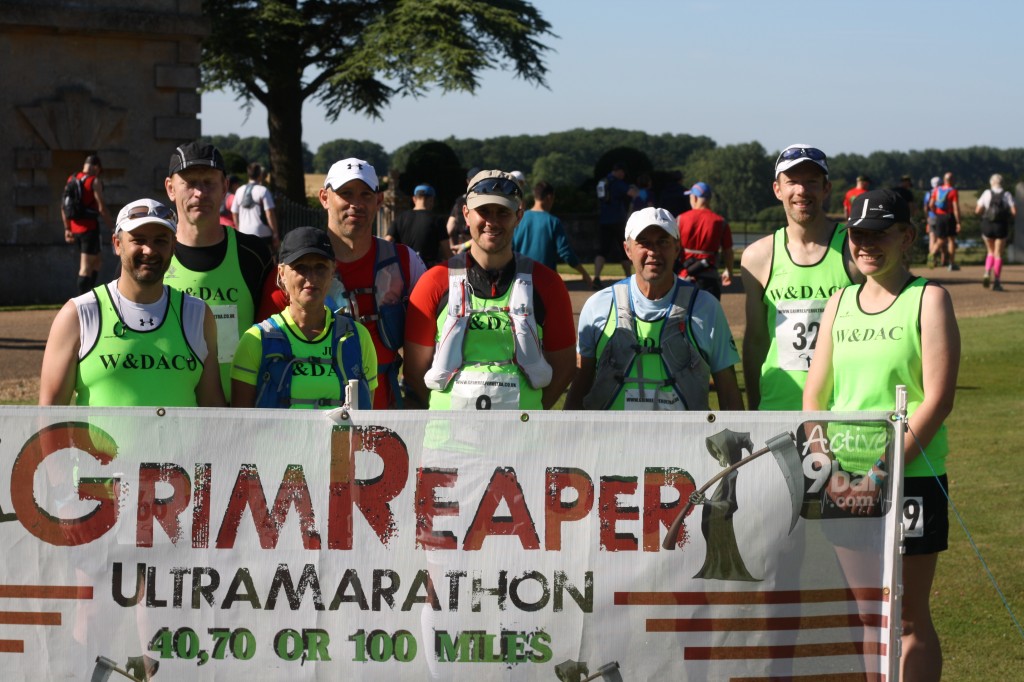 …before making our way to the start line.  Amos turned to me and said "Aren't you taking any fluid with you on the first lap Mary?"  I suddenly realised in all the rush of getting ready I'd forgotten to pick up my water bottle so legged it back to the campsite to collect it in time.  Panic on for a minute there but I arrived back before the gun went.
I glanced down to check how many steps I'd already covered that morning by 9:25am…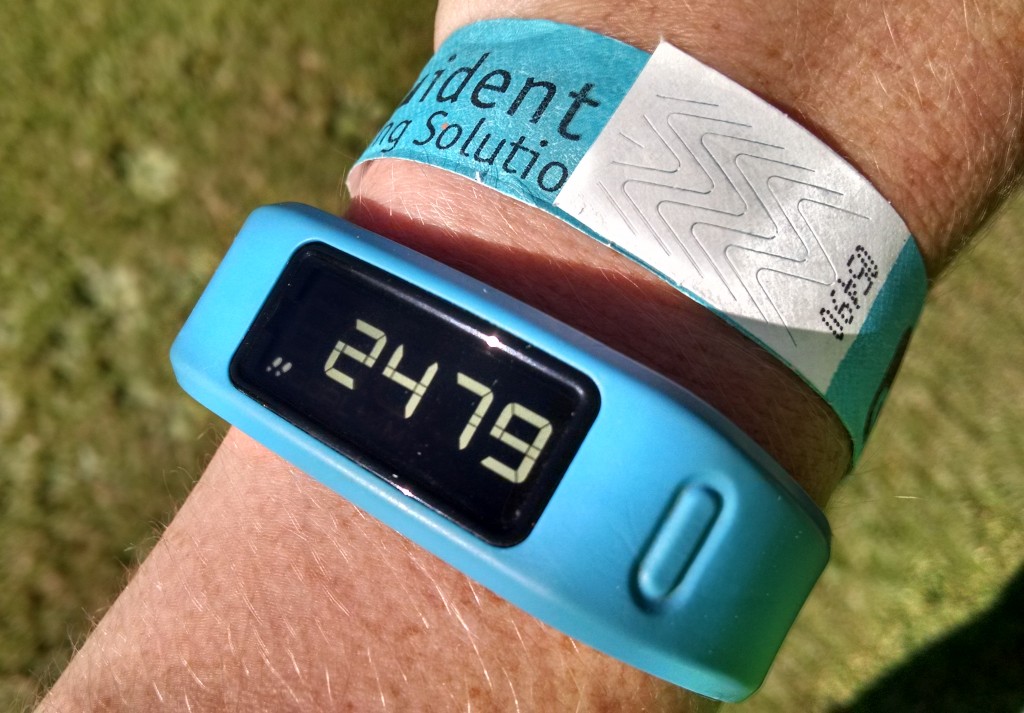 …this was just two trips to the toilet block and a run back for my water bottle.  I had no doubt that I would smash the 99,999 steps that the display can show and wondered briefly what would happen when I went into the hundred thousands!
And then we begun.  Last year I remember it feeling like people had set off really slowly.  This year it was the opposite and I felt like people were rushing by from the beginning.  I had the same rough plan in my head as from last year – running at 12mm pace and walking at 15mm pace for as much of the 70 miles as I could maintain, spending limited time at the campsite in-between laps and always moving when out on the course.
The first ten miles flew by in 2:02:51 …just 60 to go.  Now, 60 sounded like a long way!
I popped into the tent to glug back some chocolate milk, grab a slice of pizza, an orange and a nakd bar, top up my water bottle and be back out on my way again.  No problems here and I was in and out very quickly.
About half a mile down the road my club vest began to rub under my left arm.  It sometimes rubs on a hot day if I'm sweating excessively.  I didn't expect to be sweating as much as I was so early on but the sun was out full blast now and the sweat was pouring off me.  I noticed that I had started to form a white salt line on my arms.  Not a good sign and I made sure to quickly munch through my food sooner than I probably would otherwise have done, washing it back with water made up with lemonade nuun.
Having a previous knowledge of the course, I was running all the flat and downhills and power-walking the uphills.  Both laps one and two had passed by quicker than I had run them last year.  I was very conscious that last year I had wound up mentally exhausted from staying awake for more than 26 hours, coming in at 21:56:31.  This year my main focus for getting back was so that I could return to sleep quicker!  Especially having had such a poor night's sleep the night before.
About half a mile from the campsite on lap two I looked over my shoulder to see Nick catching up with me – having nearly completed 30 miles to my 20.  He gasped that he was knackered (or words to that effect!) as he passed and that he had really begun to struggle now due to the heat.  I shouted some words of encouragement as he passed and assumed I wouldn't see him again.  I was wrong and as I came through the campsite at the end of lap two (2:12:55) Nick was doubled over by a tree really not looking very well.
Gary's wife, children and another runner from club were all at the campsite when I came through this time.  It was nice to see some friendly faces although I still didn't plan on hanging about and quickly grabbed the same foods as before, changed into a baggy running t-shirt and made my way over to the ambulance where I planned on getting hold of some Vaseline.  As a runner I own several pots of Vaseline but could I find any before Grim?  Nope!  I didn't think I would need any with Grim being run much slower than most races, but I couldn't have been more wrong.  I politely asked if they had a dollop I could rub on the sore under my arm and both staff then disappeared into the back of their van hunting around for some.  I resisted the urge to look at my watch, knowing that I was on the clock!  Eventually one of them returned with a small tub.  I asked if I was OK to dip my finger in.  Usually at races you are given out blobs by the ambulance staff on a sanitary plastic glove but this wasn't offered here.  I rubbed some under my arm and passed back the pot although was then told that they wouldn't be able to use it again (I had tried to let them give me some rather than for me to dip my finger in!) so I pocketed it, thanked them and headed back out onto lap three.  I did hope no other runners needed any Vaseline for the remainder of the race as I wasn't sure that they had any more to give out!  I was thankful I'd pocketed the pot much later on in the race though when I really did need it.
I set out to start my third lap and passed Nick again on the verge as he was violently being sick.  I really didn't know what to do or say.  I asked if I could get him anything – we were still very close to the campsite by this point – but he shook his head.  I'm sure he didn't want me standing there but at the same time I wasn't comfortable leaving him.  After a few minutes he said he was feeling much better and went zooming off ahead though – eventually coming through in second place in 6:28:43, twenty minutes ahead of Craig, who took third place.
Just 50 miles to go.  I was still covering ground strongly but this somehow felt even further than knowing there had been 60 miles to go before completing the previous lap!  I think 50 miles is such a landmark distance, and I had attempted it a couple of times before conquering that milestone last year.
As I ran down the slight hill away from the castle and the campsite I was munching away on my pizza, with an orange in the other hand and nakd bar tucked into my belt.  I amused myself by wondering what an outsider would think if they looked in to catch a glimpse of me letting my legs glide down the hill whilst tucking into the pizza slice and knew that when I first started running I would never have imagined I would have been able to run at that speed 20 miles into a race whilst eating pizza!
This lap it really started to heat up.  It had been hot before but now the sun was almost unbearable in places.  I was very glad of the suncream I'd lathered on that morning and began to think about rationing out my drink for the laps.  I never ran short but started to drink more back at the campsite before setting off each time instead from this point onwards.
Marathon distance complete!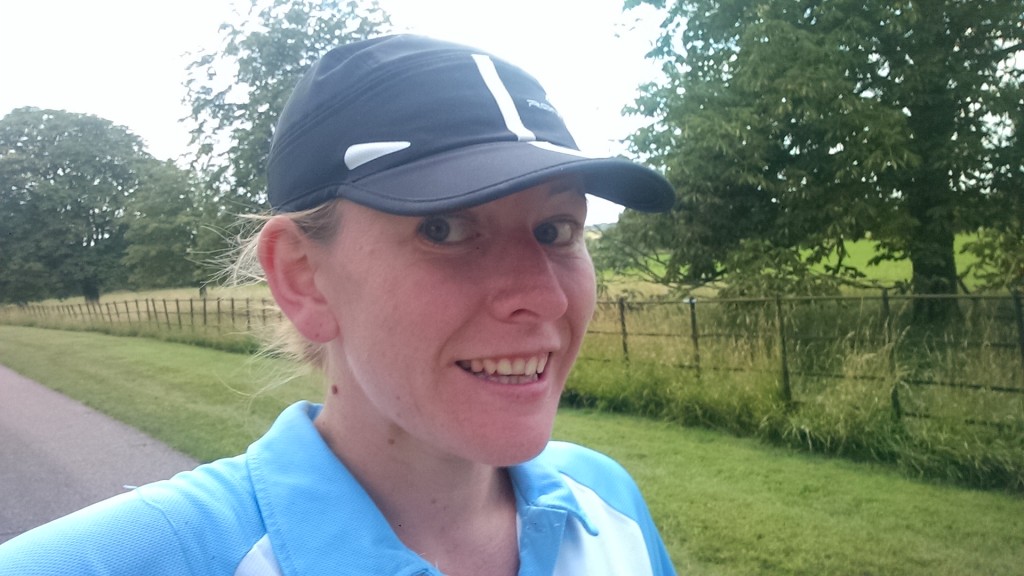 Last year I had chatted to runners all the way round the course but the field was much thinner this year – most likely a result of the later point the race had opened up to entries.  I exchanged a few words with a handful of runners as they passed or as I passed them, but don't remember really having a conversation with anybody out there this year.
Craig passed me with less than a mile to go to the finish for him and as I was about to complete my 30 miles.  At this point I really noticed just how much stronger I have become this year – being able to run for long bursts of several miles at a time before walking any hills I came to.  This was right through to the end of the 70 miles.  Previously during ultras I've let my legs run away with me on large portions of flat course and ended up getting faster and faster until I cannot maintain it and then being forced into taking a walking break but I really felt like I was in control the whole way round on Friday, which was a fantastic feeling.
Lap 3 completed in 2:24:28.
I headed over to the toilet block on returning to the campsite.  The toilets were a long way away, but it was a nice distraction from the race.  Without going into too much detail I realised that I was bleeding, with no reason to be.  At Milton Keynes Marathon earlier in the year I had pushed it quite hard and something similar had happened but I hadn't really felt like I had been pushing overly hard so far during Grim and I was a little worried.  I did a mental body check – other than my belly and breasts feeling a little tender from running for so long I felt OK so for the time being pushed it to the back of my mind and vowed to do another mental check at mile 50 to see how I was holding up then.  The thought of potentially having to pull from the race crossed my mind – I wouldn't be silly or stubborn about finishing, I'd already ticked 70 miles off from my bucket list.  In an ideal world I would like to complete, but if I had to pull, I would be sensible about it.
I purposefully pulled it back a bit on lap four and it was at this point that I rang Dan with my wish list for when he came to see me after work at mile 40.  My wishlist contained chocolate milk and a sponge for dabbing my face with!  I still felt very comfortable out there and definitely not like I had run 40 miles by the time I came back through to dib in at the campsite 2 hours 34 minutes and 21 seconds later.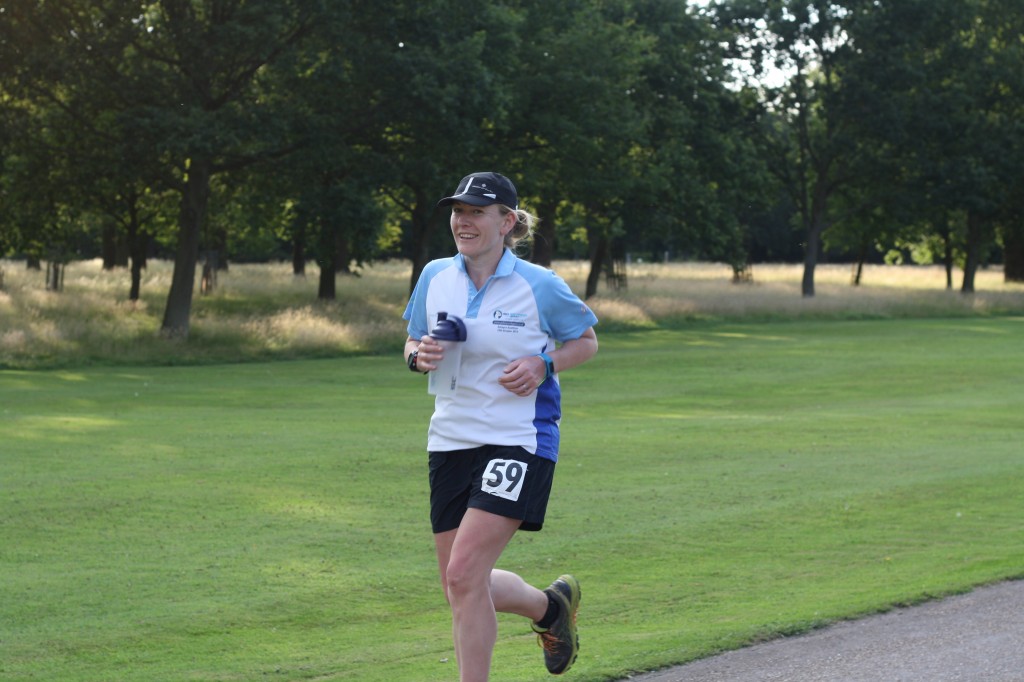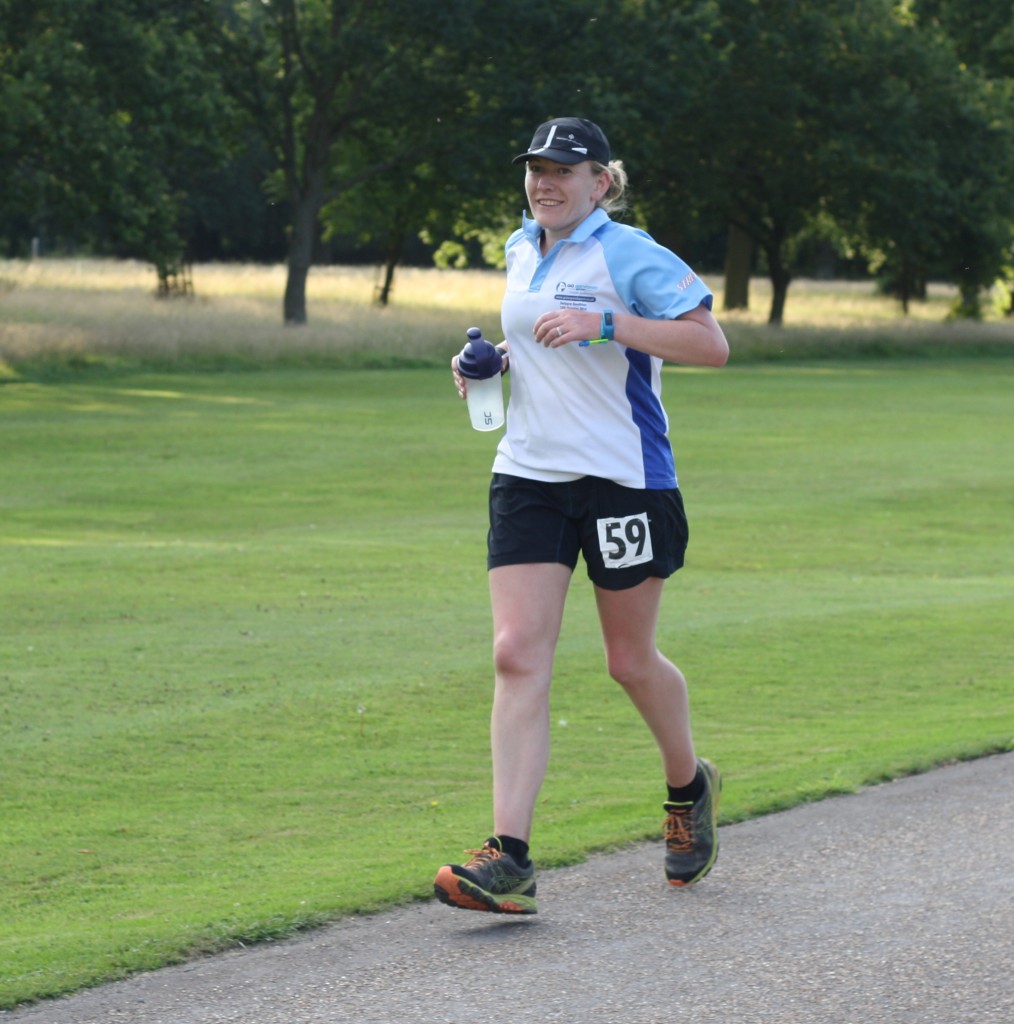 You can see how much my body has begun to tire here though – my running style really doesn't look that comfortable at all.  No wonder I always end up needing a shoulder massage at the end of a race!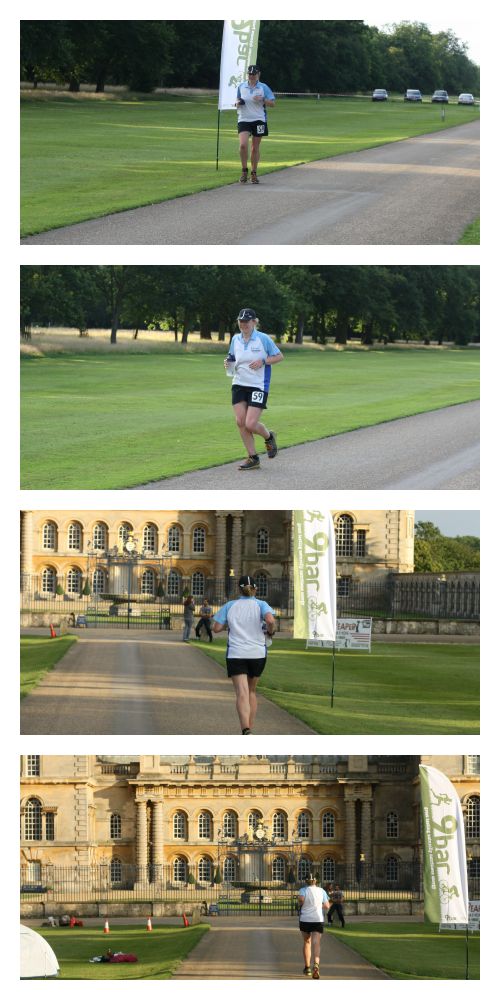 There was quite a crowd at the campsite when I ran in at mile 40.  Nick, Craig and Ian had all finished their races by now, Gary's wife and three children were still there, Julie had unfortunately had to drop at mile 20 due to injury, Dan had arrived and so had Tracey, who had run the 40 miles representing our club both last year and in 2013.  I allowed myself a few minutes to sit for the first time at this point and was quickly filled in on how everybody else was getting on.  Whilst I sat, Kev came past our campsite headed to the finish line.  With another 100 mile race booked in for him this coming weekend he was just after the medal at Grim this year and jogged through the finish to pick one up.  Gary also came through to complete his mile 50 as I was setting back out to begin my fifth lap.
Miles 40-70 to follow…