Click here >> if you missed my recap of miles 1-40 from the Grim Reaper 70m ultra. <<
Before heading out for the last thirty miles of the race I decided to swap my shoes.  It was hot out there, my feet had swollen slightly in the heat and so I decided to put a much older and more worn (therefore more roomy inside) pair of Asics on for the last section of the race.
I headed out, fancying a change in food so just took a bag of pretzels with me this time, conscious that Gary would soon be lapping me.  When he didn't immediately come past I assumed that he had stayed longer to stock up back at the campsite.  Upon turning though, I could see him heading towards me down the hill in the distance.  Something odd happened on this lap.  My legs became strong and my mind kicked in to keep going at all times.
Just a marathon distance to go!
Gary didn't catch me up for another 6 miles and we ran together for a little way before he decided to push on ahead.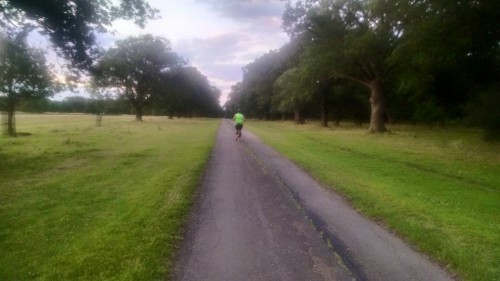 I was at 47 miles by now.  Nearly that elusive 50 mile point.  I had promised to phone my Mum at some point in the race and as I was still feeling strong I decided to give her a quick call at this point to check in.  Last year I had rung her a couple of times and had taken long walking breaks where I needed a voice on the end of the line to keep me going.  I'm afraid I didn't speak to her for long at all this year, – being on the phone was disrupting my running!  I realised just how light it still was when I got off the phone.  Last year, I can remember receiving a text late in the night from Dan congratulating me on getting to the 50 mile point and letting me know that he had 'stayed up to ensure I had gotten through the first 50 miles, but that he was now off to bed'.  This year I was still running with no need yet for a torch.  I knew I was well ahead of the previous year, but wasn't really sure by how much.
Lap 5 time: 2:30:56
As I came in to the campsite Ian was the only one there, having finished the 40 mile event several hours earlier, and all family and other friend support having now left for tea and bed.  I sat down for a few minutes before deciding to go to the toilet and get changed into something warmer.  I wasn't really cold at this point but I knew there was a strong possibility that the wind would pick up and it would be cold during the night, especially in the wooded section of the course.  By the time I had stood up from my chair though I had started to chill and so quickly made my way over to the toilet block where I changed into a long sleeved training t-shirt with my short sleeved polo back over the top.  It was quite an effort to change in the cubicles and I couldn't help but let out a few whimpers as my legs wouldn't go where I wanted them to.  I wasn't in pain – just mildly uncomfortable and frustrated at not being able to control my body!  Some kind woman said "I know it's probably a silly question, but are you okay in there?"  I told her that I was fine, that my legs wouldn't co-operate and I was just being a wimp!  My earlier concern had vanished by this point.  Slowing the pace and the cooler temperatures had helped me to stop pushing myself so hard and I felt relieved that there was no more blood.
When I returned to the campsite I knew I needed to grab some food and head straight back out again.  As I was rummaging around my tent, filling a bag with a bagel and several bourbon biscuits I began shaking uncontrollably and I think I left Ian rather concerned.  He filled my water bottle for me, reminding me that it wasn't all about finishing times in a race.  I had checked my blog whilst heading to the toilet and taken a screenshot of my lap and pitstop times for the race from the previous year, working out that I needed to be finishing before 5:30am to achieve a new PB.  For the first time in the race I felt a little pressured.  I knew how draining my final lap had been last year and how I had nearly had to walk all of the way, yet to finish by 5:30am this time I wouldn't be able to do that and I had no idea how tough I was going to find it later on in the race.  There was another 20 miles to go yet!
I rang Dan at the first hill on the sixth lap, confused about my times.  He reeled off some of my splits from the online tracker so far, confusing me even further.  Dan seemed to think that my finish time would be 18:xx:xx but having initially said it would be 16:xx:xx and me telling him there was no chance, his quick recalculations didn't fill me with confidence and I was convinced that he had worked it out wrongly again.  He told me my current position in the 70 miles and that I was in 4th female position at the moment.  I asked how far ahead the lady in 3rd place was and he told me about 50 minutes, so I quickly resigned myself to staying in a similar finishing position right until the end of the race.  Dan also told me that he would like to come and see me finish the course and so asked me to predict times of the final two laps.  I estimated another 2hours 30mins for the current lap (having already run 3 miles) and 3hours for the final lap, knowing how tough it had been last year.  He decided that he would aim to arrive to see me at around 4:30am.  I didn't genuinely think I would be back before this time but I would prefer to tell Dan to arrive too early than too late and to have him drive all that way to see me asleep back in the tent already finished!
I surprised myself by hitting my first target time though and made it back to the campsite completing lap 6 in 2:56:16.  The campsite was quiet now and I knew both Ian and Gary would be asleep.  I really just wanted to stretch out and all I had been thinking about during the final mile was if the race organisers would let me lie out on their massage table for a few minutes before heading out on my final lap.  They would, they did, and it felt good.  The guys in the tent were really good to me.  Very chatty and it was great to talk to someone about running 70 miles who didn't think I was weird for running 70 miles.  I gave myself 5 minutes before thanking the team and wishing good luck to the guys running 100 miles who were also taking a quick rest and hot drink before heading out for their next laps.  I threw on a third t-shirt to keep warm incase I ended up slowing down, topped my bag back up with some more biscuits and slices of pizza and Gary emerged partly from his tent.  He hadn't been able to sleep and we chatted briefly.  Gary had come in third, and second male runner in the 70 mile race.  Our club were really ticking off some good placed finishes!
I should have stopped to go to the toilet on this lap but was anxious to get off again.  Although I was drinking much less than during earlier laps, I was wasn't sweating anywhere near as much as I had been in the heat of the day.  I figured, there were always bushes along the route and it was the middle of the night now with a lot less runners out on the course able to stumble across me mid-visit!
Once again I was so surprised at how strong I felt starting out.  There is a nice slope downhill from the campsite for the first half mile or so and it really eases you into the start of each lap.  This lap though I continued running the hill back up again the other side as well.  Just one mile into my final lap and I passed a lady with a bright headtorch walking on the left-hand-side of the road.  I shouted out "Well done." as I passed and her response sounded like she was ready to finish now.  I asked her if she had many more laps to go and she replied with "Just one!"  She was walking quickly, but it was still a walk and on a flat section.  I was gliding past easily and I suddenly realised that she must have been the woman in 3rd position.  I wasn't entirely sure, as the lady in 5th could have overtaken me whilst I stopped to stretch out, but all of a sudden I had a new aim for the final lap – to stay in what could potentially be 3rd place.  I ran sections I probably wouldn't have run and was constantly working out figures in my head.  I realised that I had miscalculated earlier on and I didn't need to come in by 5:30am to PB, I actually needed to come in before 7:30am.  Even if I crawled the remainder of my final lap I should PB!  This gave me a burst of speed and I couldn't stop smiling.
I wasn't smiling for long though.  I really needed a wee by this point but I could see headtorches behind me.  If I ducked behind a bush would I be sacrificing my third lady position?  Two of the guys running the 100miles that I had seen in the organisers' tent ran past and I took my opportunity to duck behind a hedge.  When I ducked down I realised that my shorts had rubbed slightly and this was excruciating.  I genuinely thought that I would have to walk/hobble the rest of the way back but luckily remembered the Vaseline I had been given earlier, which was still in my back pocket.  I was limited to a (fast) hobble for maybe half a mile, but after that the pain subsided and I was able to pick up my run once more.  Nobody else overtook me the rest of the lap and I suddenly had a panic that I was going to arrive at the finish before Dan!  In my head I worked out that I was so close to finishing with a 3 hour PB and I wasn't intending on slowing down just so Dan could see me finish, but at the same time it would be a real shame for him to miss me.
I took advantage of the slight hill just before mile 9 on the course to pull out my phone as I slowed down and texted Dan to say that I was a mile away.  I received a reply almost immediately to say that he had just arrived.  I picked my pace up and ran and ran and ran!  As I came out into the clearing with just the long stretch towards the castle to go I saw a shape emerge from the shadows, heading back out onto the course.  It looked vaguely Dan-shaped but all I heard was "Well done!" and the person continued walking back along the course, before realising it was me and spinning back around to run alongside me.  It WAS Dan!  Upon speaking to him later in the day he had thought that the person he had seen running (Me!) had been running way too fast to have run 70 miles and most definitely was not me!  I chucked my bag of food and water bottle to the verge and gasped out that I had eight minutes to make a three hour PB.  He looked at me like I was crazy.  I only had the drive to the castle left to run but I really put my all into the final sprint.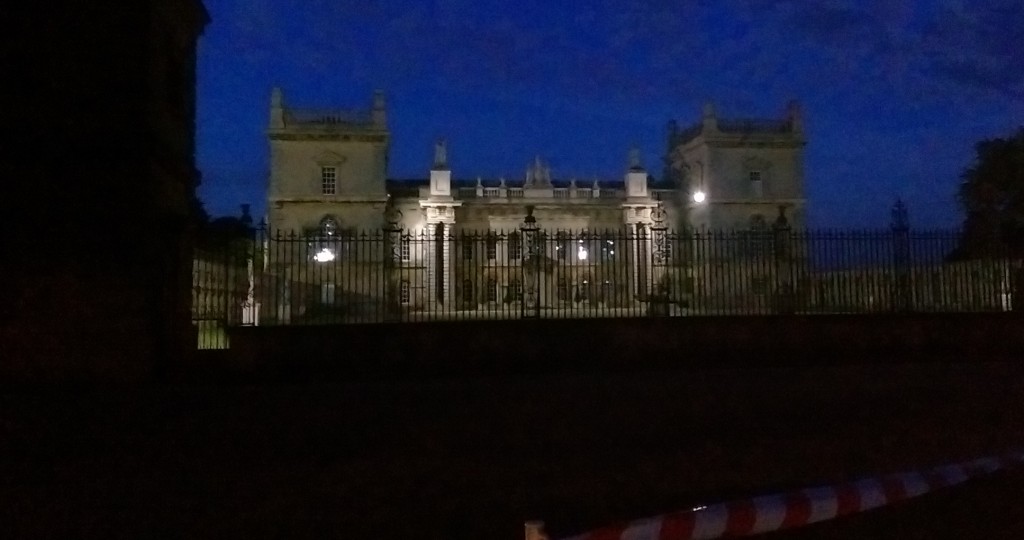 Dan actually couldn't keep up with me and I felt a little guilty leaving him behind but I had the biggest smile on my face coming into the finish.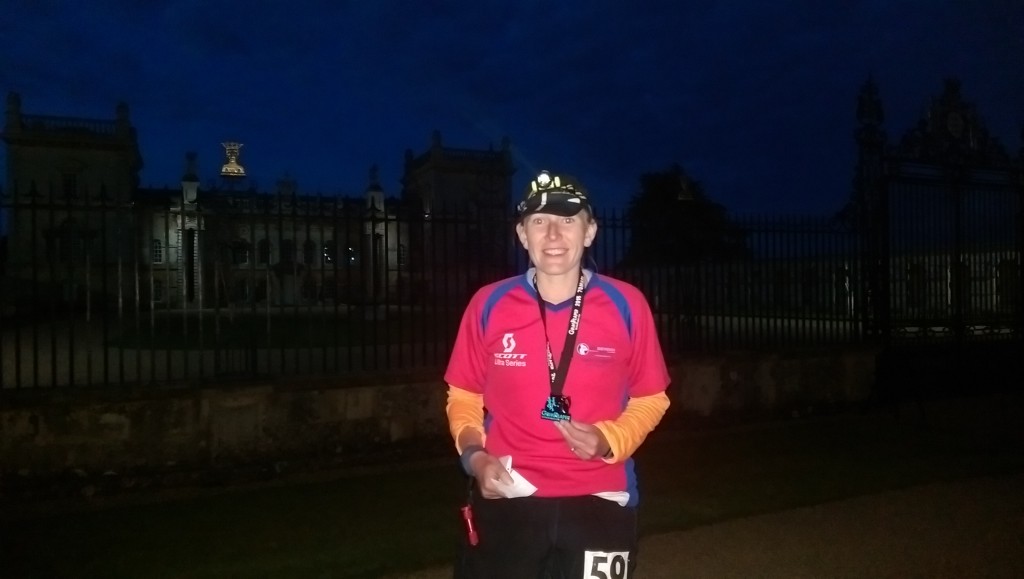 Final lap: 2:55:55.  Overall time: 18:49:15 – PB by 3 hours, 7 minutes and 16 seconds! 😀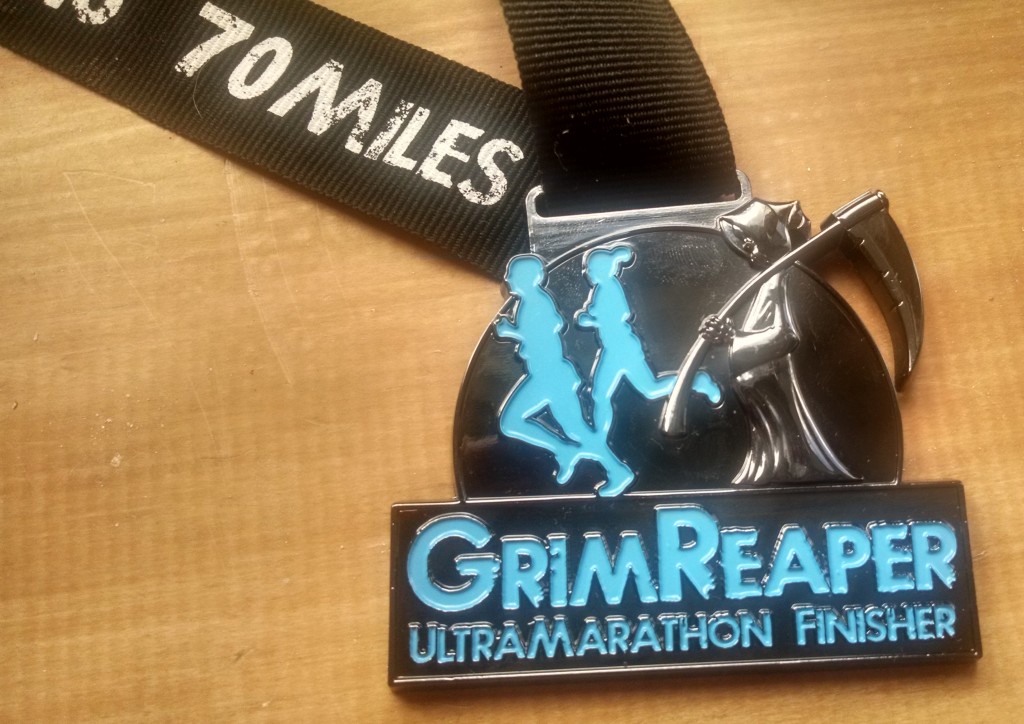 I claimed my medal and collected my print out, before asking if I could stretch out on the couch once more.  This time one of the organisers asked if I'd like to hear a story.  He told me a story all about how there once was a female runner, crazy enough to run long distances who had ran a very long way.  But then she finished and she was allowed to sleep!  It made me laugh!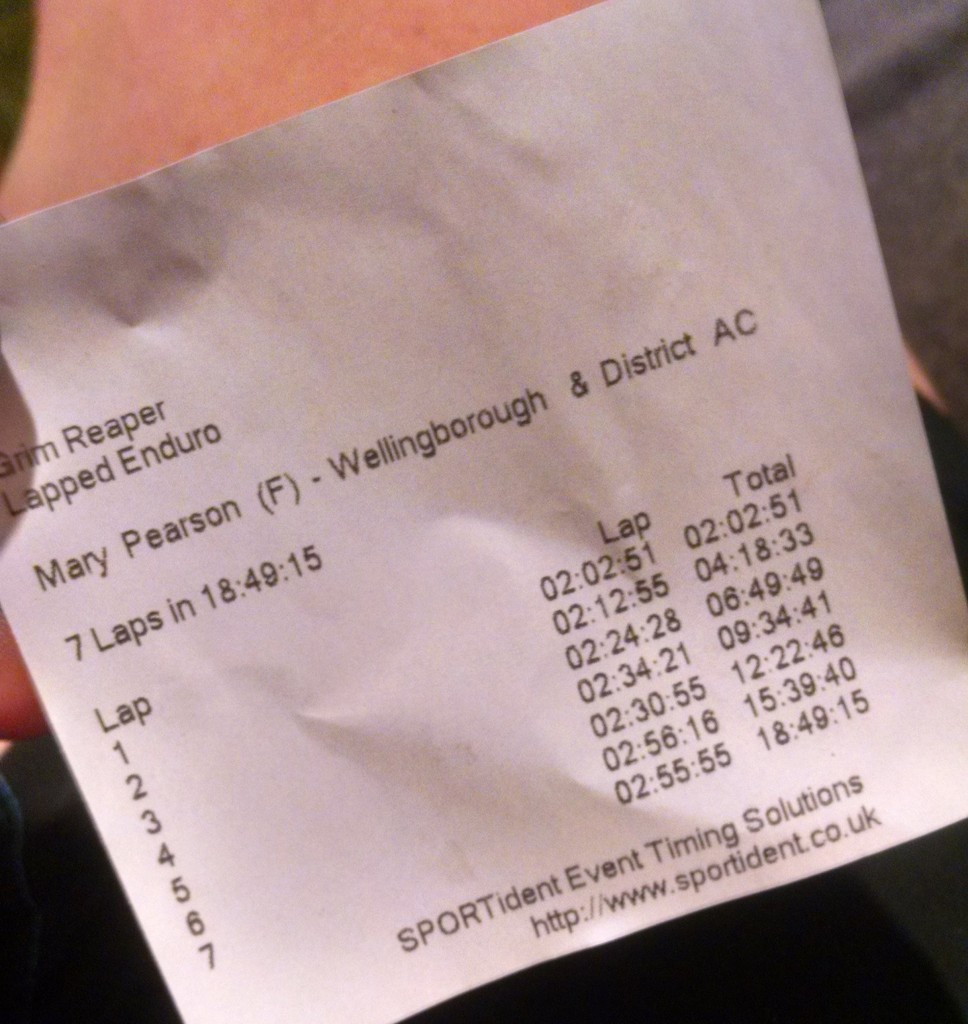 I glanced over the results screen to see that I had come in third female, and was in 11th place overall.  I animatedly chatted to Dan on the walk over to our tents, trying to keep my voice down, but Gary was still wide awake.  We decided to pack up camp and load the cars.  I sensibly drank the best part of a carton of chocolate milk.  Best recovery juice ever!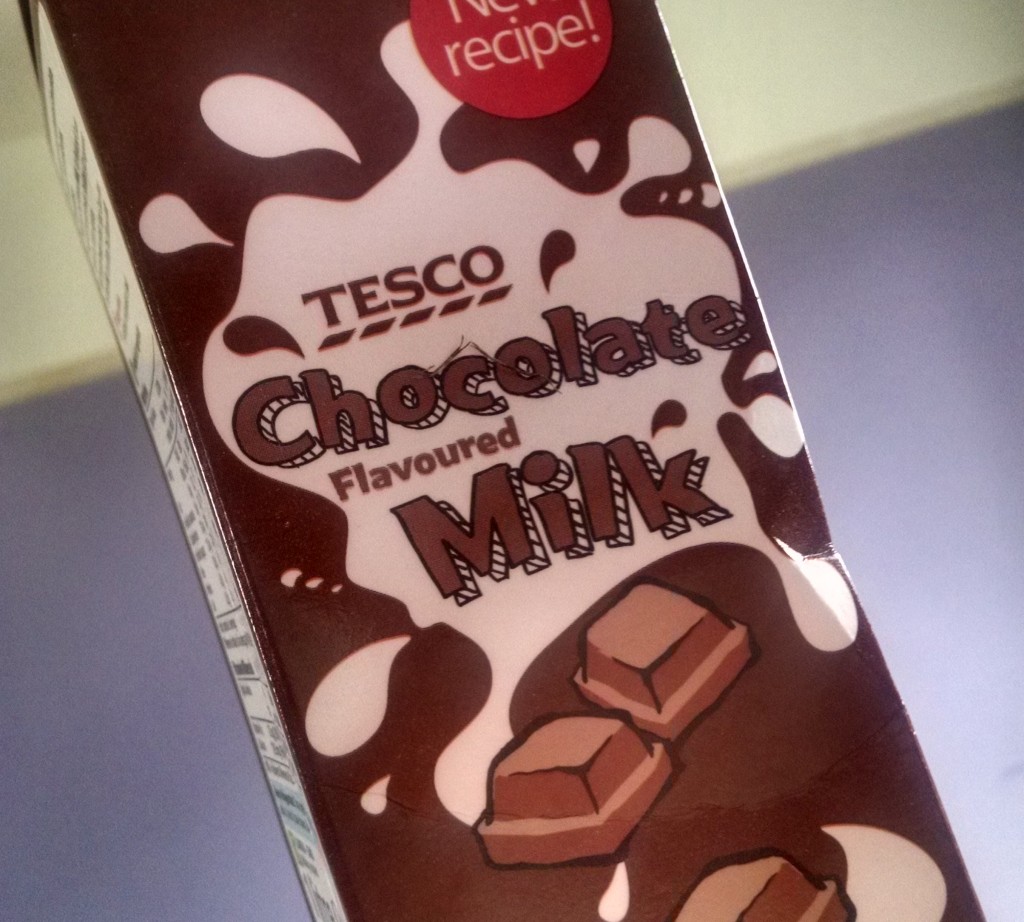 I slept the whole journey home, and once back it had begun to get light.  I felt a little weak and light headed as I climbed the stairs to the bedroom, so munched on a few pretzels before Dan and I both fell asleep until 11am.  I made sure to continually graze for several hours when I first woke up on Saturday and was rewarded with no cramp and no more feelings of light-headedness.  I kept eating despite not feeling hungry, and this, combined with my stubbornness to not give up I believe helped me to do as well as I did on the day.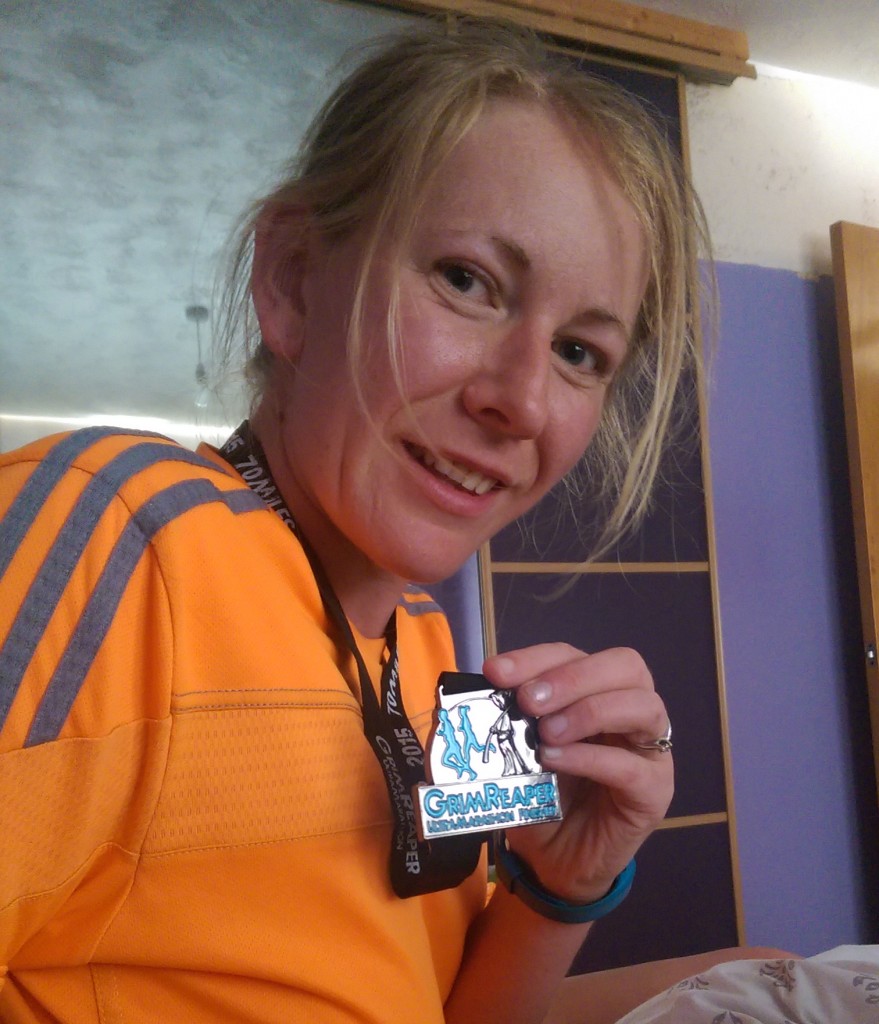 (Excuse the hair, it had been in a cap for 19 hours!)
Now, which distance shall I enter in 2016?…! 😛