Last year when I ran the Grim Reaper 70 mile event it took me a long while to recover.  I had planned to run several easy 5k distances the week following the race.  The reality was rather different though, and I ended up taking a break from running for three weeks; the week following the race and the two weeks of my honeymoon following it as well.  My legs and head were just not ready to return and my body appreciated the extended break.
This year I have felt differently.  I knew that I wanted to attempt a more 'active' recovery and had a complete day of rest on the Saturday afternoon once I had awoken from my slumber.
I walked to and from the pub with Dan to watch the football on the Sunday.  (About a 20 minute walk in each direction.)
On Monday I repeated the walk, but this time in to town.  Forty minutes of walking is nothing usually, but I wanted to make sure that I did not overdo things.
On the Friday (first 53 miles or so of the race) I had actually run/walked 109,531 steps according to my Garmin Vivofit.  My highest daily step count yet!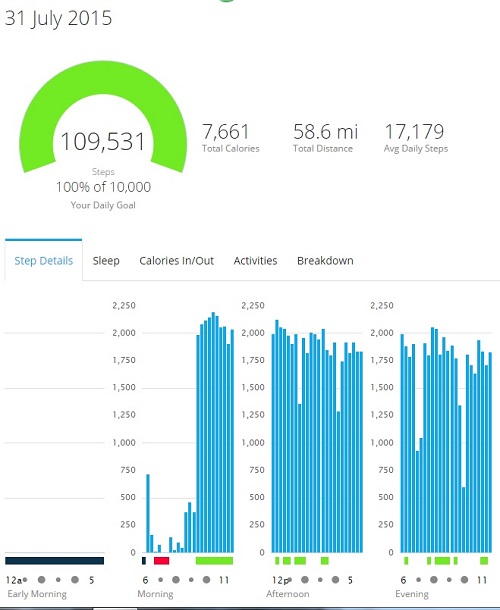 For anyone wondering what happens to the display screen on the Garmin when you reach the 99,999-100,000 step point it is a bit of an anti-climax.  The screen display just returned to a zero.  I'm not sure what I was expecting exactly, perhaps a moving image of congratulations or streamers to spring out of my watch would have been nice?!  Haha!
I just realised I never posted a comparison between the two years I ran the Grim Reaper race, so here is a little table to show how my improvement was over each lap…
| | | |
| --- | --- | --- |
| | 2014 | 2015 |
| Miles 0-10 | 2:14:09 | 2:02:51 |
| Between laps 1-2 | 0:03:37 | 0:02:47 |
| Miles 10-20 | 2:25:17 | 2:12:55 |
| Between laps 2-3 | 0:14:26 | 0:06:48 |
| Miles 20-30 | 2:31:57 | 2:24:28 |
| Between laps 3-4 | 0:19:41 | 0:10:31 |
| Miles 30-40 | 2:45:13 | 2:34:21 |
| Between laps 4-5 | 0:26:18 | 0:17:10 |
| Miles 40-50 | 3:00:50 | 2:30:55 |
| Between laps 5-6 | 0:17:41 | 0:20:38 |
| Miles 50-60 | 3:07:24 | 2:56:16 |
| Between laps 6-7 | 0:39:14 | 0:13:40 |
| Miles 60-70 | 3:50:44 | 2:55:55 |
| Total time: | 21:56:31 | 18:49:15 |
Every single lap time and between laps time was quicker this year apart from the stop between laps 5 and 6 which was when I chose to go to the toilet and add some extra layers.  My laps were much more consistent this year as well and it was really only the last two that were noticeably slower.
Tuesday this week and I was off to London for a blogging event where I met up with Anna, Helen and Emma and we were put through a few moves in the gym.  ( Proper post about this event to follow. )  I showed how poorly I could execute these moves as shown in the picture Anna sent over below!…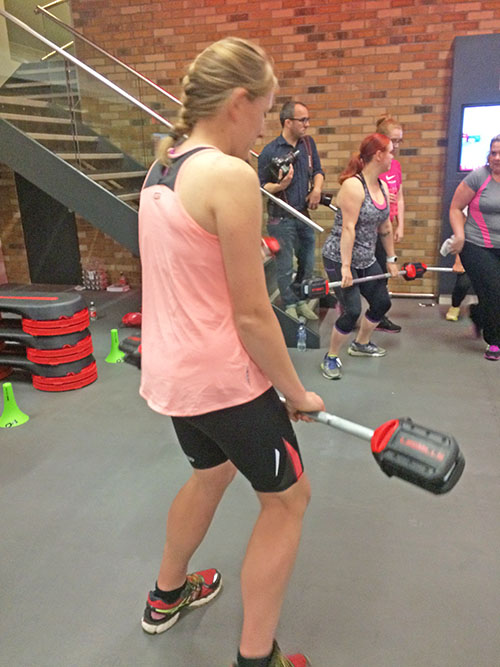 Check out those rounded shoulders and that face that isn't facing forwards.  Gah!  Oh well, the weights weren't heavy at all.  Instead we were concentrating on focus and co-ordination here (I am very lacking in the co-ordination department.  Let's just say my sport of choice is running for a reason! 😛 Although I used to love team games like netball and rounders when I was at school.)
Although the weights weren't heavy, we did participate in a lot of squats and I thought afterwards that squatting on semi-tired legs probably hadn't been the best of ideas.  I also upped the walking from 40 minutes the day before to several hours as I negotiated the journey to Cambridge train station then London itself.  Anna and I discovered we weren't the best at following either map or phone directions to get to the gym and our journey ended up much longer than the estimated 5 minutes to get from station to Fitness First, where the event was held.  My legs were rather achy by the end of Tuesday and I kept my evening very laid back and lazy to compensate.
They felt fresher by Wednesday and I was itching to head out for a chatty run, so joined the trail group for 6 easy miles later that evening.  I made sure to keep things nice and steady and it was good to catch up with others that had also run the event at the weekend and discuss recovery. heart rate and all those other things us runners chat about after a race!
Yesterday involved a mad rush around town trying to pick up a few items for my upcoming anniversary.  (I can't believe Dan and I will have been married for a year already this coming Sunday!)  As it was the first Thursday of the month, this meant it was also the committee meeting that night at running club, which is held immediately after training.  I sit on the committee as website editor and thought I might as well head out for a little run if I was going to be at the club anyway.
This week is the first week of a half marathon training plan that groups 4,5 and 6 are following at the club.  Running in group 4 last night we were all supposed to be running just 5 miles at 9:15-9:30mm pace.  I thought the short distance and not too speedy pace would be OK for my legs, although the group ended up moving much quicker than it was supposed to be.  So despite my legs feeling quite good I decided to keep pulling myself back to try and remain a little sensible and not get carried away.
I'm switching to a rest day today to compensate, and Dan and I shall be away tomorrow so I won't be able to run anyway.  I'm feeling much more comfortable than I did last year after the Grim though.  Maybe it is down to spending less time out on the course this year?  Or having a better strategy to keep moving throughout?  Whatever it is, I am very grateful but shall not be taking it for granted.  The slightest twinge and I shall adjust my training to ensure that I do my best to remain injury free.
A couple of links:
Lauren has just written a great post about recovering from the Race to the Stones ultra
Stephen from filmmyrun.com also ran the GR70 at the weekend and made a great film of the race
How do you come back from a big event?