Last week I updated my Instagram and Twitter descriptions, removing the word 'newlywed' from my bio.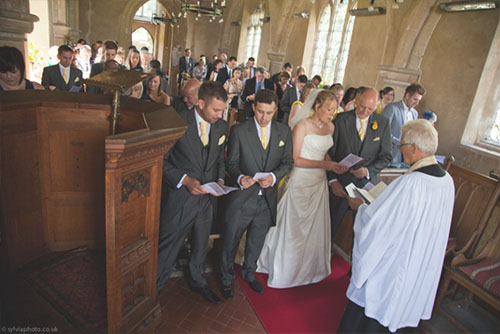 I don't think I can really class myself as a newlywed anymore.  Yesterday it was our one year anniversary.  Dan and I have gone from celebrating eight years together, to celebrating our first as a married couple.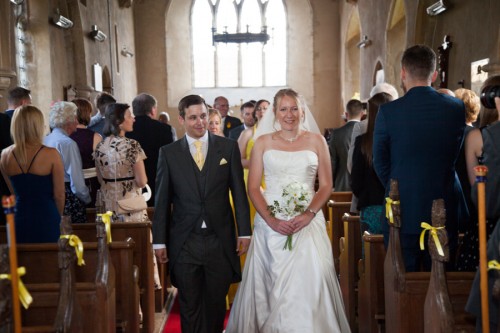 We decided to spend our first wedding anniversary visiting our Uni town of Stafford, where we first met at the beginning of 2007.  After picking up some sandwiches from ASDA we headed over to the castle…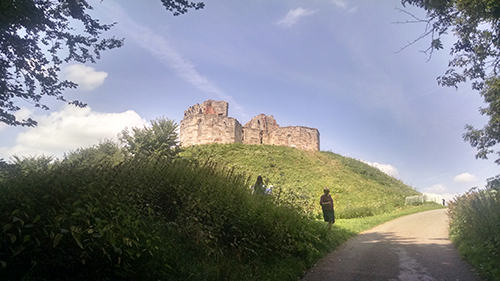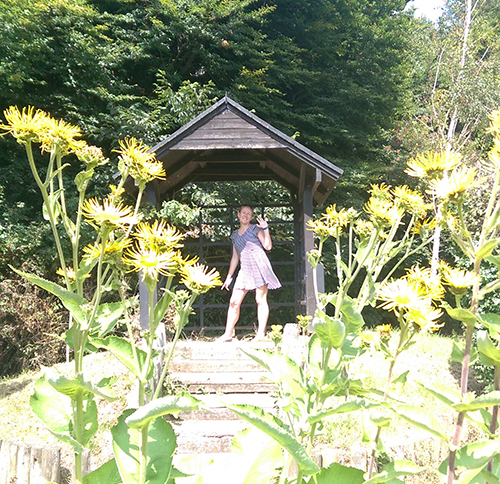 …before taking a wander through the town to see what had changed.  Quite a lot had changed since we had last visited in fact.  It felt very surreal walking along the streets as we had done so many times before but for them not to be the same.
In the afternoon we checked in at our hotel where Dan had (unknown to me) ordered some wine to be in our room on arrival. (Brownie points for the husband!)
That evening we headed took a long walk past our old uni houses taking a quick stop in at our old local pub for a game of pool and then over to Frankie & Benny's for our evening meal.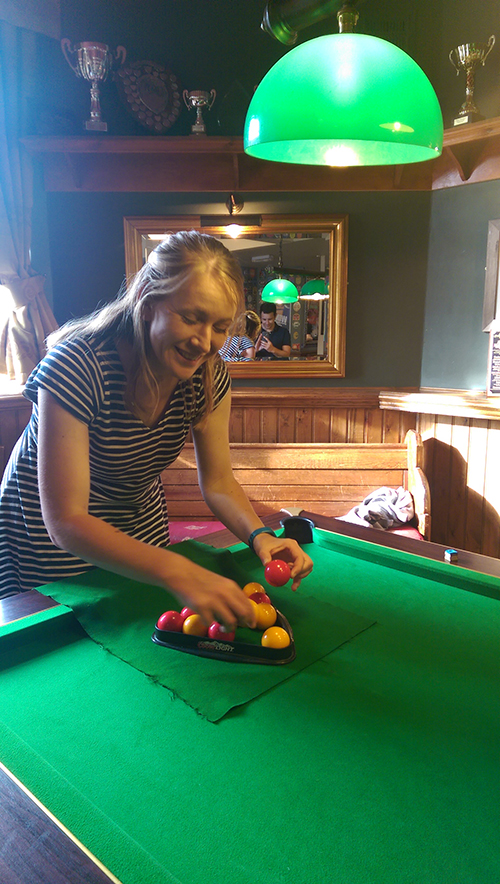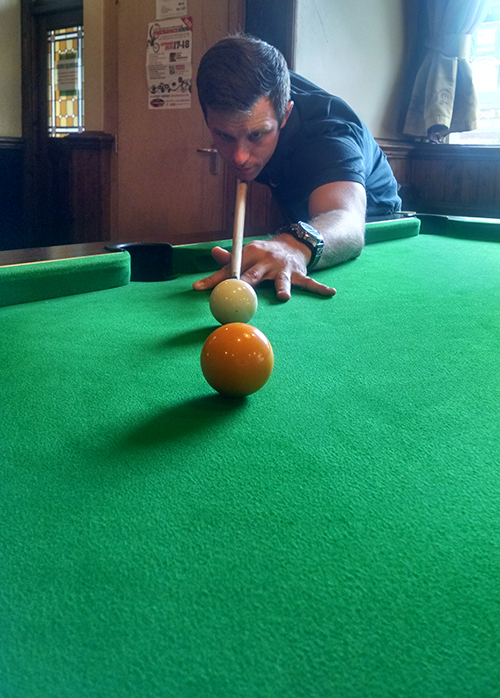 My first job post-degree was as Assistant Manager of Frankie & Benny's in Stafford and I was ever so disappointed to see that the service had gone downhill since we last visited.  We had finished our starters before our drinks arrived, were sat right by the hotplate, where we saw our meals gradually get more and more cold during the fifteen minutes they were sat out waiting to be delivered to our table.  Dan's meal then arrived wrongly (containing the salad he had asked to have on the side and without the bacon and cheese on his fries) and my side order didn't arrive.  I felt a little sorry for Dan as I couldn't keep quiet in the restaurant.  It's frustrating having been a restaurant manager as I know exactly what should happen to provide a good eating out experience.  I don't think we shall be going to Frankies any more though.  We have had one too many bad experiences at their restaurants just lately.
From Frankies we walked into town.  Cocktails featured strongly here.  I do like a good cocktail!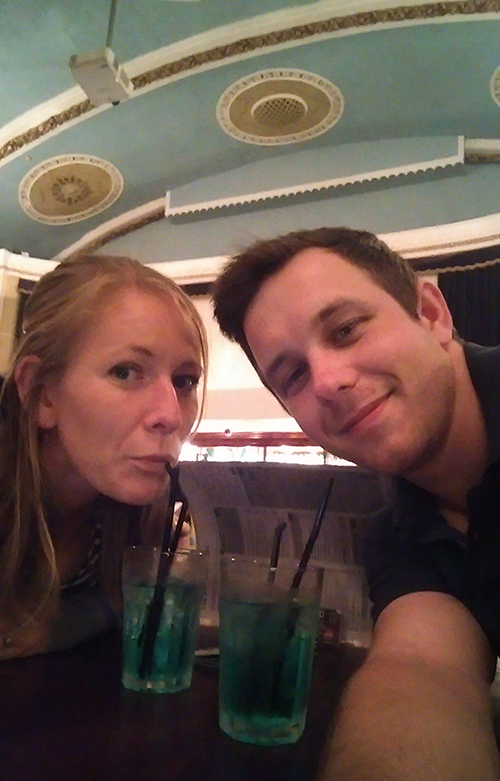 On Sunday (our actual anniversary) we enjoyed a lazy morning in the hotel before nipping to check out kitchen and bathroom displays in the local stores.  This seems to be how we spend our Sundays just lately since buying the new house.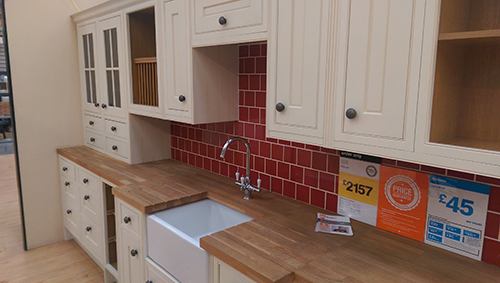 In my opinion, once you've seen displays in one store, you've seen them all.  We know what we want (similar colours to the above picture, although without the red tiles) and I would quite happily wait until we were ready to go ahead with the kitchen before having another mooch around the DIY stores but Dan is very excited about our kitchen being absolutely perfect.  I am too, I just know we have a lot of other things to be getting on with first!
At lunchtime we made our way over to The Holly Bush Inn in Salt.  This was where Dan took me for our six month dating anniversary and it has remained a firm favourite with us.  We last popped in for a flying visit on the way back from getting engaged two years ago.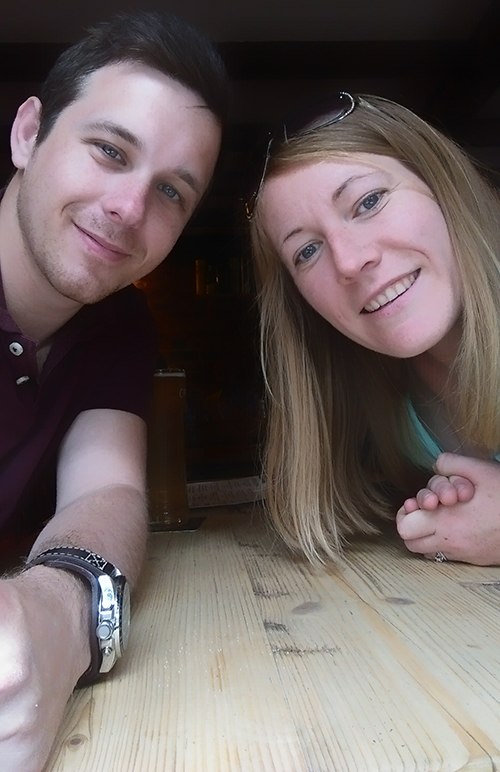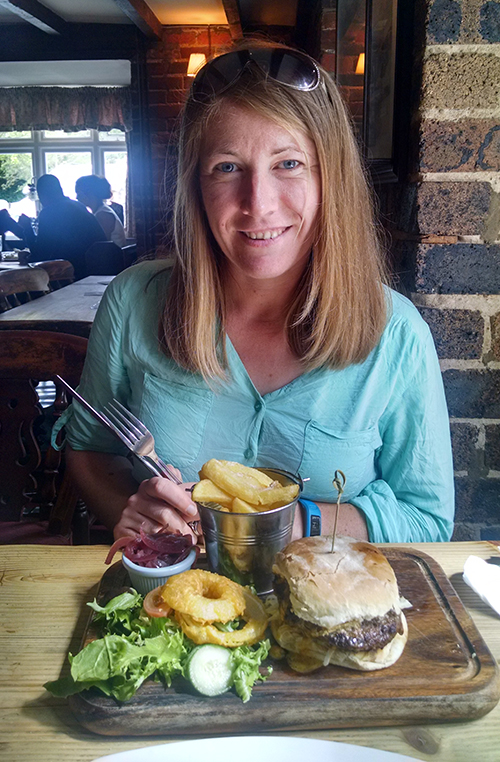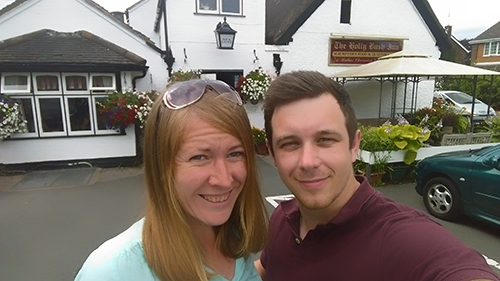 It was super sunny out – excuse the squint!
We didn't want to stay out too late as we had left Bella overnight so once we had finished our meals we headed back home to Northamptonshire where we opened our presents from each other.
The first year of marriage is supposed to be celebrated with 'paper' gifts.  I had bought a large frame and cut spaces into the card inside which I then labelled "Daniel + Mary Pearson" at the top.  Underneath, the cutouts read "9th August 2014″, "1st Anniversary", "5th Anniversary", "10th Anniversary" and "20th Anniversary".

I placed a picture of us on our wedding day in the first frame slot and then four copies of the top of the Order of Service from our wedding day in the remaining picture holes.  I also popped a couple of scratch cards into Dan's card.
Dan had also gifted me a scratch card, along with a couple of running books – 'Running Like a Girl' and 'Sports Nutrition for Endurance Athletes'.  He also bought us a wedding album.  Now we just need to find and unpack the box which contains the USB of our wedding photos so that we can choose which ones to place inside!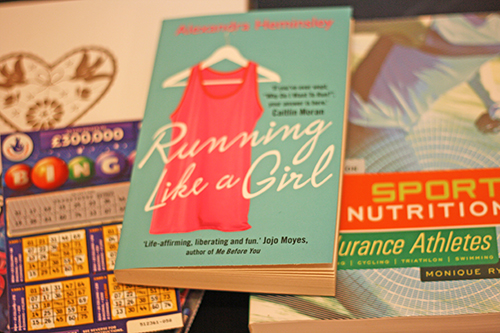 We both had a lovely weekend and I was ready to jump straight into my PJs and dressing gown upon arriving home.  I popped my phone into my dressing gown pocket, bending down to make a fuss of Bella in the kitchen and my phone slipped right out and smashed on the floor.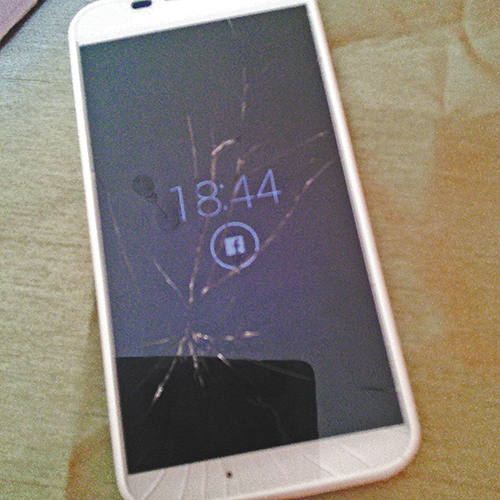 I was absolutely gutted.  I love my phone.  It's made so many tasks a huge amount easier this year, but unfortunately I did a good job of destroying it and the glass screen has completely shattered.  Dan seems to think that the digitiser is working OK underneath the glass, but obviously it's not very practical to run my finger over the screen at the moment, or to hold my phone up to my ear.  Not unless I want another trip to A&E this year anyway!  My contract doesn't expire until February, so Dan has ordered a protective film to sit over the smashed glass, but for the time-being I won't have a handy phone in my pocket whilst out on runs/to take random pictures whilst out with.  

Have you smashed your phone before?
If you are married, how did you celebrate your first anniversary?
Are you any good at pool?!