So a little while ago I said that I didn't intend on strictly following a training plan for my upcoming marathon. (Mablethorpe in 7.5 weeks – I just counted!)
Not long after I announced this, I was speaking to one of the coaches at club who asked if I had any more targets lined up post Grim Reaper race.  I mentioned that I would love to finally achieve the sub 5 marathon I know I am more than capable of and perhaps hit a new half marathon PB along the way in training.  We spoke about the importance of tempo runs (which I feel I now complete more of since regularly attending parkrun) and also perhaps fitting in some speed sessions to get my legs moving a little quicker.  The coach offered to have a look through my training plan for me to see if there was anything he would perhaps change round or adjust to help me achieve my target and I gratefully jumped at the offer.
Having only really penciled in my long distances at the weekends I quickly also scribbled down the regular sessions I would be running with club and also the weeks I intended on making parkrun.  Despite not having a formal plan down on paper, I realised I kind of did have a plan in my head already.
I had intended on easy 5k distance runs on Mondays as Dan often comes out with me.  On Tuesdays I planned on completing some slightly longer easy runs, Wednesday night is trail night at running club and Thursday is a tempo run with the club.  Friday was the easiest day for me to take as a rest/active rest day, Saturday is all about the parkrun and Sunday is perfect for long runs.
Colin returned my 'plan' saying I had probably added a little too much mileage, so he had cut it back slightly midweek (when I had slotted in a few 10 milers) and also added in some speedwork/quicker paced sessions on Tuesdays.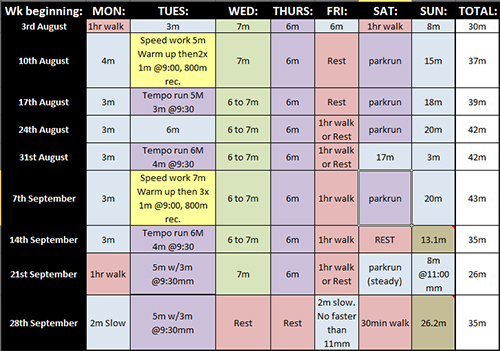 I headed out on the first speed session this morning.  9 minute miles over just one mile does not feel like a speed session any more.  My parkrun PB pace over 3.1 miles is 8m 35s and I had to keep checking my watch today to ensure that I was running slow enough for the required 9 minute mile.  I do like these types of speed sessions – focusing on control and pacing over longer distances.  Often at club I find the speed distances are too short and I can't really get into my stride, which just results in stressing me out.  Had a 'speed' session not been advised for me today I probably would have run the same distance but at a much slower pace with no real goal and not receiving so many benefits from the workout.
One of the hardest things I found was maintaining the correct pace during the prescripted splits.  I am used to having my watch displaying my current heart rate, but on this occasion I switched it to display my pace instead.  Heart rate changes on my watch by 1 or 2 beats each time it varies so I become conscious that I need to put more/less effort in and can adjust to do so accordingly.  My pace altered by 10-15 seconds each time.  There is a lot of difference between 8:45 and 9:00mm pace and I felt a little jolty in the beginning of each lap as I chopped my stride to try and match the 9 minute miles!
I still intend on training by heart rate for all my other runs in the week but I feel that it is probably important to ensure that at least one weekly session hits the pace required to help me achieve a sub 5 hour marathon.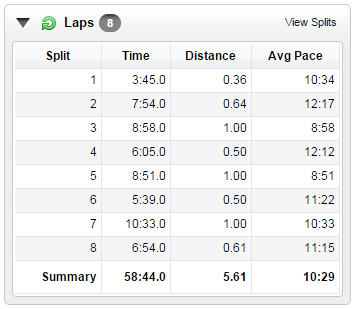 I hit the pace button mid warm-up so laps 1 and 2 should just be the one, but my session this morning went as follows: 1 mile warmup, 1 mile at 9 minute mile pace (8:58), 1/2 mile recovery (12:12), 1 mile at 9mm (8:51), 1/2 mile recovery (11:22) and then a final mile and a half to cool down after the session.  My second mile was a little faster than my first, but better to be that way round than to have slowed down later on.  I tend to run my recovery sessions super slow to ensure I'm fully recovered, but forgot I was supposed to be 'recovering' during the second recovery slot and so ran a smidge faster than I otherwise would have done.
Incidentally, my friend Lindsay who I have run parkrun with a few times recently asked if I would help concoct her a plan to raise her training from a 5k to take her up to running a 10k distance.  I ensured that she was aware that I was no coach but penciled something together for her involving swimming, walking, fitness videos, parkruns, a gradual increase in distance each week and hill sessions and she has stuck to it so far, raising her parkrun time by more than a minute from her recent times.
Do you write your own plans or ask others to help you do so?
Are you an active recovery type of person?  I much prefer heading out on a walk than taking a complete rest day.