It feels like hardly any time has passed since London held the 2012 Olympics.  I had put in for lots of tickets but was unlucky with all requests.  My friend managed to get tickets to see the Paralympic Dressage on several days though, so let me buy two tickets from her for one of the days and I went down with my Mum to watch the event.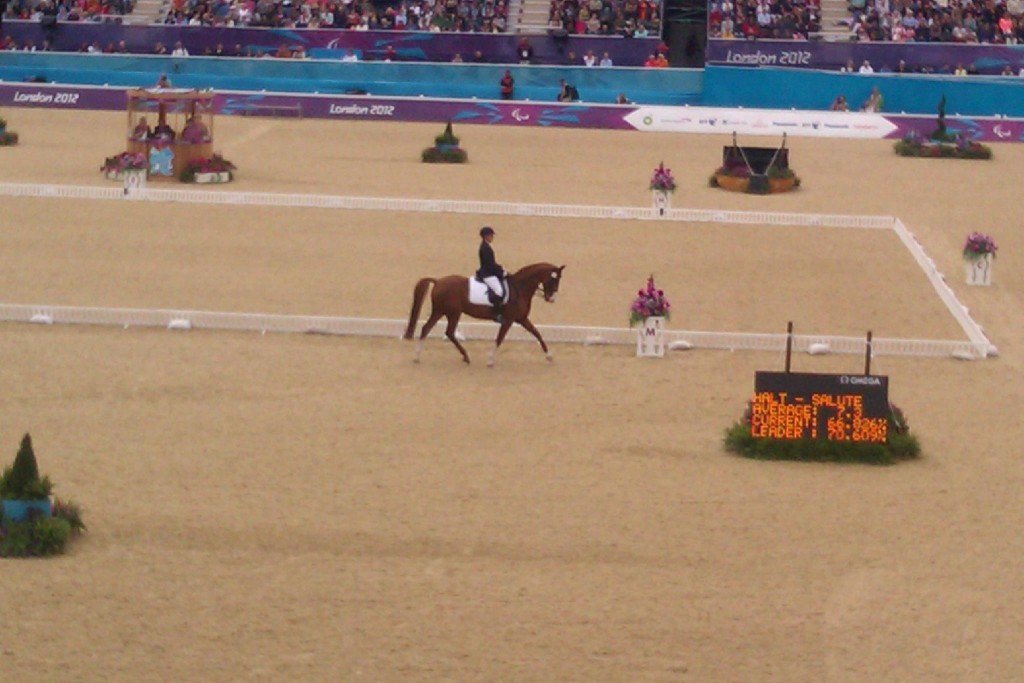 At the start of the Summer I was actually out in Malawi on a school trip with a group of year 11 students.  We kept hearing updates on the Olympic events now and again as students received messages from home but I was a little upset not to have really been able to see any of the footage in my home country, so it was nice to receive the Paralympic tickets on my return.
A couple of weeks ago I was contacted to see if I was available to head down to London for the one year countdown celebrations for the Rio 2016 Olympics.
Tuesday 4th August marked the start of the one year countdown and Fitness First – as the official fitness partner of Team GB – were holding some exclusive workshops hosted by some of the Team GB coaches.
There were three fifteen minute sessions repeated throughout the day:
Strength and conditioning: The Power to Perform
Nutrition: Introduction to Performance Nutrition
Psychology: Introduction to Sports Psychology and Motivation
Anna posted on Twitter that she hoped to attend the event and so we decided to meet up beforehand and head over to the Fitness First studio in Bishopsgate together.  Much less scary going into something new with somebody you have already met!
I woke early and caught the train down from Cambridge.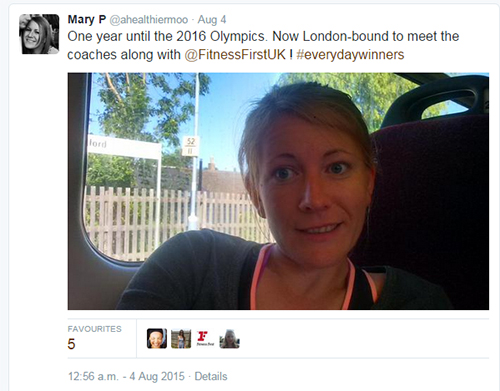 We had been given a hashtag to use for the event – #everydaywinners and upon entering it on Twitter I discovered that Helen, Emma and Christine were also going down for the event.
My train arrived and I grabbed a quick Costa whilst waiting for Anna's train to come in.  I had been organised the night before and collected together a map with directions from the station to the Fitness First studio, along with my train time details.  The map said it would take 5 minutes to walk to the studio.  I'm betting that it actually took us closer to an hour.  Navigating London is clearly a not a strong point for either of us!
When we finally arrived and had given over our blog names we were ushered downstairs.  This gym was enormous and just looked amazing inside.  I'm very jealous that none of the gyms out this way are even close in comparison!  One of my favourite features was the video on the wall of the workout area which showed you how to complete different exercises.  Very handy to have right there in front of you!
We weren't waiting long before the group of us that had gathered were ushered over to the workout area and introduced to Duncan French.  Duncan is internationally recognised as a leading strength and conditioning expert. Included on his resume are Olympic, World Championship, and Commonwealth Games medallists from a variety of sporting disciplines, as well as a current world record holder.
A few bars were issued out, although there ended up being more bloggers than bars – probably why I look a little sad in the below picture as I was still without at this point.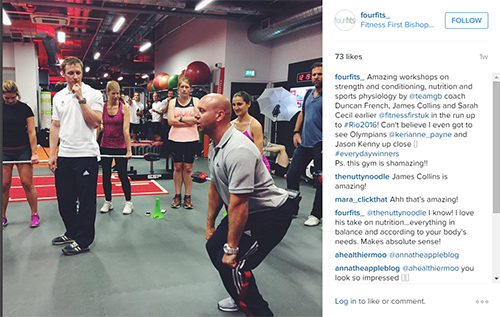 Image from fourfits_ Instagram.
I was soon issued a bar though.  Luckily the bars weren't heavy at all and Duncan showed us a variety of moves to try which we then had to put into a sequence at the end of the session.  Some of the moves started off fairly easy, although my form wasn't always correct, as shown in the photo below that Anna took!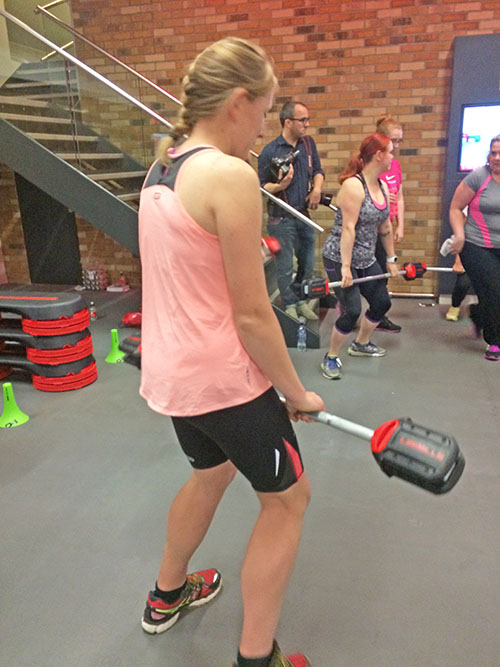 Check out my rounded back!
Duncan explained to us that we weren't focusing on strength, but that we should be focusing on our co-ordination.  Something I have proven in the past that I am lacking in!  He explained that we should be focusing fully on the task at hand, and not just absentmindedly lifting a couple of weights up in the corner of the gym.  The first task when you arrive for a workout should be to get your mind in the right state ready for a good session.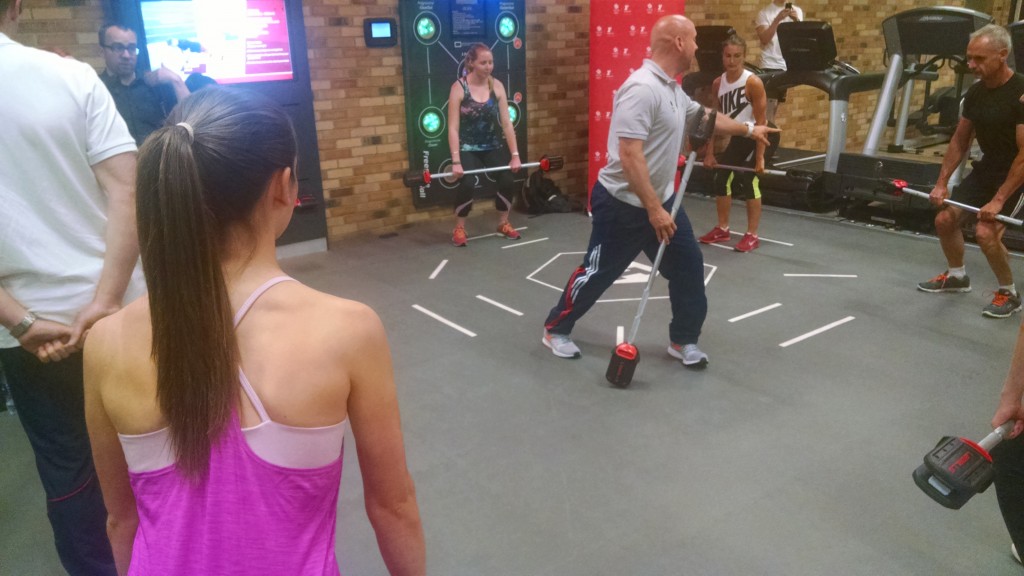 The session we worked on included pulling the bar up, squatting, rolling it and returning to the original position.  I messed up the sequence a few times when I wasn't fully focusing, and when we went down for the squats my legs reminded me that I had put them through a 70 mile race just three days earlier!
The second session was led by James Collins, a leading Sport & Exercise Nutritionist. James was heavily involved in advising Team GB Olympic teams and individuals in the run up to the London 2012 Olympic Games.
When I heard what the three sessions for the day were going to be based on, I was probably most looking forward to this one, although it felt rather generic when we were there.  We were handed a few powerpoints to share out between us and were talked through some basic nutrition principles for sport.  Being interested in this area I was already aware of quite a lot of the information we were being told and felt that it might have been nice to hear a few examples of athletes that James had dealt with and how he had helped them specifically adapt their diet.  We only had a 15 minute session though, and I would imagine that composing a talk for a group of 'unknowns', all of different fitness levels and from different sports would be a difficult task.
The final session was the most interesting of all and was the psychology session led by Sarah Cecil.  Sarah is a technical lead Sport Psychologist at the English Institute of Sport and has worked extensively with a range of sports for over 10 years including canoeing, fencing, athletics, shooting and women's rugby.
We got to sit down for this session, which my legs thoroughly appreciated!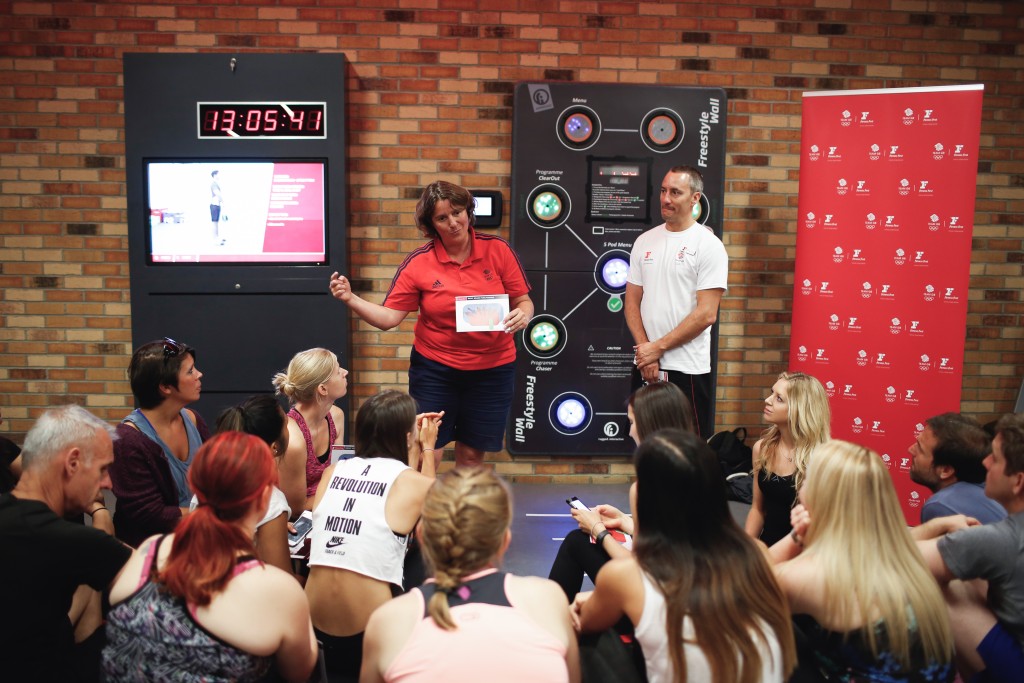 Anna had the sense to take notes on her phone all the way through the talks and I wished I'd pulled out my notepad and paper from my bag before the sessions began.  Although I would have felt a little silly scribbling notes down!  I also thought afterwards I probably should have brought my camera rather than relying on the camera on my phone as I would have gotten much better quality images than the ones I came away with.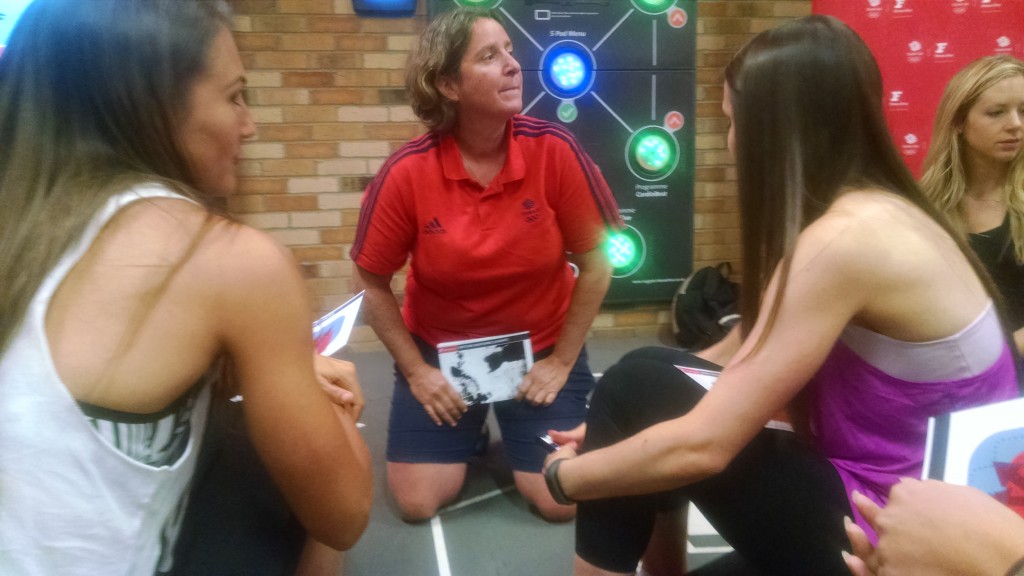 Sarah talked us through how our brain reacts to situations – the fight, flight or freeze response and how best to not let our automatic responses damage our performance by adapting to either the physical or mental stress that has been added to our environment.
The whole morning seemed to be over very quickly, and I would have liked to have experienced much longer sessions than we had.  As soon as we started to get into a session it seemed to already be over which was a shame.  On leaving we were each given a water bottle, towel and drawstring bag and have been given a month pass to a local Fitness First gym.  Although there aren't really any 'local' to me, I am hoping to try out the one at Bedford a couple of times as I was really impressed with the Fitness First in Bishopsgate.
Fitness First and Team GB have collaborated to produce a quiz to help people discover what sport they might be best suited to based on speed, stamina, strength, power and agility.  Apparently, despite there being 28 different sports featured in the Summer Olympics, us Brits tend to stick to just four – running, cycling, football and swimming.  The idea behind the quiz is to encourage people to take part in sports that they might not otherwise have considered, potentially being sports that they could do well in!
When I tried the quiz I was told that I should give volleyball a go.  It's not something I've ever tried but I would be happy to try it.  I can do jumping around!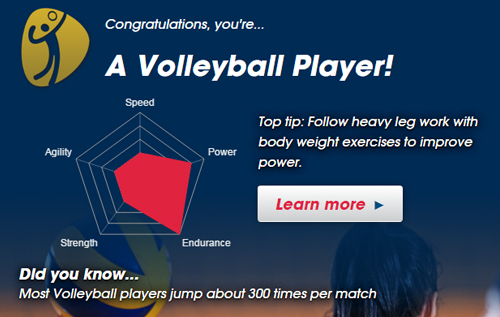 See what sport the quiz suggests you should take up.
Afterwards, Helen led Anna and I to O-Food, a Scandinavian sandwich bar where I enjoyed a Bello sandwich – Herb baked Portobello mushroom, pickled red cabbage and Spanish Guindilla chillies with roast pepper relish and parsley pesto on sourdough roll.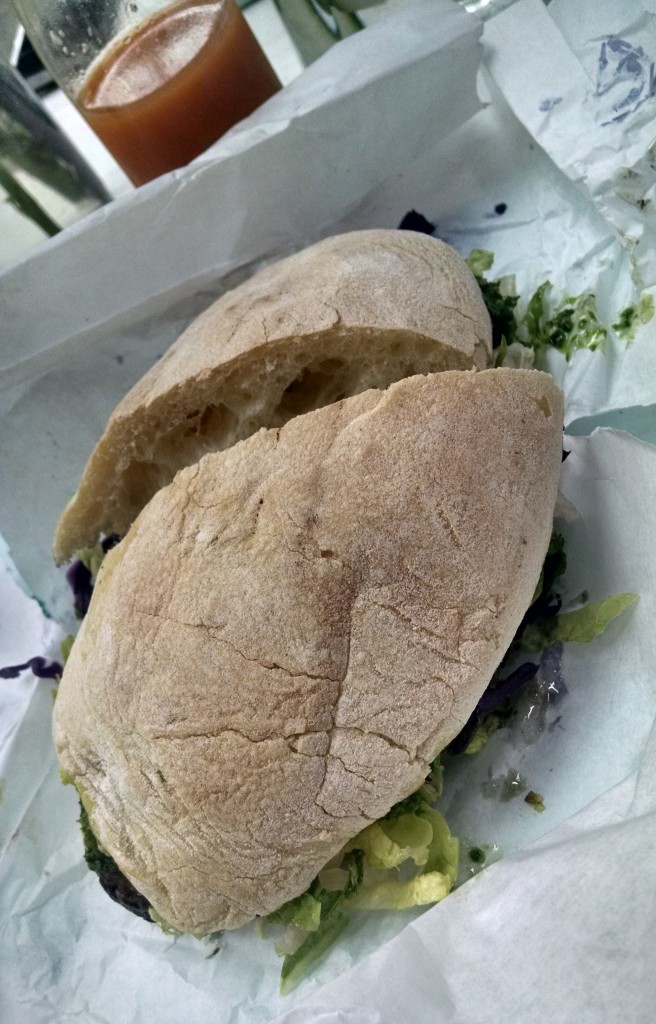 It was delicious.
I really enjoyed having a long chat with Helen and Anna all about running and blogging.  There aren't many people day-to-day that I get to talk blogging with, so it was nice to compare stories and have a laugh over lunch.
My legs were rather achy by the end of the day and I may or may not (totally did!) have fallen asleep for most of the train journey back home again.
Which sport was suggested for you by the quiz?
What is your favourite feature about the gym you go to?