I was due to run 15 miles on Sunday.  There were runs organised by club mates which I could have headed out on but I realised that it had been a long while since I had been out on a long run on my own so decided to give it a go.
I wanted a new route – new routes are always much more interesting than routes I run every week and so I brought up mapmyrun on my phone to try and plot out my fifteen miles.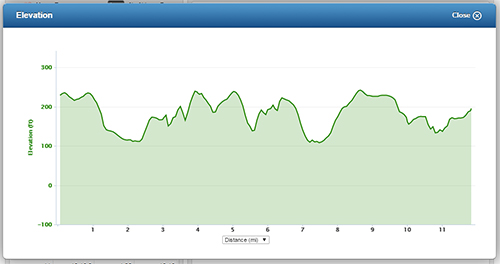 Next time I must remember to also check the elevation profile as well as the mileage when I plan a route.  It seemed like I covered all the hills in Northamptonshire on this run!
I want to run my long runs to heart rate – in Zone two (130-143bpm) although am aware that I have been advised to run my long runs one minute slower per mile than I intend to run on race day in October.  Although I'm not really sure what time to 'aim for' as such at the marathon, I know I want to come in sub 5 hours and so these two things (Zone 2 and 1 minute slower pace) usually tie up anyway.  I intend on doing something similar on race day and running to heart rate, but at the same time keeping an eye on pace throughout the race.
I didn't have the best of runs on Sunday.  Perhaps it was the multitude of hills, perhaps it was because I ran in the middle of the hot day to coincide with when Dan was watching the football, perhaps it was because I am used to eating real food on a long run but now need to condition my body to return to gels and water rather than pizza and milk again.  I don't know, but it wasn't as easy as I have found running long on my own in the past.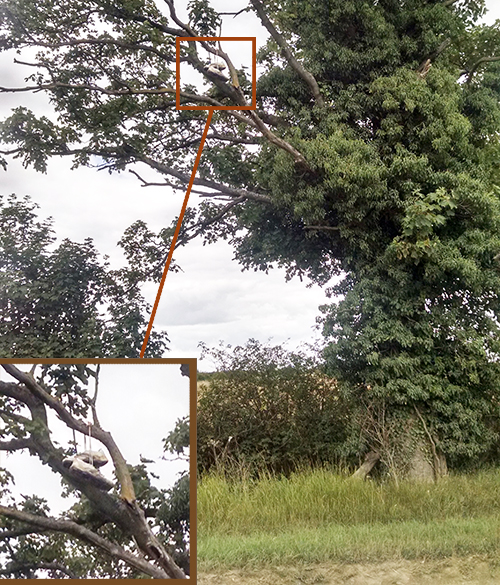 (Random trainers tied at the top of a tree three miles in to my route!)
I struggled to slow myself down to start with and then when I was in the rhythm of slow running my legs ached from forcibly running slower.
With five miles still to go I had run out of fluid and hadn't factored a pub into my route to top up my supplies.
I realised after my run that I had actually salted up quite a lot on my hands and arms despite drinking lemonade nuun throughout the run.  It had been hot out there on Sunday.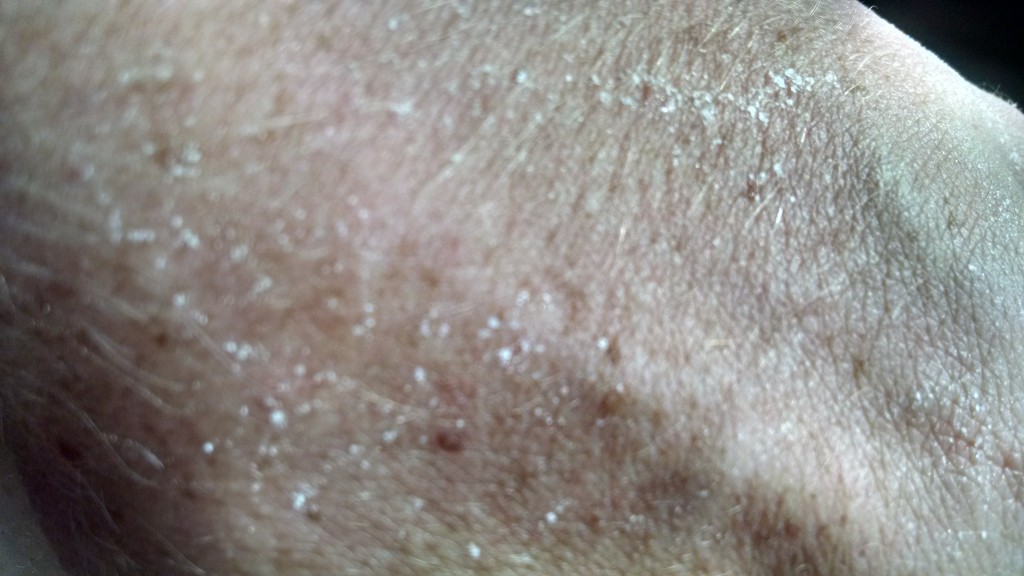 I doubted my directions at mile 8 so paused to check on my phone which was the right way to go.  But I had been correct so set off again, rather chuffed that I was doing so well on the new route front.
Mile 11.8 though and this all changed.  I had reached the A14.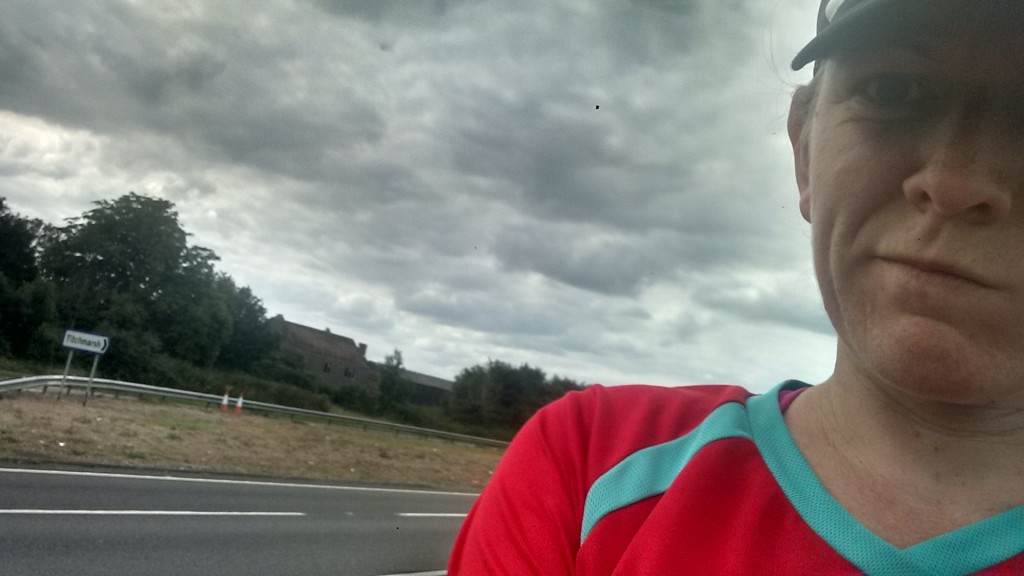 Now I knew that I was supposed to cross the A14 on my run, but I had assumed that the route I had planned out crossed at the footpath which headed over the top of the busy dual carriageway.  In actual fact, it took me a mile away from the crossing, meaning I would have to navigate the side of the busy road for a mile before I could safely get to the other side and continue my run.  Despite the above picture appearing to show no cars, I promise you there were lots out in the middle of the day on Sunday.  I must have caught the one split second where there was a slight lull in the traffic to take this photo.
I decided to call it a day and rang Dan for a lift home again, getting in an extra mile, – ran slightly faster at 9:00-10:00mm pace, by running backwards and forwards along the road I had arrived at the A14 by.
Not the best of long runs, but still a few extra miles in my legs and lessons learnt.
Yesterday was Dan's birthday.  He has had both last week and this week off from work so that we could have a bit of a break together as well as sort out some of the house and celebrate both our wedding anniversary and his birthday.
As part of my present to him I bought him a session at AirKix in Milton Keynes.  AirKix is an indoor skydiving centre and Dan had mentioned in the past about wanting to have a go.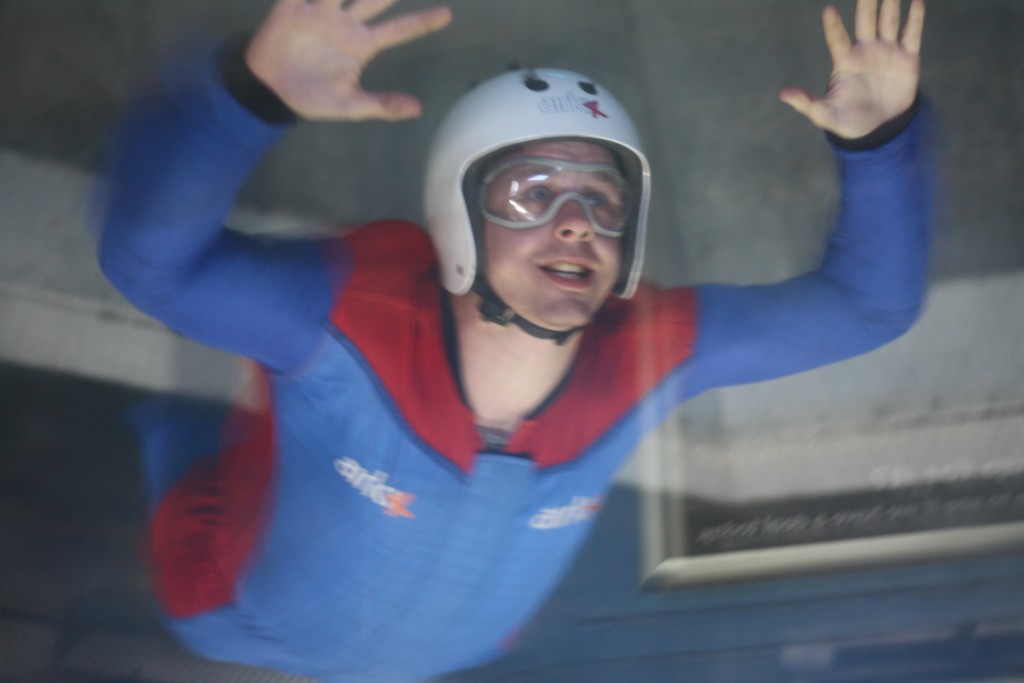 I had taken a notepad with the intentions of writing out a to-do-list or something whilst waiting for Dan to have his turn but in actual fact I was glued to the viewing platform in the wind tunnel for well over an hour.  There were seven people in Dan's group.  Each person had a minute to practice balancing and getting their form right before exiting the tunnel ready for the next person.  On their second turn each person had the opportunity to have a 'high-fly' experience – going right up to the top of the tunnel with the instructor at high speeds.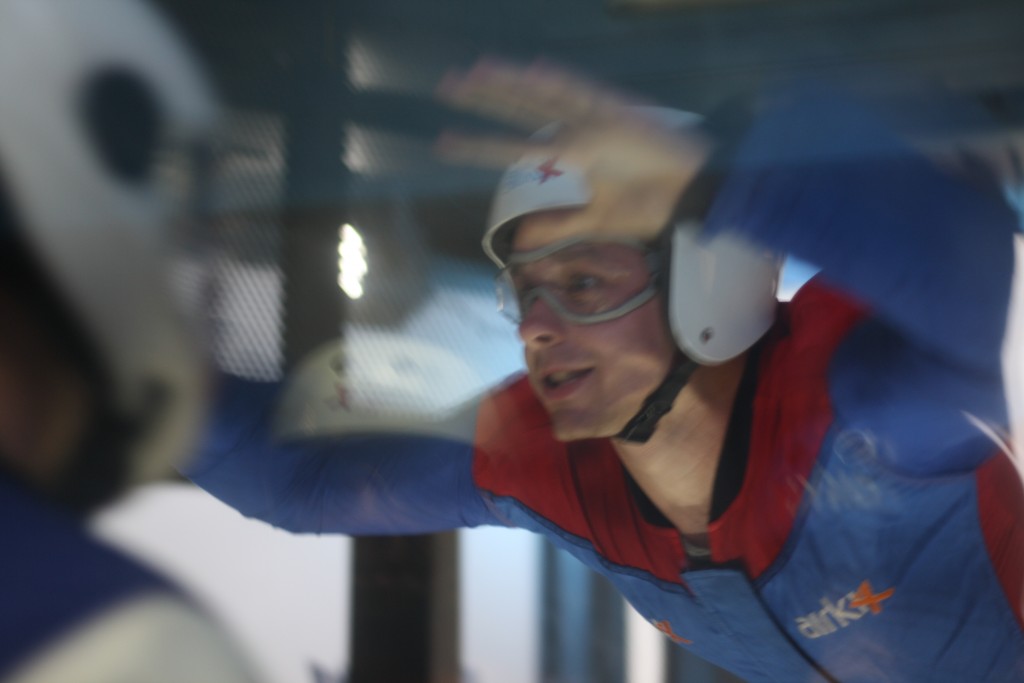 It was so fascinating to watch and they went at such high speeds.  I took photos of Dan during his first time in the tunnel and then a video when he went to the very top.
At the end of the session, the instructor went up and performed lots of advanced moves – rolls, turns, flying upside-down, etc at an incredibly fast pace.  It really was a show!  I did feel a little envious of Dan afterwards, and think I would have really enjoyed it.
This is not my video below, but one I found on Youtube.  The first couple of minutes are beginning skydivers with the instructor, but if you skip forward to about 2m 15s, you will see the type of show the instructor put on at the end.
Very impressive!
This weekend I also got round to creating a Facebook page for AHM. There seem to be lots of things I want to share that pop up on my Facebook feed, so if you are on there, please come and give me a like!

What is the most random thing you have spotted whilst out on a run/walk?
Do you struggle running your long runs slowly?
Do you struggle to navigate new routes?
Have you ever been skydiving/indoor skydiving before?