I haven't been away on very many holidays as an adult.  Since being old enough to book my own holidays I have been abroad on holiday a grand total of three times.  I travelled to Spain with Dan for his 21st birthday, travelled to New York for New Year with Dan and another couple and then we visited Italy for our honeymoon last year.
On the years that we have not managed to get away on a break for whatever reason I like to have a week in the middle of the Summer where we approach things with a more holiday-feel.  Meaning that we might eat out slightly more often, or visit tourist attractions near to us that we perhaps haven't visited before.  I think it helps keep me sane during the Summer months and makes it feel more like a break!
This past week has been our fake-it Summer holiday and on Thursday Dan and I headed over to Canoe2 at Ditchford to rent out a two man canoe for a couple of hours, although we could have rented one out for up to 5 days if we desired!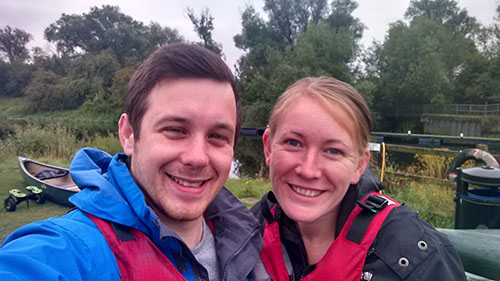 We arrived at 8:15am to go through a safety briefing, be handed life jackets and shown the best way to handle the canoe.  Both in the water, and out.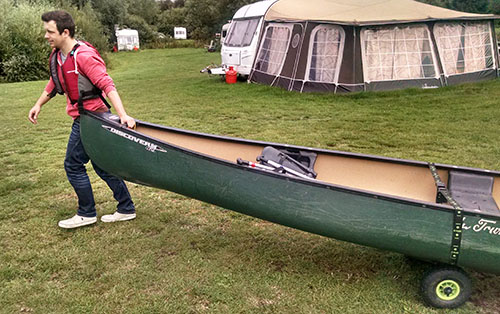 We actually made it into the water by 8:45am and then headed North along the river towards Stanwick Lakes.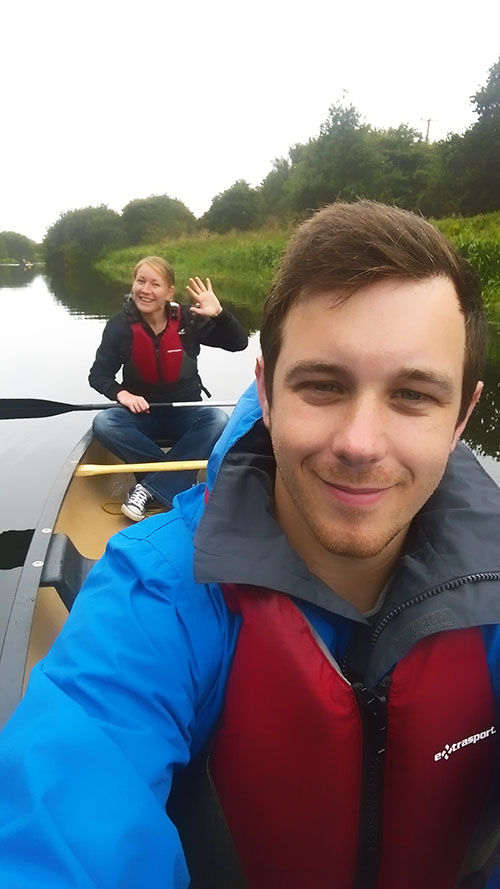 We had been told that the person sat at the back was the one that had all the power in the canoe so that's where I sat myself(!) 😛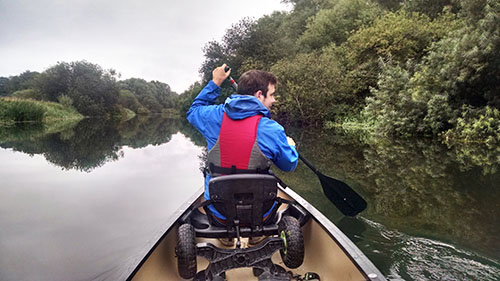 The wheels you can see in the canoe are for transporting the canoe on land at each of the locks on the river and by using these we could easily move the canoe from one side of the lock to the other via the land.  We were also given a small barrel for our phones and cameras (my camera didn't fit so I just used my now-fixed phone for taking photos) and a larger barrel if we wanted it to place our coats and other belongings in.  This way if we did capsize the items we had chosen to take on board with us wouldn't get wet.  Luckily, there was no capsizing on Thursday!  Although the morning was rather grey-looking it did get quite warm and we didn't keep our coats on for long.
We managed to see lots of wildlife, including swans, plenty of fish and even a kingfisher.  We powered down to Higham Ferrers where the first lock was located, but on our return journey we were a little more sedate – taking time to chat and look around, zigzagging across the river to look at the fish or dragonflies at the side of the water. My arms got a very good workout!
On the way home, we stopped off at the garden centre to pick up a bagful of water snails for our pond.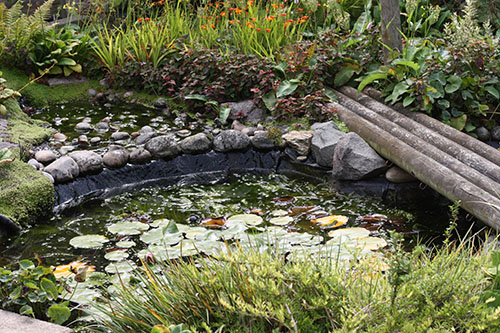 All of the sun that we have been enjoying just lately has meant that our pond has turned more and more green in during the previous few weeks and we needed to recruit a few little helpers to keep it clean!
On Friday morning Dan and I set off for Norfolk.  It is my Dad's 70th birthday today and as is tradition we wanted to pay him a surprise visit.  (I'm not sure we can really count any of our surprise visits as surprises anymore as I'm sure both of my parents just presume that I will be making my way back there for birthdays!)
My Dad is a big fan of attending auctions.  I always tell people that my Dad and his brother are a little like DelBoy and Rodney.  Over the years they have amassed quite a collection of random bits and pieces because they were sold at 'bargain prices'.  When I was younger, the holiday cottage that my Aunt owned was once filled with hundreds of computers from a company that had gone bust and a few years afterwards, my Uncle had his entire shed taken over with videos after buying out a rental shop that was closing down.  My brother and I were allowed to borrow a selection to watch every time we visited, which was very exciting aged nine.
We decided to meet my Dad, Mum and brother at the auctionhouse in Snetterton without Dad's knowledge, where we 'accidentally' bumped into him.  Dan had never been to an auction before, whereas I have been to plenty and the excitement of finding a bargain soon took over for him.  I think my Dad liked explaining to Dan just how it all worked and between them they bid on a few items up for sale.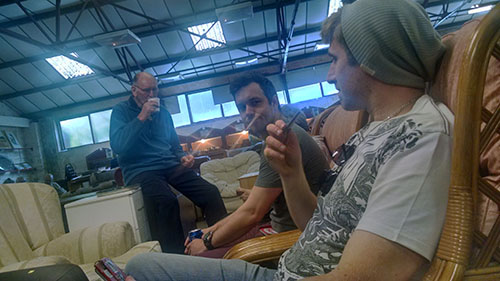 One of the best things about having the morning at the auction house is that there are plenty of sofas to 'test out' whilst you stop for a break, KitKat and a drink!
Despite bidding on an outside dining set and bedside tables, all we came away with was a skybox which means that we can hopefully set it up to watch terrestrial TV at home.  I discovered that there are lots of items you can bid on when you have just up-sized from a two-bed to a four-bed property!
That afternoon after some lunch, we drove to Cley Visitor Centre, where we had a look at the photography exhibition and out onto the marshes through binoculars…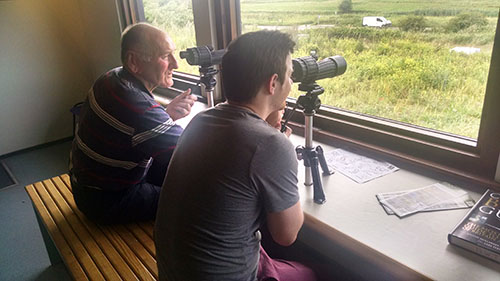 I was surprised to discover that I could even take photographs with my phone through the binoculars, albeit not amazing quality ones.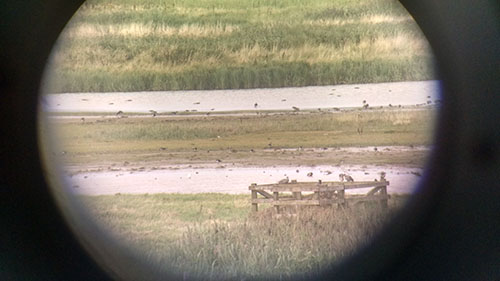 Afterwards, we decided to go for a walk along the sea at Salthouse to finish the day off.  Dad got caught talking to somebody he knew and knowing how long my Dad can talk for, my Mum and I started out along the seafront without him.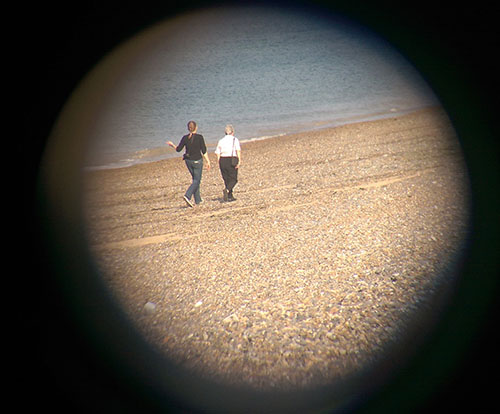 …whilst Dan decided to skim stones down at the water's edge.
To finish up our watery few days, Dan and Dad decided to attempt to catch a few of the many fish from my parents' pond this morning before we returned home, with the idea that we could transport them back to our pond to keep our solitary fish company.  They were unsuccessful in their mission, but it was quite entertaining to watch!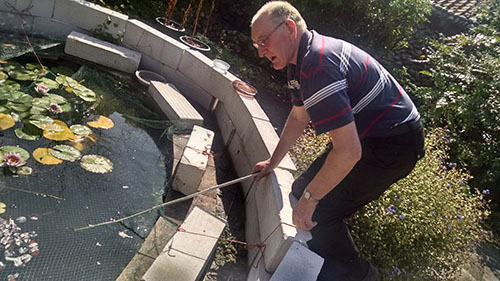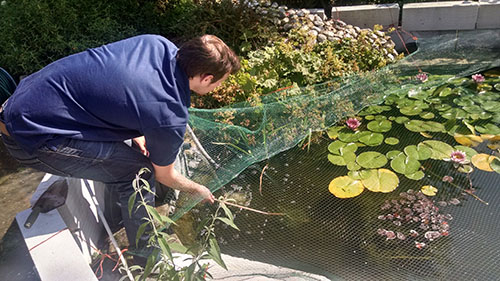 How often do you visit the beach?
Do you have a pond in your garden?
Have you ever picked up any bargains at an auction before?