Thursday evening is traditionally 'long run' night at my running club.  In actual fact it's not really a long run at all, but rather meant to be a consistent running session, as variation from the speed or hill sessions that take place on a Tuesday evening.
The group is training for a half marathon at present, and so on the plan for this week was a 5 mile run to be run at half marathon pace.  Just like last time though, I did not end up running at my half marathon pace for the session!
My legs were aware that I've started to pick the miles back up again and after a couple of miles began to protest that we were going quicker than I had led them to believe(!)  It was incredibly hot and muggy out on Thursday night and this didn't help things.
I'd drunk waaaaay too much water before heading out as well, so by the halfway point I was bursting for the loo and leapt into the local pub for a stop off whilst everyone else carried on ahead.  I could run much faster after that stop off!
Even with my loo stop (where I didn't pause my Garmin) I averaged 10:01 minute miles, and there were a couple of nasty hills at the halfway point on the route as well.
On Saturday as I was back in Norfolk I headed over to Sheringham parkrun.  I really like Sheringham parkrun.  The parkrun course I usually run at Northampton is very flat and you can see pretty much the entire course from the start/finish line.  Sheringham is the complete opposite and run through woods set in National Trust land, zigzagging and going up and down hills over shingle, sand, mud, path…
As I arrived ready for the briefing a woman holding a young child started chatting to me.  She asked if it was my first time at Sheringham, to which I replied that it wasn't.  She told me that she was on holiday from London and was planning on running with a buggy whilst her husband aimed for a PB.  Sheringham is a great course, but not for achieving a PB or, I would imagine, running with a buggy!  I wished them luck!
At the briefing we were told that the parkrun would be run on the alternate course route as there were cows out in the field.  I don't think I've run the alternate course before although it was just the start of the course which was different.
I started probably too far back in the line up at the beginning and spent a little while weaving in and out of other runners before finding my place on the run.  I hoped that there weren't going to be more hills on the alternate route as the course is already pretty tough, but luckily it was mainly downhill for the first mile or so and I capitalised on this, overtaking quite a few runners and sticking to my planned heart rate.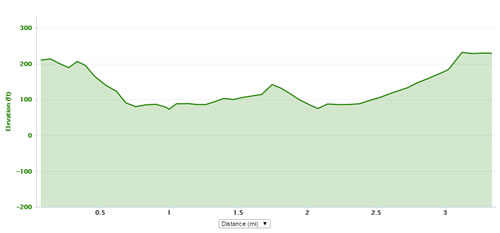 I had gone into the run hoping for a course PB as my running is strong at the moment.  My current course PB is 29:40, and I knew I had a good chance of beating that.  I ran the first mile in 8:34, with the second in 8:46.  I thought that even if I had a rubbish last mile now (the one containing Heartbreak Hill!) I should be on for a course PB, although I suddenly realised I wouldn't be entirely happy with it, as it wouldn't have been achieved on the same course!  Mile three hit and as much as the first mile of the course is downhill (albeit across tricky terrain at times – roots, sand, mud…) the final half of the course is uphill and makes you work for it!
Heartbreak Hill is very aptly named.  Who puts a hill as steep as Heartbreak with less than quarter of a mile left to the finish line?!  Mean.  Really mean!  I've had a hunt round on the internet for a picture, but am yet to find one that really shows the horror of that hill.  Perhaps Sheringham parkrun race organisers don't want to put off parkrun tourists?!  This is the best I found (stolen from the Sheringham parkrun Facebook page).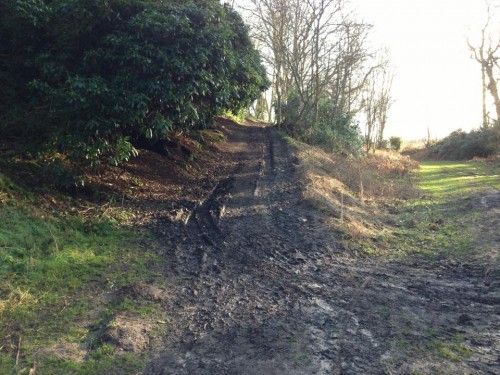 This was clearly taken in the Winter though – there wasn't quite so much mud about this weekend!  It also doesn't really show you just how steep the hill is.  It heads up as far as you can see in the photo and then continues bending round to the left out of sight.  I must take a photo next time I am back in Norfolk.
I have power walked this hill a few times in the past but determinedly ran it on Saturday.  I really used my legs to power me up and overtook several runners who chose to walk here.
Mile three went by in 9:35 but then the nubbin ending up measuring 0.33 miles by my watch, which I covered at 9:16mm pace.  Looking on Strava afterwards, quite a few people seemed to measure the course long, around 3.3 miles.
Great sprint finish at the end between me and two other ladies, with some friendly banter on the way to the finish line and once over the line I went and leaned up against a tree for a few minutes.  The sweat poured off me when I sat down.  I'm always alright until I stop and then I become a big sweaty mess!  It was really hot and muggy out on Saturday morning (later getting up to 30 degrees) and I had wished I had worn a tank top by the end of the first mile.
A few minutes later another lady came and sat up against the other side of the same tree where I was sat, exclaiming how tough that course had been towards the end!  She had come with her husband from the Mansfield parkrun where she usually ran four minutes faster over the 5k distance.  Her husband had actually planned on getting up at 6:30am for a run over from where they were staying in Wells (17 miles away) before completing the parkrun, but exclaimed now how he was glad that he hadn't!
After seeing a few more people cross the line I got up to get my token scanned.  Apparently there had been a few problems with the scanning so I was to remember my finishing position in order to check the results later that day.  There didn't appear to be a problem though and I got my text an hour later as normal announcing my finishing time.
Finishing position: 90/176
Gender position: 21/69
Age category position: 2/4
Official time: 30:04
Do you often chat to people you don't know at parkrun?
Does your parkrun have an alternative route?
Are there many National Trust areas near where you live?