Food just hasn't appealed to me in a while.  This is Summer, I've been on holiday from work for the past month and have had plenty of time to experiment in the kitchen but the last thing I've wanted to do each day is eat or spend time playing with food.
Evening meals have been a last minute whatever-is-in-the-freezer attempt unless we have been going out to dinner, which we have done a few times over the holiday.
Dan threw together these veggie burgers for me the evening after completing the Grim 70.  I much prefer my flavourful veggie burgers topped with fresh salad to his boring, bland beefburgers.  They really filled me up but at the same time I would have been fine without.  I only really ate because I knew I should be eating.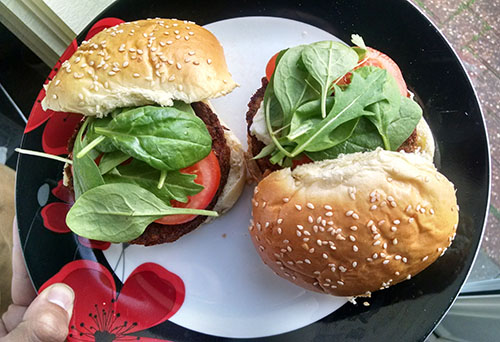 For our anniversary, I ordered the same burger I always order from The Holly Bush Inn in Staffordshire, but I left some of the meal on the side.  It was still delicious and filled with flavour just like a pub burger should be, I just wasn't feeling the food love that day.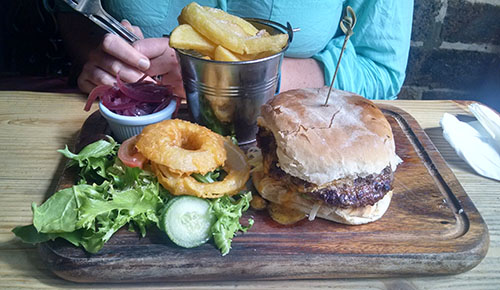 I did enjoy my Prima Vera salad from Pizza Express when we used up the last of our BP vouchers earlier in the month.  I've come to realise that there are some places you can't order a salad from as it ends up being a few soggy, questionable-coloured, limp leaves on a plate.  At those restaurants I actively avoid the salad selection.  Pizza Express really know how to do a good salad though, and I've been working my way through their salad selection using our vouchers over the past few months.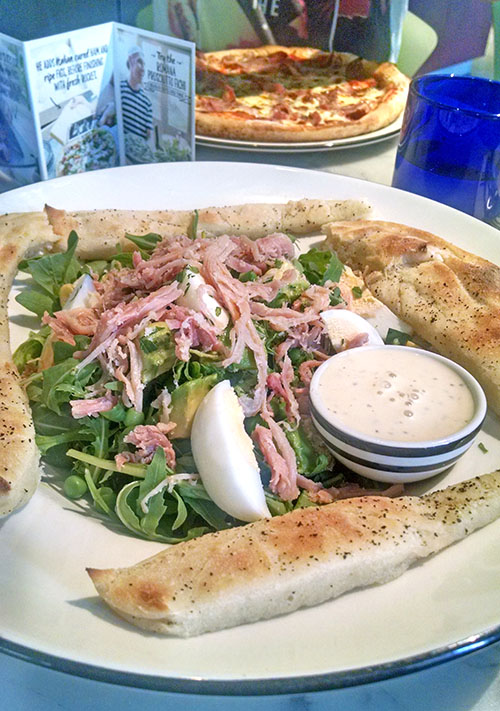 It's been a long while since I have had a caesar salad out at a restaurant.  I think perhaps I overdosed on them in my early twenties when they were the only 'healthy' option available at restaurants.  I didn't mind this one from TGI Fridays when we headed to Milton Keynes for Dan's indoor skydive last week but was glad that Dan's dish contained tomatoes so that I could steal them for a bit of variety.  It's been a long while, but I always thought that caesar salad contained tomatoes too?  Am I wrong?!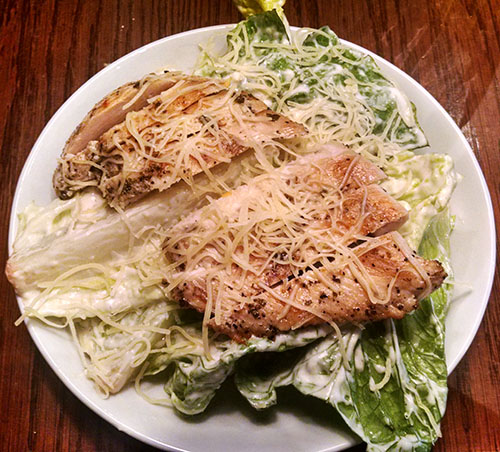 The first meal I felt that I really enjoyed since running Grim was last weekend when we visited Fakenham Garden Centre for a meal for my Dad's birthday.  It was just a simple cheese and bacon stuffed potato with side salad, but I cleared my plate feeling happy and satisfied.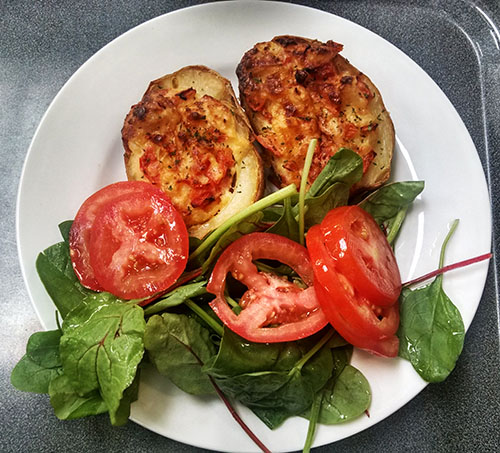 Last night we went out to a jazz restaurant in Olney called Cafe Brio for something different and for Dan to have something to look forward to after his first day back at work after a fortnight off(!)  We ordered our meals and as our mains arrived, Neal Astbury started up singing some Michael Buble hits.  He really was very good and it made a nice change to have entertainment over dinner.
I went for the Chevre pizza which consisted of; Goats cheese, sundried tomato, mozzarella, roast peppers and tomato sauce.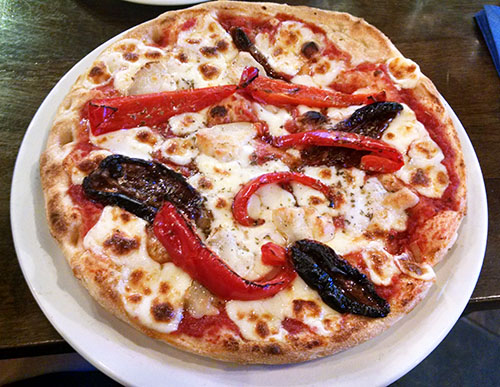 The dough of the pizza was delicious – I like my pizza bases to be nice and soft and this was definitely that!  I dipped the crusts in a large ball of garlic butter that we had on our table, and this topped the flavours off perfectly!
Because we wanted to stay a little longer we also ordered dessert.  I went for the Chocolate Fudge Cake with icecream.  To me, fudge cake has to be eaten warm, so I asked for it to be heated up, only our waitress forgot.  I didn't want to return it as the icecream had already been added to the dish.  It wasn't quite the same served cold, although I did still scrape the plate.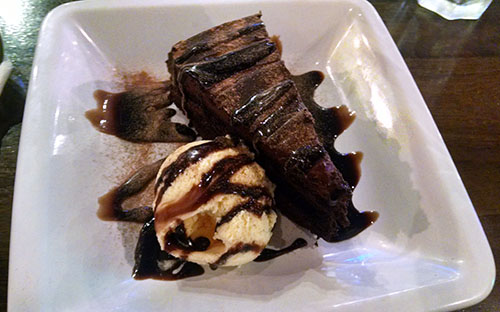 I think I am more of a Winter-eater than a Summer one.  I love roasted vegetables and warm soups with crusty bread.  Homemade comfort food served in a big pot and dished out from the middle of the table.  Although I love salads, at home they take a lot of preparation, and with Dan not liking a single salad ingredient it can be rather faffy having to prepare a salad for just me.  I do have several tomatoes growing on my plants outside now though, so am looking forward to adding a few to upcoming meals and perhaps making some homemade tomato soup to store in the freezer over Winter.
Running does suppress my appetite as well.  I find that I have to really ensure that I am eating enough in the evening after a run as my body just craves nice cold milk.  (That, I could drink all day!)
My appetite has started to reappear this week but I am hoping I will also feel the desire to experiment in the kitchen again soon as well.  I have enjoyed cooking and trying new recipes in previous years and this is probably the longest I have gone without really feeling the love.
I am planning on signing up to Hello Fresh to try and give things a kickstart.  I was going to today, although their meals for next week don't really appeal to me as much as some of the ones I have seen them advertise so I'm going to see what pops up for the following week before committing.  (Anna wrote a great post a while back reviewing Hello Fresh if you are unsure what it is all about.)  I'm hoping it will sharpen up my cooking skills and give me some new ideas for dishes to experiment with.
Have you tried Hello Fresh?
Chocolate fudge cake: hot or cold?
Do you find running suppresses your appetite or that you ever just 'go off' food?
Should Caesar salad come with tomatoes?