I am a long distance runner.  I hold the record for the furthest distance run by any female at my running club.  I am aiming (eventually!) to become a member of the 100 Marathon Club, having run 8x marathons (with a further two booked in this year), 3x 35 mile races, a 12 hour race where I ran 70k and 2x 70 mile events.  (14 events down, just 86 to go!)  Yet at the moment I am struggling with my long runs.
My long run last weekend was due to be 15 miles, but due to a map-reading error I had to cut it short at 11.8 miles, followed by a quicker mile whilst waiting for a lift home.  I had run slowly as directed, but running so slow made my legs ache and didn't fill me with huge amounts of confidence that I would be able to pick the speed up when it came to race day.
Still sticking within heart rate Zone 2, this week after several chats with others I moved my legs a little quicker and completed my long run with mile splits a little faster.  Or at least, it started out that way.
The plan was to run 18 miles this past Sunday.  I was fine for the first seven…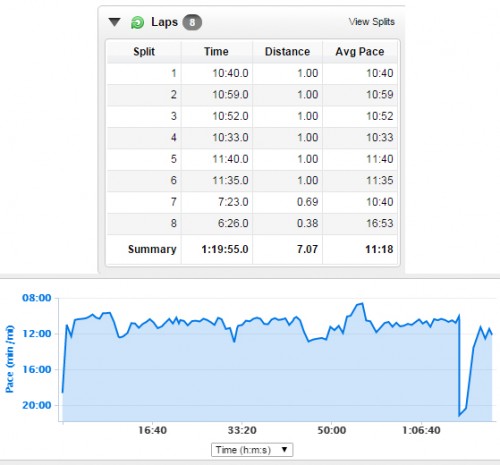 Between miles four and five I had to slow right down to cross the road, and then again just after mile seven.  I was stuck there for quite a long while.  Who would have thought the A45 would have been so busy first thing on a Sunday morning?!
I struggled to get going again.  Not physically, my legs were fine and felt so much better for having run at a slightly faster pace this week.  I think perhaps the previous week I had altered my running stride to ensure that I remained slow, but by retaining my usual style I could still run within Zone 2 and it felt much more comfortable for doing so.
No, physically I was OK.  There was nothing wrong with me.  My heart rate was spot on, I had no injuries, my legs weren't tired, I wasn't out of breath…but my head was not having any of it and refused to co-operate.  I'd convinced myself by this point that I could fill up my water bottle at the Stanwick Lake Visitor Centre but when I arrived it was too early and although I could see lights on inside, there was nobody about.  I decided to take a time out for 10 minutes on a nearby bench and recollect myself.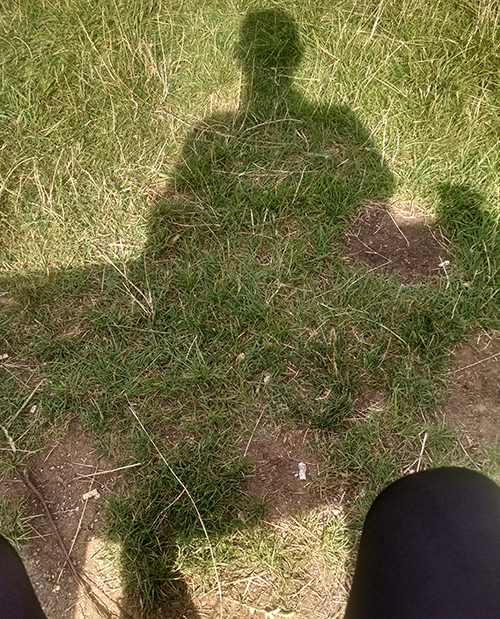 After setting off once more, there was nothing wrong but again I just found myself pulling up after 1.39 miles.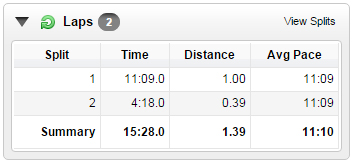 (Love my pace consistency for that little run though!)
I rang Dan.  Dan has this knack of making me see rationally and calming me down when things aren't going to plan.  He suggested that I come home and attempt a long run midweek instead.  This would have been a good suggestion normally but I was worried about overdoing the mileage, having already run 10 miles that morning.  (This really would not have worried me earlier in the year but I am trying to do everything by the book this time round, desperate to bag a sub 5 hour marathon having been just 28 seconds short at Milton Keynes in May.)  His next suggestion was that he would bike down to meet me and ride alongside me as I ran the remaining eight miles of my run.  I decided that I would like this very much and ran back to the Visitor Centre so that he could find me easily.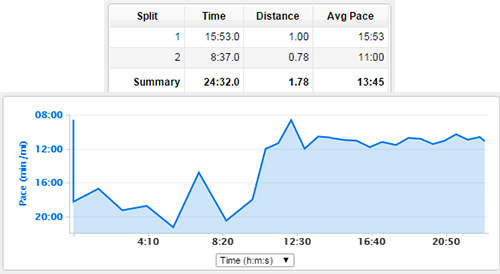 (The first part of this section was me walking whilst on the phone.)
I only had to wait a few minutes before he arrived.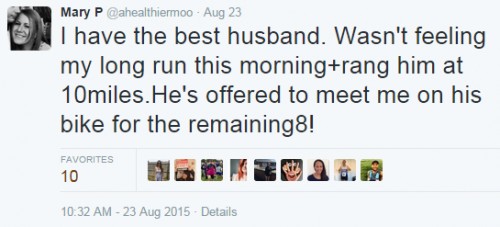 It was still tough mentally to keep going but I got home, making the total just over 16 miles in the end.  Not the 18 miles I had initially planned for the day, but much better than what could have been.  It was incredibly hot out there on Sunday again which didn't help things, but my head had gone and wasn't where it needed to be which was the real issue.
My stubbornness to keep going is something that I would normally consider one of my strengths.  It was definitely a factor in me doing so well and PBing at the 35 and 70 mile distances this year.  Perhaps it is the pressure to now switch from ultra running (constant forward moving, whether that is running or walking and walking all the hills) to marathon training (a constant pace on the roads).  I have no issue with covering the distance, it is just about ensuring that I am continually running for that distance!
Five and half weeks left to get it right…although I would like to think that I could pull my head together a little better than I did this past weekend for the race day itself.
The following day I went out for an easy three miler and the run could not have been more opposite.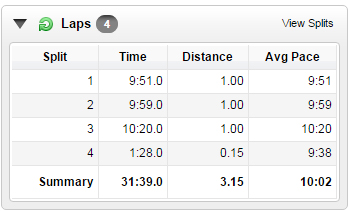 I went out really relaxed, stuck to Zone 2 but barely checked my watch, it was raining, my legs felt good and I felt as though I could run forever.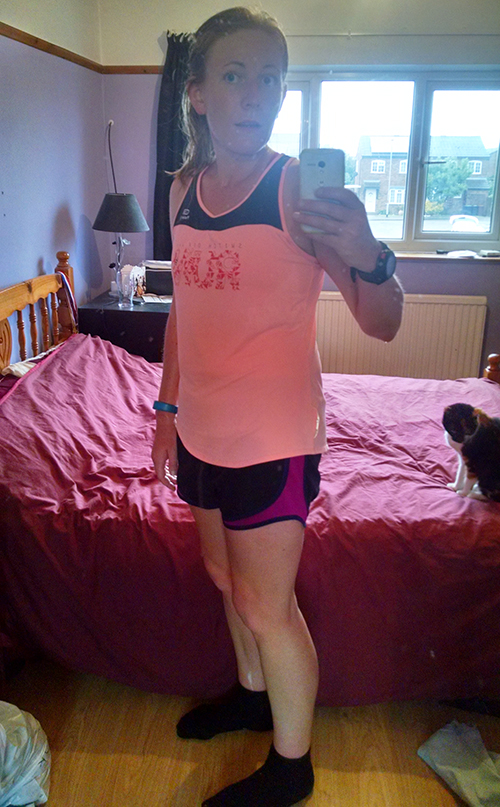 I was absolutely soaked through, but loved the run.  Maybe I was just having a bad day the day before?
Last night I was hoovering out our office, as we are almost there with the decorating in a couple of rooms now, (Pictures to follow) and I felt my Vivofit loosen around my wrist.  I looked down to see that the strap had broken through.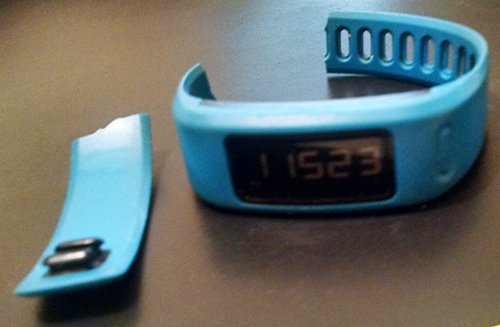 It wasn't even on a hole that I wear the Vivofit on, so I'm not sure how that happened, but Dan is going to collect another one for me on his way home from work this evening.  I take my Vivofit off each day to shower, but other than that (and during one wedding!) it has stayed on my wrist since I first put it on last October.  My arm feels very naked today!
Have you ever struggled mentally with completing a long run?
If you have one, is your Garmin Vivofit strap still going strong?