I can't believe we've already been living in our new house for six weeks.  In some ways it feels like hardly any time has passed since bundling all our belongings into boxes and piling them high into the garage of our new house.  Yet, at other times it feels like we have been here forever and that this is now very much our home.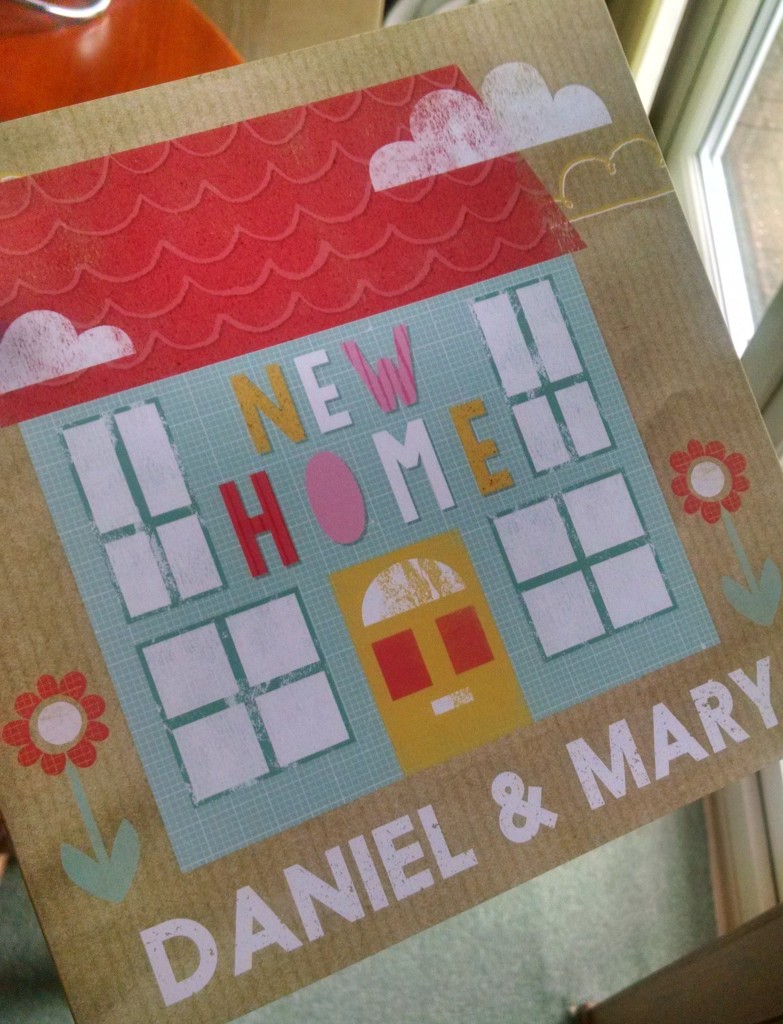 Our new house is just three roads away from our last house but only once have we accidentally made a wrong turn and headed in the direction of where we used to live, and that was when we were on our way home from the pub so surely that can be excused!
I've been working hard on the upstairs rooms whilst Dan has been at work over the Summer.  Two of them were painted/wallpapered a dark red, and the other two were painted a dark purple.  It's been my mission to peel the wallpaper, in some places scrape the paint, refill the walls where necessary and apply several coats of new paint so that we may turn them into our own.
The upstairs office is my favourite room in the house.  It has two large windows with blinds (kindly provided by companies like Bill's Blinds Ltd) that take up most of the front-facing wall which let a lot of light through into the room first thing in the morning.  When we arrived, this room was covered with two walls in bright red wallpaper, and the other two sides in bright yellow.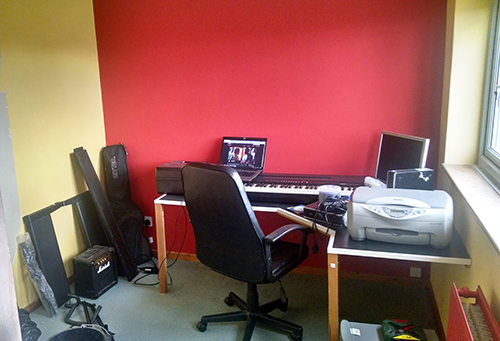 (By the way, the fact that BBC iPlayer now lets you catch up with programs online for a month, rather than just a week was a lifesaver at keeping me sane during all the wallpaper-peeling and painting of the last six weeks!  I think that is a bit of Casualty you can see on the laptop in the background there!)
I had visions of our office being very plain – white/magnolia walls with a little colour in the room coming from pictures hung on the walls. I know how colors influence mood. I didn't want anything too bright or distracting whilst we were trying to concentrate and get work done.  (Office ideas on my Pinterest board here)
The walls were fairly easy to peel of wallpaper in this room by dampening them and using a scraper.  It's quite satisfying when you get a big chunk to come off in one go!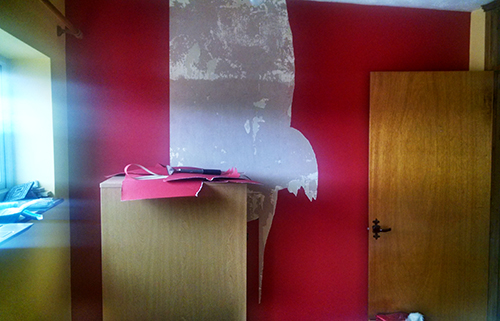 As we had decided to have the walls painted in magnolia it meant three coats of paint.  We soon discovered that I was not a fan of rolling, and Dan was not a fan of cutting in with the paintbrush, so we had our jobs set out for us and I became the cutter-in!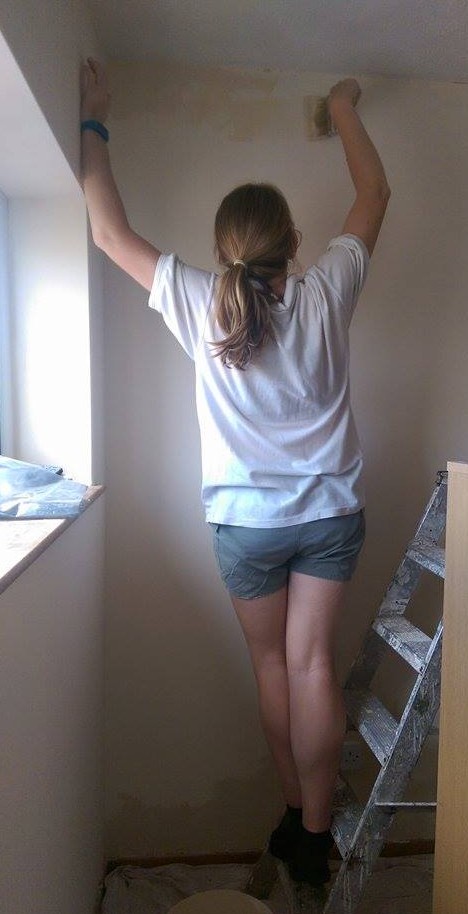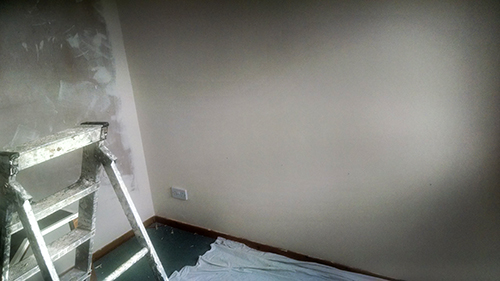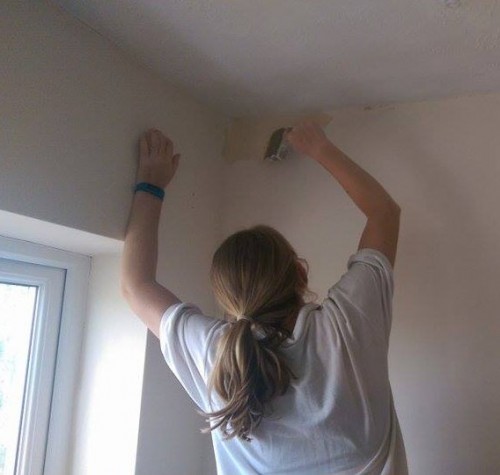 The step ladders were great fun for Bella, and it still leaves me in stitches that she walks up them like she would do any set of stairs, before appearing to check over our freshly painted walls for error!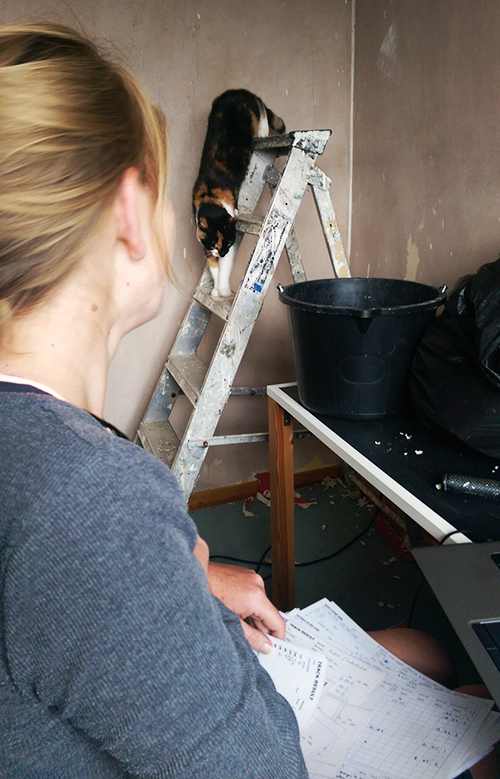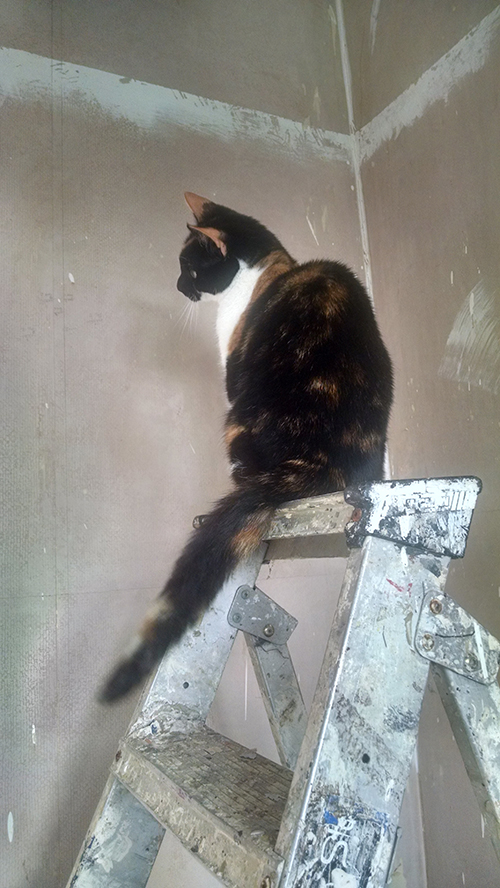 We had to take the radiator off the wall so that we could paint behind it, although the radiator itself still needs to be painted.  I'm not a fan of it staying the bright red colour that the walls once were!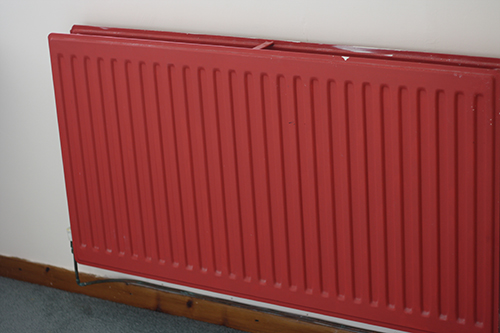 Here is our office at present.  Not complete by any means, but definitely on the way there now!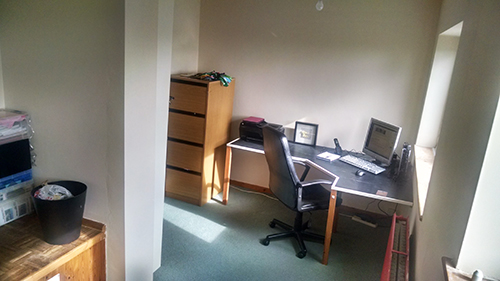 It's actually really hard to photograph the office as it is built as an extension of the house.  The wall you can see jutting out on the left of the above photo was where the fourth bedroom used to end, until the extension was built and the room doubled in size.  Behind that wall I have stacked and now filled a bookcase.
Just before reaching the wall there is a box for where the stairs jut out (shown below).  Here, we are planning on installing more shelving so that all of my craft boxes are easy to get to.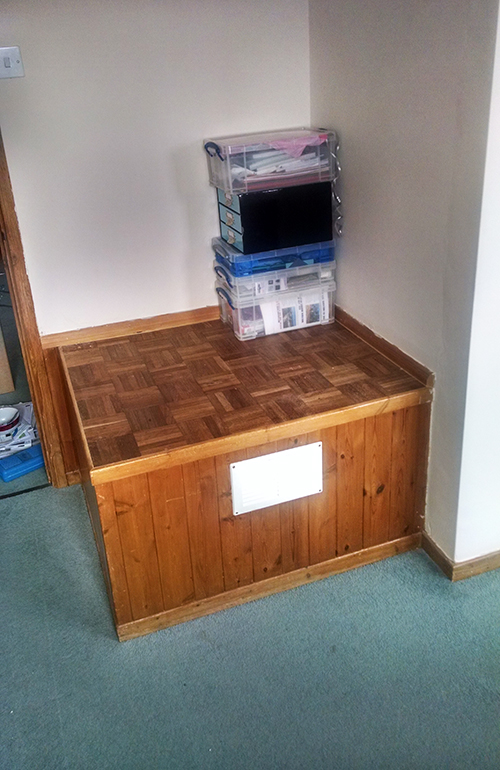 Despite having stripped wallpaper, painted walls (three times!), removed and replaced the inbuilt desk, removed curtain poles and removed and replaced the radiator, we still need to; skim the ceiling, add coving and replace the skirting boards, add long shelves above the desk, add pictures to the walls and my medal hanger(!), move the electric sockets (as currently they are behind the filing cabinet and the bookcase), add shelving to the top of the stairs for my craft boxes, resurface the desk, change the carpet and replace the curtain poles and add curtains.
Curtains are ridiculously expensive.  Because the windows in our house are all incredibly wide it has meant that we are looking at about £70 a set of curtains, and because there are rooms like the office, where we would need two sets of the same design, it works out rather expensive when you add it all up!  Luckily, my Mother-In-Law has offered to make us a few sets over the coming weeks, although the cost of the fabric still works out pretty expensive! Hope you will find this resource useful for the best window solutions: https://www.ezwindowsolutions.com/louisville/.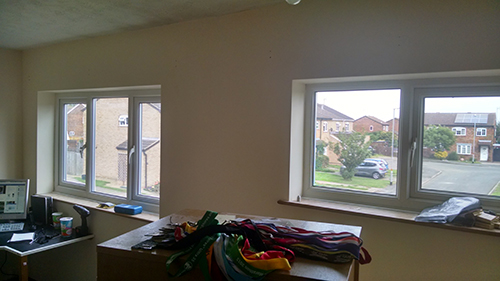 Our 'back spare room' is the other room that we have been working on and we didn't have quite such an easy time with this one.  The wallpaper had been painted, and also laid on top of silk paint and was a nightmare to remove.  The walls were so dark and the paint underneath so thick, that we needed to remove as much of the paint as possible, so there were some aching arms for several days running!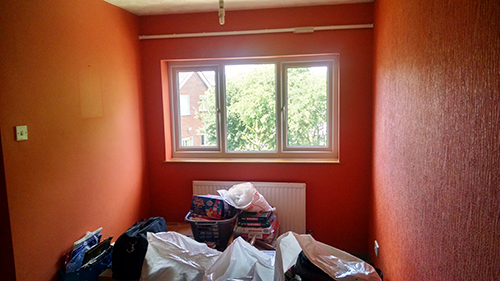 I let Dan choose the colours for the back spare room and he went for 'Natural Hessian' with a feature wall colour of 'Intense Truffle'.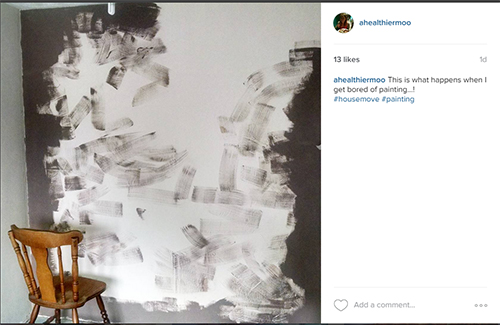 It feels like we're much further off from finishing this one and still need to replace the curtain pole adding the curtains, add carpet, have the ceiling skimmed, add coving and replace the skirting boards, buy a small sofa bed for the front of the room and a set of wardrobes as this is the only room without inbuilt storage.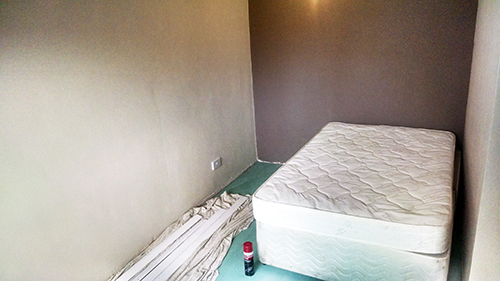 It was handy running the two rooms alongside each other.  It meant that rather than having to wait for things to dry we could move from one room to the other and back again, getting much more done in a day.
I could probably recall for you the layout of every DIY store within ten miles!  We have been to have our kitchen designed…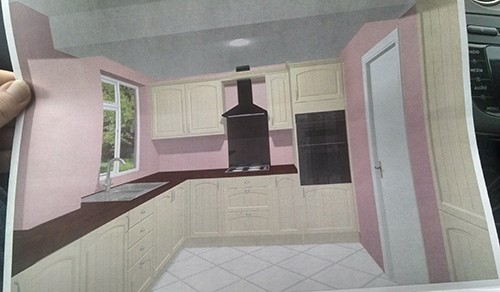 …although the design we received was almost identical to the one we had spoken about together previously.  (Although in olive green, not pink!)
We have also measured a million (probably not an exaggeration by very many!) items for the bathroom and ordered a bathroom suite which arrived yesterday.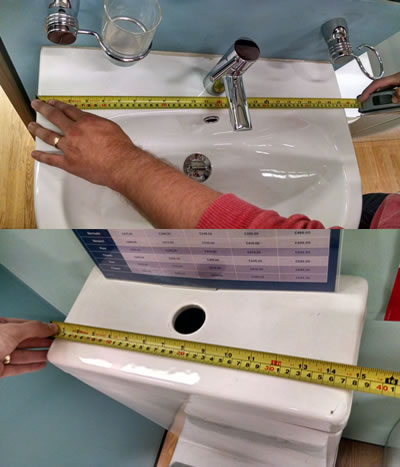 It's been a busy Summer!
Do you do your own DIY in the house?