First day back at school this morning.  

Now I am a morning person, very much so.  I've been getting up most mornings over the Summer when Dan leaves for work at 6:20am.  However, there is a BIG difference between getting up because you can and getting up because you have to.  My 5:15am alarm was not welcomed this morning and will not be welcomed for the next seven weeks either.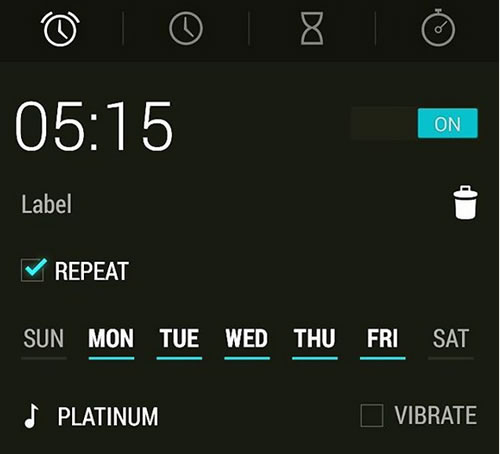 Somehow I managed to stumble out of bed, turn the hot water on, prepare some food to throw in the slow cooker for tea, let the cat out, clean the cat out, feed the cat, shower, straighten my hair (WON'T be happening the rest of term!), wash up, get the washing out to dry, wolf down a yoghurt with berries for breakfast and get dressed before leaving for work just over an hour later.
The slow cooker is going to be my friend this term I can already tell.  Even though I wasn't working yesterday, I was out until later in the evening so threw some ingredients into the cooker.  Yesterday it was chicken, peas, carrots, potatoes and chicken stock for a chicken casserole which I topped with dumplings later on.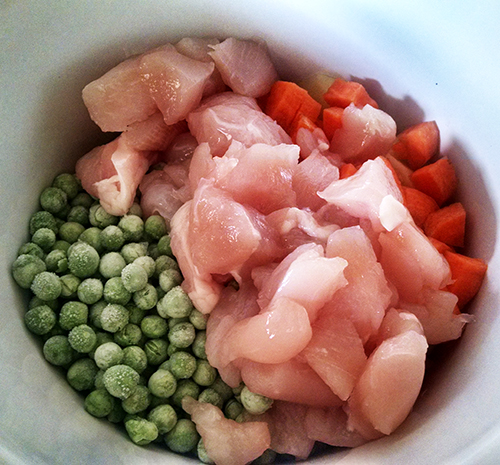 We have a huge excess of chicken in the fridge at the moment so today it was a tomato-based sauce, cream cheese, peas and carrots.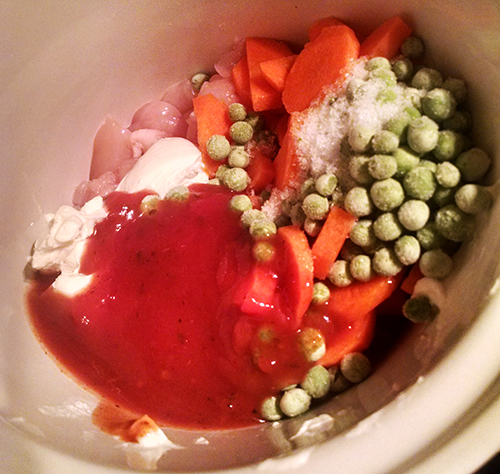 Guess which two veg are the only ones Dan will eat?…!
Despite not loving my 5:15am alarm, I had quite a productive day at school organising my classroom inbetween various meetings so that it is ready for students to arrive on Friday.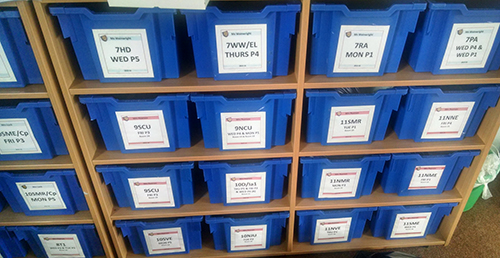 I love how neat and tidy and organised everything is looking at the moment, but each one of those boxes means a class of approximately 30 kids.  Hundreds of children whose names I will struggle to remember before Christmas!
When I turned up in my classroom this morning it appeared that someone had left The Queen sat on my desk.  I don't know who, or why, but I decided to see what I would look like as The Queen.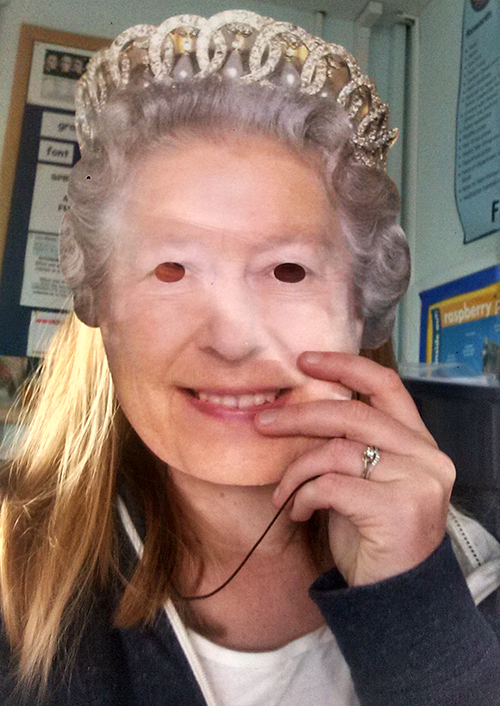 …just like The Queen does really!  😛
The corridor outside my classroom has been painted over the holiday and all I can say about it is that I'm glad we have been painting our own house this Summer and that we didn't hire these guys…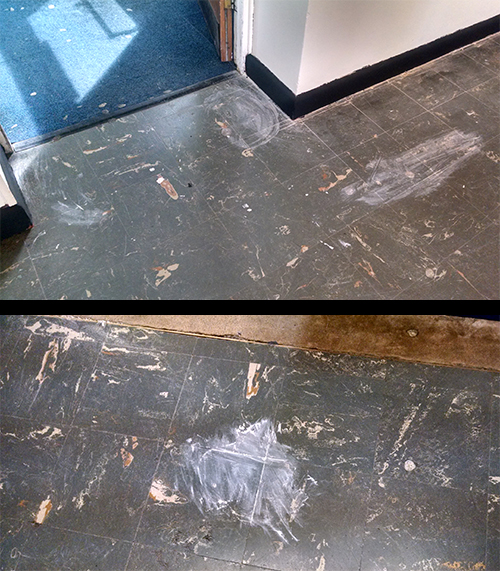 There is literally paint all over the floor everywhere.  There were huge chunks missing out of the wall in places which they haven't bothered to fill either.  They've just painted over the dents.  Poorly.  Whilst missing lots of bits completely!
I've got another training day tomorrow and then my year 7 form starts back on Friday morning, with the rest of the school returning by lunchtime.  Seems an odd time to start back at school, on a Friday afternoon, but I guess it means that at least we won't have a solid week of hyped-up students and will get a weekend to recover from them before our first full week back.
Of course the weather was lovely all day until I left off work and then Dan and I queued in traffic on the way home whilst sat in the rain.  Lovely and depressing!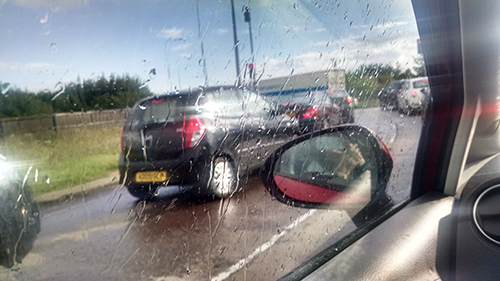 I had been planning on testing out a new trail run that someone from the club was leading this evening, but our plumber (also from my running club) came to investigate the work we needed doing to our house (lots).  By the time he left I would never have made it to the run on time so I headed out for a little 3 mile easy run round town on my own instead.  It's the first time in a long while I've headed out in a long sleeved t-shirt.  Dan even had the heating on by the time I returned!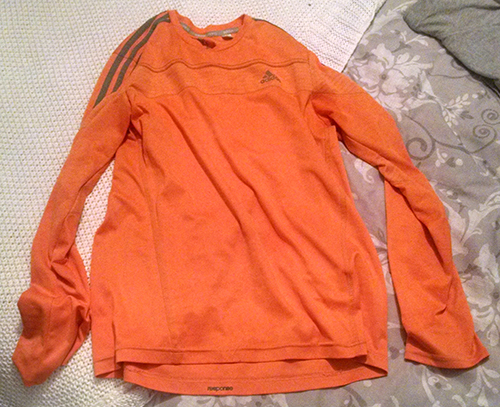 Summer is well and truly over.  

I had forgotten just how much I love a post-work run.  You morning runners are missing out!  There is nothing better than heading out on an easy run where numbers on the watch don't matter and just mulling over the day you've had at work.  I really enjoyed my run this evening, even if it was only three miles long.
I've had a few really good runs over the past couple of days actually.  I decided to head out for 10, pacier miles rather than complete my Sunday run at the traditional slower pace.  Being able to focus on hitting sub 10mm for each of those ten miles kept my brain occupied and the miles flew by, resulting in me finishing in 1:36:45.  That time would have beaten the times from my first two ten mile races and is only a couple of minutes slower than my current ten mile PB, yet I didn't find the run too tough at all and completed it with a relatively low heart rate still.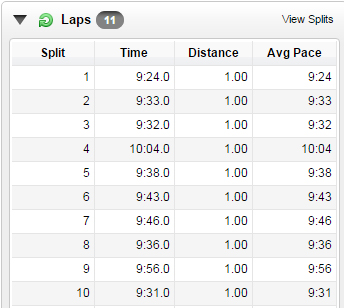 Annoyingly I had to stop for several seconds to cross the A6, otherwise mile 4 would have been under 10mm as well.
Of course, the best way to celebrate after a great long run is a glass of nice, cold milk!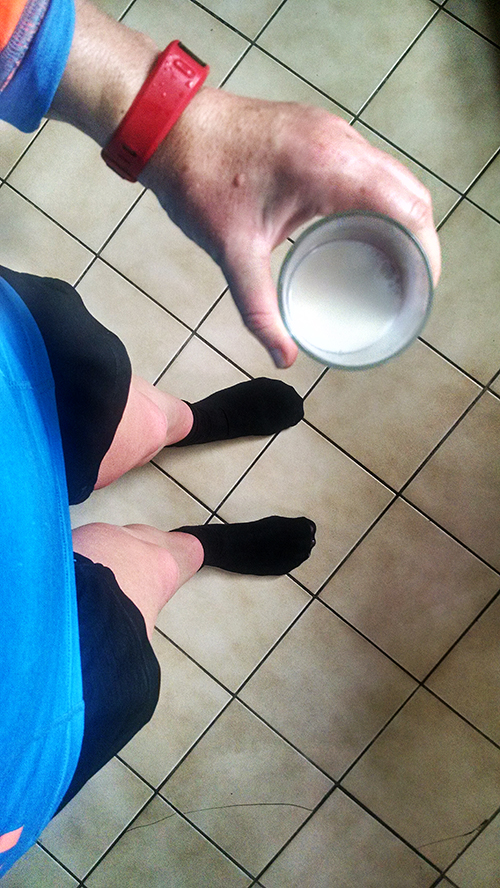 On Tuesday my 'speed' session was to run 1 mile as a warmup, followed by 4 miles at 9:30 pace and then 1 cool-down mile at the end.  I'm enjoying the Tuesday sessions where I have a focus to work on over a short period of time.  It's so satisfying when I hit the required paces!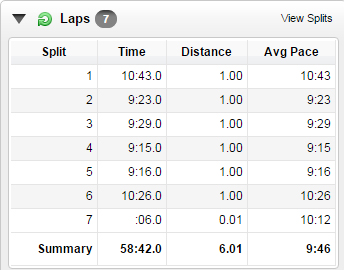 Miles 4 and 5 were a little too quick, but it still felt comfortable enough to maintain.
What time is your alarm set for in the mornings?
Are you a morning or an evening exerciser?
Do you use your slow cooker often?  Any recipe recommendations for me to try?