On Saturday I ran 19.16 miles.  That's the furthest distance I have covered during this marathon training cycle.
I probably wouldn't have coped with running 19 miles if not for the following things:
* Somebody else mapped out the course for me
* They also then ran the 19 miles with me
* The large bowl of porridge I decided to have for breakfast
* The weather starting off much cooler than it has been just lately
My heart rate monitor needed new batteries and I hadn't had a chance to get any, so I don't have any stats for the run and had to go on feel alone whilst out there.
The friend that mapped out the route is a big fan of hills.  I am not a fan of hills on my long runs so would never have chosen this route left to my own devices!  Several of the hills were long climbs over a distance of a mile or more and he made me push it on those sections.  This was confidence building, but I feared that my energy would be zapped for later on in the course.

Luckily, Mablethorpe Marathon is nice and flat, – the only 'hills' on the route being the banks up and onto the promenade and back off it again at the other end.
The first mile on Saturday saw a few stop and starts as Gary's watch was playing up.  I also dropped both gels and my water bottle, so my kit needed a bit of rejigging.  Then we got into the swing of things.  The first long, drawn out hill, Gary asked me to aim for 9:30 pace (9:31!)  I really liked having something to focus on for that section and a manageable target to complete it in.  At mile 7 we walked briefly so that I could try a shot blok and top up on water.  I took half a gel at mile 12 and washed the rest of it down at mile 14.
My pace was getting much slower towards the end so Gary prompted that we push it again at mile 17 to remain at around 10:30 pace for about a mile.  (10:46)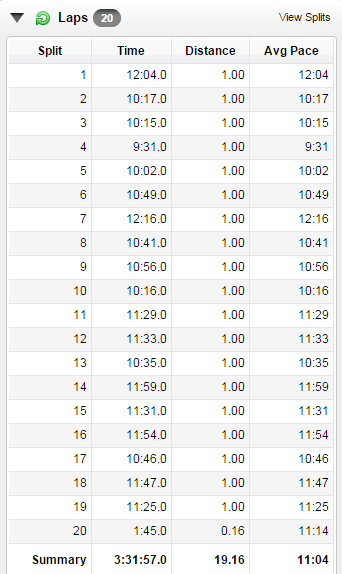 The final hills after that were a real killer and I just focused on keeping moving forward without walking, although looking back at my stats I'm surprised that I wasn't even slower than the mile times that were recorded.  It certainly felt like I was barely moving!  I couldn't talk by this point, so just let Gary do all the talking and when we got to the finish I plonked myself down at his kitchen table, where his wife brought me a large glass of chocolate milk.  (Forever grateful!)
Gary put the watch stats into the computer when we got back to see whether or not I would have been on target for a sub 5 marathon had I continued at the pace that I had been running at.  My average minute miling over the tough, hilly course, including a few stops to feed and adjust kit was 11:04mm.  I need to achieve a pace no slower than 11:27mm for a 4h 59m 59s marathon, so was dead on target overall, despite some slower miles towards the end.  If I had continued at 11:04 minute miling I would have completed marathon distance in 4h 50m.
I am a user of the site Fetcheveryone.  The Fetch website looks at your training runs and pulls out the times you would have achieved over common race distances.  It also predicts what time you would have hit longer race distances in, based on your run details, accounting for how much you have been slowing down, etc.

From Saturday's run, Fetch established that I should be hitting the marathon distance after 4h, 55m and 11s.
Both predictions are a fair way under the 5 hour mark, especially taking into account how hilly the course was so I hope that they are accurate!  I do need to remember that there is the potential I will run over-distance on race day so not to rely entirely on split times.
Next week I am running the Dunstable Downs 20m trail race, the following weekend I shall be returning to Royston Harvest Trail Half Marathon, then there is just one more weekend before Mablethorpe Marathon weekend is here.  Entries for all three races are still open if you have a free weekend and fancy slotting in a race.  

This week has been pretty manic.  I am really struggling with the 5:15am starts, and then trying to fit my work in before 11pm and bed.  I'm knackered already and I haven't even been back at work a week yet!
Mornings before work have been a mad rush of organising lunches and tea, putting washing in/away, showering, feeding the cat, and getting ready for school.  Evenings have involved running, finishing cooking and eating tea, responding to parent emails (there are many as a new year 7 form tutor!), washing up, prepping lessons for the following day and trying my hardest to get to bed before 11pm.  My permanent headache from last year has returned and I know it is through lack of sleep.  I need to try and find a few hours from somewhere in the day to complete everything earlier as I refuse to give up running during term time!  I haven't managed to read a single blog yet this week, which makes me rather sad and I've missed writing as well.  (This post has been written on my tablet during the commute in to work.)
Oh well, "32 days until the October half term!" as the cleaner informed me this morning!