As always this past weekend I was undecided about where I should parkrun.  In the end, the lure of a trip to Magees for cake following the run was too much and I caved, attending Northampton for parkrun #33.
As I had the Dunstable Downs 20m race the following day I wanted to keep things fairly easy and at the start line joked that coming in anywhere between 26 and 30 minutes would be ideal.  I hadn't made it to club for the Thursday night session due to car sharing issues, so when Laura suggested running with me at parkrun for a catchup, this was the perfect solution.  You can't gossip if you are running too fast!  In fact, after one mile of running behind a lady she then turned to us and exclaimed "Just how are you able to talk so much whilst running?!"  I pointed out that we were both racing later that weekend (Me, Dunstable and Laura an obstacle race that evening) and so were taking things easy that morning.  I felt a bit guilty for having used the word easy afterwards though.  I must remember the term 'easy' is all relative.
I barely paid any attention to the course and for once ran on the right hand side of the path.  I'm always about the left hand side running at Northampton as the track bends round in a large square shape, with each turn heading to the left.
Right as we set off at the beginning of the run I saw a set of keys bounce out of the pocket of the person infront of me.  I was in such a flurry of picking them up that I completely didn't think to remember whose pocket they had flown from and nobody had stopped, obviously not yet realising that they were missing.  There was a Toronto-Canada keyring on the keys so I loudly shouted out "Who has lost their keys?!" as I ran, followed by "Who has been to Toronto before?!"  It amused a few of the guys running around me at least!  A little further on a lady had stopped with a panicked look on her face, anxiously padding down her pockets.  I asked her if she had been to Toronto before and luckily, they were her keys!  Good dead done for the day!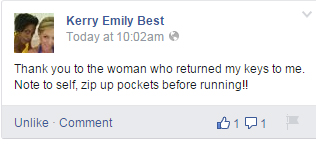 Being called a 'woman' was the second time I'd felt old in 24 hours.  The afternoon before I had issued a quiz to my year 7 form containing the question 'What year did the Second World War begin?'  One group answered the question with 1998!  When I questioned them as to what year they were born, it was 2003!  I felt very old!
Laura and I hadn't intended on running very fast at parkrun and to be honest I was just focused on having a catchup whilst getting an easy 5k in.  Rather annoyingly, my Garmin lost satellite early on, just before the mile mark.  Somehow, by the end it still knew the distance I had ran.  Not sure how that works?  Perhaps because I have run the course before?  The map on my Garmin page had stopped drawing my running line though.  The course continues back towards and past the start, turns left and back across the outer square for another 'half' lap around the route.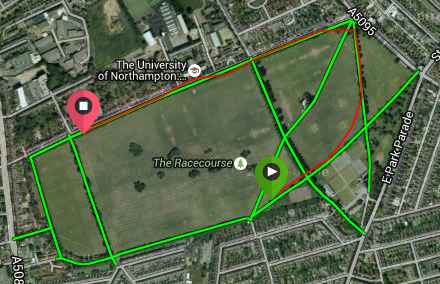 When Laura's watch next beeped I asked "Was that three miles?" without even realising what I was saying.  Of course it wasn't three miles, it was only two.  We were still nowhere near the finish!  Shows how much I was concentrating on the run!
As we neared the finish line Laura pointed out that we had one minute left to reach the finish line in under 30 minutes so we picked up the pace (Still chatting though of course!) to achieve a perfect Royal Flush Negative Split with every mile split faster than the last.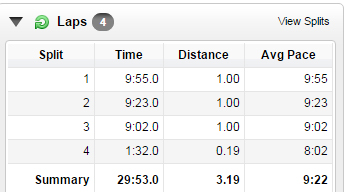 Official time: 29:53
Finishing position: 219/343
Gender position: 58/142
Age category position: 9/20
I came across a new blog the other day whilst searching for Northampton parkrun reviews and discovered that the writer of the blog had come up with the #7weeksofparkrun challenge last year.  Each week, he had run a parkrun with a name starting with a different letter of the word 'parkrun' so that the list of locations in his results table spelt it out.  What a great idea!

(Picture from his blog, be sure to visit!)
I had given a lift to another friend from my town who is currently returning to running following an operation earlier in the year.  Once she had crossed the parkrun finish line a few minutes later all three of us headed to the Magee Street Bakery for hot chocolates and cake.  Post parkrun cake is a winner for me on a Saturday morning!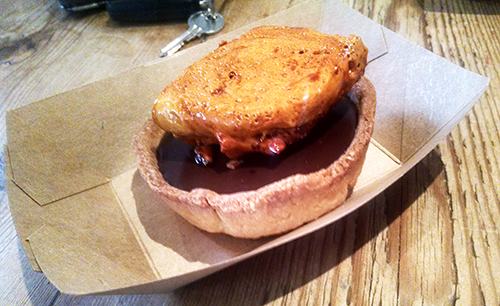 Mmmm, salted caramel tart…
Do you treat yourself after a parkrun?
Have you ever lost anything from your pockets whilst running?
Ever been so busy chatting during a race you completely forgot how far you've run?!